Mick Fleetwood And John McVie: The Only 2 Constants Of Fleetwood Mac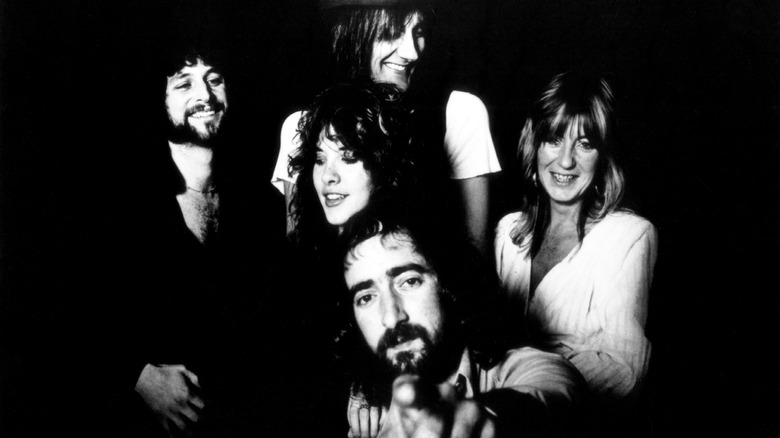 Michael Ochs Archives/Getty Images
A decade before Fleetwood Mac was a Los Angeles-based band that rocketed to international stardom with the album "Rumours," in 1977, it had been a successful British blues band. And along with their evolving sound from hard blues to radio-friendly pop-rock, Fleetwood Mac saw a revolving door of musicians — a dozen in all — during their more than 50-year career with only two of the founding members left after the rock 'n' roll dust settled.
Drummer Mick Fleetwood, bassist John McVie, and guitarists Peter Green and Jeremy Spencer launched Fleetwood Mac in 1967 after splitting from John Mayall's Bluesbreakers. They released their self-titled album in February 1968 and it shot up the charts in the U.K., where it stayed for more than nine months and sold upwards of one million LPs. Their instrumental, "Albatross," released later that year, also became a chart-topper. But soon a season of personnel changes blunted the band's rise in popularity, at least for a while.
The many faces of Fleetwood Mac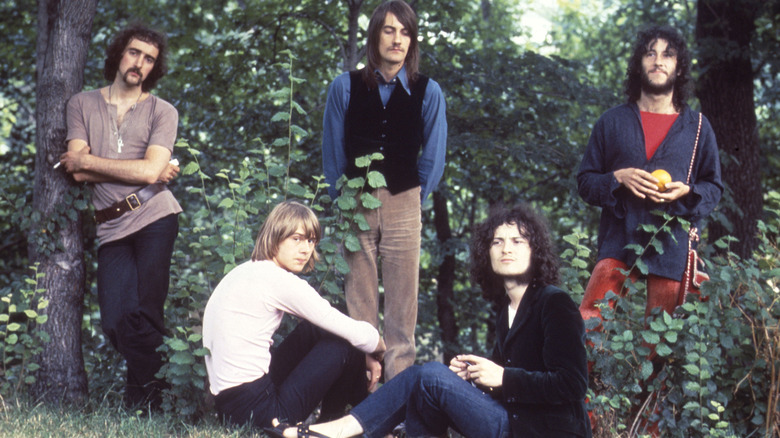 Avalon/Getty Images
The virtuoso guitar player Peter Green was the band's original frontman and main songwriter, but by the next year, he'd invited another guitarist, Danny Kerwin, to join the band in order to take some of the attention off of himself. Christine Perfect joined the band in 1968 as a session player on keyboards and backing vocals. She married John McVie that year and became a permanent member of the band in 1969. Green's use of psychedelic drugs and mounting tensions within the group ended with his exiting the band in 1970. He wasn't alone.
Jeremy Spencer literally departed from the band the next year. He wandered off with no word and joined a cult, the Children of God, just hours before Fleetwood Mac was set to perform a sold-out show at LA's famed Whiskey A Go Go. Green returned to help finish out the band's American tour and then departed having once again been a member of Fleetwood Mac for all of six weeks. From there, the changes came fast and often.
Enter a couple from California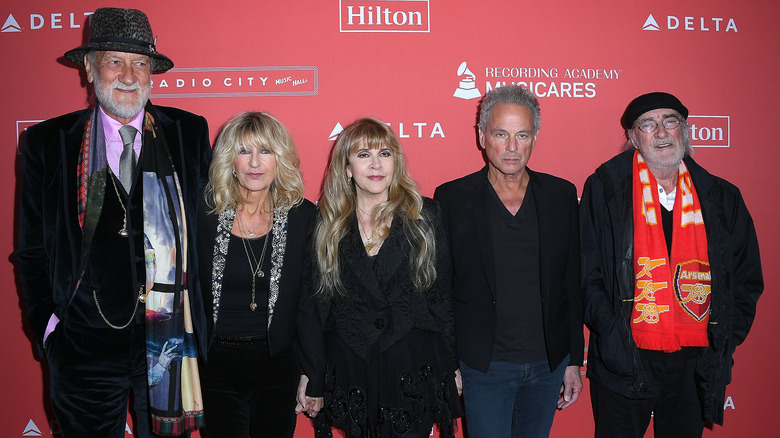 Steve Granitz/Getty Images
Guitarist and singer Bob Welch was with Fleetwood Mac from 1971 to 1974. Danny Kerwin and Welch didn't get along and Kerwin ended up on the losing end of their head butting. He got the boot in 1972. Singer Dave Walker joined in 1971 and was out two years later. Bob Weston played guitar for the band from 1972 until the next year, when Mick Fleetwood discovered Weston had been carrying on an affair with Fleetwood's then-wife, Jenny Boyd, per Billboard.
In 1974, the band relocated to LA, and the next year a young couple named Lindsey Buckingham and Stevie Nicks, who had released an album as Buckingham Nicks in 1973, joined Fleetwood Mac, cementing the band's lineup with John and Christine McVie, and Mick Fleetwood. This iteration of the band would skyrocket to the top and become rock 'n' roll royalty with 1975's "Fleetwood Mac" and then "Rumours" — one of the biggest-selling albums of all time — two years later. More than 50 years since Fleetwood Mac's original inception in 1967, with the various lineups and the 2022 death of Christine McVie, the two mainstays of the bandhave remained Mick Fleetwood and John McVie.