How The '90s Rock Band Live Was Torn Apart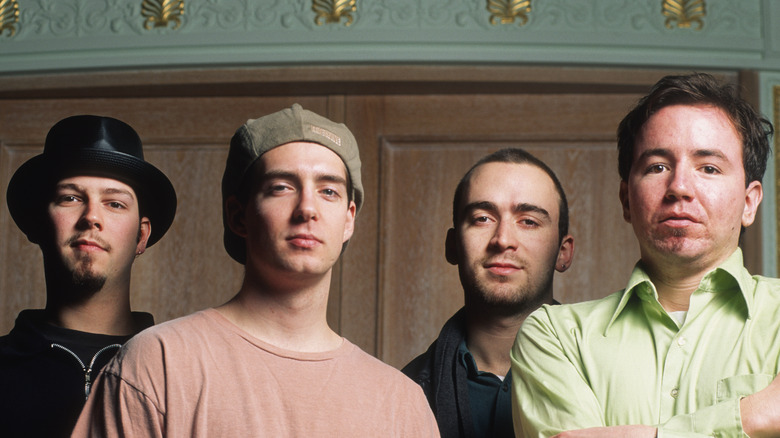 Gie Knaeps/Getty Images
There are few things more fun for a young teenager than playing the music you love with your best friends in the world. In a perfect world, your teenage garage band would move from strength to strength. And you'd remain friends with all your bandmates as you sell millions of records and play to sold-out arenas. But the world isn't perfect; most teenage garage bands never make it out of their hometown's local scene, and of those who make up the remaining successful few, some find themselves estranged from one another well after their heyday. Such is the situation with Live, who went from singing "Selling the Drama" to drowning in intra-band drama between their mid-'90s peak and the present.
Similar to groups like Creedence Clearwater Revival and the Beach Boys from even farther back in rock history, Live is a band whose original lineup is seemingly divided into factions. But how did they go from '90s alternative rock titans to a band whose members dislike each other so much that they prefer to communicate through each other's lawyers?
Live was a band made up of childhood friends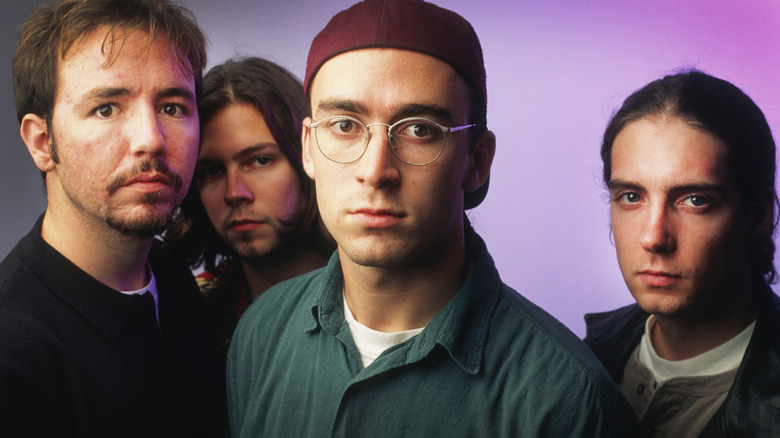 Gie Knaeps/Getty Images
Well before Live became one of the biggest alternative rock bands of the 1990s, the men who made up the band were teenage boys growing up in York, Pennsylvania. These youngsters included guitarist Chad Taylor and drummer Chad Gracey, who shared a love for new wave music. "I spent every single weekend I possibly could at Chad's parents' house," Taylor told Rolling Stone in February 2023. "I'd sleep next to his bed in a trundle bed. We'd watch John Hughes movies like 'Weird Science.' We were inseparable." Gracey shared similar recollections, admitting to the outlet that he and Taylor were best friends.
As eighth-graders, the two Chads joined forces with another friend, bassist Patrick Dahlheimer, and performed as a trio at a school talent show. This performance impressed Taylor's onetime bully, Ed Kowalczyk, who would make the group a four-piece after joining as their lead singer. Initially going by the name Public Affection, the band changed their name to Live in 1991 and had a couple of albums under their belt before their 1994 breakout release, "Throwing Copper," made them certified alt-rock superstars.
As the hits from "Throwing Copper" came out one after the other, there didn't seem to be anything that could stop Live. That is, until they released their follow-up album three years later.
Kowalczyk's desire for more control led to dissension in the late '90s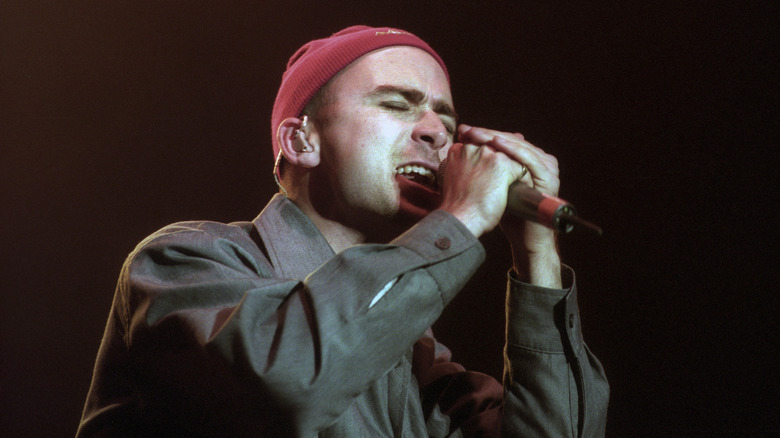 Al Pereira/Getty Images
Live's 1997 album, "Secret Samadhi," had most of the classic features of a sophomore jinx ... except for the fact it was actually their third release under that band name (or their fourth, if you count 1989's "The Death of a Dictionary" as Public Affection). While it debuted at No. 1 on the Billboard 200, it was nowhere near as impactful as "Throwing Copper," and the many mystical references contained within went over the heads of most listeners.
Speaking to Rolling Stone, Chad Taylor admitted that this was also the time tensions within the band first began to rise in earnest. He alleged that Ed Kowalczyk, who wrote most of Live's songs, began demanding a larger chunk of the publishing money. Two years after "Secret Samadhi," Live released "The Distance to Here," and as Taylor claims, Kowalczyk doubled down on his desire for control during the making of that album, telling his bandmates that he would do all the songwriting. 
"That ended my creativity in the band," Taylor lamented. "I felt like a married couple where someone says, 'I'm no longer going to have sex with you. But we'll stay married.' It was one of the saddest moments of my life."
Live broke up in 2009 via email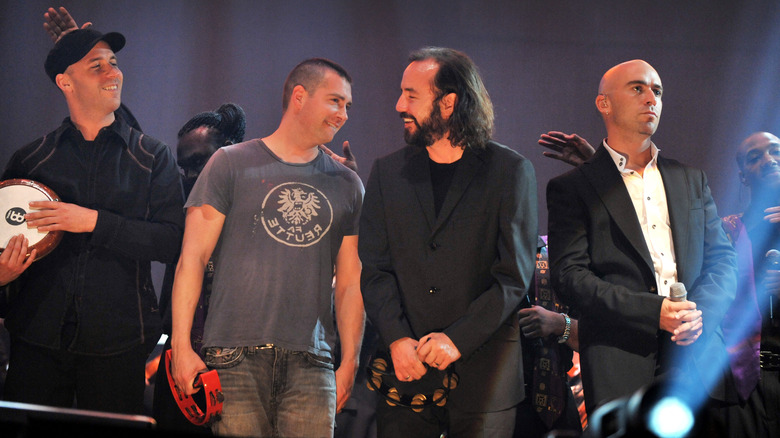 Gie Knaeps/Getty Images
If there was a red flag hinting at the band's imminent breakup, it arguably would have been the diminishing returns Live got from each subsequent album after "Throwing Copper' and "Secret Samadhi" topped the Billboard 200. "The Distance to Here" still did well, peaking at No. 4, but "V," "Birds of Pray," and "Songs from Black Mountain" all failed to crack the top 20 of the album charts. Music trends were changing rapidly; after nu-metal in the late '90s and early '00s, pop-punk and emo were dominating rock radio in the mid-to-late 2000s, and Live had long become a relic of the early-to-mid-'90s alternative boom. While many bands of that era soldiered on despite a lack of hits, others eventually threw in the towel, and Live joined the latter camp when they went on indefinite hiatus in 2009. 
As Chad Taylor recalled to Rolling Stone, Ed Kowalczyk took the impersonal route when it came to putting Live to rest. "We broke up over email," the guitarist shared. "Ed sent out a letter and was like, 'I think we ought to put this band on hiatus.' We all responded in about 30 seconds and went, 'Great idea.' There wasn't one of us that fought to keep it together."
Taylor opened up about the breakup on his personal blog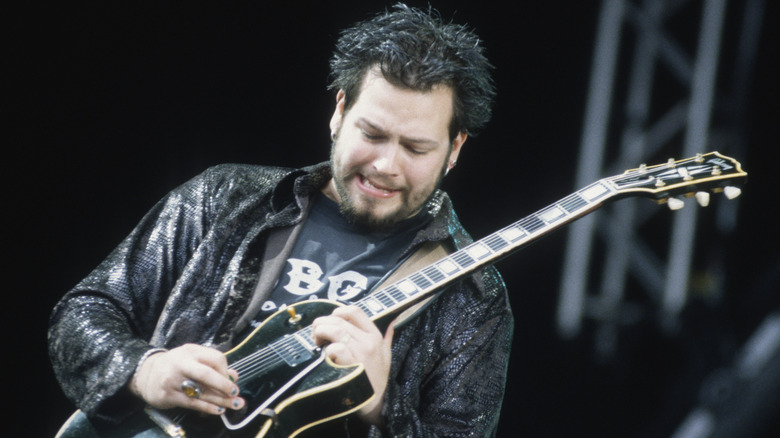 Gie Knaeps/Getty Images
At the time Live hit the pause button on their career in 2009, the drama that had started in the late '90s had seemingly reached critical mass. Chad Taylor opened up about the split in a post on his personal blog, and he didn't hold back, accusing Ed Kowalczyk of betraying his once-close school friends and developing such a massive ego that he was making ludicrous demands.
After accusing Kowalczyk of being the only signatory on a secret publishing contract from 2005, and stressing that the rest of the band supported him despite their diminished productivity, Taylor stated his final straw: The frontman's insistence that he receive a $100,000 "lead singer bonus" in order for Live to appear at the 2009 Pinkpop Festival as surprise performers. As he wrapped up his post, the guitarist saved the most scathing rebukes for last, as he declared that Kowalczyk's time as Live's frontman was over — and so was their friendship. 
"Ed will no longer be the vocalist for the band LIVE," Taylor wrote. "At this point in time, we have made no official plans to replace him but it is clear that he is no friend of mine or the lifelong fans of LIVE."
The members of Live made good use of their hiatus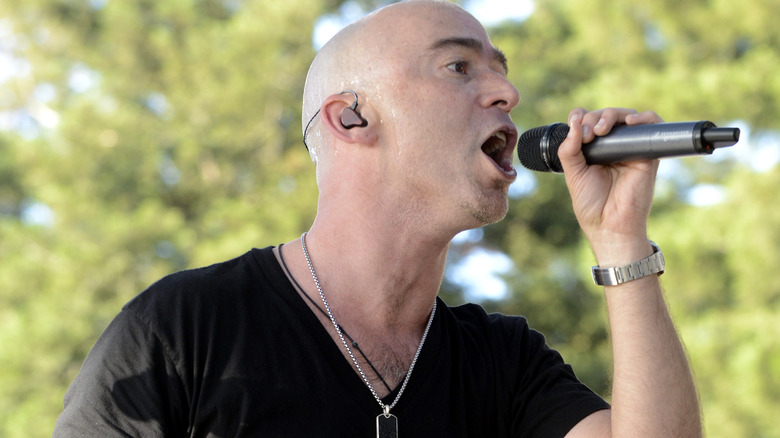 Tim Mosenfelder/Getty Images
All four members of Live remained active in music after going their separate ways. Ed Kowalczyk released his first solo album, "Alive," in 2010, which got mixed reviews. "What in God's name is Kowalczyk talking about?" asked Mike Schiller of PopMatters in his 2010 review of "Alive," which noted how the singer's trademark cryptic songwriting style worked for Live songs like "Lightning Crashes," but missed badly for the songs on his solo debut. AllMusic was considerably kinder toward the album, giving it three out of five stars, though the site pointed out that "Alive" didn't have the hooks that made Live's biggest hits so memorable.
Meanwhile, Live's other members, Patrick Dahlheimer, Chad Taylor, and Chad Gracey, teamed up with singer Kevin Martin and guitarist Sean Hennesy of fellow '90s alt-rock mainstays Candlebox to form the supergroup The Gracious Few. The band released their self-titled debut in 2010, and Taylor told The Comet in 2011 that he and his bandmates were working on new material. Despite that promise, The Gracious Few was done after one album, and at the time Taylor was teasing those new songs, he was actually reforming Live with Dahlheimer and Gracey ... but with no new vocalist just yet.
Kowalczyk was sued by his former bandmates over his use of the Live name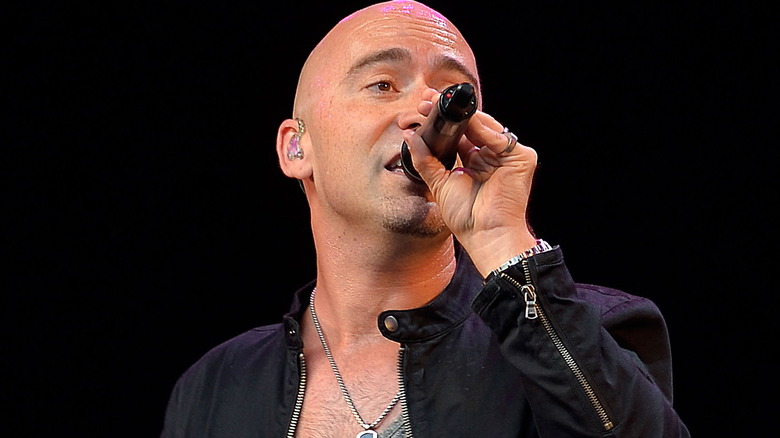 Didier Messens/Getty Images
There's no shame if you only remembered Live again in the early 2010s, when news broke that the band was suing their former singer over the use of their band name. Action Front Unlimited — a company set up by Live's members that had the rights to the band's trademarks — sued Ed Kowalczyk in 2012 in order to prevent him from using the group's name while promoting his solo career.
Among other interesting details in the lawsuit, Kowalczyk's ex-bandmates claimed that the singer wasn't telling people that he was no longer the frontman of Live — he was still being advertised as "Ed Kowalczyk of Live," and it didn't help that his solo debut album, "Alive," was his former band's name plus one letter. He was also accused of not making it clear that his music is separate from that of his former band. Both of these things, the suit alleged, led to confusion among promoters, agents, and journalists who may have been fooled into believing that Kowalczyk was still a part of Live.
All in all, Kowalczyk was sued for $2 million and accused of trademark infringement, false designation of origin, and trademark dilution. In 2013, he commented on the lawsuit in an interview with Rolling Stone, calling it a malicious act and claiming that the suit was outside the statute of limitations anyway. "They just threw it at me to knock me down around the release of ["Alive"], which increased the shock and awe of it," he said.
New frontman Chris Shinn's only album with Live was a flop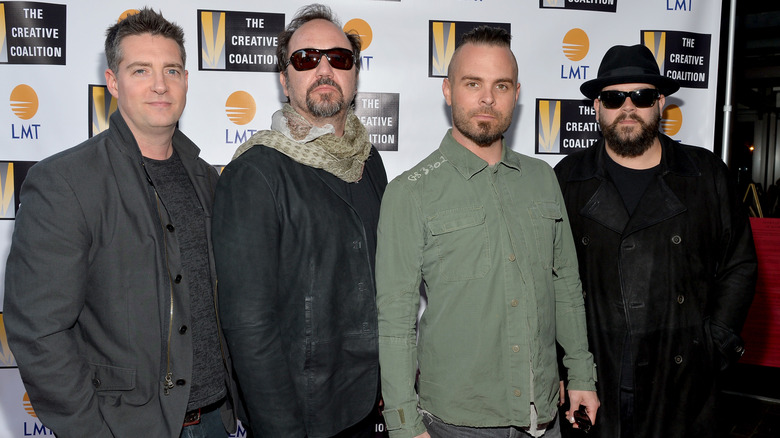 Mike Coppola/Getty Images
Live's hiatus officially ended in 2012 when the band finally found a replacement for Ed Kowalczyk in Chris Shinn, former lead vocalist of Unified Theory, a band that also featured ex-members of Blind Melon and Pearl Jam. Given Kowalczyk's unquestioned status as the most recognizable figure in Live and the voice of the band, it was a tall order for Shinn. However, fronting the band was an enjoyable experience at first for the newcomer, as he revealed in a 2022 interview with Rolling Stone. "We were having a blast at that time," he said. "It reminded me of being almost in my old high school band."
With Shinn singing lead vocals, Live released one album, "The Turn," in 2014, but it was their worst-performing album by far in terms of peak chart position, only reaching No. 133 on the Billboard 200. Still, Shinn recalled feeling optimistic about the record's chances ahead of its release. "I had much bigger expectations, for sure," he told Rolling Stone. "I presumed it would come out and do much, much better than it did. I didn't think it would be a chart-topper or anything. It wasn't like we were reinventing the wheel. I also looked at this as a long game. I thought this was the beginning of something."
Shinn claims he was 'gaslit' by his bandmates toward the end of his stint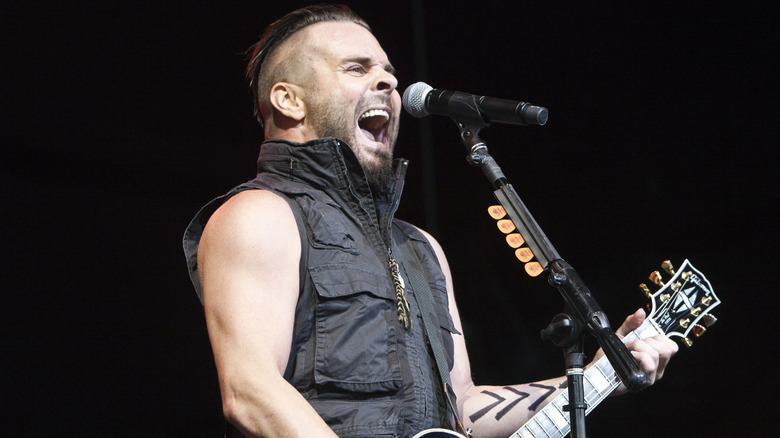 Jeff Hahne/Getty Images
In his interview with Rolling Stone, Chris Shinn said that the problems started sometime before Live was scheduled to do a tour of Australia. He had told his bandmates several months in advance that he needed to attend to some family matters after a previously scheduled show in Las Vegas, and it was agreed that there would be no concerts booked in between Vegas and Australia. But according to Shinn, the band went ahead and accepted an offer to play in Arizona shortly before the Australian tour. 
When the singer reminded his bandmates about the previous agreement, he was purportedly guilt-tripped and reminded of how much money Live would lose if they backed out of the Arizona show. But that wasn't the only instance where Shinn was allegedly mistreated by his bandmates. "Towards the end, I was really gaslit," he said. "I had started to share with them these ideas of me doing this side project with these guys I'd met from A Perfect Circle. Man, it was shut down immediately. It was, 'Hey, man. We're your band! You don't need those guys. You've got us. We'll be your solo project band for whatever you need to do.'" Shinn also claimed that Chad Taylor would repeatedly insist that Live would never rehire Ed Kowalczyk, despite his justified concerns that a reunion with the original frontman might be imminent.
Sure enough, Live reunited with Kowalczyk toward the end of 2016, effectively ending Shinn's time with the band.
The original lineup's reunion came with some less than favorable conditions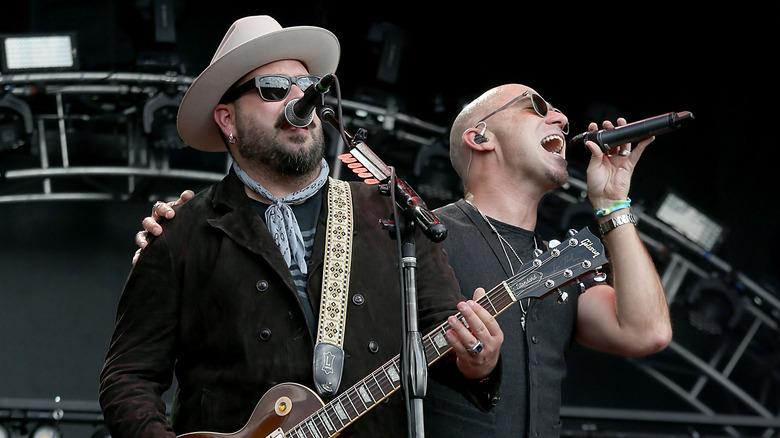 Gary Miller/Getty Images
And just like that, Live's classic lineup was back together again, but the reunion wasn't without its share of issues. According to Rolling Stone, Ed Kowalczyk only agreed to rejoin Live after he was promised a 40% share of the touring revenue; previously, the group split the money equally among all four members. But it wasn't just the singer who'd be getting a bigger piece of the pie, as Chad Taylor got a 30% share, leaving the rhythm section of Patrick Dahlheimer and Chad Gracey with 15% apiece.
This decision didn't sit well with Gracey. "Without Patrick and I knowing, Chad Taylor unilaterally negotiated with Ed," the drummer told Rolling Stone in 2023. "Patrick and I were left with crumbs. That pissed me off from day one. It soiled the reunion." Taylor acknowledged that he did increase his share of the touring money, but when pressed for the reason why he did so, he simply said that his decision "just reflects the historical truth of the band."
Despite the uneasiness over the new and uneven touring revenue split, Live continued playing reunion shows from 2017 until the COVID-19 pandemic shut down the concert scene in early 2020.
Kowalczyk fires everyone, Taylor and Gracey fall out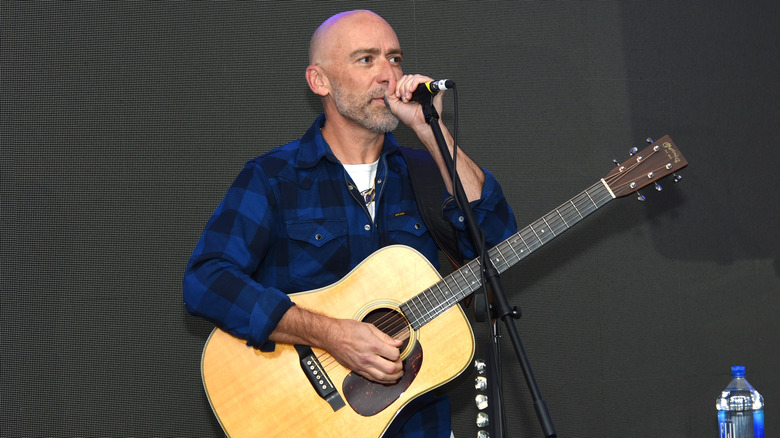 Mark Sagliocco/Getty Images
As outdoor events slowly returned in 2021 after over a year of lockdowns, social distancing, and Zoom concerts, Ed Kowalczyk hinted at even more behind-the-scenes turmoil within his band, taking to social media and suggesting that Live was a band in name only. On June 18, 2022, the singer went into greater detail while replying to a fan on Instagram. "I would love to perform – but it's not possible in the current situation with the band – the three other original members are not speaking to each other – and I am stuck in the middle – and if I try to go solo, there is a good chance they will sue me again," he explained.
On June 21, Kowalczyk returned to the social media platform to announce that he had fired Chad Taylor and that "he will never stop the music again" (via Loudwire). Patrick Dahlheimer and Chad Gracey were quietly canned soon after, and while Taylor and Dahlheimer remain on speaking terms, the guitarist's friendship with Gracey appears to have been permanently damaged, with much of the tension dating back to the making of Live's 2019 EP, "Local 717." Per Rolling Stone's follow-up to its February 2023 article documenting Live's internal turmoil, Gracey felt betrayed that the band — Taylor in specific — decided to use a session drummer on the release, due to his apparent inability to come up with ideas for his drum parts.
Was a purported con artist behind the classic lineup's dissolution?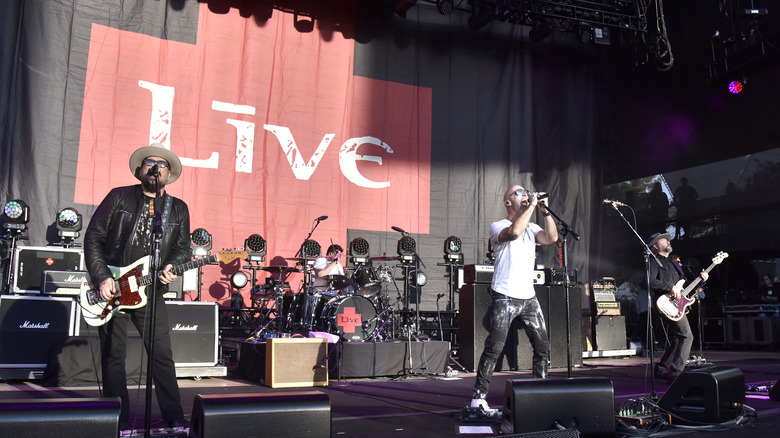 Tim Mosenfelder/Getty Images
According to Rolling Stone, the band's former business partner Bill Hynes was singled out by Chad Taylor as the primary cause of the strife within the band. Notably, the guitarist accused Hynes of conning Live out of over $10 million through various business dealings. But beyond the many charges of financial misconduct against Hynes that are largely unrelated to the band and its music, Taylor also suggested that Hynes manipulated multiple bandmates, playing them off against each other as the charges added up and Live's financial situation remained in disarray.
"Chad Gracey appears to continue to work with Bill Hynes, despite being warned that he could be placing himself in criminal jeopardy," read an email Taylor wrote to Ed Kowalczyk in June 2022. "Ed, more importantly, someone is playing heavily with your past emotions. That is not me, and it is not Patrick [Dahlheimer]." In his reply, Kowalczyk supposedly wrote that "Bill Hynes is innocent until proven guilty" and that Taylor should direct all subsequent concerns to the frontman's lawyer.
Regarding Kowalczyk's decision to stop playing shows due to the intra-band tension, and his concerns about getting sued again, Taylor theorized that Hynes and Gracey might have influenced the singer to make the move. Gracey disputed this, telling Rolling Stone that it was simply a matter of Kowalczyk wanting to avoid further drama. "Ed, to his credit, doesn't have anything to do with this," the drummer explained. "He just wants to go play with Live, which he should be able to."
A band divided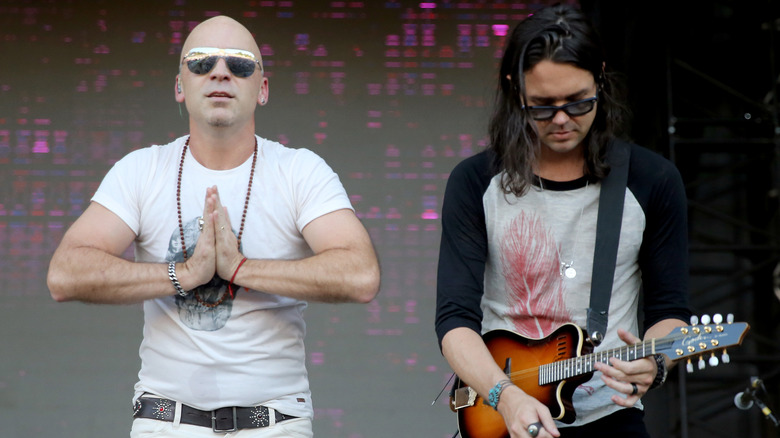 Terry Wyatt/Getty Images
At the time of writing, Live is Ed Kowalczyk plus relative unknowns Zak Loy (pictured above) on guitar, Chris Heerlein on bass, and Robin Diaz on drums — the same guy who deputized for Chad Gracey on the "Local 717" EP. They've been back playing shows since October 2022, and while the voice behind those '90s hits is still flying the band's flag for old and new fans alike, one has to wonder if fans will ever get to see the former Pennsylvania school friends making music together like they did back in the day.
When asked about whether there's a chance of Live's classic lineup reuniting, Gracey was adamant that it's not going to happen. "I don't ever want to play with Chad Taylor again," he told Rolling Stone about his former best friend. "The best way to deal with a narcissist is to not deal with him, so I don't want to. Every time he opens his mouth, he's either manipulating you, trying to control you, or bully you."
As for Taylor, he remained optimistic, expressing hope that Live's original foursome would one day put their differences behind them, may they be related to music, business, or politics. "I'd do a show with all the boys tomorrow," he said. "I love them — even Gracey and all his screwed-up s***. I love them, and I love the music we made."