Trump's Criminal Indictment Is Official: Here's How The Arrest Could Unfold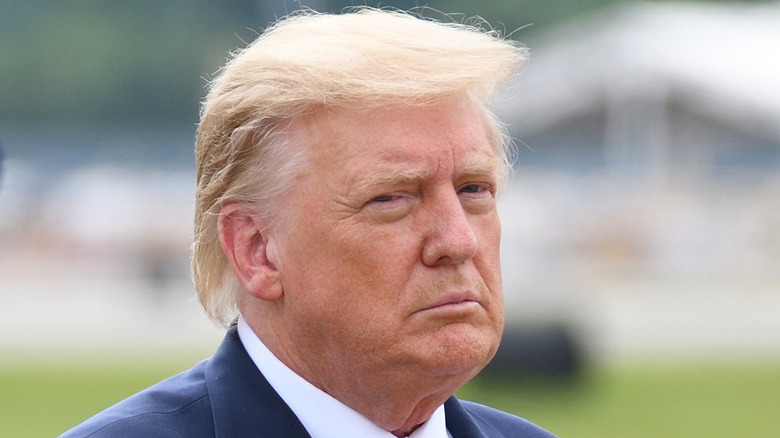 Evan El-Amin/Shutterstock
A New York grand jury voted to indict former President Donald Trump on March 30, 2023, CNN reports. The first current or former U.S. president to be indicted in U.S. history, the Trump case relates to the 2016 hush money paid to adult film actress, Stormy Daniels, and the former president's potential involvement in the agreement. With the 45th U.S. President's indictment now official, it's expected he will be asked to surrender by the New York state district attorney, rather than be arrested, The New York Times writes. If Trump fails to do so, however, he will be taken into custody.
Details of the possible historic arrest of a former U.S. president are forthcoming. According to the Associated Press, Trump's former lawyer Michael Cohen allegedly paid Daniels $130,000 to remain quiet about a sexual encounter between Trump and Daniels prior to Trump's time in politics. According to Cohen, he was directed to do so by Trump. Trump, who may have committed tax fraud, had already declared his candidacy for the 2024 presidential election when he was indicted. As of this report, the exact charges in Trump's official indictment were not disclosed. The former president has called the legal inquiry into the Daniels payment a "witch hunt."
A former president's arrest could be much like any other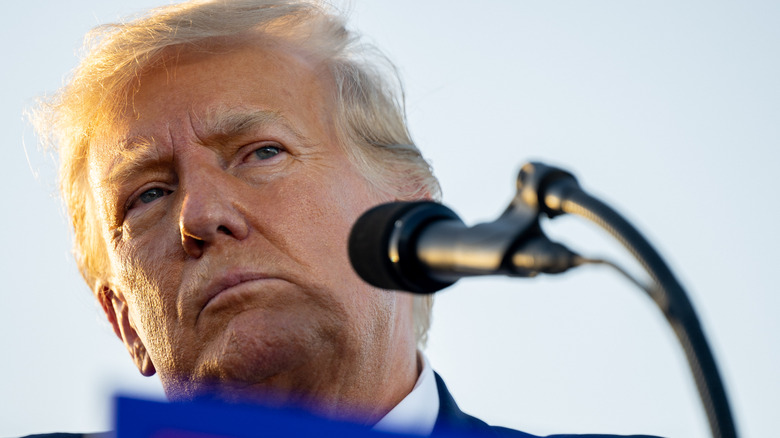 Brandon Bell/Getty Images
Should Donald Trump fail to surrender to the New York district attorney's office, he will likely be arrested. In the process of doing so, Trump could be handcuffed, fingerprinted, and read the Miranda warning, and/or be informed that he has the right to remain silent. Prior to his official indictment, Trump indicated that he would look forward to a so-called "perp walk," The New York Times elsewhere reports. This might suggest the former reality TV star and politician intends to force authorities to arrest him rather than surrender himself into custody.
Whether or not Trump is arrested or if he should give up willingly, the Secret Service will be involved in either scenario. The exact nature of the Secret Service's potential involvement was unknown, much like the rest of the details around the first-in-history indictment of a former or sitting POTUS. The timing of a potential Trump had also yet to be determined. As to whether Trump could continue to campaign for a second, non-consecutive term in the White House, the American socialist leader Eugene V. Debs ran and lost the 1920 presidential election while in jail, Smithsonian Magazine writes.