The Wild Way Donald Trump And Stormy Daniels Met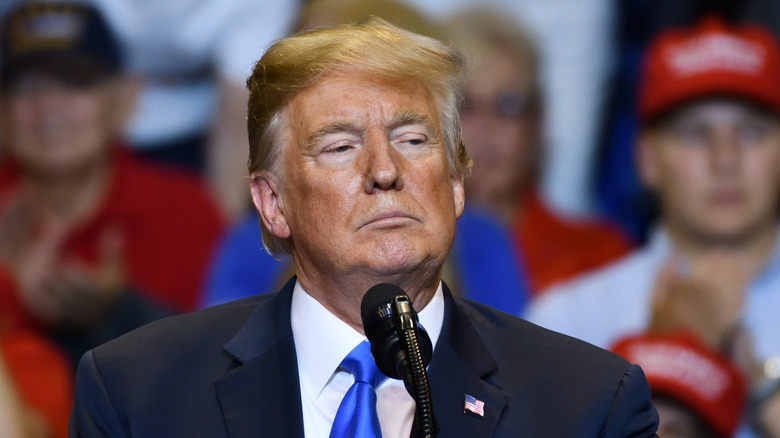 Evan El-Amin/Shutterstock
Despite his online accusations of fakery, corruption, witch hunting, or "AN ATTACK ON OUR COUNTRY THE LIKES OF WHICH HAS NEVER BEEN SEEN BEFORE," the fact remains that Donald Trump's criminal indictment is official. The 30-plus charges brought against the former president are related to his connection to money paid by his former lawyer Michael Cohen to Stormy Daniels. Allegedly, Trump once had an affair with Daniels, an adult film star, and arranged to pay her off to keep quiet about it during the 2016 election. Cohen paid her $130,000 from his own pocket on the agreement that Trump would reimburse him. Whether or not Trump paid him back with money earmarked for his campaign is the basis for what promises to be a long and hard-fought legal battle. 
Trump's inner circle — including sons Donald Jr. and Eric, and Reps. Marjorie Taylor Greene, Jim Jordan, and Lauren Boebert — were quick to come to his defense and express outrage at the charges. But Daniels has her own fans in her corner, and she thanked them on Twitter for their support. "I have so many messages coming in that I can't respond ... also don't want to spill my champagne," she wrote. 
It all sounds like an improbable TV plot: Billionaire political candidate (who later goes on to be president) cheats on his model wife with an adult film star and lives to regret it. But Daniels attests it's all true. So how did the two get together in the first place?
Donald Trump and Stormy Daniels' paths crossed by chance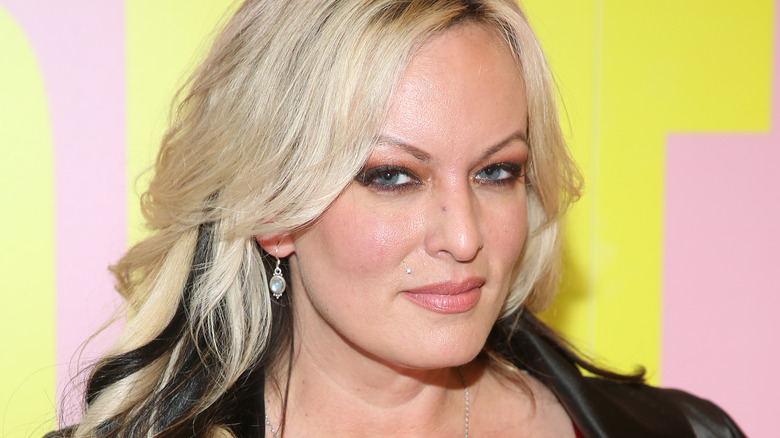 Phillip Faraone/Getty Images
In 2006, Donald Trump was still the mega-mogul known for his hotels, casinos, and "The Apprentice"; no one dreamed that he would successfully venture into politics a decade later. His fame and love of golfing made it a given that he would appear at a celebrity golf championship in Lake Tahoe, Nevada. Also at the event was a group of actresses from an adult film studio. Stormy Daniels (née Stephanie Clifford) was among them. As Daniels explained to In Touch Weekly, the two met on the course, and Trump later asked her to dinner. "Who would pass up an opportunity to talk to someone so interesting?" she said. "I wasn't trying to date him or anything like that." That dinner turned out to be in Trump's penthouse hotel room. 
The evening started off platonically; Daniels explains that Trump tried to talk her into being a contestant on "Apprentice." She, in turn, asked the question many have wondered for ages: Why didn't he change up his signature hairstyle? The future president gave a very Samson-like response: "He said that he thought that if he cut his hair or changed it, that he would lose his power and his wealth," Daniels recalled. "And I laughed hysterically at him."
Then things took a racier turn when Daniels went to the bathroom. When she emerged, Trump was waiting for her on his bed. (The quality of the sex was just "textbook generic," she recalls.)
Trump's past is coming back to haunt him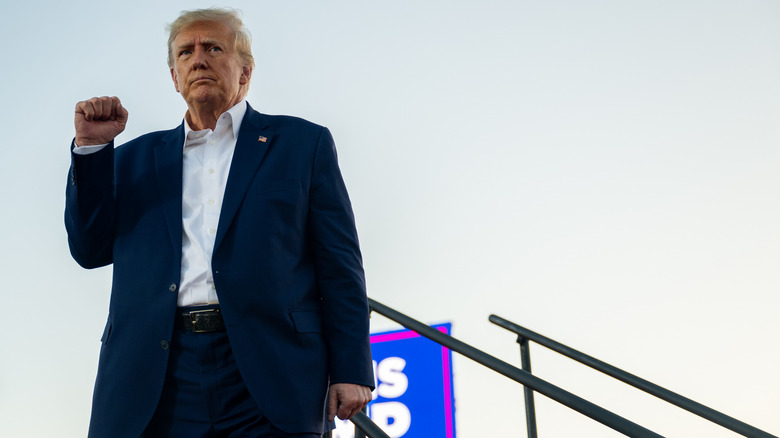 Brandon Bell/Getty Images
That night of semi-passion began what Stormy Daniels claims was an "ongoing" relationship, with Donald Trump calling her "at least three times a month" (he called her "honeybunch") and getting together when they happened to be in the same area. Daniels told In Touch that Trump seemed unconcerned that he was cheating on his wife Melania, who at the time had just given birth to their son Barron. Daniels told In Touch she didn't really take Melania's situation into consideration; in retrospect, however, "I feel bad [about the betrayal]," she said.
Their affair ended after Daniels became pregnant by her own boyfriend, and the two didn't stay in touch. Daniels said she stopped taking calls from blocked numbers like Trump's. The dalliance might have slipped quietly into history if not for Trump's presidential campaign. In 2022, she filed a defamation suit against Trump: Daniels claimed that an unnamed representative of his had threatened her to keep quiet, and that Trump tweeted a statement calling it a "con job," per NBC. The case was dismissed by a judge, leaving the actress with a six-figure legal debt. 
All this dirty laundry is sure to come up in court if Trump's indictment results in an actual proceeding. What to expect next? Accusations and denials: very likely. More name-calling by Trump: Guaranteed. He has already referred to Daniels as "Horseface," to which she has responded with a nickname that refers, um, to the size of the former president's anatomy.