Sarah Boone: The Florida Woman Who Killed Her Boyfriend With A Suitcase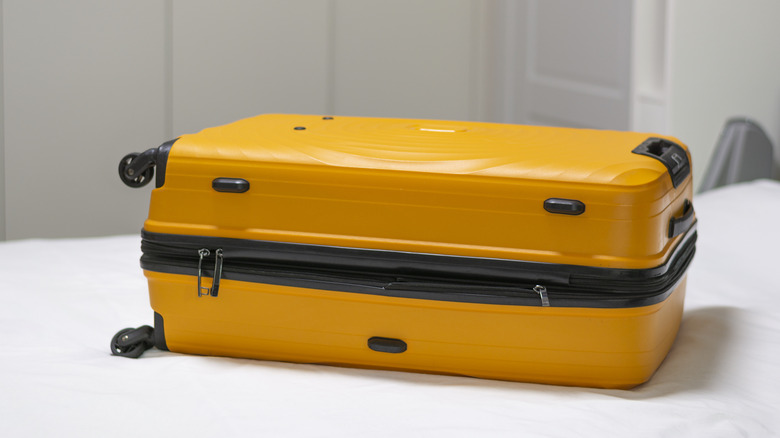 Helena Babanova/Getty Images
Typically, suitcases show up in murder trials as containing the remains of a victim. Sarah Boone, though, a Florida woman, stands accused of murdering her boyfriend with the travel accessory in 2020. Chillingly, Boone's boyfriend, Jorge Torres Jr. reportedly got in the suitcase during a game of hide-and-seek, NewsNation reports. From there, Boone is alleged by the prosecution to have left Torres Jr. inside the suitcase to die, as she recorded cell phone camera footage of Torres Jr.'s attempt to free himself amid cries for help. Boone can also be heard laughing.
In that cell phone video, Torres Jr. told Boone he couldn't breathe. Charged with second-degree murder for the crime, Boone's trial began in March 2023. Preceding the trial, Boone's defense planned to use the battered spouse defense, not typically recognized in the state of Florida. Both Torres and Boone had previously been arrested on battery charges, according to Fox 35 Orlando. In Boone's cell video, as Torres called for help, Boone said it was for everything he had done to her. Torres repeatedly tells Boone he can't breathe, and in heavily slurred words, it sounds like Boone replied, "Yeah, that's what you do when you choke me." The suitcase appeared to have been moved in a second video.
Boone passed out, she said
The incident in which Jorge Torres Jr. died trapped in a suitcase happened after the couple were drinking, according to Sarah Boone. In her version of events, Torres Jr. got in the suitcase while the couple played hide-and-seek before she then went upstairs and fell asleep. As soon as she found Torres Jr. unresponsive the next morning, Boone first called her ex-husband who then urged Boone to call 911 once he arrived at the house, The Independent reports. 
The degree of Boone and Torres Jr.'s intoxication at the time also changed in Boone's story. In 2018, Boone was charged with battering Torres Jr. by strangulation, although authorities said the primary aggressor in the situation could not be determined. In that case, Boone said she acted in self-defense, Fox 35 Orlando elsewhere writes, citing court affidavits. In 2019, Torres Jr. was arrested for battering Boone on three occasions. Boone admitted she zipped Torres Jr. in the suitcase and said the couple agreed it would be funny if Torres Jr. hid there. Torres Jr. did willingly, Boone later told investigators. 
Boone admits her cell phone videos 'looked bad'
Evidence against Sarah Boone in the case are the cell phone videos which contradict her statements that she had fallen asleep on the night that it happened, unaware that Jorge Torres Jr. was still trapped inside the suitcase. Boone says she doesn't remember taking the videos, but she did admit "they looked bad" (via the Independent). Once presented with the video footage, Boone said she thought her boyfriend was "crying wolf," The Orlando Sentinel reports. The luggage was broken and the accessory was zippered-shut with a paper clip.
When asked why she didn't assist Torres Jr. when she heard him in distress, she told Orange County, Florida sheriff Detective Chelsey Koepsell: "Well number one, I had no idea it was going to end like that, number two I'll give you five minutes or so in there." Once authorities were on the scene, there were signs of a physical altercation on Torres Jr.'s body, Click Orlando writes. Boone denied the couple were physically fighting prior to her boyfriend's death. Both Boone and Torres Jr. have children from previous relationships.