The Real Reason You Don't Hear From These Rock Stars Anymore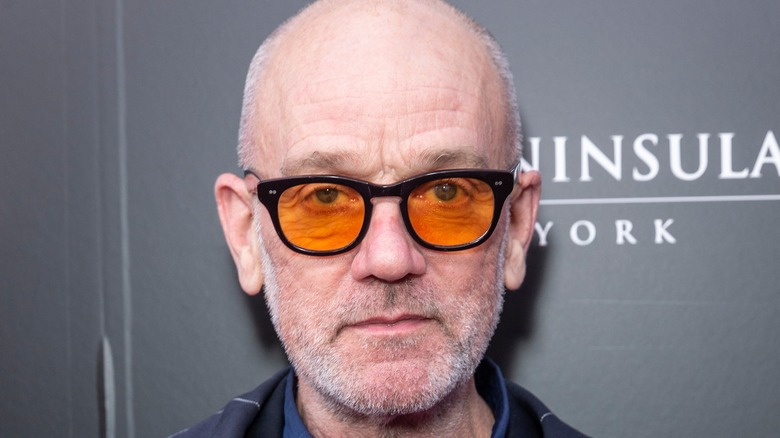 lev radin/Shutterstock
Living on the lighted stage approaches the unreal, to quote Neil Peart, the late, great lyricist for Rush. (He may also have dabbled in playing the drums.) As Peart explained in his band's classic tune "Limelight," it takes a certain type of person to live life in the public eye, the subject of the endless fascination of people who have never met you and never will. Living this life may indeed be "the universal dream," as he so succinctly put it — but once one finds themselves living it, it can turn out to be quite a bit different from what they expected.
The loss of your private self is one of many reasons why it sucks to be a rock star, but the musicians we'll be looking at today found a way out: They simply bailed. One day, they were doing press, signing autographs, and playing in front of thousands of screaming fans; the next, they were creating oil paintings, crunching numbers as an accountant, or living on a horse farm. Hey, we've all fantasized about leaving our day jobs behind, and it turns out that this is the case even if your day job is ostensibly the coolest one that exists. Here's why we don't hear from these rock stars anymore.
Meg White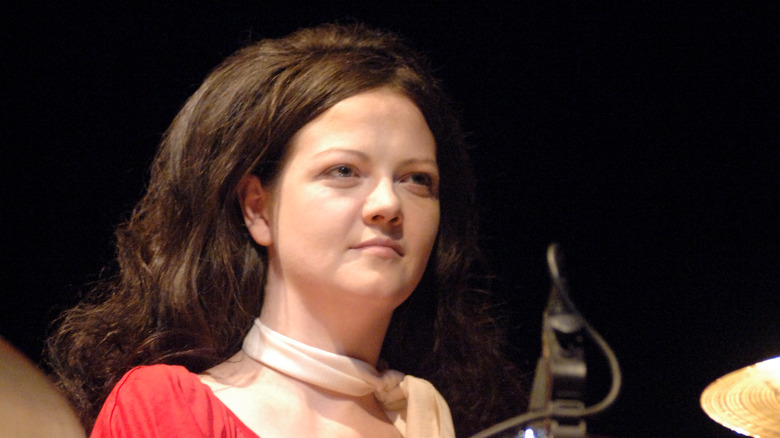 Gie Knaeps/Getty Images
The White Stripes rose out of the Detroit rock scene of the late '90s, coming to national prominence in the early aughts with an unlikely strategy: playing loud, trashy, straightforward garage rock, but doing it really, really well. The band was a true duo, combining minimal elements to create their special formula — the bluesy, flamboyant vocal and guitar work of frontman Jack White, and the raucous, steadfastly simple drumming of Meg White. Yes, the pair were married until 2000 (though they all but encouraged their fans' speculation that they were siblings), but even after their divorce, they kept turning out smash albums, including the million-plus selling releases "White Blood Cells" (2001) and "Elephant" (2003).
Shortly after the release of their 2007 album "Icky Thump," it was reported by outlets such as NME that Meg White was suffering from acute anxiety, which had begun to affect her ability to perform and travel. The demands of being an internationally known rock star may have been a factor, for as it turned out, "Icky Thump" was the White Stripes' swan song. While Jack White continued to record and perform, Meg simply fell out of the spotlight, and never really resurfaced. In 2014, Jack White told Rolling Stone that he practically never talked to his former wife and bandmate — and indeed, neither did anyone else, so far as he knew.
Grace Slick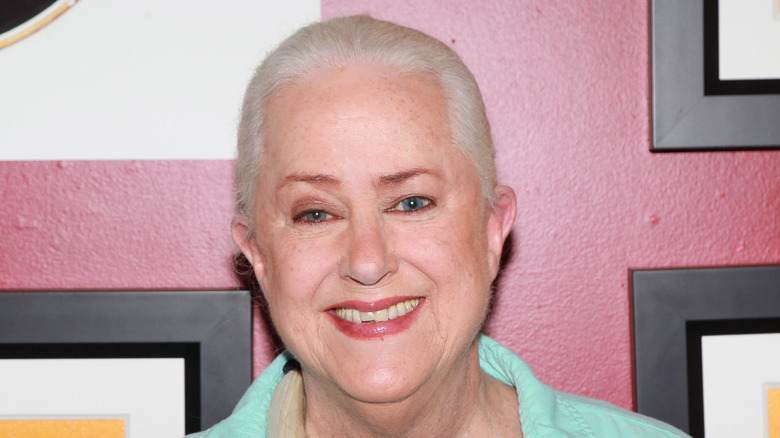 David Livingston/Getty Images
Depending upon their age group, rock fans know Grace Slick either as a vocalist for Jefferson Airplane (of '60s "White Rabbit" fame), Jefferson Starship (the revamped version which had some success on album-rock radio in the '70s), or simply Starship (the further-revamped version which fielded some of the most maligned singles of the '80s). Slick's highly recognizable voice and face were fixtures of popular music for the better part of two decades, but right around 1989, she pretty much disappeared — and the reason for that is, honestly, about as rock 'n roll as it gets.
Speaking with WENN in 2015 (via LouderSound), Slick said she retired at the age of 50 because, put simply, old people shouldn't rock. "There's something about old people singing rock 'n roll lyrics that bothers me — it just doesn't match," she said, citing Fleetwood Mac as a band that should go ahead and hang it up. She also expressed a distaste for her aforementioned '80s work, saying, "I'm lying if I say 'Nothing's gonna stop us now' — a truck will stop you instantly ... It's b******t. And there's no city built on rock 'n' roll." In an earlier interview with CNN, Slick revealed that she's still doing pretty well for herself as an artist — a visual artist, that is. She's now a painter who has a special affinity for scenes from "Alice in Wonderland" (which should not surprise fans of "White Rabbit"), and her works have sold for up to $30,000.
John Deacon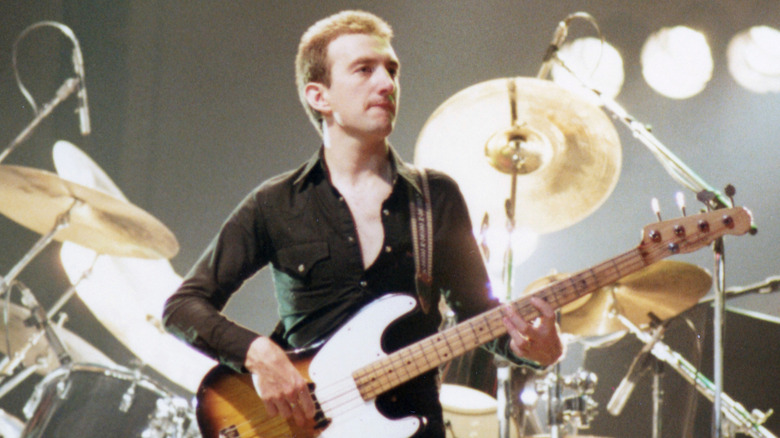 Icon And Image/Getty Images
Queen was a band full of interesting characters. There was Freddie Mercury, the unrealistically fantastic lead singer; Brian May, the lead guitarist who built his own freaking guitar and would go on to become an astrophysicist; Roger Taylor, the drummer who could also sing well enough to hit high harmonies for Mercury and occasionally take over on lead vocals; and John Deacon, who ... played bass. As was somewhat typical of hard rock bassists, Deacon was the Quiet One, the guy who stood there and simply laid down a rock-solid rhythm section with Taylor. But behind the scenes, he contributed to the band in other important ways, co-writing such hits as "Stone Cold Crazy," "You're My Best Friend," and (of course) the bass-anchored smash "Another One Bites the Dust."
Mercury passed away in 1991, and in an interview with The Times, May revealed that Deacon — who had been very close to the singer — began to fade away from Queen near-immediately afterward. "He found [Mercury's death] incredibly hard to process," May said, "to the point where actually playing with us made it more difficult." As a wizard with numbers, however, Deacon had been handling the band's finances since the mid-'70s — and although he now shuns the limelight, he continues to fill that role for his old friends. In a 2014 Rolling Stone interview, May said, "He still keeps an eye on the finances ... John Deacon is still John Deacon. We don't undertake anything financial without talking to him."
Sly Stone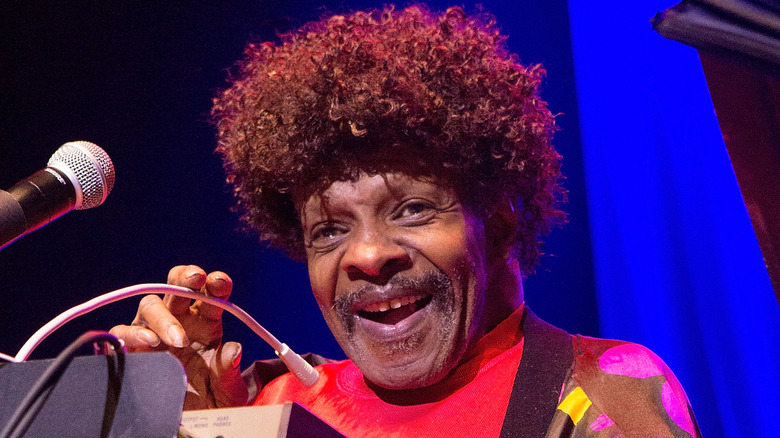 Mark Weiss/Getty Images
Of all the iconic bands to come out of the '60s, Sly and the Family Stone — led by mercurial frontman Sylvester Stewart, AKA Sly Stone — was the most difficult to classify. Their music was a blend of pretty much every form of popular music that had existed to that point, from rock to R&B to jazz; perhaps the strongest flavor in their brew was funk, which they are often credited with bringing to the mainstream along with their contemporary James Brown. But after a highly successful run in the late '60s and early '70s — which included three #1 hits — the band's fortunes began to wane, and their final album "Ain't But the One Way" was released in 1982.
Like many of his contemporaries, Stone was a titanic consumer of drugs, and he was essentially forced into retirement by his habits after his induction into the Rock and Roll Hall of Fame in 1993. He made only sporadic public appearances in the years to follow, and in 2011, he was back in the spotlight for a most non-excellent reason: It was reported that the legendary musician was homeless, living out of a van in Los Angeles. Fortunately, in recent years, he appears to have gotten back on track. It was reported in 2023 that Stone was clean, working on his memoir with author Ben Greenman, and participating in a documentary about his life to be directed by another legend: Roots drummer and filmmaker Questlove.
Joni Mitchell
Bruce Glikas/Getty Images
There was a time in the late '60s when pretty much every singer-songwriter wanted to be Bob Dylan — well, every one except Joni Mitchell, who was intent on blazing her own path in a then-male dominated field. Her idiosyncratic, deeply personal brand of songwriting resonated with fans and peers alike, and while she only ever scored one top ten hit (1974's "Help Me," which peaked at No. 7), one would be hard-pressed to find an artist who garners more respect. In addition to her own voluminous body of work, Mitchell has penned hits for the likes of Judy Collins and Crosby, Stills, Nash, and Young, and over the course of her career she's collected no fewer than nine Grammys.
Mitchell walked away from music in the late '90s, for a reason that should surprise no one: She had grown sick and tired of the music industry and its treatment of genuine artists, and especially women. "I came to hate music," she told The Guardian in 2007. "I listened only to talk shows for 10 years." Complicating any hope of a comeback was the brain aneurysm Mitchell suffered in 2015, after which she lost the ability to play guitar. Fortunately, according to Premier Health, she relearned that skill by watching old videos of herself performing — and in 2022, she delighted fans with a surprise performance at the Newport Folk Festival.
Izzy Stradlin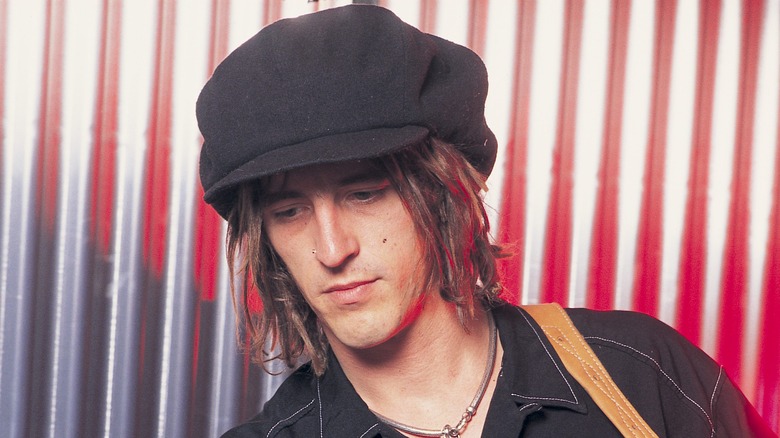 Mark And Colleen Hayward/Getty Images
In the history of rock music, few debut albums have made a bigger impact than "Appetite for Destruction," the 1987 platter from Guns N' Roses. Their scruffy look and mean, aggressive sound — anchored by the wailing lead guitar of Slash and the screeching-yet-somehow-melodic vocals of frontman Axl Rose — were completely different from their hair metal peers. Bolstered by a legendary performance of the single "Welcome to the Jungle" at the MTV Video Music Awards in 1988, "Appetite" went platinum that year, selling a million copies — then proceeded to duplicate that feat seven times over by the end of the decade.
The band's 1991 follow-ups, "Use Your Illusion I" and "Use Your Illusion II," likewise sold like hotcakes, which for guitarist Izzy Stradlin was something of an issue. In the middle of a tour in 1991, Stradlin — who was becoming increasingly disillusioned by Rose's ego and his bandmates' voracious drug consumption — up and quit, and he never looked back. In 2016, LA Weekly attempted to catch up with Stradlin at his home in Ojai County, California, but literally could not find him. His last public performance to date was as a guest at an Aerosmith concert in 2012 — and at least for now, he seems perfectly content to be all the way out of the spotlight.
D'arcy Wretzky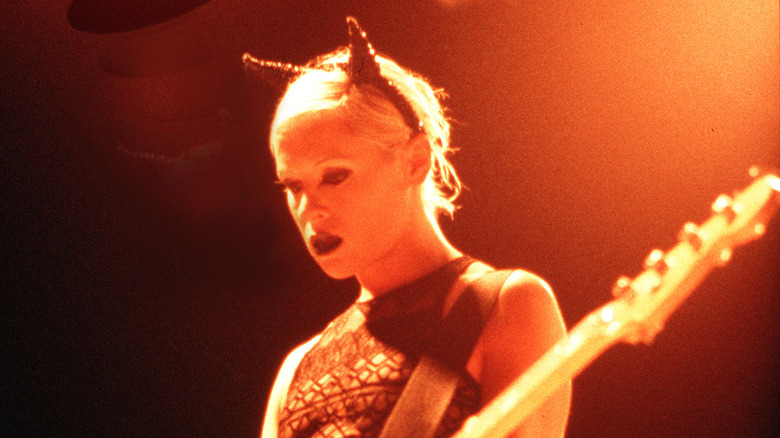 Luciano Viti/Getty Images
The Smashing Pumpkins were something of a rarity in the early to mid-'90s: a non-grunge rock band, with strong metal, goth, and progressive influences, that were actually quite successful. Their 1993 album "Siamese Dream" went platinum four times over, and 1995's "Mellon Collie and the Infinite Sadness," despite its goofy title, more than doubled that feat. Songwriter and vocalist Billy Corgan anchored the band, along with guitarist James Iha and bassist D'Arcy Wretzky — who, in a shocking turn of events, was either fired from the band or quit (depending upon who you asked) in 1999.
In a 2004 post on his LiveJournal blog, Corgan let Wretzky have it, claiming that she had been canned for being a "mean spirited drug addict who refused to get help." For her part, Wretzky — who had left the world of music to live on a farm with her horses — declined to fire back until 2018, when her former bandmates declared that they had been trying to get her to reunite with them for years. In a subsequent interview with Alternative Nation, Wretzky claimed that this was a bald-faced lie, that she and Corgan were "never friends," and that her entire time in the band — particularly the recording process — was a "nightmare." Obviously, no reunion seems to be forthcoming, as it seems it would take a few of Wretzky's horses to drag her back into the studio.
R.E.M.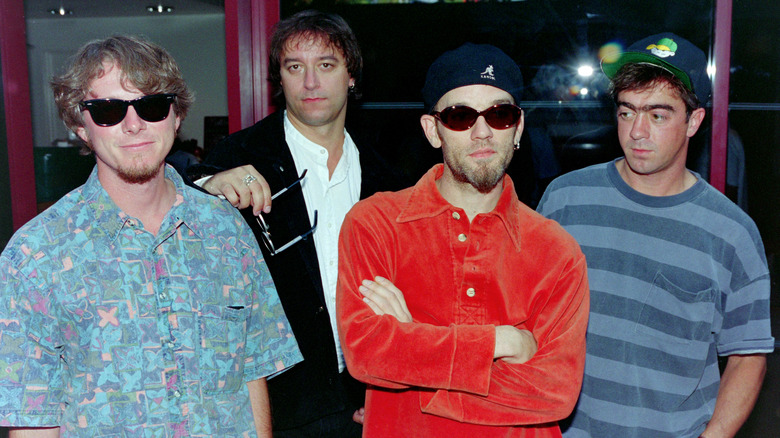 Dave Hogan/Getty Images
R.E.M. weren't just one of the hardest-working bands of the '80s, dropping records and embarking on tours at a frantic pace. They were also pioneers of, and carried the torch for, the burgeoning genre of alternative rock, which emerged during that decade to fill the void left by the quick rise and flame-out death of punk. Late in the decade, beginning with 1987's "Document" and its hit single "The One I Love," the band would evolve into superstars. Over the ensuing quarter-century, R.E.M. displayed remarkable inventiveness and resilience, even soldiering on after drummer Bill Berry suffered a career-ending double aneurysm in 1995 — but in 2011, after three decades as a band, they decided to call it quits.
In a statement announcing the breakup, bassist Mike Mills said that their final album, "Collapse Into Now," felt like a natural stopping point for the band, and that there was "no disharmony here, no falling-outs, no lawyers squaring off ... The time just feels right." Speaking with Rolling Stone in 2016, guitarist Peter Buck elaborated that while the band had always loved writing and recording music, they had developed a burning hatred for the music industry. "It was the money, the politics, having to meet new people 24 hours a day, not being in charge of my own decisions," Buck said. "I hate the business, and I didn't want to have anything to do with it." 
Billy Squier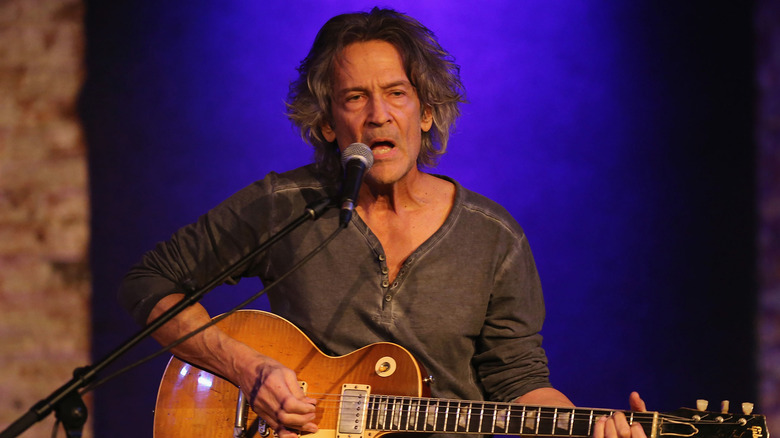 Al Pereira/Getty Images
In the early '80s, Billy Squier was an absolute titan of rock radio. His brand of anthemic arena rock was tailor-made for the period, and he notched top 20 hits in "The Stroke" (from his platinum-selling sophomore album "Don't Say No") and "Rock Me Tonite," the video for which garnered plenty of play on MTV. Unfortunately, this constitutes the rare case in which the heavy MTV exposure was not a boon to Squier's career, but a massive liability.
In the book "I Want My MTV: The Uncensored Story of the Music Video Revolution," music journalists Rob Tannenbaum and Craig Marks devote an entire chapter to the "Rock Me Tonite" video — a chapter entitled "A Whopping, Steaming Turd: The Worst Video Ever Made." Said video featured Squier vamping about in a pink tank-top, rolling around in satin sheets, and generally behaving in a manner that, especially for the time, was not considered to be befitting of a rock god. In the book, the singer all but squarely placed the blame on the video for tanking his career — and while he soldiered on for close to another decade, he would reveal to music historian Eddie Trunk in 2011 that the final straw came in 1993, when an incoming executive at his label, Capitol Records, flatly stated his intention to bury Squier's new record "Tell the Truth." Squier has released just one studio album since — the acoustic "Happy Blue."
Bill Wyman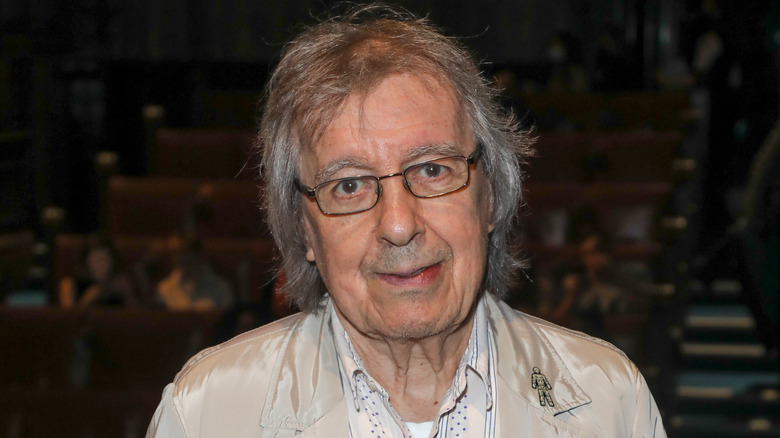 David M. Benett/Getty Images
Not many bands have been at it longer than the Rolling Stones. When you've been one of the biggest bands in the world for six decades, every one of your members tends to develop a bit of a mythology around them. For example, frontman Mick Jagger had an entire song devoted to his funky chicken-esque dance moves, guitarist Keith Richards has long been the subject of endless speculation about his possible immortality, and original bassist Bill Wyman ... well, there's an exception to every rule.
Wyman left the band amicably in 1992 after over 30 years, and yes, that was over 30 years ago. The bassist told The Telegraph in 2008 that he was simply tired of hauling out the same old songs after all that time, and that he was quite enjoying the more low-key nature of his post-Stones band, the Rhythm Kings. Speaking with the Los Angeles Times in 2019, Wyman said that he had remained "great friends with the boys," and he sounded quite happy to no longer be rocking. "We still send each other birthday and Christmas presents. We see each other socially when it's possible," he said. "It's a family thing, although it sounds corny. It's not business anymore."
Linda Ronstadt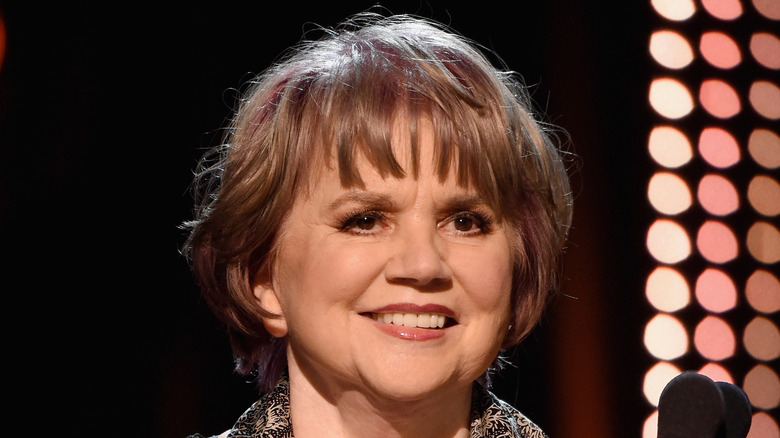 Kevin Mazur/Getty Images
Linda Ronstadt is both country and rock and roll royalty, but she would be the first to tell you that she's not so much a songwriter — her forte is interpreting the tunes of others, and she became world-famous due to her skill at doing just that. She had a jaw-dropping run of five straight platinum albums in the '70s, and was named by Cashbox as the most successful female solo performer of that decade; she's won 11 Grammys, both as a solo artist and for collaborations with fellow legends Aaron Neville, Emmylou Harris, and Dolly Parton. She could doubtless still bring fans out in droves to hear her perform even today — but unfortunately, that is no longer an option for her.
In an interview with AARP in 2013, Ronstadt disclosed that she had been diagnosed with Parkinson's disease, which had completely robbed her of her once-powerful singing voice. That diagnosis was later revised to the condition known as progressive supranuclear palsy, but as far as any chance of performing goes, the revision made no difference. In a 2019 conversation with The New Yorker, she conceded that while she enjoyed having friends play music in her living room where she "like[s] it best, anyway," she wasn't terribly psyched about no longer being able to sing. "I've just accepted it," she said. "There's absolutely nothing I can do."