The Wild History Of The Iconic Whisky A Go Go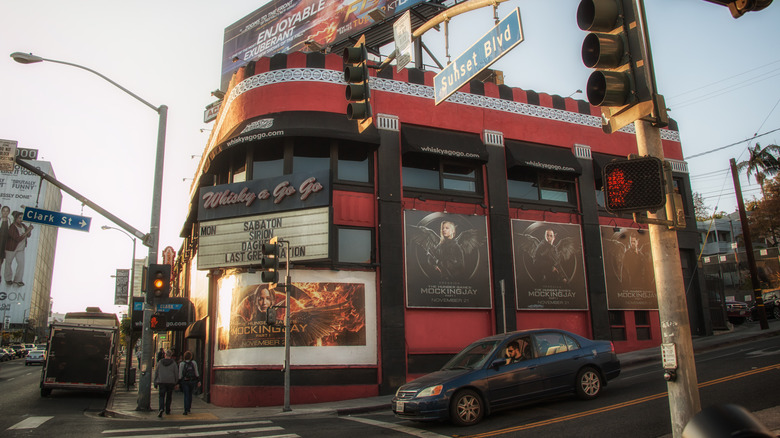 Atomazul/Shutterstock
Rock 'n' roll is replete with iconic clubs that served as the launch pad for some of the most important bands of all time. Some of these clubs were the epicenters of influential movements. For example, CBGB in New York City played an important role in the budding punk rock scene of the 1970s; the Crocodile Cafe in Seattle was home to the grunge explosion of the early 1990s; and countless British acts have graced the stage of Liverpool's Cavern club throughout the 1960s. Los Angeles — and more specifically, Hollywood — has had more than its fair share of famous venues that helped young rock bands make a name for themselves, such as the Viper Room, the Roxy, and the Troubadour, among many others.
However, one nightclub stands above all of the others in terms of its importance in the history of rock 'n' roll (and also in terms of pure decadence): the Whisky a Go Go. Located on Hollywood's famed Sunset Strip, the Whisky has played a role in almost every rock music movement since it was founded, from the folk-rock scene of the mid-1960s to the psychedelic scene of the late-1960s to the punk rock scene of the 1970s, and all the way through to the heavy metal scene of the 1980s and beyond. 
Innumerable major bands either got their start at the Whisky, made a pit stop there as part of a tour, or simply made it their personal hangout. Let's take a look at the wild and wooly past of the Whisky a Go Go.
The wild life of the Whisky's founder, Elmer Valentine
Eric Glenn/Shutterstock
Is it any wonder that the legendary Whisky a Go Go was founded by a man who had just as much of a storied life? Before founding the iconic venue, Elmer Valentine was born in Chicago, enlisted in the Air Force, and fought in WWII. After leaving the military, he returned to Chicago to live a law-abiding life as a police officer. But Valentine had a less than savory side gig, as he told Vanity Fair: "I used to moonlight running nightclubs for the outfit. For gangsters." Eventually his felonious activities caught up to him, and he was charged with extortion. The accusations didn't stick, luckily, but Chicago was getting too hot for him, so he headed to the West Coast to start anew.
Valentine landed in Los Angeles in 1960 and put his nightclub experience to use by opening PJ's. The joint attracted some attention when up-and-coming singer-songwriter Trini Lopez recorded a live album there, which became a commercial success. While Valentine knew that the nightclub business was for him, he wasn't sure about his place in L.A. So, he sold his stake in PJ's and traveled to Europe in 1963 in search of a new place to open up a live music venue and club. 
In Paris, he stumbled upon a nightclub called the Whisky à Go Go that was packed with young people on a nightly basis — it wasn't long before Valentine returned to the U.S. with the idea.
The Whisky a Go Go opens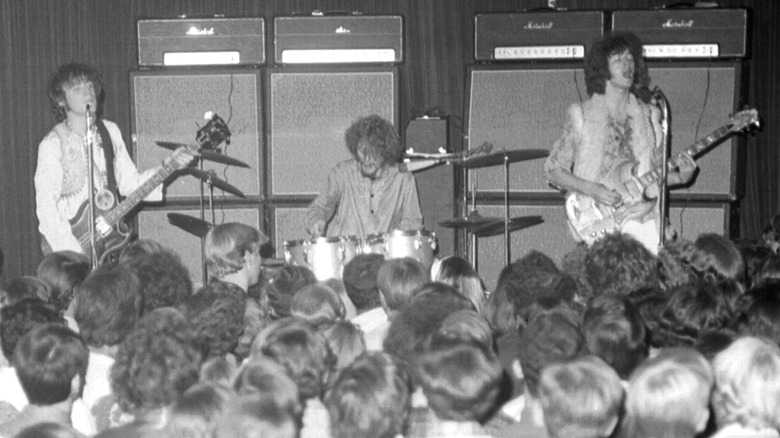 Michael Ochs Archives/Getty Images
In the early-1960s, the Sunset Strip wasn't as happening as it was during Hollywood's Golden Age. But that all changed when Elmer Valentine returned from Paris, with a plan to replicate the success of Paris' Whisky à Go Go in America.
"So I came back to Los Angeles, and I wanted to open a disco­theque," he told Vanity Fair. "I wanted that badly. 'Cause I saw what was happening — the frenzy and the people and the lines." There was a club called the Party that had seen better days located on Sunset Boulevard, which is where Valentine set up shop. After Americanizing the name of the influential Paris nightclub by ripping off the accent, the Whisky a Go Go officially opened in 1964.
But in order to attract a crowd, Valentine needed an act. He came upon a talented young singer/songwriter/guitarist named Johnny Rivers (who later achieved considerable fame for his song "Secret Agent Man"), who was then the house act at the nearby Italian restaurant Gazzarri's. Valentine was instantly infatuated with his sound, which brought in plenty of customers. Lou Adler, a friend of Valentine with a background in the music industry, convinced the club owner to court Rivers with an offer of a residency at the Whisky. Rivers happily accepted and became a regular at the venue, bringing his growing fanbase with him. Word of mouth spread quickly, and the Whisky soon became a hotspot for budding rock 'n' roll acts.
The 1960s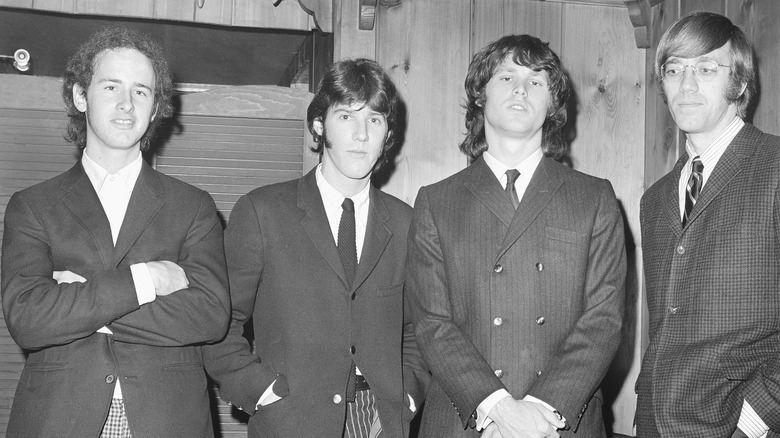 Michael Ochs Archives/Getty Images
According to Vanity Fair, within the first year of opening the Whisky garnered national attention, becoming the hangout for Tinseltown royalty like Steve McQueen and Jayne Mansfield. Johnny Rivers recalled: "Ev­erybody was there. I mean, you'd look up, and there was Cary Grant dancing." 
But it wasn't just American celebrities that the Whisky appealed to: After conquering Britain, the Beatles embarked on their first tour of the United States, and made room on their itinerary to visit this new Hollywood hotspot. As the establishment's esteemed owner, Elmer Valentine never missed an opportunity to rub elbows with the A-list clientele. Indeed, the Whisky was the place where inhibitions were optional, with racy stories involving the Beatles, English actor James Mason, and the voluptuous Mansfield that are a tad too spicy to share here.
The Doors was another one of the house acts during the Whisky's early days, although band members Jim Morrison and Ray Manzarek, who were studying film at UCLA at the time, were initially reluctant to join the Sunset Strip scene. Manzarek told Vanity Fair, "The Whisky was for Hollywood swing­ers ... It was the antithesis of everything artistic that you could imagine. Everyone derided it ... And then we wind up being the house band there. How ironic life is." While Morrison's drug- and alcohol-fueled exploits eventually got them banned from the joint, they furthered its reputation as a venue where anything could happen.
Go-Go dancing is introduced to American audiences
During the Whisky's 1960s heyday, it started no shortage of trends. When Johnny Rivers performed at the club, a young female DJ played records in between his sets in a transparent enclosure, elevated above the dancing patrons. Because the venue wasn't terribly big, special accommodations had to be made to allow room for both a stage and a DJ booth. 
Still, Elmer Valentine knew how unique the setup was, and arranged a contest to hire a hip young lady to fill the role. They found a winner, but her mother refused to let her do it (probably for the best), so Valentine hired his cigarette girl Patty Brockhurst to do it, and accidentally kicked off one of the defining dance crazes of the 1960s.
You see, Brockhurst was only hired to be a DJ, but her tendency to dance to the music she spun turned into something much bigger. As Valentine told Vanity Fair, "She had on a slit skirt, and we put her up there. So she's up there playing the rec­ords. She's a young girl, so while she's playing 'em, all of a sudden she starts dancing to 'em! It was a dream. It worked." Knowing that this would help put the Whisky on the map, Valentine had two more platforms built and quickly hired more dancers to occupy them.
Mob connections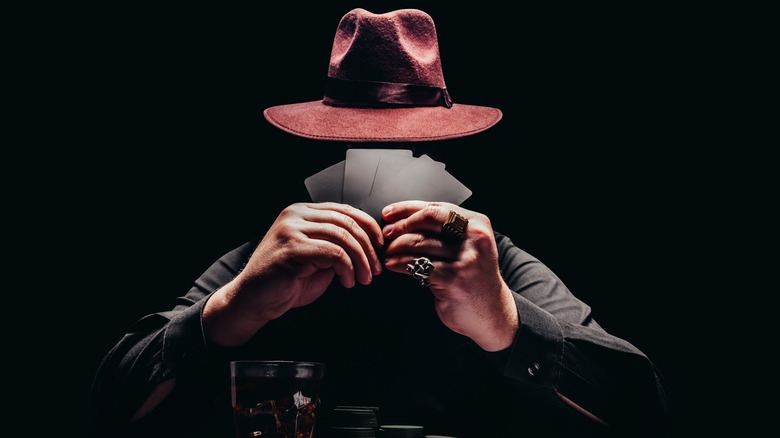 breakermaximus/Shutterstock
Though Elmer Valentine had largely left his illegal life behind in Chicago, some of those old mobster connections still followed him out to sunny southern California. According to Vanity Fair, news of the Whisky's success spread to Chicago, where some of Valentine's previous "colleagues" still worked. Some even showed up at the Whisky, and tried to force Johnny Rivers to sign a contract requiring him to fork over some of his earnings. Lou Adler stepped in, but was faced with a pretty gruesome death threat. Luckily, Valentine showed up to cool the situation, but he did have to go to Chicago to meet with his old connections in person to convince them to lay off.
It wasn't exactly a secret that Valentine had some gangster connections, which may have contributed to the admiration he garnered in the Sunset Strip scene. And while he rarely flexed his mob muscles, he wasn't afraid to when the time called for it. Notorious hitman Felix Anthony "Milwaukee Phil" Alderisio was a buddy of Valentine, who employed his "help" from time to time. For example, rival establishment Gazzarri's was so bothered by the Whisky taking Rivers from him as their act that the owner sent one of his connections, Charles Carmen Inglesia (aka "Chuckie English"), to threaten Valentine into giving back Rivers. Valentine had Alderisio "respond" for him, and the matter was instantly laid to rest.
The fight against city hall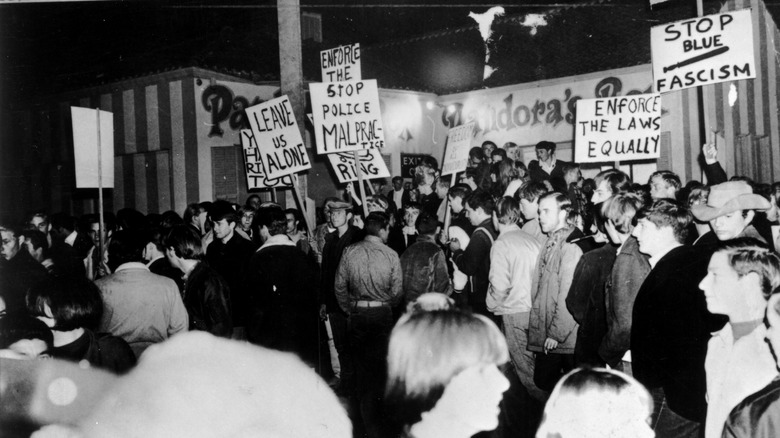 Michael Ochs Archives/Getty Images
The Sunset Strip of the early-1960s wasn't the hottest LA neighborhood. That is, not until the Whisky came along and shocked the place back to life. The club's owners specifically attracted young adults: A Sunset Strip historian told Curbed Los Angeles that one of them noticed some teenagers lingering around Hollywood High School, stating: "... he asked them if they would just hang around the Whisky that night just at the opening so it looked like something was going on inside." Nearby venues followed suit, so by the mid-1960s, the Sunset Strip was no longer just the stomping grounds of Hollywood's old guard; the hippie element had moved in and planted its flag firmly in the territory.
However, the sudden and massive influx of youths caused a lot of problems for any Sunset Strip business that didn't play live music. They complained of kids engaging in all kinds of degenerate activity and blocking traffic with their antics. One popular club, Pandora's Box, was located on a traffic island and was fingered as the epicenter of underage decadence. According to The Guardian, it was then proposed that the club be torn down, loitering be banned, and a 10 p.m. curfew be implemented. 
November 12, 1966 saw a crowd of young people holding a peaceful protest at Pandora's Box; some fights broke out and numerous arrests were made, but it was a mostly nonviolent affair. Unfortunately, the protestors' efforts were in vain, and the club was torn down in 1967.
Charles Manson connections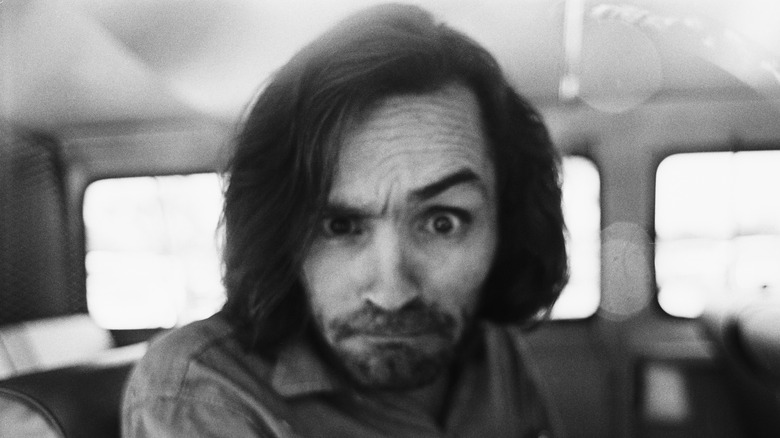 Michael Ochs Archives/Getty Images
That high and beautiful wave of the 1960s hippie movement had to come crashing down sometime, and its break was foreshadowed by the Tate murders committed by the Manson family in 1969. But before Charles Manson attracted worldwide notoriety for his cult, he was a musician and songwriter operating on the fringes of the Los Angeles music scene. And it may be no surprise that he was a Whisky regular. According to Jeff Guinn's book, "Manson: The Life and Times of Charles Manson," Manson caused quite a stir at the club with his bizarre antics: "He tipped back his head and threw out his arms. It seemed as though electrical sparks flew from Charlie's fingers and hair."
As tolerant as the Whiskey was during its immoral zenith, it couldn't tolerate Manson. The club's co-owner Mario Maglieri told Vanity Fair about a time he encountered the maniacal Manson hanging around in a booth after hours, saying, "I said, ʻWhat are you doing here? We're closed. You can't be there.' He looked at me and says, ʻI can have you killed.' And I f—in' grabbed him. Threw him out ... I shoulda strangled that son of a b——." 
While the Manson family's crimes didn't hurt business much in the Sunset Strip live music scene, it definitely soured the mood for many: After the killing of Sharon Tate, Jay Sebring, and others, the kaleidoscopic shimmer of the Swinging Sixties was noticeably dimmer.
The 1970s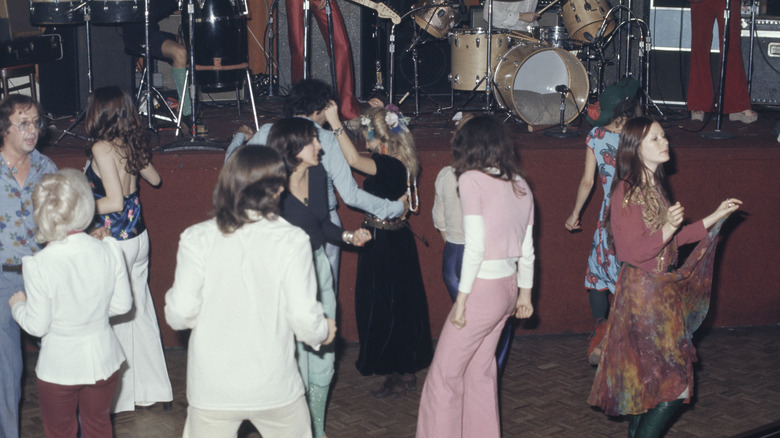 Michael Ochs Archives/Getty Images
The Whisky experienced numerous ups and downs in the 1970s. Rock 'n' roll had become far more mainstream and was no longer confined to debauched nightclubs, having migrated to massive theaters and outdoor venues. This, combined with disco's domination of the airwaves, dealt the Whisky a considerable blow. As stated in Vanity Fair, Elmer Valentine refused to go down without a fight, and decided to evolve with the times by turning the joint into a more respectable locale that showcased cabaret performances. However, this business move did little to improve attendance, and the Whisky closed down for the first time in 1974.
However, the closure only lasted until 1976, just in time to capitalize on the punk rock and New Wave movement that was rapidly growing in Los Angeles. Up-and-coming acts like X, The Go-Go's, The Germs, the Runaways, Dead Kennedys, Blondie, and many others became regulars at the Whisky, bringing their scruffy followers with them. The Sunset Strip, once populated by long-haired hippies, was now occupied by mohawked punks. But this era didn't last much longer either, largely thanks to a little band from Pasadena called Van Halen. 
Fueled by Eddie Van Halen's explosive electric guitar pyrotechnics, the band brought a harder-edged sound and a party-down attitude to the Whisky's stage, one that paved the way for another music trend that would typify the club through the 1980s. The Whisky was about to experience a raunchy renaissance at the dawn of the "Decade of Decadence."
The 1980s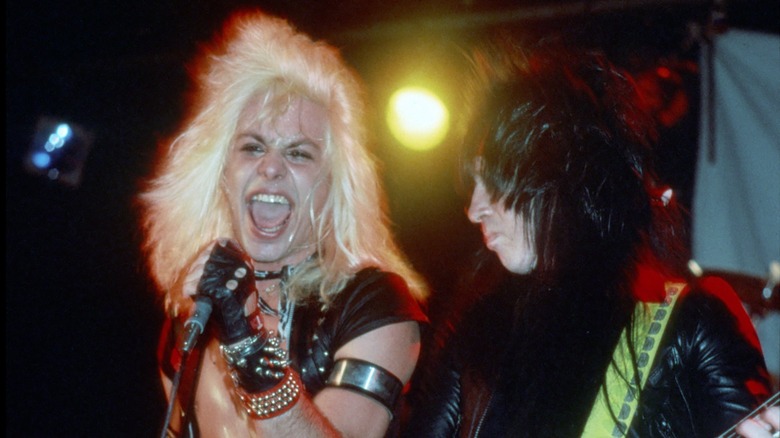 Alison Braun/Getty Images
Van Halen may have kicked open the door at the Whisky for the budding Sunset Strip heavy metal scene, but it was Mötley Crüe who held that door open. Formed in 1981, Mötley Crüe became regulars at the famed Hollywood club and quickly gained a reputation for their high-volume depravity. 
Gone were the spiked garb and menacing mohawks of the short-lived punk rock era, all of which were replaced by leather jackets and feathered hair held in place by Aqua Net. Mötley Crüe was the vanguard of the sleaze glam metal era, and the Whisky was home to the contest of who could shred the fastest and scream the highest.
The Whisky shut down in 1982, but its reopening in 1986 coincided with a time when heavy metal was really taking off, and it resumed its role as a hard-rocking hotspot. It was just one of many Sunset Strip hangouts that competed for the massive hirsute crowd, along with the Rainbow Bar & Grill, Gazzarri's, and the Roxy. Bands like Warrant, Ratt, Guns n' Roses, and Metallica played formative shows there, introducing them to a wide swath of young fans eager to pump their fists to their high-octane riffs. Of course, the alternative rock era was right around the corner, and performances in 1989 by Soundgarden foreshadowed its arrival.
The Whisky a Go Go in pop culture
The Whisky played a dominant role in the history and development of rock 'n' roll, and unsurprisingly it appeared in various movies and TV shows over the decades. Most recently, it was spotted in the Amazon Prime Video series "Daisy Jones & The Six." The series takes place in the late-1970s and follows a fictional band of the same name as they traverse the L.A. music scene which, of course, the Whisky was a major part of — so kudos to the show's location scouts for their attention to period detail. During its 1960s height, the club was seen as the backdrop of Ben Braddock and Elaine Robinson's first kiss in "The Graduate," and played a prominent role in "Mondo Mod," a documentary that chronicled the era's Sunset Strip youth culture.
The iconic venue was also featured in more music-themed films, including but not limited to "Roadie' (1980), "The Doors" (1991), "Airheads" (1994), "The Banger Sisters" (2002), and "Get Him to the Greek" (2010). Various TV show productions have used the Whisky as a shooting location, like "Mod Squad" (1968–1973), "Entourage" (2004–2011), and "Lucifer" (2016–2021).
However, the Whisky isn't just immortalized in TV and film; it was also inducted into the Rock & Roll Hall of Fame, where its place in rock music history will be remembered forever.
The Whisky a Go Go today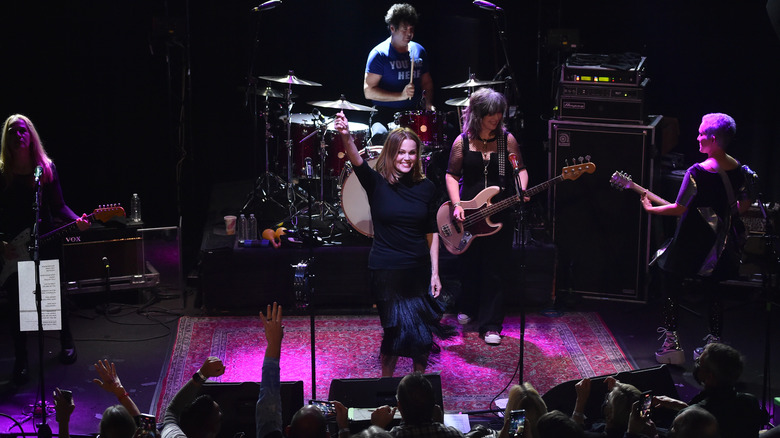 Alberto E. Rodriguez/Getty Images
While the Whisky has lost most of its sleazy allure in recent years, it's still a trendy spot for hard rock bands and fans alike. Unfortunately, it no longer serves as the kind of place where talented and hungry young bands can perform in hopes of getting noticed, according to the Los Angeles Times. 
The venue's pay-to-play model requires acts to fork over some dough to perform there, making it clear that it's now less of a stepping stone for budding rock bands, and more of a destination for established groups. It's not a popular move, but it is a necessary one, one that the fabled venue must employ to stay afloat in an era when young people just don't go to concerts as much as they used to. Mike Maglieri Jr., the owner of the Whisky, told KPCC-FM, "After the '80s invasion the scene kind of died down, so there wasn't just a following of just people who would come here every night. So we had to do something to just insure that the room would get filled up."
The Whisky a Go Go's headbanging, hard rocking, tail-shaking heyday may be mostly gone-gone. But with a good buzz, a good band, and the right kind of ears, it's not hard to relive a tiny slice of those rowdy years in that place where decorum took the night off, and the decibels came out to play.