Tragic Details About Demi Moore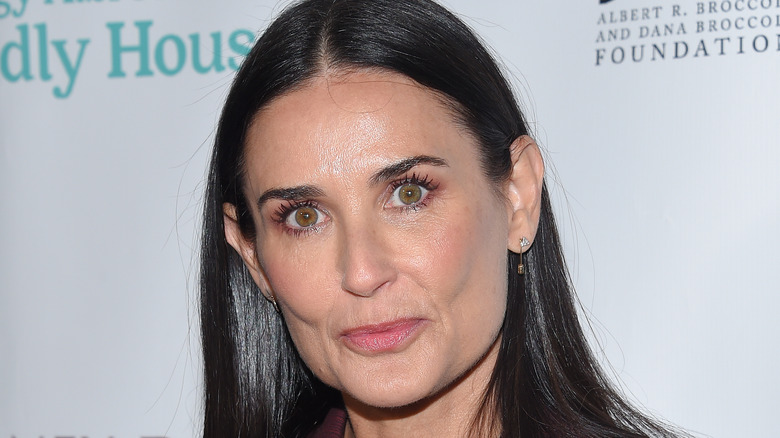 DFree/Shutterstock
It's hard to find a Hollywood actress who defined a single decade of cinema more than Demi Moore. After making her way up the ladder in the 1980s with a number of movie roles and a lengthy stint as Jackie Templeton in "General Hospital," she fully burst onto the scene with 1990's "Ghost." She was a constant, ubiquitous screen presence throughout the decade. She's been showered with awards and nominations over her career, and her appearances in well-known early-1990s movies like "A Few Good Men" were more than enough to make her a household name. 
Despite all this, her life hasn't been entirely about success and red carpets. On the contrary, Moore's professional and personal history are total roller-coaster rides, where the major victories are interspersed — and, on occasion, clearly outweighed — by tragedy and loss. Because of this, her life is unfortunately full of tragic details. Here's a look at some of them. 
This article contains mentions of suicide, sexual abuse, miscarriage, eating disorders, and addiction issues.
The movie Striptease almost destroyed Moore's career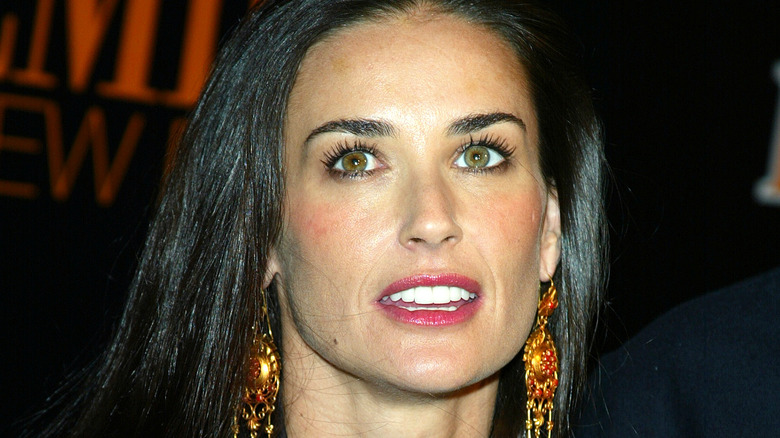 DFree/Shutterstock
Along with her successes, Moore is probably just as well-known for the many critically-panned works she's appeared in, particularly during the latter half of her roller-coaster 1990s. Few movies in the less-than-beloved part of her acting CV are more infamous than "Striptease." 
"Striptease," as Far Out Magazine notes, was a double-edged sword for Moore. On the one hand, the darkly comedic 1996 film marked a historic windfall for her, as she was paid a hefty $12.5 million for her starring role. This was unprecedented for a Hollywood actress at the time, and the heftiness of her "Striptease" paycheck later earned Moore plenty of goodwill as a trailblazer in the industry. On the other, the movie also earned her two of her four Razzie awards, and was thoroughly hated by critics and audiences alike.
The backlash against "Striptease" and the following 1997 military movie "G.I. Jane" was almost fatal for her career. In a 2020 appearance on the podcast The Big Ticket (via Variety), Moore discussed her own views of this unfortunate era of her career. "With 'Striptease,' I stepped into a role that was women's fear, and 'G.I. Jane' was as if it was a challenge to men," she analyzed. "They let me know it, too. In particular, my salary for 'Striptease' became something that I got punished for as opposed to celebrated."
Moore had a difficult childhood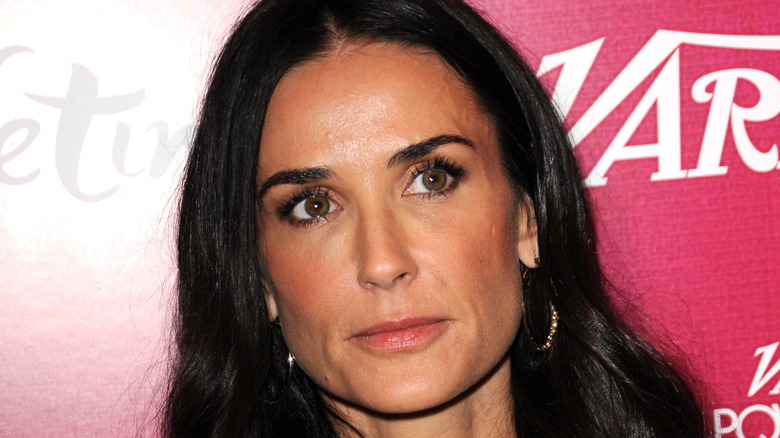 s_bukley/Shutterstock
Demi Moore's 1991 interview with Vanity Fair — the one with the iconic Annie Leibovitz cover image that celebrated her pregnancy — featured no shortage of juicy soundbites about her life as a celebrity, and her family life with then-husband Bruce Willis. However, Moore was also unafraid to discuss the less fortunate side of her personal life, including her fraught relationship with her parents, Virginia and Dan Guynes. 
It's not uncommon for children to have a complex connection with their parents, but Moore's relationship with hers is particularly strange and sad. During her early years, the family moved often, and her parents also struggled with alcohol misuse. Moore was left with a sense of displacement, and she felt that her parents' baggage effectively forced her into being the mature one in the family. "I thought, I can't have a problem, because I'll be too much of a burden," she described the situation. "I couldn't afford it; they couldn't afford it. Their emotional fragility was beyond them. We have different armors we put on to get our needs met. That was my basic function."
Virginia and Dan ultimately separated when Moore was 15, and Dan died by suicide when she was 17.
If you or anyone you know is having suicidal thoughts, please call the National Suicide Prevention Lifeline​ by dialing 988 or by calling 1-800-273-TALK (8255)​.
She was sexually assaulted as a teenager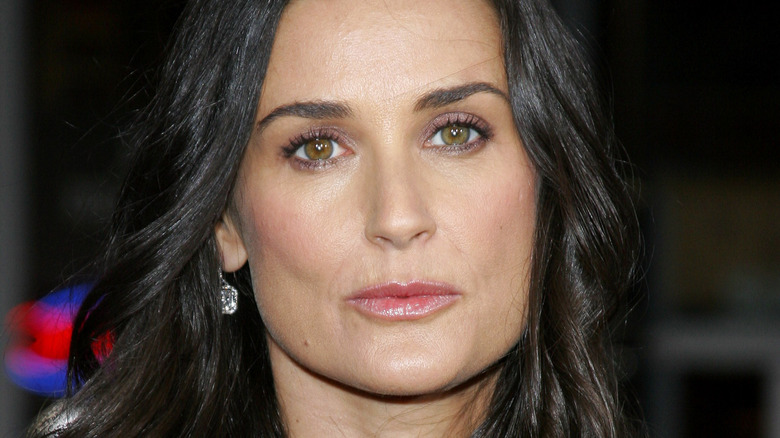 Tinseltown/Shutterstock
Demi Moore's personal life has been turbulent from an early age, and in 2019, she revealed one of the lowest points of this period in her life. In an interview with Diane Sawyer of "Good Morning America," Moore discussed a particularly shocking revelation in her autobiography, "Inside Out." In the book, she revealed that she was sexually assaulted by a friend of her mother in their home, and also alleged that the man said he'd paid her mother $500 for permission to do so.
In the interview, Moore elaborated on this shocking event, noting that the reality of the situation was likely far more complex — though no less traumatizing. "I don't think it was a straightforward transaction. But she still did give him the access, and put me in harm's way," she spoke of her mother's role in the incident.
If you or anyone you know has been a victim of sexual assault, help is available. Visit the Rape, Abuse & Incest National Network website or contact RAINN's National Helpline at 1-800-656-HOPE (4673).
She had a complicated relationship with her mother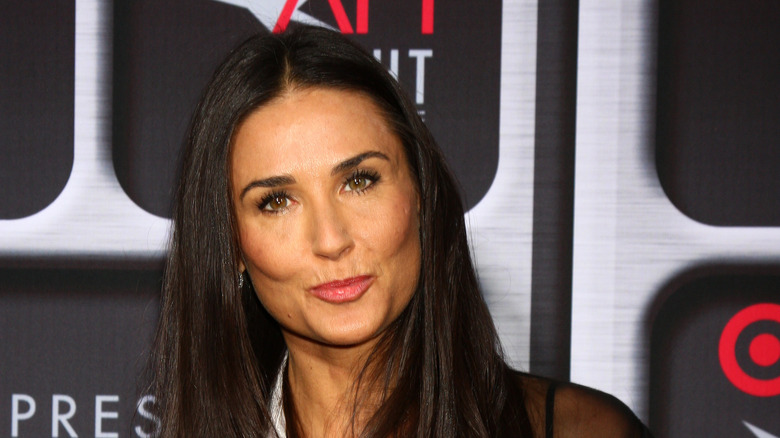 Kathy Hutchins/Shutterstock
Demi Moore's difficult relationship with her mother wasn't exactly helped when she found out that her familial ties weren't quite what she assumed them to be. According to Vanity Fair, when she was 13 years old, she happened to come upon Virginia and Dan's birth certificate, and discovered that they got married after she was already born. 
Further detective work confirmed what Moore was expecting: Dan wasn't her biological father. Instead, Virginia had married him after being already pregnant with Moore and had opted to keep this hidden from her daughter ... despite the fact that everyone else in the family knew about it.
Moore continued to consider Dan her true father after finding out the reality of the situation, but she was truly hurt by her mother's decision to keep her in the dark. The mother and the daughter's relationship grew distant over the years, and they only reconciled shortly before Virginia's death from brain cancer in 1998.
Demi Moore divorced her first husband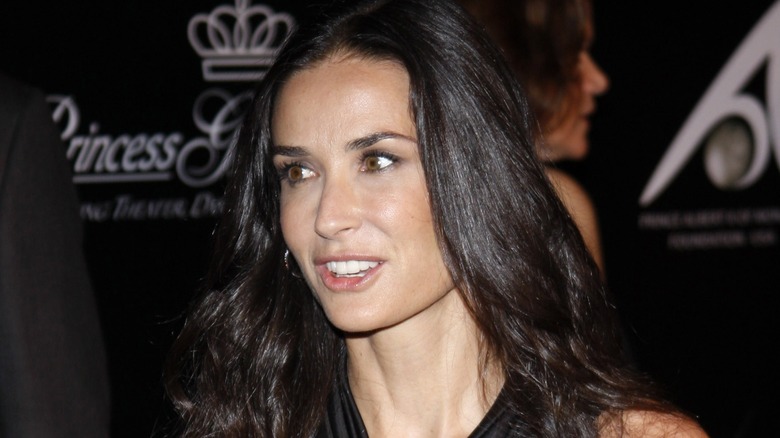 Tinseltown/Shutterstock
Demi Moore's first marriage was to a musician called Freddie Moore. He was married at the time they met, but soon got divorced, and tied the knot with the actress in 1981, according to Vanity Fair. However, what was supposed to be a happy life event came at a time that was otherwise very difficult for the 18-year-old Moore. As she detailed in her memoir, "Inside Out" (via ET Online), her father died mere months before her wedding day. This means she entered the wedded life with some incredibly hefty baggage, which she fully admits impacted the situation quite heavily. 
Moore came to consider her marriage as something she used to avoid dealing with her father's death, and she admits to cheating on her husband. "I couldn't get out of the marriage, but I could sabotage it," she described the situation in her memoir, with the benefit of hindsight. The actress ended up coming clean to her husband, and the pair got a divorce in 1984. 
Moore went on to have a relationship with fellow actor Emilio Estevez, but while the couple made plans to marry, they never materialized (per The New York Times). However, despite what her surname might make you think, this wouldn't be the actress' last marriage. 
Moore's high-profile relationship with Bruce Willis ended in her second divorce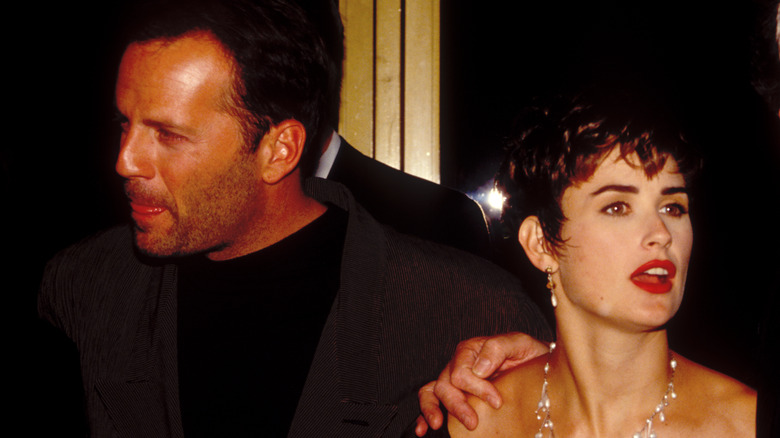 Bart Sherkow/Shutterstock
Demi Moore's most famous romantic relationship is undoubtedly her marriage with Bruce Willis. The pair met in 1987 and got married in short order later that year. As the 1980s gave way to the 1990s, they were arguably the most famous movie star couple in the world. In her 1991 Vanity Fair interview, Moore — who was then in her fourth year of marriage with Willis — was quite happy with the relationship, though both of them acknowledged the stranger aspects of a marriage between two globally-recognized celebrities.
Moore and Willis had three children together, but unfortunately, cracks eventually started to show in their relationship. Eventually Moore and Willis ended their marriage in 1998, citing irreconcilable differences. 
Still, while the story of their marriage ended in such tumultuous circumstances, the couple didn't fully lose touch with each other. As Moore discussed during an appearance at Naomi Campbell's "No Filter With Naomi," she and their now-adult children quarantined together with Willis' current family at one point during the COVID-19 pandemic. According to Vanity Fair, the actress has also stayed in touch with her ex-husband after Willis was diagnosed with frontotemporal dementia. 
Her relationship with Ashton Kutchner ended in yet another divorce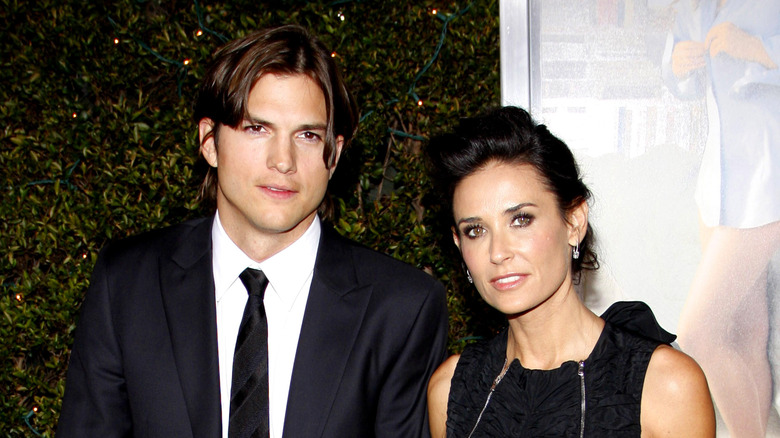 Tinseltown/Shutterstock
A few years after Demi Moore divorced Bruce Willis in 1998, she started a relationship with another well-known name. After a period of dating, Moore married "That 70's Show" star Ashton Kutcher in 2005, but once again, the stars didn't align for the happy couple. 
The first rumblings of Moore's third marriage coming to an end arrived in 2011, when the actress released a statement that their relationship was at an end, heavily implying that Kutcher's recently-surfaced infidelity — on their sixth anniversary, no less — played a part in the decision. "It is with great sadness and a heavy heart that I have decided to end my six-year marriage to Ashton," her statement began. "As a woman, a mother, and a wife there are certain values and vows that I hold sacred, and it is in this spirit that I have chosen to move forward with my life."
Despite the announcement's rather permanent-sounding tone, the actual divorce was a lengthy process that took until 2013. In a 2023 interview with Esquire, Kutcher made clear that he's well aware of how badly he handled things and reflected on how much the end of their relationship hurt nevertheless. "Nothing makes you feel like a failure like divorce," he said. "Divorce feels like a wholesale f****** failure. You failed at marriage."
A tragic miscarriage put a strain on her third marriage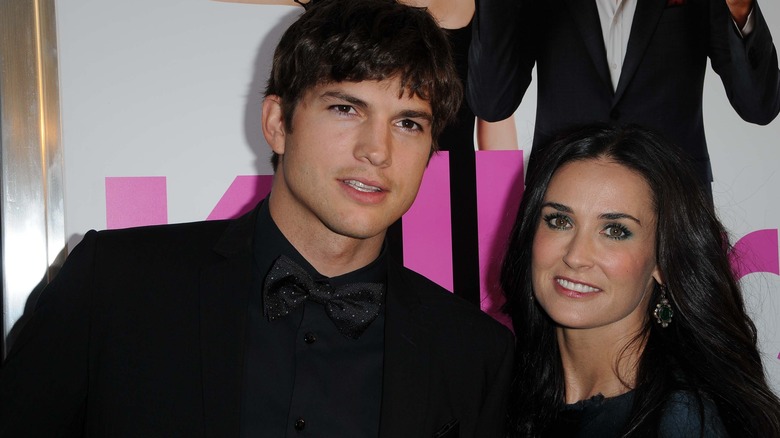 s_bukley/Shutterstock
Demi Moore's marriage with Ashton Kutcher may ultimately have ended due to infidelity issues, but their relationship was put to the test well before they were even married. Per The New York Times, Moore became pregnant early in their relationship but suffered a miscarriage at six months. To deal with this fresh layer of trauma that was suddenly piled atop her several existing ones, the actress turned to Vicodin and alcohol. 
Kutcher was also deeply affected by the miscarriage, but as Moore's memoir "Inside Out" (via Insider) reveals, she was fully blaming herself for the situation, believing that her substance use and age had contributed to the miscarriage. She also couldn't help but feel that their 15-year age difference meant that he couldn't truly comprehend the scale and complexity of her emotions at the time. Moore did note that Kutcher did try his best to be there for him, though — and for years, the couple did everything they could to conceive another child. However, this never happened. 
Education wasn't for Demi Moore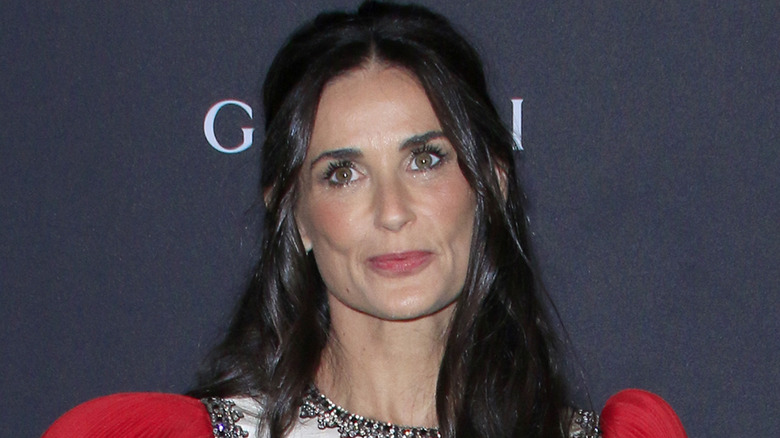 Kathy Hutchins/Shutterstock
People can reach success in all sorts of ways. In a 1991 Vanity Fair interview, Demi Moore revealed that she understood early on that her particular path most certainly wouldn't involve academia. In fact, she found school quite difficult, which may have been amplified by the fact that her family's constant relocations forced her to change schools on a regular basis. 
Moore's mother shared her aversion to studying, so she remained indifferent when her daughter ended up dropping out of high school when she was 16. When Moore turned her attention toward acting, she soon discovered that her school aversion applied to acting studies, as well. As such, she ended up quitting those as well, instead opting to focus her full attention on getting acting gigs instead. "The idea of a class, being judged and failing, was overwhelming," she said. "I would rather fail at getting a job, because at least, if it worked, it'd be worth something."
She's struggled with numerous health problems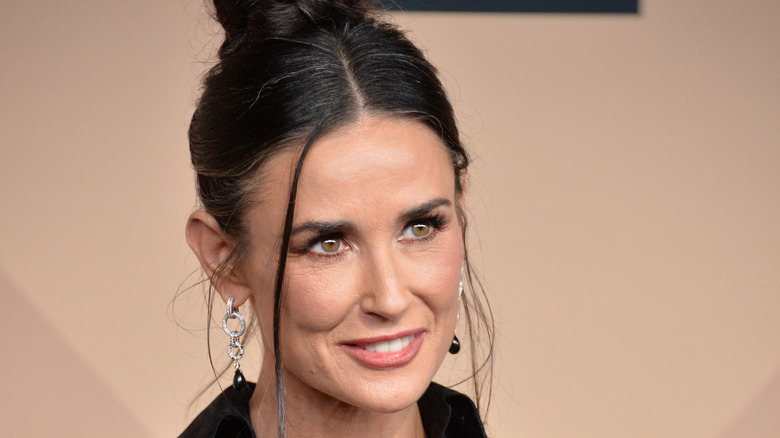 Featureflash Photo Agency/Shutterstock
Demi Moore might look like a picture of health in virtually all of her great many movie roles, but as is so often the case, reality can be radically different from what we see and assume. In fact, the actress has a history of health issues, some of which are truly daunting. Moore's youth was pockmarked with peculiar health troubles, starting from various issues with her right eye that sometimes necessitated the use of an eye patch, and ultimately took two separate operations to fix. She also had to deal with acute nephritis, an inflammatory condition that affects the kidneys, per Healthline.
In 2019, Moore also revealed that she faced an even worse ailment around 2012, a time of intense turbulence in her life that featured intense stress from multiple fronts, and also saw her have a seizure caused by substance use. This bad time was somehow made even worse by an unspecified viral condition that exhausted her, messed with her system, and even threatened full-on organ failure. "Something was going on, including my organs slowly shutting down," she told The New York Times. Fortunately, she sought medical help as part of a full life overhaul, where she sought to deal with her various emotional and physical issues.
She's dealt with drug and alcohol use for much of her life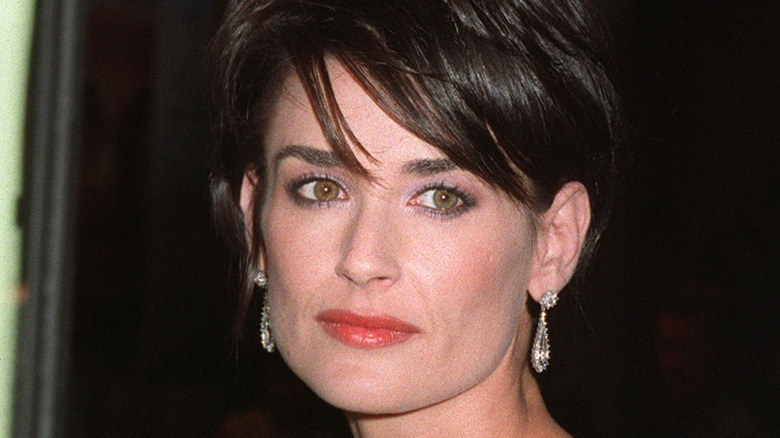 Featureflash Photo Agency/Shutterstock
Demi Moore's parents both used alcohol and unfortunately, the actress has had her own struggles with various narcotic substances over the years. As The New York Times reports, Moore has a history of cocaine and alcohol misuse in her youth, and her old habits resurfaced during times of deep trouble. 
After suffering a miscarriage during her marriage with Ashton Kutcher, Moore resumed heavy drinking and misusing narcotics, eventually alienating her own children with her addictions. She ultimately swore off substance misuse after one of her daughters witnessed her having a synthetic cannabis and nitrous oxide-induced seizure at a social event. 
Sadly, Moore's children have all had addiction issues as well, but as Today tells us, all four have been able to correct course. As of 2021, Moore herself had her last relapse in 2012, and her three daughters had all been sober for several years. 
If you or anyone you know needs help with addiction issues, help is available. Visit the Substance Abuse and Mental Health Services Administration website or contact SAMHSA's National Helpline at 1-800-662-HELP (4357).
Pressure and body image issues led to unhealthy eating and training habits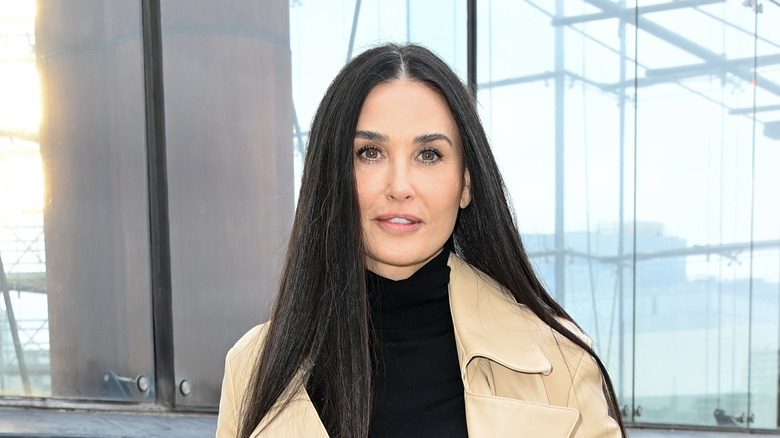 Pascal Le Segretain/Getty Images
Many of Moore's roles have accentuated her physical fitness, and since she's a high-profile Hollywood celebrity, rumors and reports of alleged eating disorders have on occasion swirled in the media. In her 2019 book "Inside Out" (via the Independent), Moore herself addressed her dieting and workout habits, and revealed that the requirements of her roles and the public attention that came with her work caused her to obsess about her body. 
Moore described this attitude toward eating and training as a five-year period that started when she was preparing for the movie "A Few Good Men," and revealed that she kept falling back to the dieting and over-training routine every time she took up a new role. This wasn't exactly a new phenomenon, though. According to The New York Times, she was also prone to eating binges and dieting in her youth. At the end of the day, however, Moore says she was able to reassess this behaviour after bulking up for "G.I. Jane" — so what's known as one of her more maligned movies actually helped her change a routine she considered excessive.
If you need help with an eating disorder, or know someone who is, help is available. Visit the National Eating Disorders Association website or contact NEDA's Live Helpline at 1-800-931-2237. You can also receive 24/7 Crisis Support via text (send NEDA to 741-741).