Tragic Details About The Death Of Coolio Revealed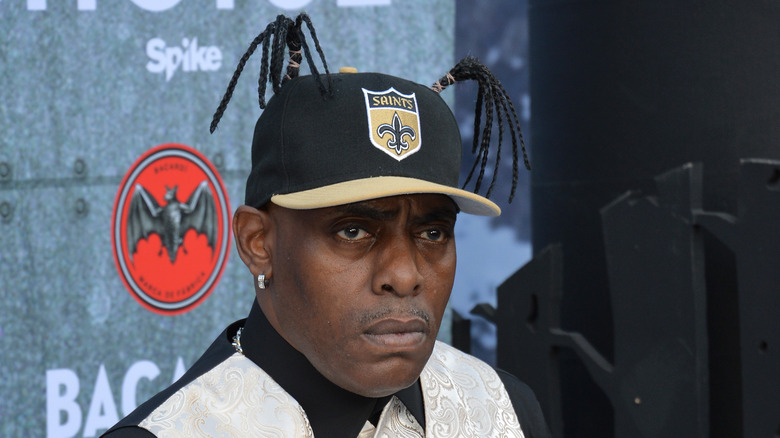 Featureflash Photo Agency/Shutterstock
Rapper Coolio's family has been informed of the star's cause of death, TMZ reports. Born Artis Leon Ivey Jr., Coolio died in September 2022. The "Gangsta's Paradise" rapper entered the bathroom at a friend's house in Los Angeles, but never emerged. Coolio was pronounced dead at the scene. A Coolio family spokesperson, Jarez Posey, told TMZ that the drug fentanyl, along with a number of other illegal substances, were found in the musician's body, information that was corroborated by the Los Angeles County Medical Examiner-Coroner (via People).
The spread of fentanyl in the U.S. has been described as an epidemic, Time Magazine writes. According to the Centers for Disease Control and Prevention (CDC), an estimated 150 people die from the highly-addictive synthetic opioid each day. When Coolio died, paramedics suspected the cause was cardiac arrest. Cardiac arrest is a leading cause of death for fentanyl users, among other opioids. More than 100,000 people died from drug overdoses in the U.S., and in 2022, nearly three-quarters of those deaths involved fentanyl, via the United States Drug Enforcement Administration (DEA).
Coolio also had trace amounts of heroin and meth in his body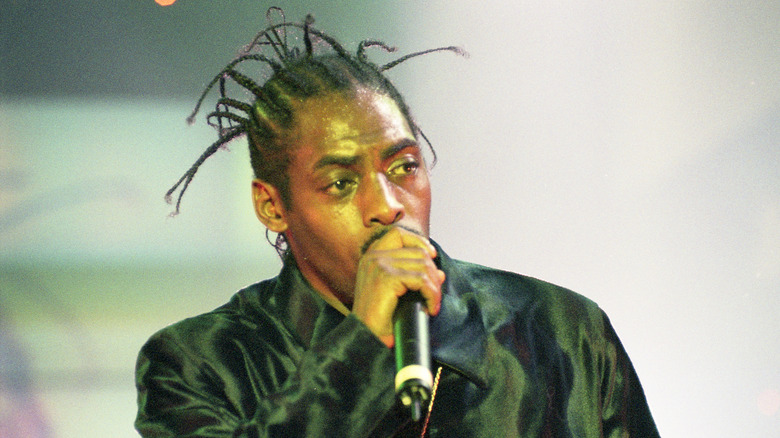 Jmenternational/Getty Images
Also revealed in the coroner's report, Coolio had small amounts of heroin and meth in his system when he died, according to Posey. Also listed on the coroner's report was phencyclidine, commonly known as PCP, and cardiomyopathy, a form of heart disease affecting the heart muscle, according to Cleveland Clinic. Also mentioned, the rap musician, had severe asthma, which might have worsened his odds of survival. In 2016. Coolio was performing in Brooklyn when he experienced an asthma attack, Express reports.
At that time, an audience member supplied him with an inhaler. In 2002, Coolio told USA Today, referring to his lifelong issue with asthma: "I had a few episodes with asthma where I was in serious trouble and could have died. I want to let kids and others with asthma know it doesn't have to be that way." And when describing an asthma attack, the Grammy Award-winning musician said, "You don't just feel that you can't breathe. You really can't breathe at all and may pass out from lack of oxygen and even die."
Coolio's family plans projects in his honor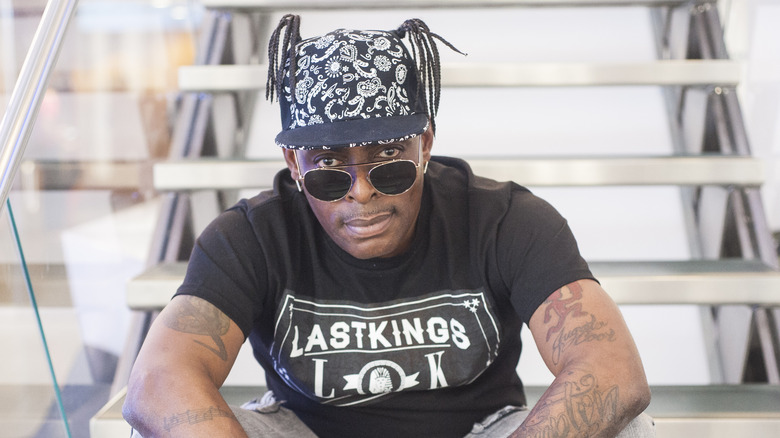 Kris Connor/Getty Images
With their father's cause of death now confirmed, Coolio's 10 children had plans for a documentary film about his life, among other projects. As well as Coolio, other hip-hop artists who've died with fentanyl in their system include Lil Peep in 2017 and Mac Miller in 2018. In 2019, rapper Juice WRLD died from drug-related causes, as The Guardian reported in 2020. In 2009, Coolio pleaded guilty to cocaine possession and agreed to enter rehab, one of many times he sought treatment for addiction issues, AllHipHop writes.
Coolio was 59 years old at the time of his death, and no drug paraphernalia was found on the scene. In addition to "Gangsta's Paradise" from the hit 1996 movie "Dangerous Minds," other Coolio hits include "1,2,3,4 (Sumpin' New)" and "Fantastic Voyage." Coolio was not married when died, though he was reportedly romantically involved with Mimi Ivey, The U.S. Sun reports. The rap star had all of his 10 children with his first and only wife, Josefa Salinas. Coolio and Salinas divorced in 2000.
If you or anyone you know needs help with addiction issues, help is available. Visit the Substance Abuse and Mental Health Services Administration website or contact SAMHSA's National Helpline at 1-800-662-HELP (4357).