What Is Westminster Abbey's Cosmati Pavement And Why Is It So Revered?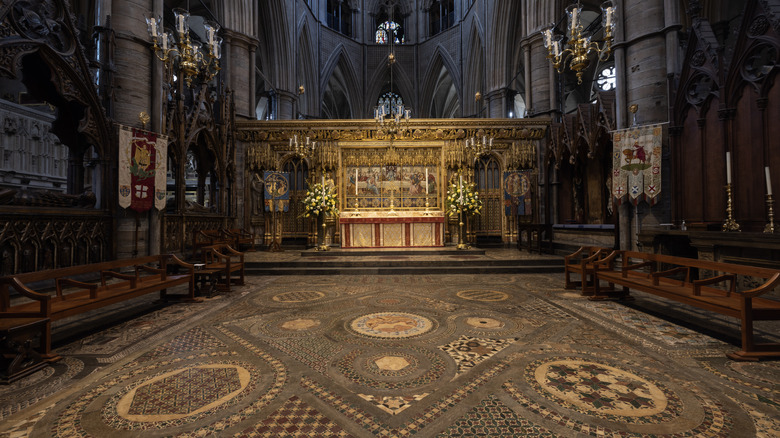 Dan Kitwood/Getty Images
As the first crowning of a monarch since Queen Elizabeth II was crowned back in 1953 — and possibly the only coronation that some Brits will see in their lifetime — King Charles III's upcoming coronation is shaping up into quite a unique event. We've got concessions intended to show how the monarchy is keeping us with the times, like vegan holy oil and the removal of the Koh-i-Noor diamond from Queen Mary's Crown because of issues with India regarding the diamond's ownership. We've also got the restoration of the 700-year-old special coronation chair that Charles will sit in for the event, a chair that's been marred by time, political demonstrations, and errant schoolchildren over the centuries. On top of these, we've got one more item of symbolic and literal refurbishment to add to the mix: the floor of London's Westminster Abbey in front of the high altar, the Cosmati Pavement. 
Before you go asking what's so special about a floor, the Cosmati Pavement isn't your run-of-the-mill concrete slab or fake wood vinyl. It's a 13th-century piece of art — a mosaic, in fact — built and designed in a very unique and unusual style. And more to the point, the BBC tells us that guests visiting Westminster after Charles' coronation will be able to do as King Charles did: walk on the Cosmati Pavement and stand in the spot where his chair sat on May 6. That is, provided they take off their shoes first.
A dazzling array of color and shapes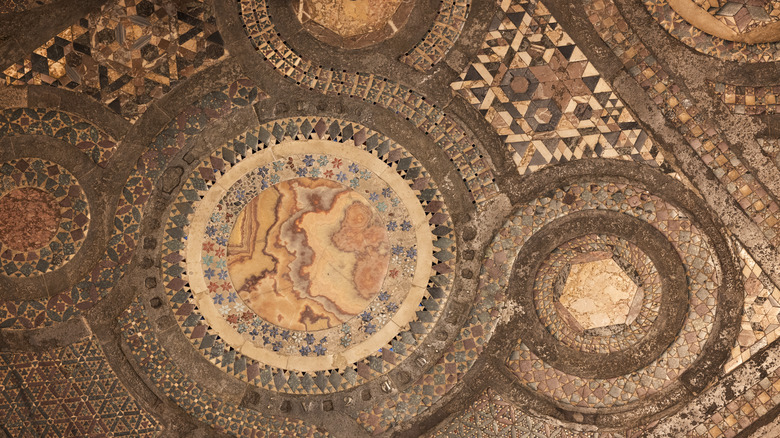 Dan Kitwood/Getty Images
The Cosmati Pavement shows precisely how beautiful an otherwise commonplace item can be: a floor. It's suitable for a grand, historical ceremony, and the opportunity to walk on it — and not just stare at it from a distance like a protected painting — affords visitors the chance to touch a longstanding piece of history. But without the assiduous work of the floor's conservators, such as head conservator Vanessa Simeoni, the Cosmati Pavement would still be trapped beneath carpets getting dirtier and dirtier, and trampled on like it was for the past 150 years, as The Guardian describes. On the BBC Simeoni says, "It's absolutely amazing. I always feel a connection with the people who made these objects. They knew their materials, they knew their designs."
Speaking of those designs, the mosaic gets its peculiar name from the style of Cosmati artistry developed in Rome in the 12th and 13th centuries that involved techniques developed by only a handful of families. On the practical side of things, this includes waterproofing methods that have kept the floor intact over its 700-year life. On the aesthetic side, this includes a dizzying, multi-hued array of dazzling geometric patterns made from gemstones that in their original form would have "blazed with color," as Simeoni says on The Guardian. Furthermore, the Westminster Abbey website tells us that the Cosmati Pavement is a one-of-a-kind piece that defies traditional practices by incorporating a limestone base and glass into its design.
A 1,000-year-old coronation site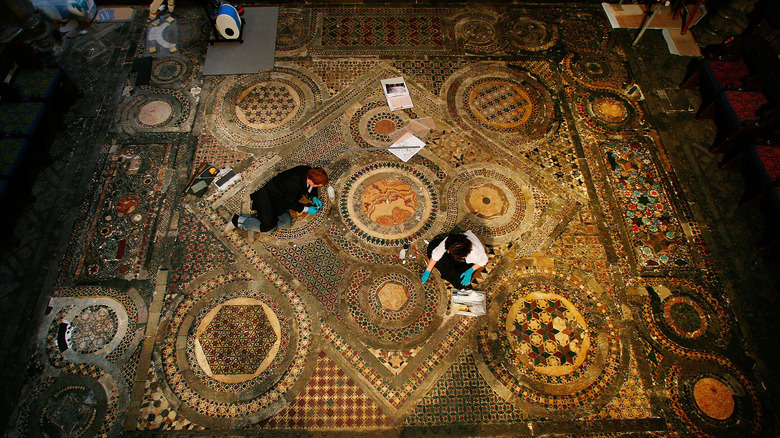 Peter Macdiarmid/Getty Images
The Cosmati Pavement was built in 1268 on commission from King Henry III. As The Guardian recounts, Henry sent the Abbot of Westminster, Richard de Ware, on a political sojourn to Rome to see the pope. While at the pope's summer house, de Ware caught sight of a Cosmati work, took the initiative, and returned to England with "a shipload of marble, glass and Italian craftsmen." At the time Henry III wanted to rebuild Westminster Abbey using a new, Gothic style, and de Ware thought Cosmati art would be a perfect fit. Even by then, Westminster had been used for coronations going back to 1066, as the Westminster Abbey website says. The Cosmati Pavement quite literally underpins the millennium-old coronation site of England's ancient, uninterrupted monarchy.
At present, as the BBC explains, guests to Westminster Abbey can connect directly to this ancient lineage by stepping onto the mosaic, sans shoes, provided they pay £15 for a guided tour from May 15 to July 29. Tours are limited to 10 to 11 a.m., once a day, to protect the site from being mobbed and ruined. That is, visitors could have paid £15, because judging by the Westminster Abbey website, all three months of tours — May, June, and July — are already sold out. But fear not. Depending on how long King Charles reigns, members of the public might get another shot in their lifetime.