The History Of King Charles' Two Coronation Coaches Explained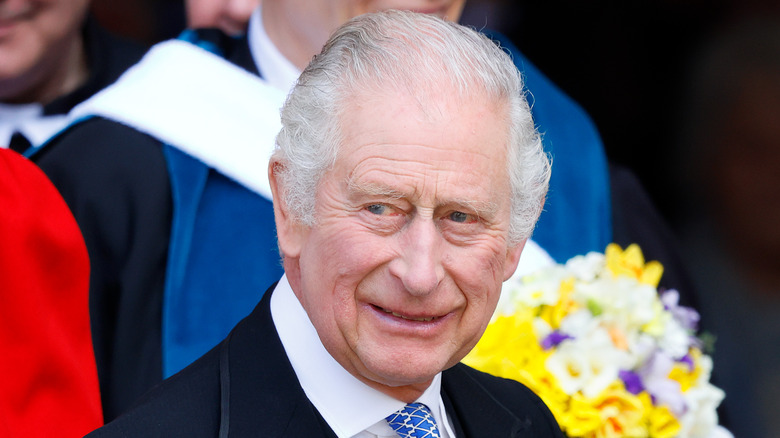 Max Mumby/indigo/Getty Images
Royal history will be made at the coronation ceremony of King Charles III and his wife, Camilla the queen consort, at least as far as the coach they will arrive in. The event is set to take place on May 6, 2023 at Westminster Abbey in London. According to plans, the royal couple will arrive at Buckingham in the relatively new Diamond Jubilee State Coach. That will reportedly not be the same horse-drawn carriage the king and queen consort are expected to depart in — the much older Gold State Coach, in use since the 18th century.
These two modes of transportation — both old and somewhat new, each opulent in their own way and suited for royalty — reflect the expected tone of King Charles III's scaled-down coronation ceremony. On that note, Buckingham Palace has said King Charles III's coronation will be "rooted in long-standing traditions," while it also looks toward the future with an eye for the role of a modern monarch today (via BBC News). As for the Diamond Jubilee State Coach, Charles and Camilla will arrive at Westminster in comfort: Anachronistic in design and made from historic wood, the recently-built carriage is decked out with electric windows and air conditioning, among other modern amenities.
The Diamond Jubilee State Coach was built for Queen Elizabeth II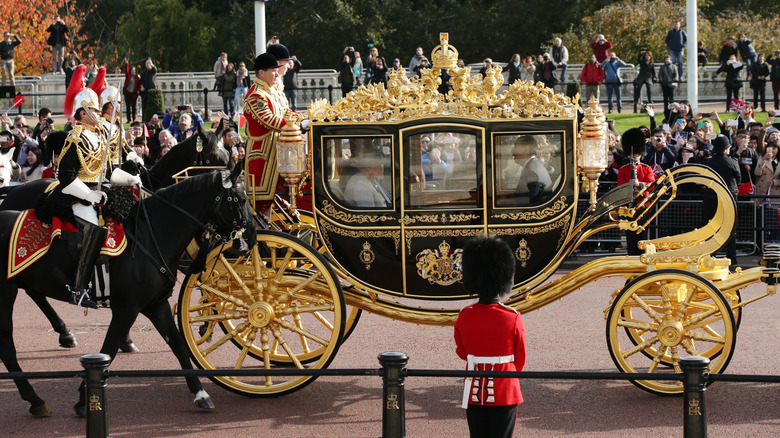 Wpa Pool/Getty Images
The relatively modern Diamond Jubilee State Coach was first built and used in 2014 for King Charles III's mother, Queen Elizabeth II, celebrating 60 years on the throne. This is the first time the state coach will be used in a coronation ceremony, and despite modern touches like hydraulic suspension, it features historic wood from the ship HMS Victory, Balmoral Castle in Scotland (where Elizabeth II died in 2022), Canterbury Cathedral, and Westminster Abbey.
Speaking with BBC News, Royal Collection Trust Curator Sally Goodsir said the Diamond Jubilee Coach is otherwise built from aluminum. As Goodsir went on to explain, that aluminum coach construction "is quite unusual, because most of them are made of wood, and it's also got hydraulic suspension, meaning that the ride is incredibly comfortable." Another expected change at Charles' coronation ceremony: the route the Jubilee coach will take to get there. At a bit more than a mile, Charles and Camilla will tour the Mall, Admiralty Arch to Trafalgar Square, Whitehall, and Parliament Square before arriving at Westminster. That's opposed to the roughly 5-mile route Charles' mother took to her coronation in 1953.
The Gold State Coach was first used by George III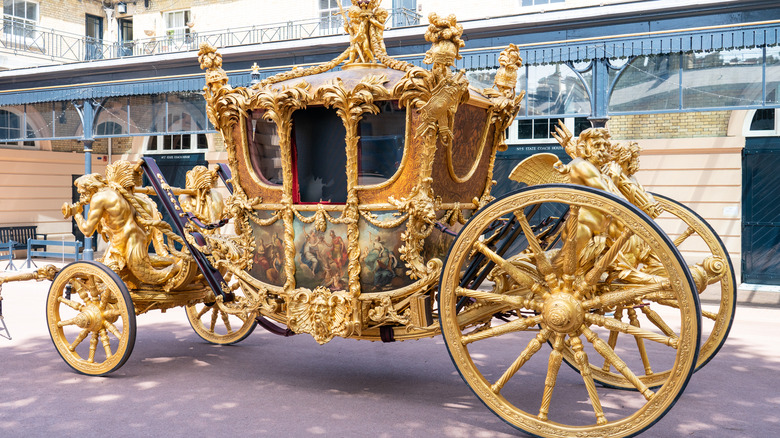 Pool/Getty Images
In contrast to the Diamond Jubilee State Coach, the Gold State Coach — expected to ferry King Charles III and Camilla the queen consort from Westminster Abbey at the conclusion of the coronation ceremony — is much older. Built in 1762, King George III rode in the Gold State Coach to Parliament's State Opening that same year. The coach was first used for a coronation ceremony in 1831 by King William IV and has been featured in every coronation ceremony since then, including the 1953 coronation of Queen Elizabeth II. As might be expected from its vintage design, the Gold State Coach features none of the creature comforts built in to the Diamond Jubilee Coach.
As for how the Gold State Coach handles, BBC News notes King William IV himself described the experience of riding in the carriage like being on "a rough sea." With perhaps a touch of British understatement, Queen Elizabeth II herself called the Gold State Coach "not very comfortable." From Westminster, the new king and queen of Great Britain will ride in the Gold State Coach back to Buckingham Palace, where they'll be greeted by a royal salute and three cheers from U.K. armed forces and other assembled military personnel. As for the horses drawing each carriage, six Windsor Greys will reportedly pull the Diamond Jubilee Coach to Westminster, while the 4-ton Gold State Coach will be propelled back to Buckingham Palace by eight.