Even The Most Recognized Ancient Greco-Roman Sculptures Once Looked Completely Different
When folks think of ancient Greek or Roman statues, they'll likely think of these pristine white marble figures of perfectly formed humans, gods, and scenes from myth. Maybe they think of the armless, 2nd-century Venus de Milo currently in the Louvre in Paris, or the ultra-cut Michelangelo's David from the 16th-century Florentine Renaissance. Later Renaissance works were intentionally done in plain, uncolored white marble to imitate the sculptures of the past, as My Heritage explains. Pure white was the refined ideal, and colors were considered gaudy and gross. Or as the German Enlightenment poet Johann Wolfgang von Goethe said, "Savage nations, uneducated people, and children have a great predilection for vivid colors."
Little did people like Goethe realize: those ancient Greco-Roman statues used to be much more colorful. The first painted sculpture was uncovered in 1506, as Australia's ABC News says. It took until the 19th century, though, for archaeologists to find pervasive evidence that ancient Greco-Roman sculptures were painted. The sculptures had faded over time but still had minute traces of paint left on them. These sculptures weren't big, prominent pieces out in the open like Michelangelo's David, and had eroded less. Even so, it took all the way to the 1960s for the idea of ancient, painted Greco-Roman statues to really take hold. Academia and scholarly circles are slow to come around to things — after all, entire careers hinge on this stuff. And now we're starting to get a clearer, and much more polychromatic, view of ancient craftsmanship.
A white canvas for layered art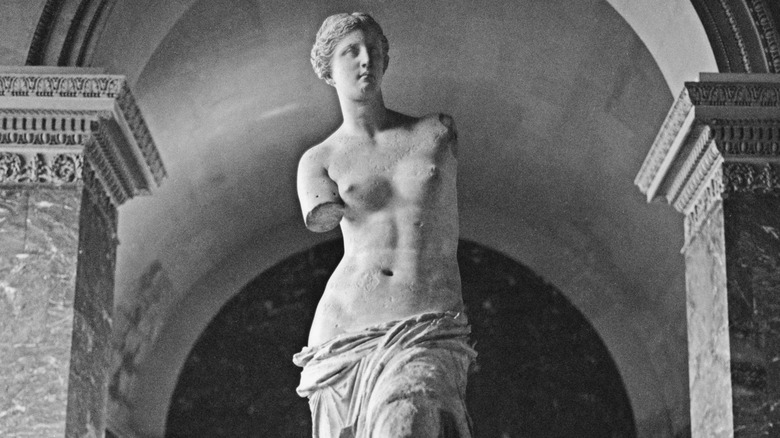 Evening Standard/Getty Images
Even if ancient Greco-Roman sculptures were colorfully painted — a technique referred to as polychromy (many colors) — they were still originally chiseled using white marble. White marble wasn't the end, though — it was a starting canvas. As the Metropolitan Museum of Art explains, white marble is soft, highly workable, can be finely carved, is somewhat translucent and able to catch light, and has an even material composition. In short, it's ideal not only for sculptures but makes a superb base for applying layers on top. Basically, we've had the whole Greco-Roman statue thing wrong. White marble was an entire, separate medium for painters, metallurgists, jewelers, and more.
To get an accurate, explosive vision of what ancient sculptures looked like, take an original white marble statue of Venus, Athena, Herakles, Zeus, Hermes — you name it — and imagine gemstones for eyes, ochre fingernail polish, virulently dyed hair, silver inlays across shields, gilded gold leaf-coated weapons, and so forth. The change from austere white grace to lively, multi-hued vibrancy recasts the entire ancient Greco-Roman world into something much more active and real-life. It's similar to what happens when we see black-and-white photos redone in color. And interestingly enough, archaeologist Vinzenz Brinkmann told ABC News that the materials applied to sculptures were likely more precious and costly than the sculptures themselves because they were imported from places like Spain, Turkey, Afghanistan, and the African continent.
Reforming a colorful past
Since it isn't common knowledge that ancient sculptures were once colorfully painted, various museums and organizations have been staging galleries and events to inform the public. NPR reports on an exhibit at the Metropolitan Museum of Art called Chroma: Ancient Sculpture in Art that places original works next to reconstruction polychromatic versions — 17 in total. Curators have to hand-create paint layers from scratch, like the red streaks of blood on a pair of wounded, dueling boxers. The curators consider their sphinx to be their greatest work: a dazzling, 5th-century B.C.E. blend of the magisterial gold body with red and blue geometric patterns across the chest and gold scales along red-and-blue-streaked wings. A Met YouTube video goes into detail about this piece and more. 
CNN talks about a similar exhibit called "Gods in Color: Polychromy in the Ancient World" that originally premiered in Munich in 2003 and then took to the road as a traveling exhibit. Archaeologist Vinzenz Brinkmann talks about painting techniques used to bring out details in the statue's marble foundation that are hard to see without the addition of color. He also talks about "paint ghosts," minor bits of pigment left behind that help curators figure out a sculpture's original color. As CNN says, there might have even been some kind of primer like stucco used to smooth the marble out before applying paint. All in all, such colorful displays definitely paint the past in a more radiant light.