The Heart-Wrenching Death Of Gordon Lightfoot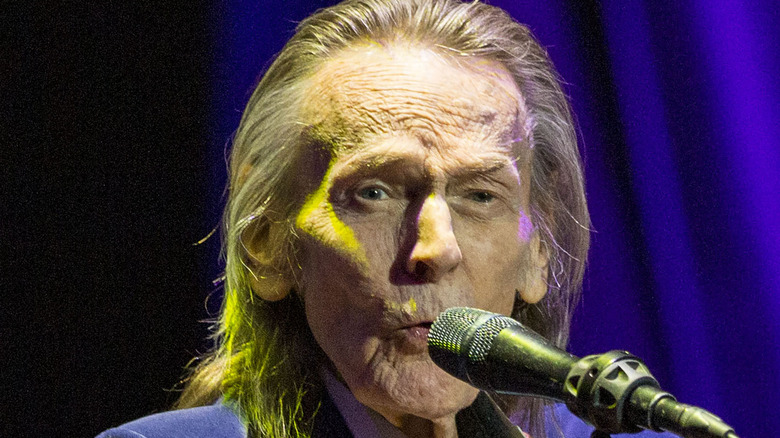 Daniel Knighton/Getty Images
On May 1, 2023, singer, songwriter, and Canadian folk-pop hero Gordon Lightfoot tragically died (via CBC). He was 84 years old. The announcement was made on his official Facebook page: "Gordon Lightfoot passed away this evening in a Toronto hospital at 7:30 p.m. More info to come," the short statement read. 
Gordon Lightfoot was a peerless icon of Canadian folk-pop music whose songs and name remain inextricably tied with the Canadian national identity, from generation to generation. Songs like "Sundown," "If You Could Read My Mind," "The Wreck of Edmund Fitzgerald," and the multipart narrative "Canadian Train Trilogy" (written in a hurry, as he shared with 16x9 Global News via YouTube) illustrate precisely how timeless Lightfoot's music is. Part of Lightfoot's universal appeal, as Billboard extrapolates, was his vulnerability and willingness to be honest about his imperfections — particularly those related to his relationships — as "a guy who sang poems," as Alec Baldwin put it on Hollywood Reporter.
With a full, 60-plus-year discography of somewhere near 4,000 hand-written songs, 19 studio albums, 19 compilations, 47 singles (per Americana), millions of records sold (per Lightfoot), a Canadian Music Hall of Fame induction in 1986, collaborations with the likes of Johnny Cash, James Taylor, John Denver, Anne Murray, Tony Bennett, and more, Lightfoot more than earned his place in history. As singer-songwriter Tom Cochrane said on Hollywood Reporter, "If there was a Mount Rushmore in Canada, Gordon would be on it." Throughout his career, Lightfoot stayed native and didn't seek fame and fortune in Los Angeles or New York, as his Global News interview frames it. He was "the resolute Canadian," which added to his nationalist mystique.
A multi-generational Canadian icon of folk-pop music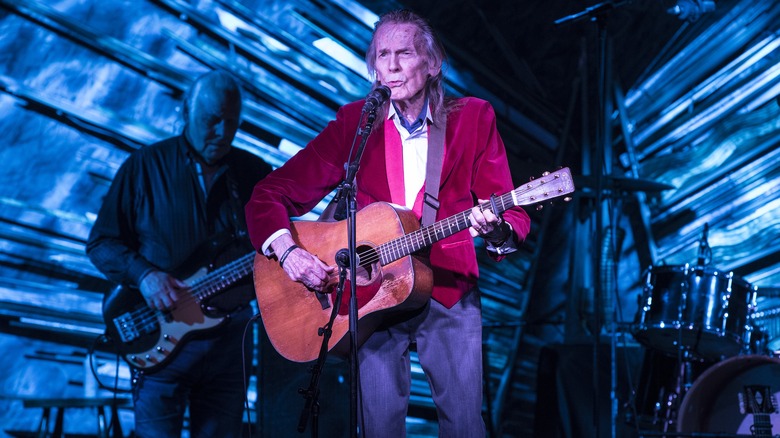 Debra L Rothenberg/Getty Images
For Lightfoot's part, he simply said, "I love the work because I love how it makes me feel."
Gordon Lightfoot, born in 1938 in Orillia, Ontario, Canada, set off on a very clear and undeviating life path from an early age. His mother, as All Music says, recognized her son's musical leanings from an early age. By age 5, Lightfoot was singing in a church choir, by age 10 involved in talent show competitions, and by age 12 began studying music classically. By age 13 he performed solo at the prestigious Massey Hall in Toronto following a win at the Toronto Kiwanis Festival. He joined a folk group called Teen Timers, then a barbershop quartet, graduated high school, moved to California to study jazz at the Westlake College of Music, started working on demos and commercials in Hollywood, and really didn't like it all that much. And so, he simply moved back to Toronto.
In 1960 he joined Country Hoedown singing and dancing on TV. He tried his hand in different musical groups in Canada, Europe, and the UK, and eventually struck out on his own in the mid-'60s, inspired by singer-songwriting legend Bob Dylan. As the Gordon Lightfoot website says, he was performing in the Toronto folk scene come 1964, met his future manager Albert Grossman, and released his first record in 1966 simply called "Lightfoot!" (exclamation point included). He fulfilled his contract through three more albums, switched from United Artists to Reprise, and didn't stop making new music even into his 80s.
A natural-born talent who never lost contact with his roots
Despite his success, Lightfoot has never been easy on himself, as the 2019 documentary "If You Could Read My Mind" recounts. To others, Lightfoot's a legend. To himself, he's just a guy who sought refuge in music, as he says on his 16x9 Global News interview on YouTube. The only thing he could do at certain points was "dive back into the work," continuing, "Somehow it has to make that connection to the audience."
Hollywood Reporter cites him in 2020 in his 80s saying, "I guess I don't like who I am." One song in particular, 1965's "For Lovin' Me," Lightfoot regrets because "it was very unflattering toward women," as Relix quotes. Or put more bluntly, he stated, "I hate that f****** song." Lightfoot also acknowledged his "professional peak," as he put, "probably by my second or third album." At the time, he was a control freak, wanted to direct every element of every show, and grew obsessed with how particular songs would be received by the public. He also struggled with substance abuse for years and experienced an aneurysm in 2002 that left him in a coma, as the National Post recounts. Nonetheless, Lightfoot's legacy lives on more in his music than in his struggles or his opinion of himself.
In his personal life, Lightfoot was married three times and had six children. He is survived by them and his wife Kim Hasse.