The Untold Truth Of Tony Bennett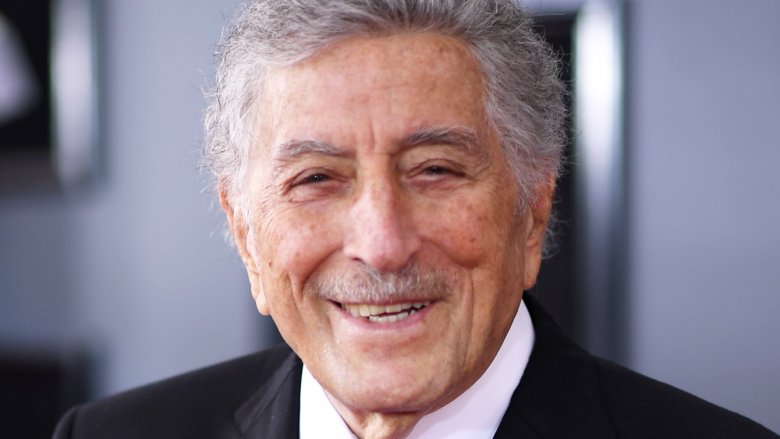 Dimitrios Kambouris/Getty Images
Tony Bennett was a true American legend. Possessing one of the smoothest and richest voices ever committed to vinyl, he made his name in the years after World War II but before the advent of rock n' roll, singing his way through familiar jazz and traditional pop favorites but making them his own every time. Alongside contemporaries like Frank Sinatra and Dean Martin, he loomed large in pop culture — forever the coolest guy in the room and mesmerizing an audience as he crooned tunes of love, celebration, and bays (what with his signature tune, "I Left My Heart in San Francisco.")
Bennett hit the big time in the early 1950s and never really left, although he did make a big, MTV-fueled comeback in the 1990s and stayed on top, still recording and performing past the age of 90. He passed away on July 21, 2023, at age 96.
Joe the singing waiter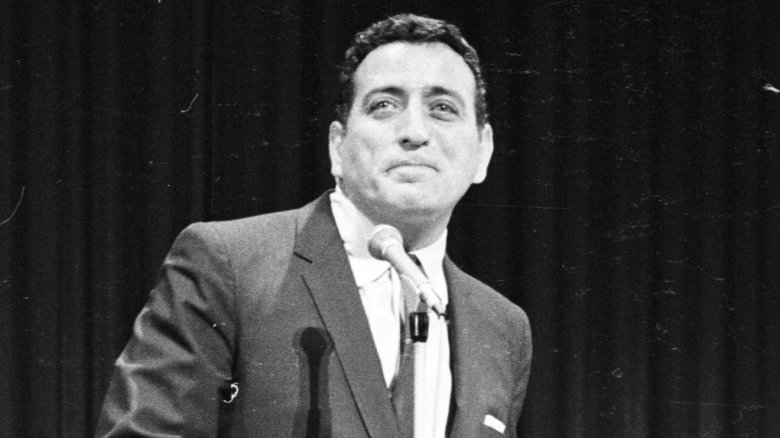 Larry Ellis/Getty Images
If you want to get good at something, you've got to do that thing a lot. ABC News reports by the time he was 10 years old in 1936, the person born Anthony Benedetto was already singing for crowds, including at the opening of the Triborough Bridge in New York City. At the age of 16, he dropped out of school to earn money for his family, and he naturally pursued what he was good at: singing. Benedetto landed a job as a singing waiter in a Queens, New York, restaurant. Interrupted briefly by a stint in the military during World War II, Benedetto returned to the States and performed at any place that would have him. 
One day in 1949, the legendary Broadway performer Pearl Bailey heard Bennett sing at an audition, and asked him to be her opening act for a run of shows in Greenwich Village. Bob Hope, arguably the most famous and popular entertainer of the day, happened to be in the house one night and asked him to come perform in his show, too. But he had a request: Drop the "Joe Bari" moniker. Hope asked Benedetto to tell him his real name, and quipped that it was "too long for the marquee." So, he anglicized (and shortened) the singer's real name, Anthony Benedetto, to Tony Bennett. A star was born. 
Frank and Tony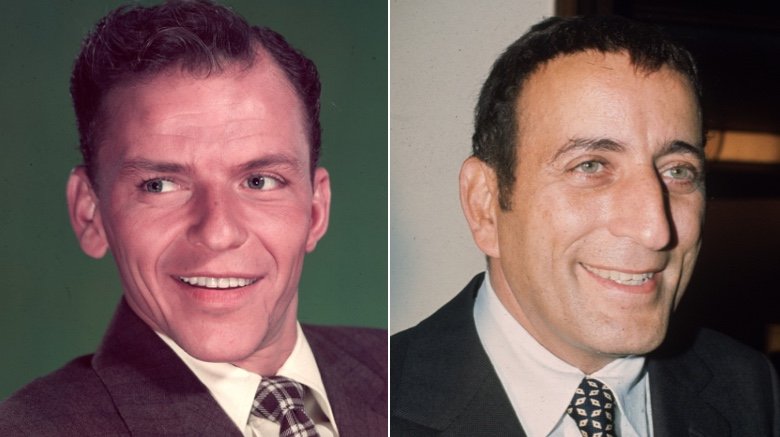 Keystone, Hulton Archive/Getty Images
Tony Bennett signed with Columbia Records in the very early 1950s. While thrilled with making it to the big time relatively quickly, Bennett was a bit skeptical of his record deal. He signed with Columbia right when its biggest star (and Bennett's idol) Frank Sinatra was leaving the label. His worries quickly abated when Columbia allowed him to sing in his own style, and it worked out just fine. "For my money, Tony Bennett is the best singer I've ever heard," is a sentiment a lot of people shared, but the guy who said it: Frank Sinatra. They were peers, but Bennett still considered Sinatra a mentor. Even after he'd scored two #1 hits in "Because of You" and "Cold, Cold Heart," Bennett still had some stage fright. Sinatra "taught me, the audience are your friends, they come to see you," Bennett said on "The Tonight Show" (via Rolling Stone). "And he changed my whole psychology about that, there's no such thing as a bad audience. There's a bad performance, but there's not a bad audience."
Bennett even lived in Ol' Blue Eyes' stomping ground of Las Vegas for nearly 20 years, and yet he politely refused to join the Rat Pack, Sinatra's semi-official bad-boy friend group. Bennett didn't think he was as tough as the likes of Dean Martin and Peter Lawford, and besides, as he told The Independent, "They kept awfully long hours."
Tony Bennett took down some Nazis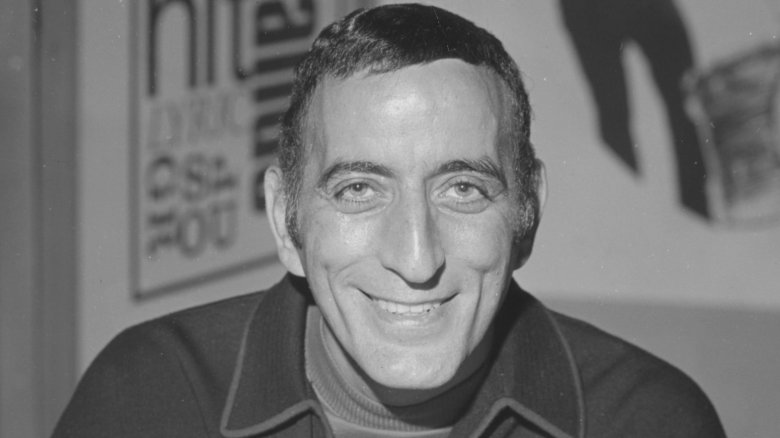 Keystone Features/Getty Images
In November 1944, 18-year-old Tony Bennett got his draft papers and was shipped out for army training at Fort Robinson in Arkansas. Almost immediately, Bennett realized that military life was not for him. "They treated us like animals. I began to have a really hard time with the whole military philosophy," he wrote in his autobiography, "The Good Life." "From top to bottom, it went against every single thing I believed in." Even worse than the training exercises he said were designed to "brutalize us and break our spirit": the racism. "Our sergeant was an old-fashioned southern bigot, and he had it in for me right from the start because I was an Italian from New York City," he wrote, adding it was "just as bad for other ethnic groups," particularly African-American and Jewish soldiers.
Bennett found himself stationed in Germany during the waning days of the war. Along with the rest of the 255th Regiment, Bennett captured a bunch of Nazi SS soldiers. The division's final mission: liberate a concentration camp. "I'll never forget the desperate faces and empty stares of the prisoners," Bennett said. "They had been brutalized for so long that at first, they couldn't believe that we were there to help them and not to kill them." His wartime experiences left Bennett anti-war for life. "The first time I saw a dead German, that's when I became a pacifist," he said on "The Howard Stern Show" (via ABC News).
Organized crime helped Tony Bennett get organized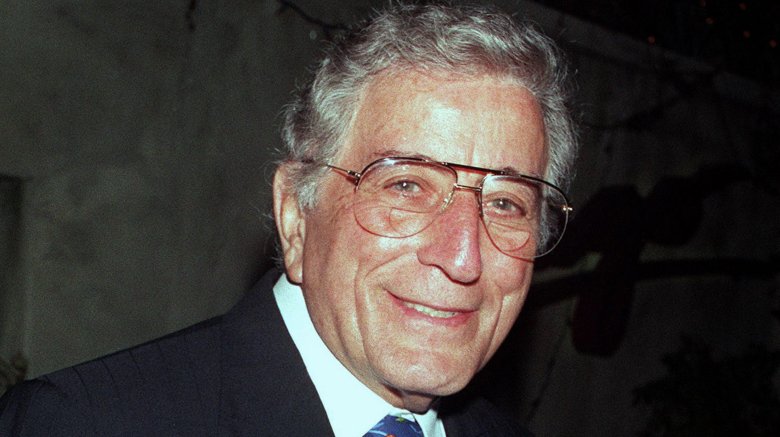 Getty Images/Getty Images
As an Italian-American entertainer living in New York City in the 1940s, it wasn't hard for Tony Bennett, or rather Anthony Benedetto, or Joe Bari, to run into the mob ... or employ their services. According to David Evanier's "All the Things You Are: The Life of Tony Bennett" (via Jazz Times), by 1949 Bennett was tired of getting nowhere under his old manager, so he hired a new one: Ray Muscarella, a promoter with purported ties to organized crime families. Muscarella used his money and connections to get Bennett in touch with a vocal coach, arrangers, composers, a publicist, and a record promoter. 
Muscarella also funded the whole operation, meaning Bennett ultimately owed the mob and he owed them big. According to sources in "All the Things You Are" (via New York Daily News) the money that launched Bennett's career came from the Capone family. The singer dutifully performed at mafia-sponsored gigs for years, and it wasn't until the late '60s Bennett set himself free, paying $600,000 to organized criminals so as to be left alone.
A San Francisco treat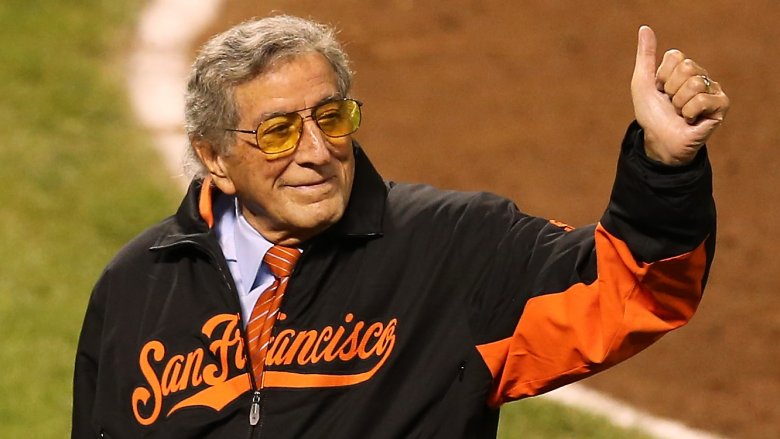 Christian Petersen/Getty Images
Around 1959 or 1960, songwriters George Cory Jr. and Douglass Cross ran into Bennett's pianist, Ralph Sharon, in New York, and gave him the sheet music for several new songs, including "I Left My Heart in San Francisco." Sharon didn't think much about them and tossed the papers into his shirt drawer ... where they sat for nearly two years. While packing for a tour with Bennett in 1961, he came across that sheet music and noticed "I Left My Heart in San Francisco." After a show in Arkansas one evening, Sharon played the song at a piano in a hotel bar, and Bennett loved it. Not too long after, the tour took Bennett and Sharon to San Francisco, where they performed the instant classic — and Bennett's signature song — for the first time at the Venetian Room in the Fairmont Hotel just before Christmas. 
Of course, they liked it in San Francisco, but getting the song to a wider audience had some hurdles. Columbia Records placed Bennett's recording as the B-side of the single "Once Upon a Time." DJs around the country disagreed and played the supposedly lesser B-side instead. (It also helped that he sang it on "The Tonight Show" — during Johnny Carson's first night as host no less.)
Tony Bennett stood up for his fellow man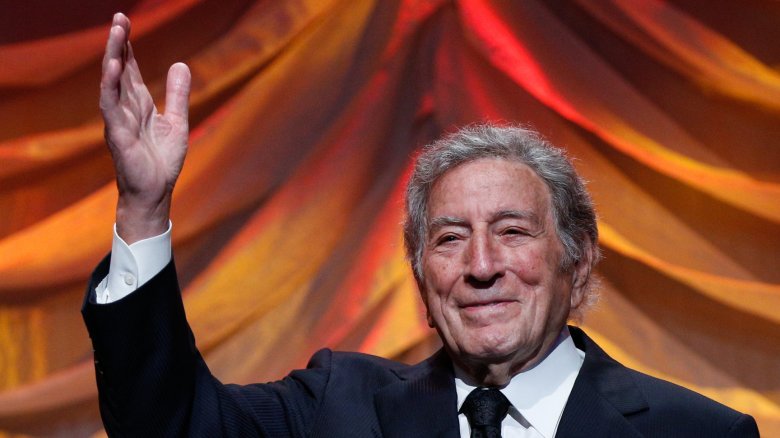 Jp Yim/Getty Images
In 2019, stars weren't shy about utilizing their voices and visibility to advance a cause, but in the '60s, it just wasn't done that way. Only a handful of famous people back then were willing to risk alienating a segment of their fanbase to stand up for what is right, Tony Bennett among them. 
In the 1960s, Bennett advocated for the Civil Rights Movement, participating in the Selma March of 1965 organized by Dr. Martin Luther King Jr. While he was a worldwide star, Bennett refused to perform concerts in South Africa due to the country's separatist apartheid laws. His reasons for doing so were wonderfully simple. "We are all human and we are all on this planet together," Bennett told PBS. "So what better reason do you need to not tolerate any form of violence against another human being?" Bennett did so much work in the name of justice that he was honored by the International Civil Rights Walk of Fame and was awarded the Martin Luther King Center's Salute to Greatness Award.
The rockin' and rollin' Tony Bennett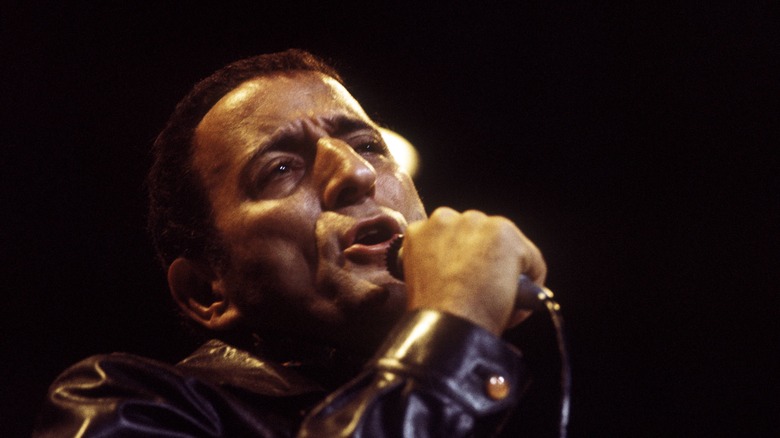 David Redfern/Getty Images
There's no shame in keeping up with the times. Countless major acts have stayed relevant — or at least tried to — by cutting some records in whatever new musical trend develops. For example, Frank Sinatra released a disco song and Paul McCartney gave '80s-style synth-pop a try. Tony Bennett, however, mostly stood firm in his genre — for more than 60 years, he sweetly crooned jazz standards and entries in the Great American songbook. He didn't care much for rock n' roll and its offshoots; he once said that the Rolling Stones promoted "juvenile delinquency." Bennett tried to keep up with the hip young kids once — and only once — and it didn't go well.
In 1967, he covered Stevie Wonder's smooth and jazzy "For Once in My Life" at the behest of Columbia Records' new president, Clive Davis, who wanted to bring old crooners like Bennett into the new age. Bennett thus reluctantly recorded an album in 1970 called "Tony Sings the Great Hits of Today!" The cover featured Bennett rocking some groovy threads, and the record inside featured Bennett's take on Wonder's "My Cherie Amour" and The Beatles' "Something" and "Eleanor Rigby." The album didn't sell well, and neither did a hastily released follow-up "Tony Bennett's Something." In 1972, Columbia dropped Bennett after two decades with the label.
Drugs took Tony Bennett's money and almost his life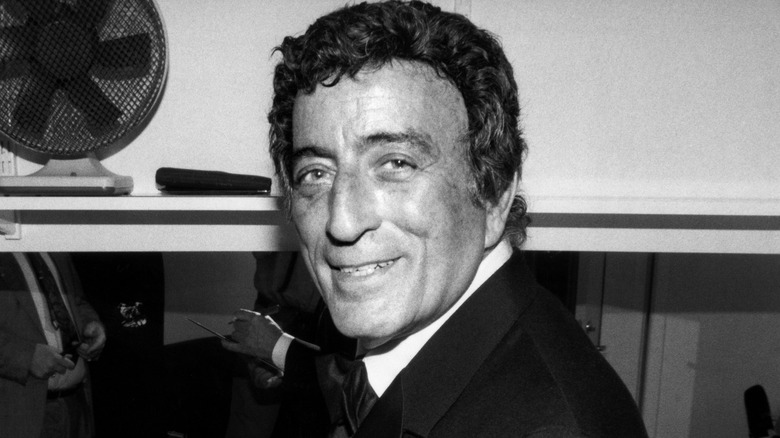 Bernt Claesson/Getty Images
Tony Bennett doesn't seem like the kind of performer who would fall into the toxic traps of the rock n' roll lifestyle — namely financial problems and drug addiction — probably because he wasn't a rock n' roll guy at all, always impeccably dressed in a suit to croon his classy, old-fashioned tunes. Unfortunately, Bennett's life slowly turned into a "Behind the Music" episode in the 1970s. 
"I used to take pills — uppies, downies, and sleepies," Bennett said in the book "All the Things You Are: The Life of Tony Bennett" (via The Express). He identified the '70s as his "darkest period." After Columbia Records dropped him from its roster in the face of changing musical tastes, he fell deeply into debt. "I owed something like $1.2 million, which was a fortune in those days. At least half of it was in back taxes I couldn't afford to pay." The death of his mother on Thanksgiving 1977 was unbelievably painful, and he "turned more and more recklessly to drugs for relief." Things got even worse in 1979 — that's when Bennett, freaked out over a call to his accountants from the I.R.S. threatening to seize his house, overdosed on cocaine, and passed out while in the bath. His then-wife Sandy Grant arrived home just in time to get him to a hospital. Bennett eventually got clean and sober and his son, Danny, helped him settle his financial problems.
If you or anyone you know needs help with addiction issues, help is available. Visit the Substance Abuse and Mental Health Services Administration website or contact SAMHSA's National Helpline at 1-800-662-HELP (4357).
Tony Bennett vs. The Yellow Pages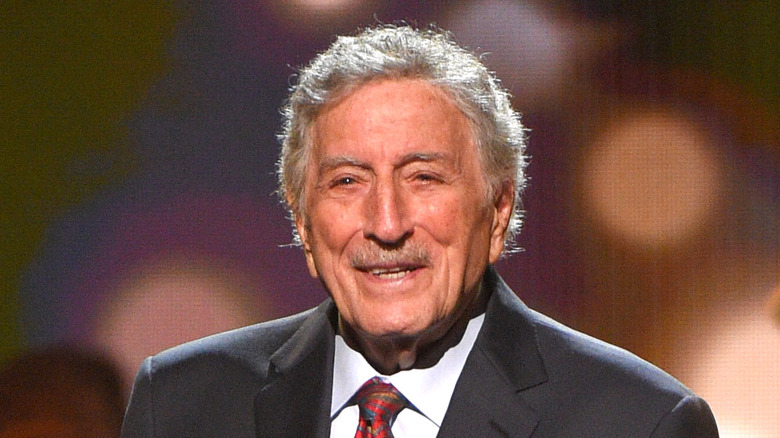 Jason Kempin/Getty Images
While Tony Bennett allegedly delved into the world of organized crime early in his career, he found himself embroiled in mob drama again in 1979. In 2012, David Evanier, author of the Bennett biography "All the Things You Are: The Life of Tony Bennett," sent the New York Daily News a story about his subject that he'd learned of too late to include in his book. 
According to a "reliable associate" of Bennett's, back in 1979, the singer was performing a residency at the Sahara Hotel and Casino in Las Vegas. Recently separated from his second wife, Sandra Grant, and at a personal low — "drugged up and contemplating suicide," said Evanier — Bennett started dating a woman who was already spoken for. She happened to be the girlfriend of Anthony Spilotro, a Vegas mobster who reportedly inspired the violent character portrayed by Joe Pesci in the 1995 movie "Casino." Evanier said that when Spilotro found out that Bennett was stepping out with his girlfriend, he "hammered Tony over the head with a phone book, laying him out on the floor." It wasn't too long after this event, Evanier said, when Bennett checked into rehab.
Steppin' out for a big comeback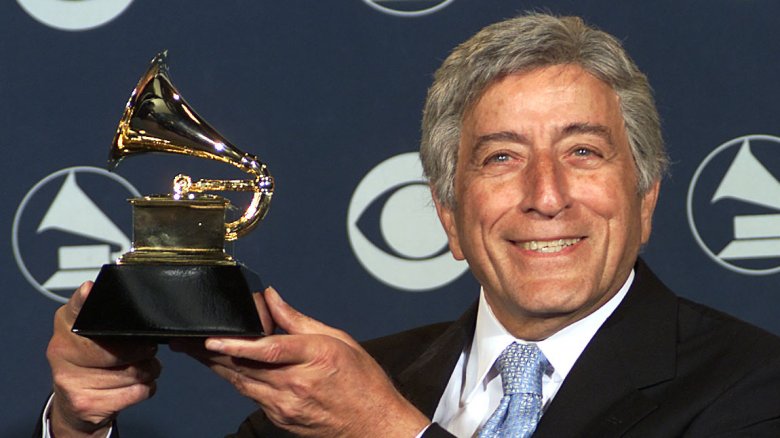 Scott Gries/Getty Images
Tony Bennett was the last man standing from the pre-rock era, by virtue of surviving and performing into his 90s as well as a slow and savvy marketing plan. Danny Bennett took over his father's career in 1979, and got his father a new deal with his old label, Columbia Records. In 1986, "The Art of Excellence," the first album under that contract, became Bennett's first record in 14 years to hit the charts. Around that time, Spin publisher Bob Guccione Jr., called Bennett one of the two biggest influences on rock n' roll and published a featured profile of the crooner. Before long, Bennett was regularly appearing on "Late Night with David Letterman" and booking spots in alternative rock radio station-sponsored concerts. 
All the while, Bennett didn't change a thing about his act — he sang the great songs and the cool rock kids loved him for it. Columbia Records played up the nostalgia factor, and released two Bennett concept albums in 1992 and 1993: the Frank Sinatra tribute "Perfectly Frank" and the Fred Astaire tribute "Steppin' Out." Those won Bennett back-to-back Grammy Awards for Best Traditional Pop Vocal Performance. A video for the title track from "Steppin' Out" received heavy MTV airplay in late 1993, prompting the network to book Bennett for an episode of its "Unplugged" concert series. Comeback complete: In 1994, the live recording of Bennett's "Unplugged" won the Grammy Award for Album of the Year.
Tony Bennett knew his wife literally forever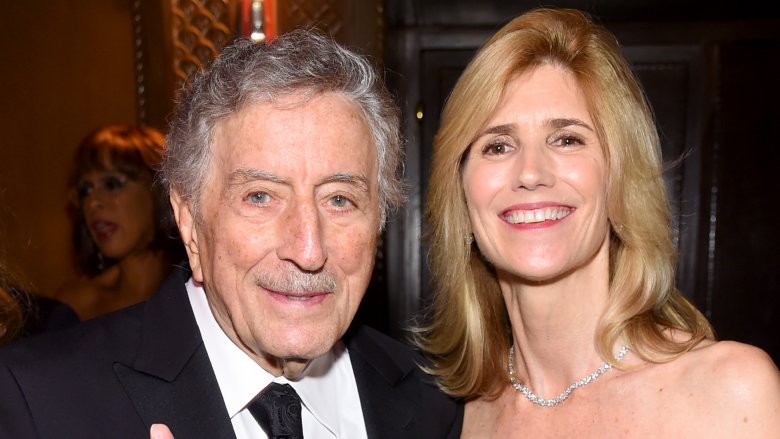 Jamie Mccarthy/Getty Images
A survey of Tony Bennett's romantic history is almost as long and involved as his discography. In 1952, he married Patricia Beach, the mother of his two sons (one of whom, Danny, is his manager). She filed for divorce in 1969, after Bennett allegedly cheated with actress Sandra Grant, whom the singer married and helped raise two daughters. That relationship lasted until 1979, and Bennett wouldn't marry for a third time until 2007, saying I do to Susan Crow, a woman much younger than the singer. How young? About 40 years younger. Hey, love is love, but the story gets pretty weird.
According to Bennett's book "Just Getting Started" (via Page Six) they first met decades earlier. At age 19, Crow was the president of Bennett's Bay Area fan club, and "she put in a request to say hello backstage after the show." Bennett wrote that he was touched "that someone of her age was so devoted to my music." Crow got that backstage pass, and a little bit more, as Bennett "asked her to be my date for the evening."
That's kind of cute, but like we said, the story gets weird. Crow's parents were big Bennett fans, too, and in 1966, they caught one of his concerts in San Francisco. Bennett posed for a picture with the Crows, and Marion Crow happened to be pregnant at the time ... with Susan.
How much was Tony Bennett worth?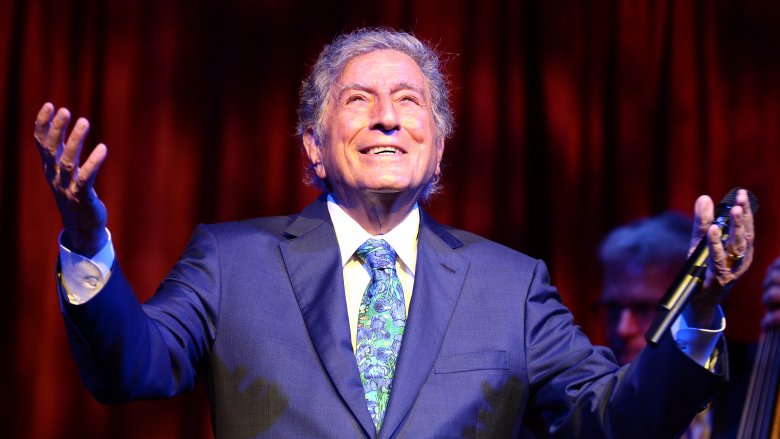 Dave Kotinsky/Getty Images
Tony Bennett hired his son, Danny Bennett, to manage his career and finances in 1979. By 1990, the elder Bennett had paid off his seven-figure tax debt, and over the course of the next decade (when Bennett made a huge comeback) he built up a fortune in the $15-$20 million range. 
In the last 20 years, Bennett worked hard, consistently performing live, and recording several high-profile albums. He found a lucrative niche in the collaboration game. Between 2002 and 2014, Bennett recorded four albums in which he sang with other notable performers (including entire records with both k.d. lang and Lady Gaga), and all have been certified gold or platinum for sales of at least 500,000 and one million copies, respectively. That's all made for some substantial deposits into Bennett's bank account. According to Celebrity Net Worth, the singer has probably amassed cash and assets that total $200 million.
He campaigned to legalize drugs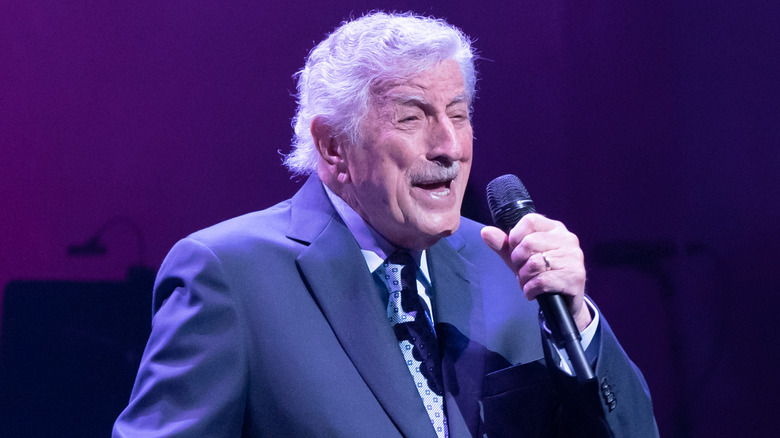 lev radin/Shutterstock
Tony Bennett's struggles with drug addiction left him near death in the 1970s, and he worked hard to get sober. But his experiences with drugs didn't leave him hardened as to their wider use in society. In 2012, Bennett was at a pre-Grammy party when news of Whitney Houston's death from drowning, with drugs being a complicating factor. Coming soon after the deaths of Michael Jackson and Amy Winehouse, Houston's death moved Bennett to speak. "I'd like to have every gentleman and lady in this room commit themselves to get our government to legalize drugs," he asked his fellow attendees (per Politico), noting that such a policy would at least put access to dangerous drugs in the hands of doctors rather than drug dealers.
Bennett faced some criticism for his remarks, but also support from Neill Franklin and Katharine Celentano, a former police officer and rehab attendee respectively, who took to The Wrap to defend a broad legalization policy (via Reuters). They argued that the prohibition of some substances created an artificial stigma against the recovery process. It was also noted that in much of Europe, drugs are more a matter of health than crime, but that no country in the Eurozone appeared willing to move towards full legalization and regulation before the U.S. did.
If you or anyone you know needs help with addiction issues, help is available. Visit the Substance Abuse and Mental Health Services Administration website or contact SAMHSA's National Helpline at 1-800-662-HELP (4357).
He painted under his real name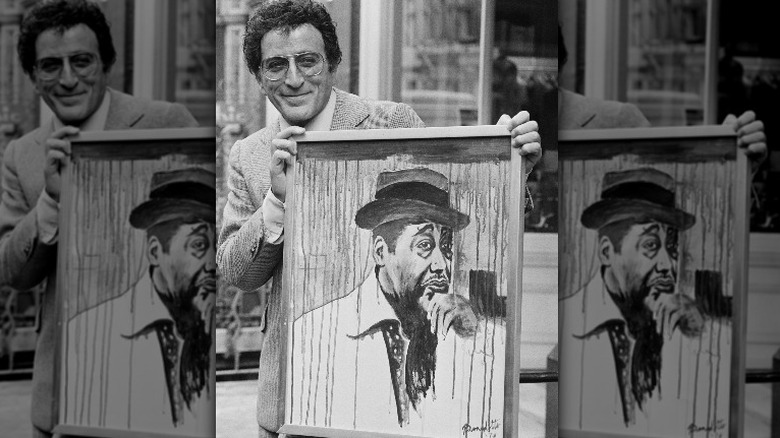 Evening Standard/Getty Images
As Tony Bennett, he's become world-renowned as a singer. Under his birth name, Anthony Benedetto, he maintained a side career as a painter. Bennett had been fascinated by art and painting since childhood, and according to PBS's "American Masters," he made it a daily practice. It's a habit he maintained even while touring. His paintings were the subject of his first book, "What My Heart Has Seen," published in 1996.
Bennett's art has appeared in several museum galleries. A painting of David Hockney is part of the Butler Institute of American Art's permanent collection, and he has pieces in the National Arts Club and the Smithsonian's American Art Museum. He's been commissioned by the Kentucky Derby for promotional material and the United Nations for an anniversary painting. And Bennett's art has been a regular part of the American Cancer Society's holiday fundraising; he painted many of their greeting cards.
He still rehearsed in retirement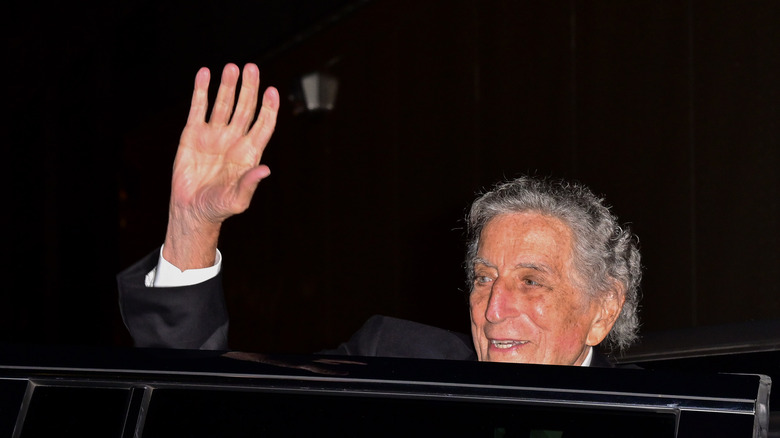 James Devaney/Getty Images
Tony Bennett kept busy throughout the 2010s, carrying out touring concerts and striking up a friendship and collaboration with Lady Gaga. But in 2017, Bennett was diagnosed with Alzheimer's disease. The bad news was initially kept private, and Bennett insisted on keeping up his performing. But by 2021, though his voice and musical recall were still strong, his physical condition at 95 couldn't endure his performing schedule anymore. That year, Bennett made public that he had Alzheimer's, and his son Danny announced that there would be no more concerts. "This was a hard decision for us to make, as he is a capable performer," Danny told Variety. "This is, however, doctor's orders."
Danny added that his father would be doing "other things," though he didn't elaborate on what those might be. The family didn't issue permission for a post-retirement use of Bennett's image in an episode of "The Marvelous Mrs. Maisel," though there were no hurt feelings. A year after retirement, Danny shared that his father still rehearsed three times a week. "That's how you do it," said Danny (per Variety). "It's like "How do you get to Carnegie Hall, right? Practice.'"