Kerri Rawson Saw The Signs Everywhere After Learning Her Dad Was The BTK Killer
The betrayal is hard to comprehend. At the age of 26, Kerri Rawson learned her father, Dennis Rader, was the BTK killer. In 2005, Rader confessed to killing 10 people over a 30-year period in the Wichita, Kansas area. Later, Rawson wrote a memoir about her experience, "A Serial Killer's Daughter: My Story of Faith, Love, and Overcoming." As Rawson relates in her book, in retrospect, once the terrible truth was revealed, she realized that she'd noticed clues to the sinister double life her father led (via Esquire). 
A chilling self-chosen moniker, Rader is known as the BTK killer for how he killed his victims: bind, torture, kill. During his crime spree, Rader communicated with and taunted the police through notes and letters. He also collected dark souvenirs from his victims, as well as BTK murder news coverage. In 2019, Rawson spoke with "Esquire" about what it was like to learn her father's identity, as well as all the horrific crimes Rader confessed to. By the time Rawson was born, Rader had killed seven people, including children (via Slate).
As Rawson told Esquire in her 2019 interview, "[We] didn't know we were living with a psychopath. They're really good at hiding." Rawson's mother had lived with Rader for more than three decades, and most of the time, "he was a good, loving father and husband," Rawson said. Rader, the BTK killer, is now serving 10 consecutive life sentences or a minimum of 175 years in a Kansas prison. He has no chance for parole.
Rader was prone to anger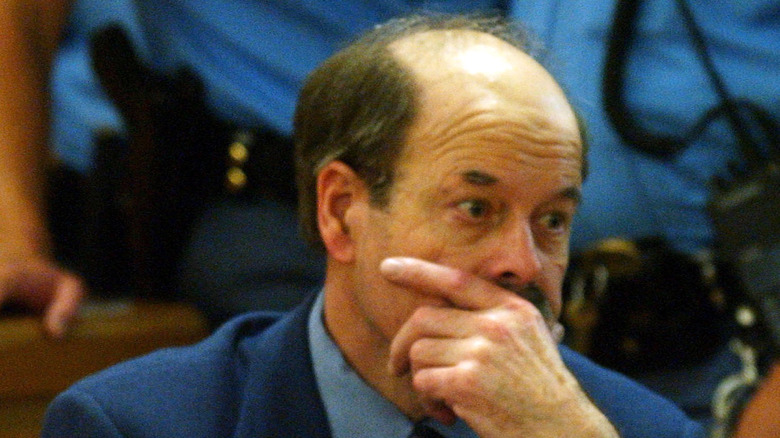 Pool/Getty Images
Kerri Rawson has many pleasant memories of her childhood and of her father, but there were incidents of anger, and in one case in particular, extreme violence. According to Rawson, while enraged for seemingly little reason, Rader nearly strangled her brother Brian with his bare hands in front of the family. It was, thankfully for his family, an isolated incident. Rader — who was involved in the local church and a Boy Scout leader — was otherwise kind, Rawson said. With tears in his eyes, he even walked his daughter down the aisle at her wedding.
Rawson was aware of the BTK killer through local press coverage, and in 2004, she learned that the BTK killer had once again contacted the police. In that message, BTK mentioned a number of personal attributes that also fit Rawson's family. According to BTK's message to the authorities, his father served in World War II, his family lived near train tracks, and someone in his family played the violin — all things which were true of the Rader family.
In her Esquire interview, Rawson described reading that list like déjà vu. "Something in the list was nagging at me," she said. Speaking with Slate, Rawson mentioned how she later found out her father nearly had an 11th victim, in 2004, one year before his arrest. The woman was not alone in her house, and Rader left. If he had committed the murder, he would have gone camping with his family afterward, Rawson said.
Rawson's father used to work late at night
Speaking with Esquire in 2019, Kerri Rawson also mentioned her father's unusual preoccupation with passwords and security throughout her childhood. Rader studied criminal justice at Wichita State University, and later on in his life, he worked for the home security company, ADT — the perfect cover for breaking into victims' homes, Rawson later realized. Rawson also remembered her father working late at night, but he was really out hunting victims.
Shortly before his capture, Rader inquired with Rawson's husband, Darian Rawson, if floppy disks are traceable, and by no coincidence, BTK's final message to the police was delivered on a floppy disk. Along with a DNA match from a crime scene, the disk was traced to the church Rader attended. Despite those signs, Rawson contends no one in the Rader family truly knew the awful reality about their father and husband — they only connected the dots after his arrest.  
In 2019, Rawson told the ABC News program 20/20, "If we had had an inkling that my father had harmed anyone, let anyone murdered anyone, let alone 10, we would've gone screaming out that door to the police station. We were living our normal life. We looked like a normal American family because we were a normal family. And then everything upended on us."