The Epic Tale Of Man Vs. Mouse: Ron DeSantis' Feud With Disney Explained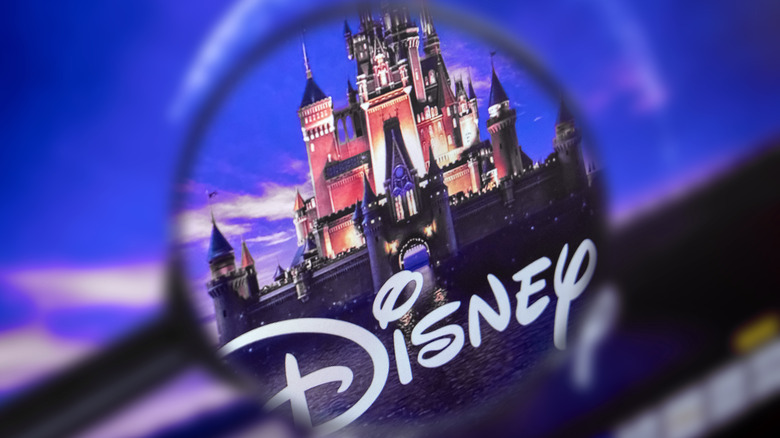 Marko Aliaksandr/Shutterstock
If there's one thing that everyone (might) be able to agree on, it's that the decade that started with 2020 and a global pandemic is a weird time to be alive. It turns out that things were just getting started, and over the course of the years since the news has just gotten strange.
It was early in 2022 that Florida introduced some highly controversial anti-LBGTQ+ legislation, and admittedly, no one was really surprised about that. What was shocking, though, was when Disney threw their weight into the ring and decided to take on the state, Gov. Ron DeSantis, and anyone else who got in their way of standing with their LGBTQ+ fans, families, and employees.
That's how it started, at least, and it very quickly escalated in a bizarre series of events that became about much more than the initial legislation that kicked off the whole thing. DeSantis doubled down and made it very clear that he wasn't going to stand idly by and let anyone question him, while Disney pulled out the big bucks, their pack of corporate lawyers, and quite honestly, probably some pixie dust to make it clear that they weren't going to back down, either. So, what exactly happened? It's complicated, but we'll break down what happened, why it's so important, and why there might be more going on here than just a disagreement with the House of Mouse.
Disney was vocal about their stance on HB1557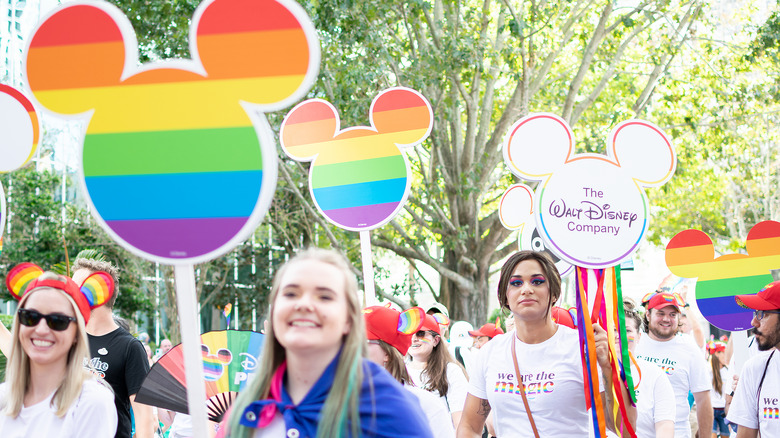 Brigith Davila/Getty Images
The whole messy situation kicked off in March 2022, with Florida Gov. Ron DeSantis' signing of the Parental Rights in Education Bill, also known as the Don't Say Gay bill. The most controversial part of the bill is the ruling that children in third grade and under can't be taught anything about gender identity or sexual orientation. In a press conference addressing the bill, DeSantis explained: "[Teaching kids] they can be whatever they want to be [is] inappropriate."
Were there protests? Absolutely. A few weeks prior to the signing of the bill, local news outlets like Click Orlando were reporting on not only protests organized at Disney but a series of paid ads taken out in hopes of getting the corporate behemoth to take a stand. Michael Kahane, a representative of the AIDS Healthcare Foundation, said it was pretty simple: "Kids need a safe space to discuss issues that they are going through, and if for whatever reason they don't feel safe talking to their parents, they need a trusted teacher or a counselor."
On the same day the bill was signed, Disney took a stand and issued a formal statement calling for the bill to be overturned. In the brief statement, they described getting it struck down as "our goal as a company." How's that working? A year later — almost to the day — DeSantis doubled down and expanded the bill so it applied to all grades through high school seniors.
Florida hit back by dissolving Disney's Reedy Creek District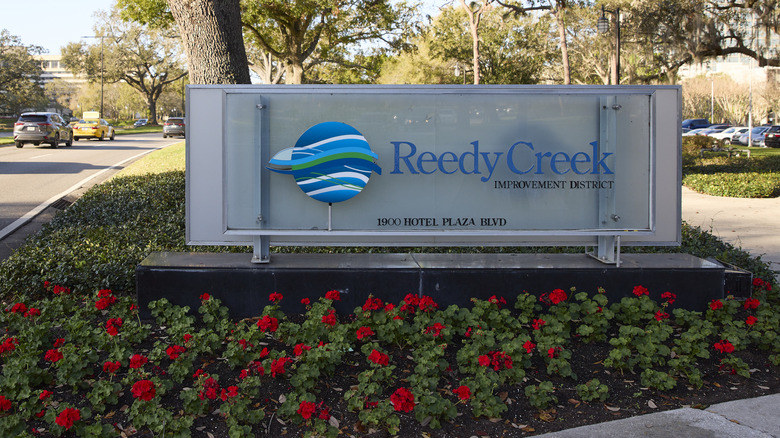 Bloomberg/Getty Images
Any chances of the whole Disney vs. Ron DeSantis thing blowing over fell apart when DeSantis hit back — hard. He announced that he was going to be moving to disband the Reedy Creek Improvement District. First of all, what's that? 
The Disney complex has grown in leaps and bounds over the years, but even when the ground first broke back in the 1960s, Florida knew it wasn't going to be able to keep up with the infrastructure that the theme park needed. So, the state created a 25,000-acre district called Reedy Creek, which basically allowed Disney to function as its own local government, in charge of its own finances and providing services like sanitation, public works, and fire departments. 
Less than a month after Disney spoke out against the Don't Say Gay bill, DeSantis put an end to Reedy Creek with a rushed bill that was just one and ½ pages long. Representatives from territories impacted by the move were among the first to speak out. Democratic representative Anna Eskamani explained to The Washington Post that while no one knew what the fallout of the move was going to be, it wasn't going to be good. Not only were there going to be unimaginable financial consequences, but she explained: "Everything about this reflects the fact that we have a governor who is a bully who punishes those that oppose him."
Let's talk about the numbers at stake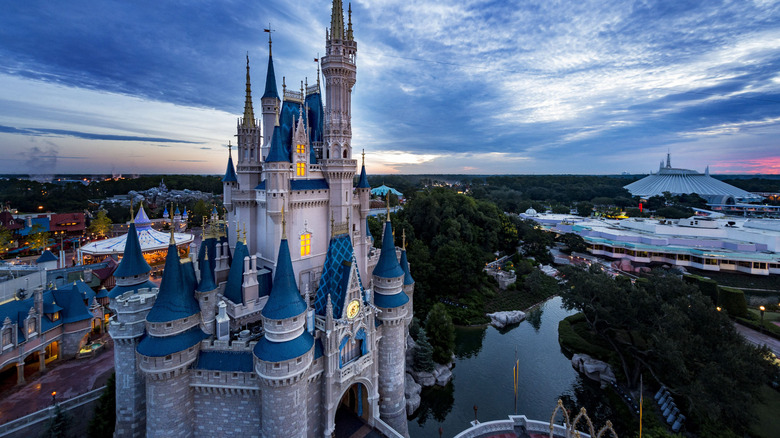 Handout/Getty Images
Let's pause for a moment and talk numbers because that's crucial to understanding the enormity of what's going on. Conflict between privately-owned businesses and the government is certainly nothing new, but the sheer scale of Disney is mind-blowing. That starts with the fact that pre-COVID, Disney World pulled more than 58 million visitors a year into the state, and yes, that's more than a million people a week. (For comparison, that's like the entire state of Montana going to Disney each week.) 
Without even considering the spending power all those visitors bring with them, all the other places they go, hotels they stay at, and restaurants they eat at, consider this fun fact: The state budget for Highway Safety and Motor Vehicles is $563 million, and the state budget for Elder Affairs is $350 million. Given that in 2022, Disney paid a whopping $1.15 billion in tax, well, that's those two statewide budgets covered with millions leftover.
And that's just a drop in the bucket. NBC News says that in 2019, number-crunchers estimated the overall, annual financial impact Disney has on the state is somewhere in the neighborhood of $75.2 billion, and that's a mind-blowing amount of money that's ultimately in play here. It's no wonder, then, that financial experts across the country worried that doing away with Disney's long-standing agreement with Florida would plunge the state into insurmountable debt.
DeSantis told Disney who was going to oversee them
Anna Moneymaker/Getty Images
Something had to be put in place in lieu of the Reedy Creek agreement, so Ron DeSantis signed another bill into law. The so-called House Bill 9-B stipulated that Disney's "government" was going to be renamed the Central Florida Tourism Oversight District, and overseen by a five-person board of directors ... that he chose, and that would have to be approved by the U.S. Senate. 
It wasn't long before social media picked up on the fact that the members DeSantis chose were, well, convenient. They included Martin Garcia, who had donated $50,000 to his election campaign when he ran for governor, another Republican donor, Mike Sasso, and yet another major donor to Republican nominees, Bridget Ziegler. (She also happens to be a co-founder of the group Moms for Liberty, her husband is a GOP big-wig at the state level, and she's already criticized Disney over their perceived "wokeness.") And yes, people were quick to point out the trend there, leveling accusations that there was some pretty clear favoritism going on. Rounding out the group, there's also a land use law attorney named Brian Aungst Jr., and Ron Peri, the founder of a Christian Nationalist group.
Interestingly, this isn't the only time DeSantis has done the old out-with-the-old, in-with-the-new. He similarly overhauled the board of the New College of Florida, which then replaced the college's president with another of his allies.
Oh, no! Too slow, Gov. DeSantis!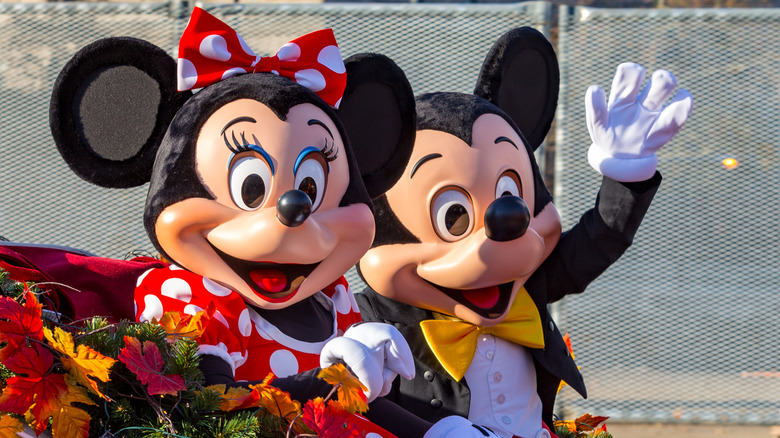 George Sheldon/Shutterstock
There's another old saying about not counting your chickens before they hatch, and it's one that Ron DeSantis may have wanted to study up on before boasting in a speech to supporters, "There's a new sheriff in town." It's Disney historian Aaron Goldberg who perhaps best summed up what's going on to CNN: "Disney was playing chess, and DeSantis was playing checkers."
Seeing the writing on the wall, Disney sat down with the soon-to-be outgoing board to make a deal that essentially saw them surrendering all power — including permission to use Disney characters — until "21 years after the death of the last survivor of the descendants of King Charles III, king of England." Why? A contract giving up the rights in perpetuity might have been successfully argued against in court, but this so-called "royal lives clause" means it's not infinite ... just very, very close to it.
DeSantis' new board was, to put it mildly, not happy. Tampa's News Channel 8 WFLA quoted board member Brian Aungst Jr. as saying, "I cannot think of a more naked attempt to circumvent the will of the voters, the will of the legislature, and the will of the governor. This development agreement ... was done to prevent us from doing our job." Disney, meanwhile, was quick to point out that they'd publicly declared their intent to sign the agreement with the outgoing board, but no one had really bothered to pay any attention to their announcements.
Disney was threatened with payback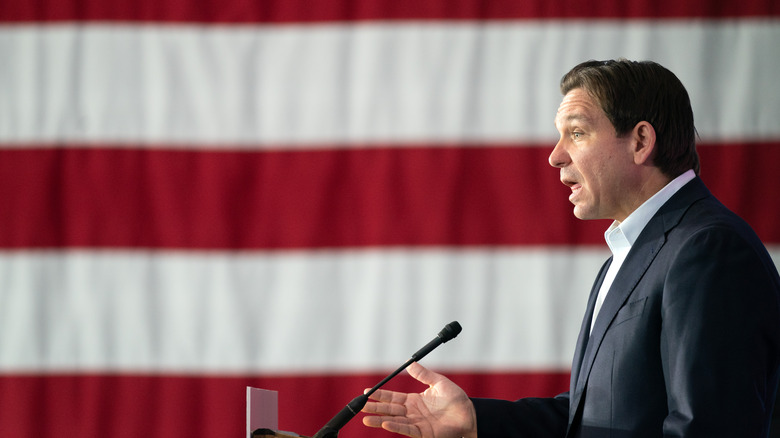 Sean Rayford/Getty Images
Perhaps unsurprisingly, Ron DeSantis made it quite clear that he was planning to draft and sign still more legislation that would circumvent Disney's attempt to circumvent his attempt at ... and so on, and so on. But along with that legislation, DeSantis also sort of publicly mused that there might be more things thrown Disney's way. He was holding a news conference when he talked about all the things that he might do to Disney, and the reaction to his thoughts was either on one side or the very other.
Among DeSantis' ideas were the possibilities of installing toll roads leading into the Disney parks, putting up a state prison a stone's throw from their properties, and putting up some other amusement parks to compete with them. In response, Disney head Robert Iger issued a warning that if DeSantis kept pushing, he was going to seriously jeopardize Disney's expansion plans — plans that included adding another 13,000 jobs to the state.
As for reactions, Democratic Orlando-area representative Anna Eskamani told The Orlando Sentinel (via The New York Times), "It's hitting the point of absurdity. It's about DeSantis looking big and bad next to Disney." Meanwhile, Republican Orlando-area representative Carolina Amesty lauded the governor for standing up to Disney's attempts at "'indoctrinating' children with 'radical gender ideologies.'"
DeSantis found himself on the receiving end of a lawsuit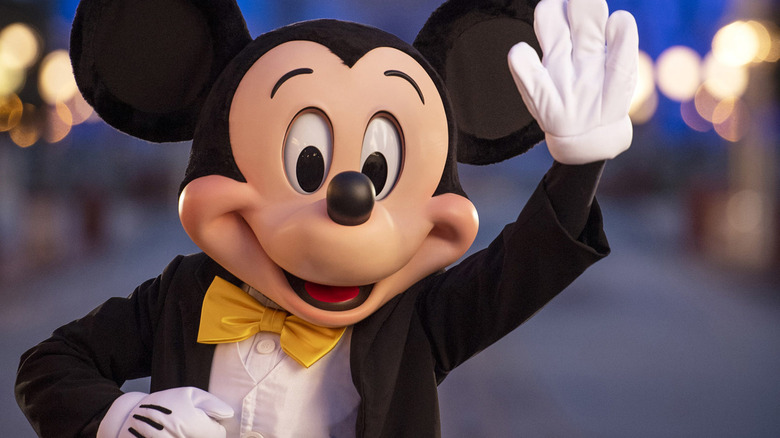 Handout/Getty Images
By this time in the whole weird saga, it was April 2023, and unbelievably, the feud was still not only going strong, but Disney escalated things in a big way when they sued Ron DeSantis for a laundry list of offenses, including violating their constitutional rights as a business, jeopardizing their ability to do business in a particular area in the future, and punishing them for utilizing their First Amendment rights to freedom of speech. Those are all pretty basic rights, and given that this was about the time that DeSantis was flirting around a run for president, it wasn't a really good look.
In fact, political strategist Doug Heye summed it up like this to The Washington Post: "DeSantis essentially picked the fight. So, when you pick the fight and then you lose it, it's very easy to see real problems." That's especially true considering Disney's lawsuit condemned DeSantis for doing what he had very loudly been doing all along: "They have proudly declared that Disney deserves this fate because of what Disney said."
The governor's office, meanwhile, issued a response parroting what they had been saying all along, too, calling the move "another unfortunate example of their hope to undermine the will of the Florida voters."
Was there a major counter-lawsuit? Of course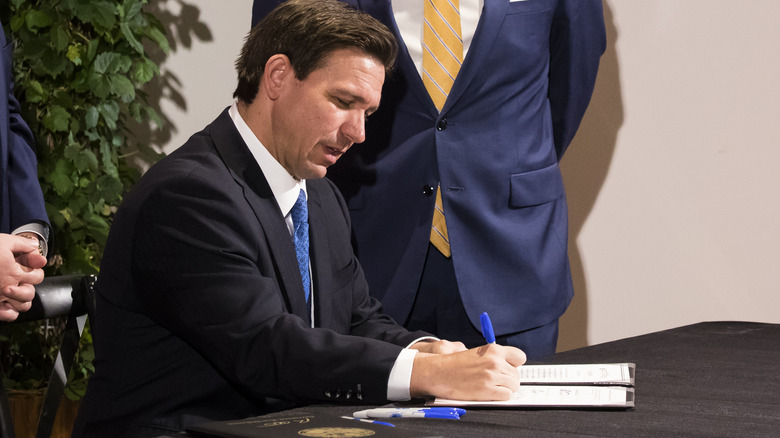 Amir Levy/Getty Images
After Disney filed a lawsuit against Ron DeSantis, the Central Florida Tourism Oversight District board turned around and sued Disney right back. Chairman Martin Garcia explained to CNN: "Since Disney sued us — yes, we didn't sue Disney, Disney sued us — we have no choice now but to respond. Yes, we'll seek justice in our own backyard."
What do they want to get out of this lawsuit? In a nutshell, they wanted to get Disney's contract with the previous, outgoing board nullified, restoring all the power back to the new board established and installed by DeSantis.
DeSantis, meanwhile, went on record as saying that he was just doing what the people wanted and that there had been a lot of complaints about Disney's agreement with the state. He claimed he was just trying to rectify that, and Disney was being all sorts of unreasonable. "They're just trying to pursue an agenda and trying to pursue a narrative," he explained. "... they want to go against me." When will it stop? Nobody knows, but in the meantime, Business Insider discovered that DeSantis' government will be spending $1,290 per hour on the two law firms representing his board.
What does he want? Perhaps nothing from Disney at all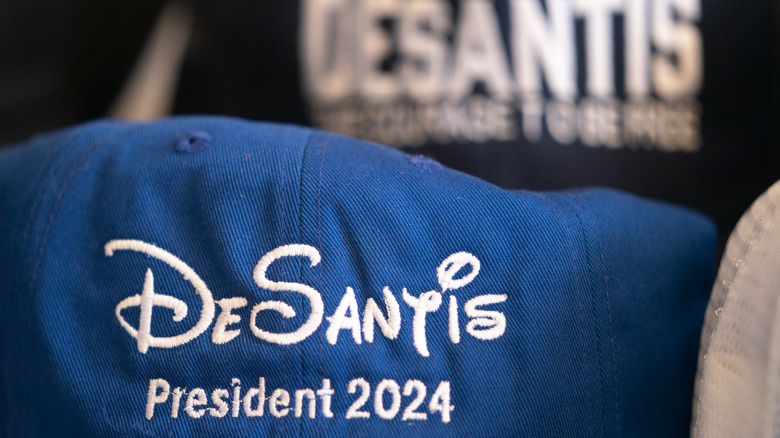 Sean Rayford/Getty Images
Way back when this all started, Vox took a look at the possibility that there was much more going on here than it seemed on the surface. That seemed to be what some experts — including the University of Pennsylvania Wharton School of Business professor Maurice Schweitzer theorized. That is, Schweitzer suggested there was a whole other agenda on Ron DeSantis's mind.
He explained, "I don't think he actually wants or expects that he's going to change anything at Disney. I think he really just wants the media attention." For what? To legitimize himself as a presidential candidate. Schweitzer continued, "In a primary race, the challenge is to stand out and he needs to become the obvious choice. And he has to stand out among what could be either a crowded field of candidates or competing with Donald Trump, who has, you know, even broader name recognition."
George State University law professor Anthony Michael Kreis agreed and went one step further. He noted that the fight with Disney allowed DeSantis to take a number of hot-button issues — like LGBTQ+ rights and critical race theory — and package it up in a way that makes his stance known and puts him on a national scale. Add in the fact that he can flex that he's not afraid of going up against a corporation as big as Disney, and it's possible he saw it as a win-win.
Yes, he really did get married at Disney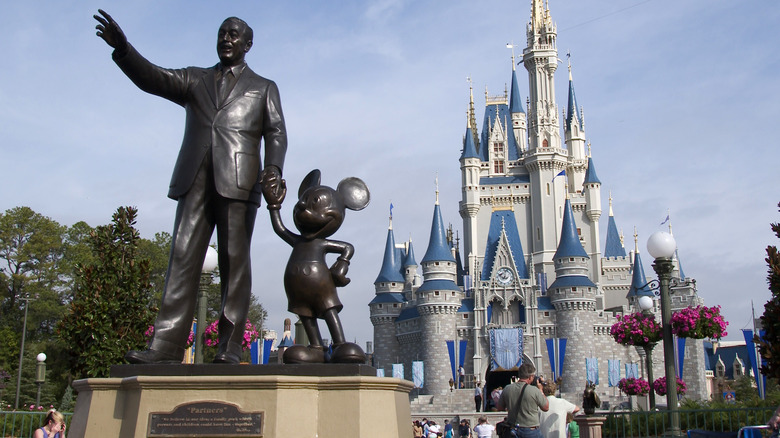 Bloomberg/Getty Images
The Walt Disney vs. Ron DeSantis feud had been going for months when a bit of information started making the rounds that — for those on the side of Disney — seemed just too good to be true. DeSantis, it appeared, had gotten married at Disney 13 years before the epic, headline-grabbing feud kicked off.
It was first reported by Insider, which found out DeSantis and Casey Black tied the knot in the wedding chapel near Cinderella's Castle before holding their reception at Epcot. Those who confirmed the story to the outlet described the bride as "not really a Disney person," but instead as someone who wanted a venue that would take care of all the details. At the time, the DeSantis camp didn't respond but did speak about it a few months later during an interview on SiriusXM's Patriot radio. During that interview, they stressed that while the venue had been nice, they had made it a condition that no Disney characters showed up at any time.
DeSantis explained: "It actually was really nice. We never would have thought that how many years later, we would be tussling with Disney in a political office. But life can be unpredictable." And it's also not the only family event Disney has hosted: Although Casey DeSantis said that she wasn't going to be going there with their children any time soon, she also said that her parents had their 50th wedding anniversary celebration there, too.
DeSantis hijacked a bill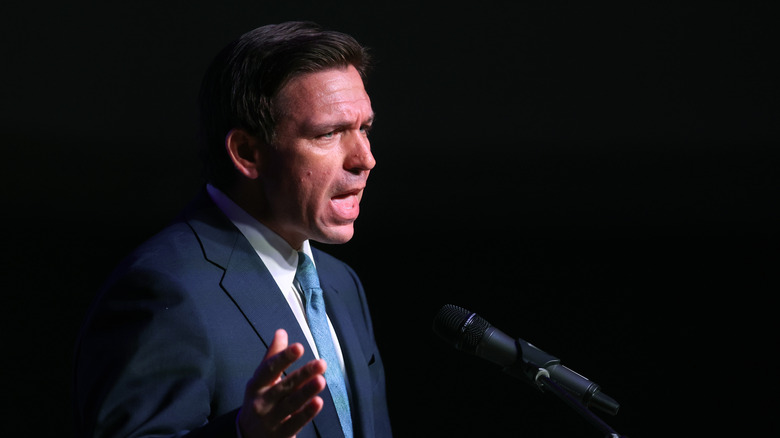 Scott Olson/Getty Images
Ron DeSantis' next move piggy-backed on a bill that was already in progress and initially had nothing to do with Disney. At face value, the bill was about how municipalities could use land — simple enough. Right before it was signed into law on May 6, 2023, DeSantis added an amendment that gave the board appointed in lieu of Reedy Creek the ability to void any development deals that had already been approved for and by Disney and were already in the works.
While everything was kind of on hold as Disney and DeSantis lobbed lawsuits at each other, it had the potential to become a really, really big deal should DeSantis win. There are some massive projects that stand to be impacted by the new law, including a fifth Disney theme park and another 14,000 hotel rooms.
Unsurprisingly, the addition to the bill was hotly contested for the control the law would give the government to monitor the contracts written by privately-held companies. As Democratic representative Anna Eskamani explained to The New York Times, "Beyond the Disney drama, let's just talk about the notion of canceling a contract that you don't like." Meanwhile, NBC News did a small survey to get a feel for how GOP voters were reacting to the entire saga and found that the conservative voters — who, they note, would be getting DeSantis into the presidential primaries — were overwhelmingly on the governor's side.