Things Found At Country Star Death Scenes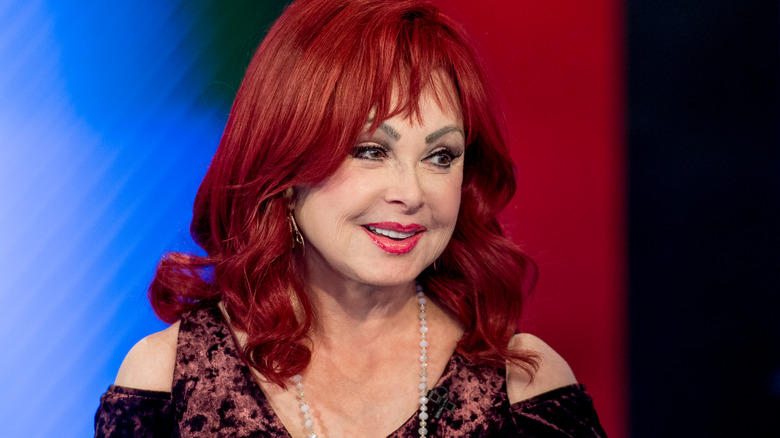 Roy Rochlin/Getty Images
Celebrity is a strange thing. It elevates some seemingly above all others, turning them into something almost otherworldly. And sometimes, it's only when they die that the rest of the world remembers that they're not so different from the rest of us.
The music industry had a famously high rate of horrible deaths, from bus accidents and plane crashes to murders, overdoses, and suicides. While it might have a bit more of a wholesome image than other genres of music, country music is far from immune to losing some of the biggest stars in the worst ways.
News that a beloved country singer has passed away can hit home in a hard way, and sometimes, what comes out about the circumstances of their death can be very telling. Sometimes, it explains what happened, sometimes it gives the world some insight into the everyday lives of the rich, famous, and doomed, and sometimes, it serves as a poignant reminder that no matter what kind of life is lived, everyone faces the same thing in the end.
This article contains multiple references to suicide. If you or anyone you know is having suicidal thoughts, please call the National Suicide Prevention Lifeline​ by dialing 988 or by calling 1-800-273-TALK (8255)​.
Patsy Cline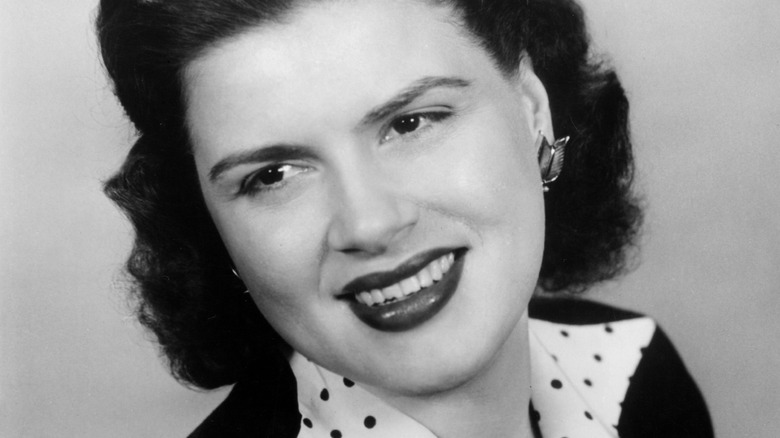 Michael Ochs Archives/Getty Images
Patsy Cline got a late start in music: She was 13 when she was hospitalized with a devastating illness that completely changed her voice into the one that made her famous, and when she was killed in a plane crash on March 5, 1963, she had really only been singing for a surprisingly short time. The crash took the life of the 30-year-old Cline, along with pilot (and Cline's manager) Randy Hughes and fellow country music stars Hawkshaw Hawkins and Cowboy Copas. 
The cause of the crash was officially ruled as having been caused by pilot inexperience and bad weather, and it was bad weather that Cline had been aware of: The oft-told tale is that even as she waved aside concerns over her flight from Kansas City back home to Nashville, she reportedly told Dottie West, "Don't worry about me, Hoss. When it's my time to go, it's my time to go." 
In 1996, a show called "Friends and Company" did a retrospective on the crash site, and interviewed one of the first people on the scene. Jerry Phifer shared that the entire crash site was strewn with their gear, from clothes to guitars, amplifiers, and equipment. Some of the items recovered from the crash site have been included in exhibits about her life, including a lighter in the shape of a Confederate flag and a watch given to her by her husband. Hughes's journal was also recovered from the site, documenting the last of the singer's tour dates.
Mindy McCready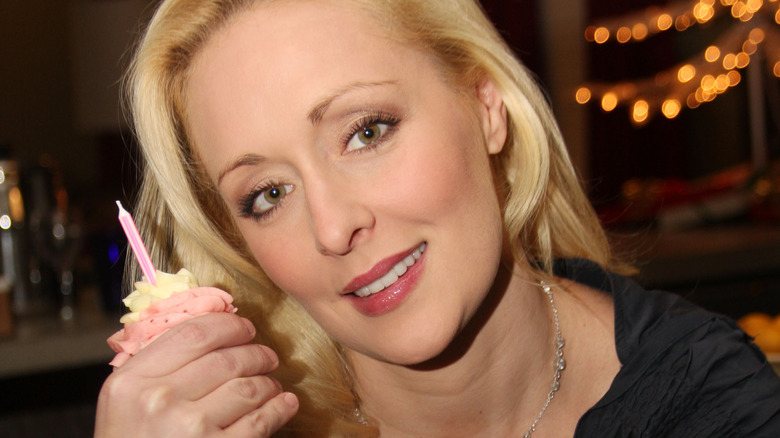 Randi Radcliff/Getty Images
After country music star Mindy McCready died by suicide in 2013, news outlets across the country recounted her tumultuous recent history, including her fight for custody of her son, arrests for drunk driving, her high-profile involvement in the 2010 season of "Celebrity Rehab with Dr. Drew," and the death of her boyfriend, producer David Wilson. Her death came one month after Wilson also died by suicide, and according to reports, they were both discovered on the front porch of their home.
Also found at the scene of her death was the body of the dog she shared with Wilson, and reports said that the dog had been shot and killed prior to her death. A friend of McCready's, Danno Hanks, spoke with E! News to explain that he didn't believe she had killed the dog out of despair, but love.
"Her discussions about leaving her life wasn't that she wanted to end her life, but she wanted to join David, and David loved that dog, and so she'd be taking the dog with her," Hanks claimed. He also added that McCready had reached out to him the day prior to his death, and he said that it was an important lesson that everyone could take away with them: "I wish I had been more alert to what it was. Everybody wants to reach out after the fact, but nobody wants to be there when it is happening. ... I still can't fathom the whole thing."
John Denver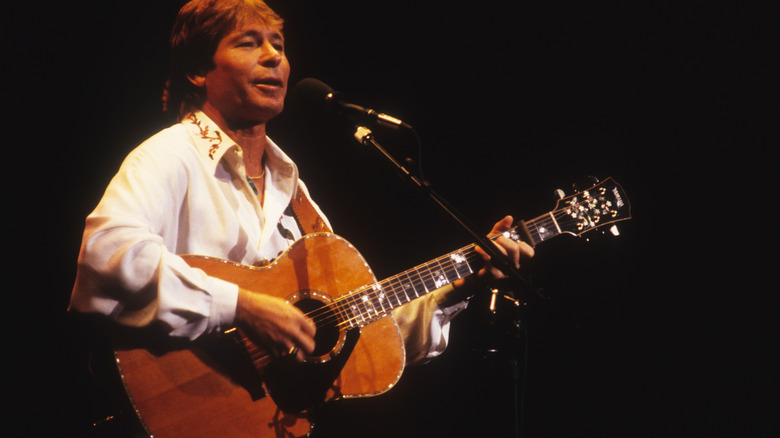 Jim Steinfeldt/Getty Images
There are some songs that don't just cross genres, they kick down the doors and prove that even the most devout country music haters will be belting them out every time they come on the radio, like John Denver's "Take Me Home, Country Roads." Denver was killed on October 12, 1997, when the plane he was flying crashed not far off the coast of California. It took more than a year for the National Transportation Safety Board to finalize its report on what had happened.
Interestingly, there were several significant things that weren't found at the scene, including the logbook and the autopilot. However, the plane was, for the most part, recovered piecemeal but mostly complete, and initially, two things seemed to point to a possible cause of the crash. The windscreen was shattered into pieces, and there were a lot of duck feathers found.
Given that the seat cushions were labeled as being filled with goose feathers, not duck, that led to the initial theory that bird impacts had caused the crash. After consulting with experts from the Museum of Natural History, it was found that the label wasn't entirely right, and the cushions included duck feathers, too. That possibility eliminated, it was later ruled that the inconvenient location of the handle that toggled between fuel tanks — behind the pilot — was ultimately responsible, and that Denver had lost control while trying to move the handle.
Hank Williams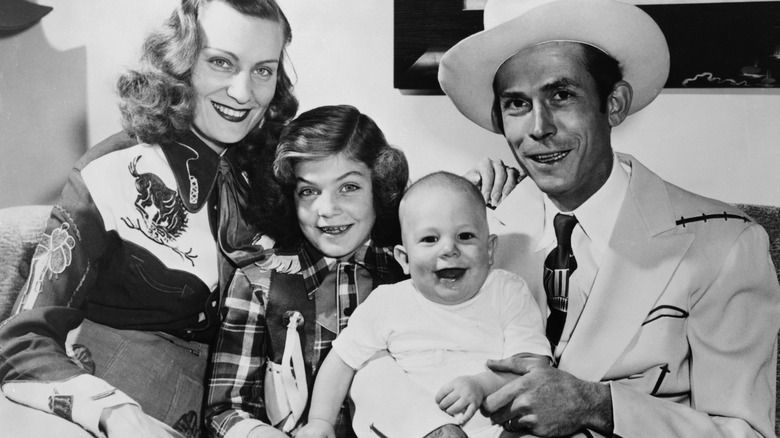 Silver Screen Collection/Getty Images
When Hank Williams Sr. died at the incredibly young age of just 29 years old, 20,000 people attended his funeral. What happened in the hours around his death, just as 1952 became 1953, is part history, part myth. Williams had been on his way to Canton, Ohio when died in the back of his Cadillac, which was being driven by a college student he'd hired to get him to his Ohio concert when bad weather made flying impossible.
That college student-turned-driver was Charles Carr, and in 2002, he sat down with The Atlanta Journal-Constitution to talk about that fateful night. Carr recalled helping Williams — dressed in white boots and a hat, with a blue coat — load his gear into the Cadillac, and picking up a six-pack of Falstaff beer. Although they had intended on stopping for the night, the concert promoter told them that they needed to keep going to make it on time, so they did. Carr was in West Virginia when, troubled by the eerie silence, he pulled over and went back to check on Williams. The blanket he'd been covered with had slipped off, and Carr knew he had to find a hospital.
When his body was removed from the car later, some full cans were still there, along with a few empty ones. Also in the car were notes Williams had written, with unfinished song lyrics. Carr recalled the last words Williams said — to anyone who heard anything, at least: "I just want to get some sleep."
Dave Stringbean Akeman
Dave "Stringbean" Akeman and the banjo he simply called "the five" were staples at the Grand Ole Opry, and the kind of person he was, was summed up by his "Hee Haw" co-star Buck Owens (via The Tennessean): "If you knew Stringbean, you had to love him." The industry was devastated when, on November 11, 1973, Stringbean and his wife, Estelle, were killed at their three-bedroom cabin in the woods north of Nashville.
Stringbean had plans to go hunting with fellow legend Grandpa Jones, and it was Jones who discovered their bodies when he went to pick up his friend for their trip. Stringbean had been killed inside the cabin, and Estelle lay in the front lawn, beside a hickory tree. Stringbean's banjo was still on the front porch, and inside the cabin, the radio was on: The killers had been listening to the Grand Ole Opry as they waited.
Cousins Doug and John Brown were ultimately arrested and convicted of the murders, and later confessed that they had been there intending on robbing the place. They had torn the cabin apart looking for money, and when they decided to wait, they hadn't expected Stringbean to come home armed. After killing him and then his wife, they searched the bodies and took off with about $250. They didn't find the $3,182 Stringbean had in an inside pocket of his overalls, or the $2,150 Estelle had in her undergarments.
Tammy Wynette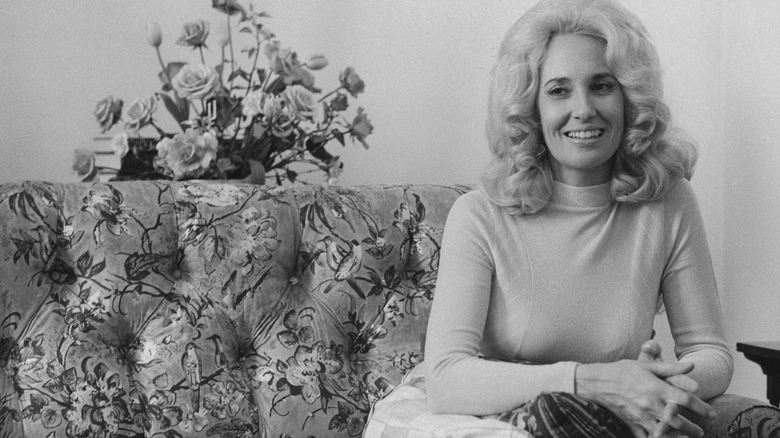 Michael Putland/Getty Images
There are a few different stories about what happened on the night Tammy Wynette died, and they're recounted in Jimmy McDonough's biography, "Tammy Wynette: Tragic Country Queen." What is known is that Wynette died — at home, on a sofa in her kitchen — on April 6, 1998. According to the testimony her then-husband, George Richey, gave to the press, he had spoken to his daughter at 6:55 pm, seen a note that the housekeeper had left at 6:05 pm, saying she was running to the store, and then discovered Wynette had passed away. However, Richey had previously told police that both he and the housekeeper had found her body, raising questions about the note that was found taped to the kitchen table.
Richey called her personal physician in Pittsburgh. While the doctor flew from there to Nashville, Wynette remained on the sofa where she had died. Friends, family, and Wynette's daughters came in and out of the home, and according to Richey, an unnamed acquaintance removed all of Wynette's medical records, prescriptions, and paraphernalia from the scene ... but what happened to them remains unclear.
Wynette's body wasn't released to the coroner until 2:30 am on the following morning, and although the official cause of death was a blood clot in her lungs, that kicked off a slew of lawsuits. After her body was exhumed to conduct the autopsy that hadn't been done at the time, it was ruled that the cause had actually been heart failure, caused most likely by blood clots that had previously collected in her lungs.
Naomi Judd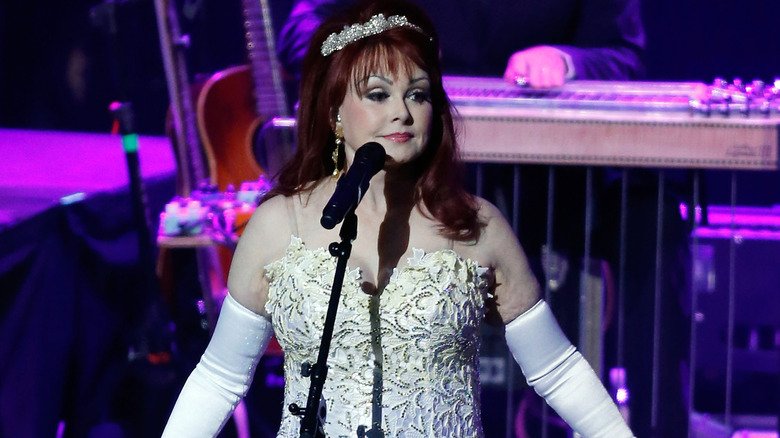 Isaac Brekken/Getty Images
When Naomi Judd died by suicide on the day before she and her daughter, Wynonna Judd, were due to be inducted into the Country Music Hall of Fame, it kicked off not only a period of inconsolable grief for her family, but also started a very important conversation about how much the public is entitled to know, and how much privacy should be respected. Not two weeks had passed since Judd's April 30, 2022 death when her daughter, Ashley Judd, sat down with Diane Sawyer.
Ashley said that she had been put forward as the family's spokesperson, as they knew that information was going to be made public, and they wanted to speak before that happened: And they were absolutely right. By August, the family was involved in a highly-publicized court case in an attempt to keep the details of Naomi's death private. Although they were initially granted a temporary verdict confirming that things like official investigation reports and photos were not to be released, they ultimately were. Outlets including the New York Post and RadarOnline ultimately ran photos of Naomi's bed, showing the hurriedly-written Post-It note she also left behind.
Since then, Ashley has spearheaded a movement to prioritize sensitive reporting and allow families to keep images, recordings, and evidence private. She said (via The Guardian), "The dark past, in God's hands, becomes our greatest asset. With it, we can avert misery and death for others."
Faron Young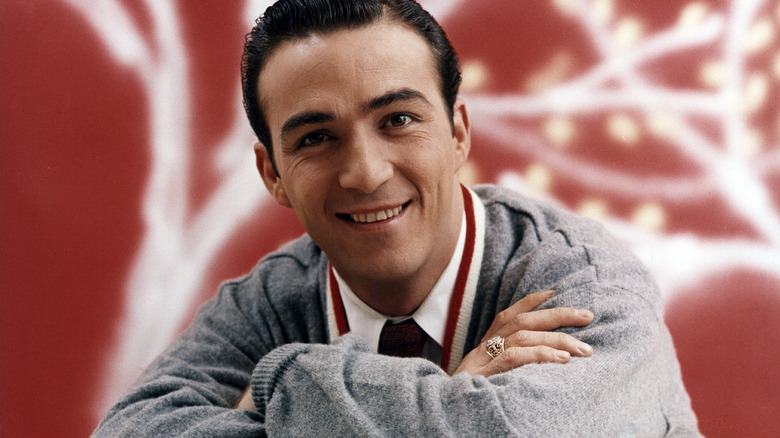 Michael Ochs Archives/Getty Images
Faron Young was a country singer and member of the Grand Ole Opry, but he was also an actor and a newspaperman: he founded and owned Nashville's Music City News. Known as the Singing Sheriff because of his acting roles, he was instrumental in launching other stars into the stratosphere, including Willie Nelson. When he died by suicide in 1996, the note he left behind confirmed his plans, if not his precise motives.
According to his obituary in The New York Times, Young had been suffering from a slew of health-related issues. He had been diagnosed with emphysema, and not long before his death, he had undergone prostate surgery for an undisclosed ailment. Experts at the Country Music Hall of Fame suggest that along with his health issues, Young had been struggling with his withdrawal from the industry that had been his life for decades. After leaving MCA and signing with a smaller label called Step One, he had largely disappeared both from the studio and public view in the years leading up to his death.
Kylie Rae Harris
On September 4, 2019, sheriffs and first responders from Taos County, New Mexico responded to an accident scene involving three cars. Two women were dead, and in a pre-investigation statement to Taos News, Sheriff Jerry Hogrefe didn't pull any punches: "At this time I will say with most certainty that Miss Cruz was an innocent victim of this senseless crash caused by Ms. Harris."
Miss Cruz was 16-year-old Maria Elena Cruz, and making the horrible story even more horrible is the fact that her father, a deputy fire chief, had been driving along the same stretch of road when he came upon the accident. Ms. Harris was country singer Kylie Rae Harris, who was on her way to a music festival when she clipped the car in front of her and crossed into the opposite lane, hitting Cruz in a head-on collision.
Details of exactly what happened came from two places: Harris's autopsy, and the on-board computer recovered from her car at the scene. While the autopsy revealed that she had been driving with a blood alcohol content of more than three times the legal limit, the computer revealed details just as telling. Harris's speed at the time of the impact with the first car was recorded as 102 mph, and at the time she hit Cruz's car, she was going clocked at 95 mph.
Ricky Nelson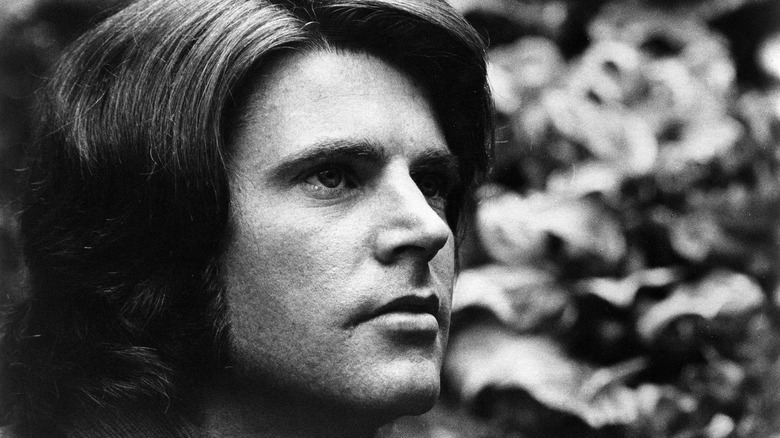 Michael Ochs Archives/Getty Images
Ricky Nelson was the son of stars Ozzie and Harriet Nelson, and a massive genre-crossing star in his own right. He, his fiancée, and other band members were killed in a plane crash on January 1, 1986, and just what happened was, from the beginning, sketchy and misreported. Initial reports confirmed his death without getting into too much detail, saying that whatever had happened on the flight, it had caused a fire to burn so hot that rescue workers had to wait to recover remains.
It didn't take long for the headlines to start the chatter, and Nelson's manager, Greg McDonald, and brother, David Nelson, both issued statements (via the Associated Press) saying that early reports claiming the fire had broken out because the plane's passengers were free-basing cocaine were completely untrue. The reports ran in multiple reputable media outlets, while officials replied that nothing had actually been determined at the time the news hit. At that early stage they did confirm that while aerosol cans had been found at the site, they had been in the baggage compartment — discounting the drug theory.
It was later reported that the likely cause of the blaze, crash, and deaths was a faulty heater on-board the plane, and perhaps strangest of all, was the fact that when the investigation was finished, some of the wreckage — including the tail of the plane — was left behind at the crash site. It was eventually installed at the Williams House Museum in De Kalb, Texas.
Justin Townes Earle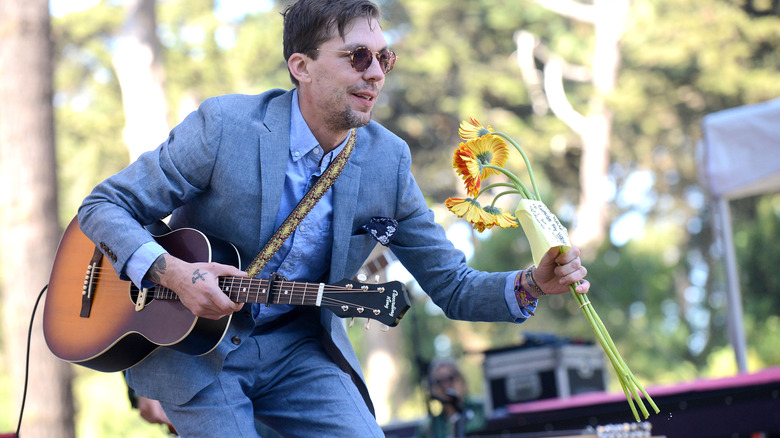 Scott Dudelson/Getty Images
Justin Townes Earle had an impressive country star pedigree: His father was outlaw country singer Steve Earle. When his death was announced in 2020, there was no cause of death officially released, but it wasn't long before The New York Times reported that the autopsy findings had led to a determination that he had died of an accidental drug overdose. The toxicology report found that he had cocaine and fentanyl in his system, and it was in line with information Fox News had obtained from the Metro Nashville Police Department's Don Aaron.
While Aaron didn't reveal exactly what first responders had found, he did say, "The preliminary investigation, which takes into account observations at the scene, indicates that death is likely related to a drug overdose."
Steve Earle later recorded and released an album of his son's songs, and those recordings started even before the official cause of death had been issued. He called the album "cathartic," and noted that he had been all too familiar with his son's addictions. He recalled their last phone call: "I said, 'Do not make me bury you.' And he said, 'I won't.'"
If you or anyone you know needs help with addiction issues, help is available. Visit the Substance Abuse and Mental Health Services Administration website or contact SAMHSA's National Helpline at 1-800-662-HELP (4357).