Here's How Much King Charles' Coronation Cost
King Charles III's coronation was a historic occasion featuring magnificent robes, crowns, and stunning diamonds — all taking place during a time when the U.K. is experiencing a cost of living crisis. "We're struggling for heating and eating and they're splashing all this money out," Carol, a retiree told the BBC. "It is a lot of money to pay out and I think, in this day and age, they need to do it on a low budget."
Coronation costs have varied over the centuries. In 1937, amid a worldwide depression, King George VI's ceremony cost a whopping £24.8 million in today's money. Back in 1821, George IV blew his budget with a new crown, a massive banquet, and £4 million (in today's money) spent on lavish clothing. Unlike the present, where we've had 70 years between coronations, the next coronation happened a decade later. Due to George IV's overspending, the next king skipped the celebratory feast on his big day. 
King Charles, in contrast, is known for his frugal habits, and has intended from the start to make his coronation different from Queen Elizabeth II's by keeping an eye on the bottom line. He's reusing past royal finery, even down to small details like his grandfather George VI's sword belt and glove. But even with these budget-minded decisions, how much is the king spending on his historic day?
The 'trimmed-down' coronation may cost as much as £100 million ($125 million)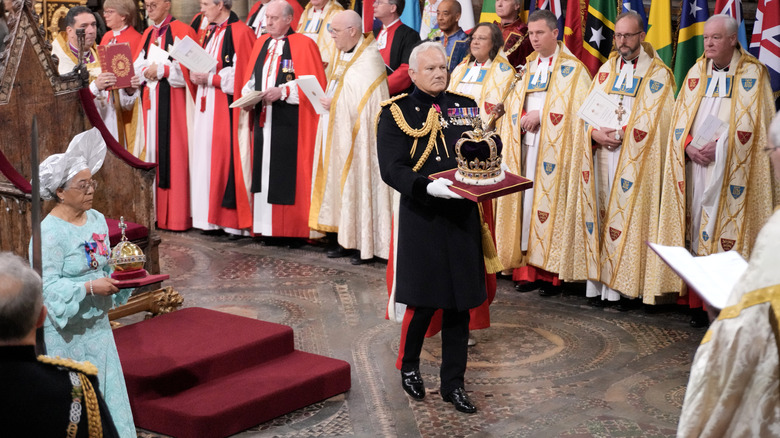 Wpa Pool/Getty Images
As reported by the BBC, the bill for King Charles' coronation ranges from £50 million-£100 million ($63 million to $125 million). However, this is an unofficial estimate on the event's costs for the entire celebration, including the coronation concert. In contrast, even though it was longer and included more guests, Queen Elizabeth's coronation would cost £50 million if it were held today. So, even if Charles' event hits the low end of the estimate, he will be tied with his mother's event, even with an eye on costs.
As noted by The Times, while £100 million sounds like a lot, it's just a fraction of the U.K.'s annual expenditures, which are upwards of £1 trillion. If addition, when compared to the U.K.'s GDP, Charles' coronation is a tiny slice — 0.004%. The estimated cost of the coronation is also comparable to U.S. presidential inaugurations, and significantly less if you consider the frequency of those events.
Another thing to consider cost-wise is the revenue the coronation could bring to the U.K. CNBC notes that with tourists flocking to the historic event, the nation could make £350 million. "It will be good for the bottom line, especially for the City of London and London, which generates 20% of the UK's gross domestic product (GDP). This will directly impact the economy of the UK," Abby Ghafoor, a business consultant, explained to the BBC.