King Charles' Coronation Robes Explained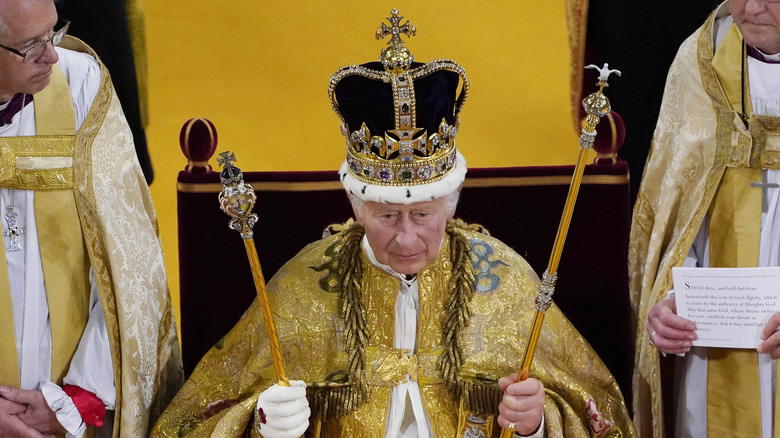 Wpa Pool/Getty Images
All three sets of robes King Charles III wore for his coronation on May 6, 2023 were ... well, fit for royalty, and all have a long history with the British monarchy. The decision to reuse items was made in keeping with the new eco-friendly king of England's interests in sustainability, CBS News explains. First off, Charles wore the King's Robe of State, made from velvet and gold lace, during the investiture portion of the ceremony at Westminster Abbey in London. Those robes were last worn by Charles' grandfather, King George VI, at his crowning ceremony in 1937.
Once crowned, Charles wore yet another set of royal robes, this time in tribute to his mother: the robes Queen Elizabeth II wore at her coronation ceremony in 1953. And once King Charles III was crowned, it was time for another costume change as he donned His Majesty's Robe of Estate — sewn from purple silk with gold embroidery — to make his exit. Those robes were also last worn by King Charles III's grandfather, King George VI, in the 1930s. Underneath the so-called Golden Imperial Mantle was the Supertunica made from gold silk, dating from the reign of King George IV in the 1820s (via The Royal Household).
King Charles III reused many items at his coronation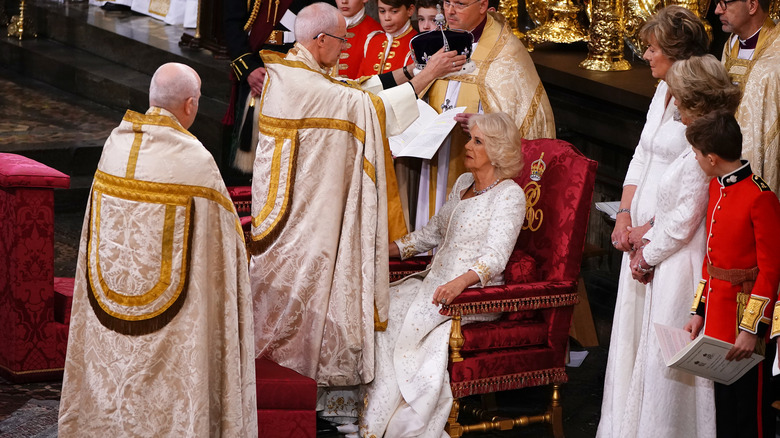 Wpa Pool/Getty Images
All three sets of robes King Charles III wore were just a few of many items he reused for the occasion, and Queen Camilla, who was also crowned at the ceremony, wore two different sets of robes of her own. Other items Charles reused include the coronation glove of his grandfather and his grandfather's sword belt. Referring to the glove and the other items Charles chose to rewear, Deborah Moore — CEO of Dents Glovemakers — told CBS News: "We've got this wonderful, sustainable, eco-friendly king who's reusing something rather than having a new glove."
Meanwhile, the Imperial Robes Charles wore for the crowning were made especially for Queen Elizabeth II's coronation, according to Town & Country. As for Queen Camilla, she had her own two sets of robes for the big day, each suitable for the royal event. Queen Camilla wore Her Majesty's Robe of State upon arrival at Westminster, last worn by King Charles III's mother Queen Elizabeth II at her coronation. One new item at the historic ceremony was the new queen of England's so-called Her Majesty's Robe of Estate — worn on departure — specially made from purple velvet to match King Charles III's and hand embroidered by the Royal School of Needlework.