The Shady Side Of Churchill Downs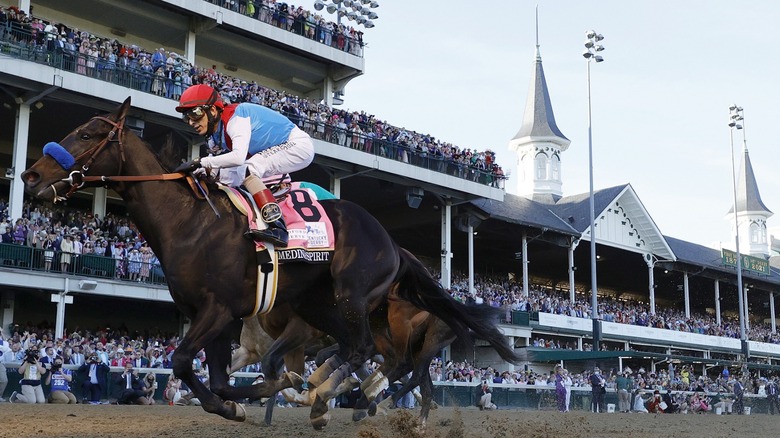 Tim Nwachukwu/Getty Images
Every spring, thousands of people gather at Louisville, Kentucky's Churchill Downs to enjoy a day at the races. On the first Saturday in May each year, the horse-racing track's biggest event – the Kentucky Derby – pits up to 20 of the world's finest 3-year-old thoroughbred horses against one another in a 1.25-mile race for a purse worth millions of dollars.
Known as "the greatest two minutes in sports," the annual Kentucky Derby is America's oldest continuous major sporting event. And it's big business for those who wager thousands of dollars betting on a predicted race outcome or invest years breeding and training a horse to "run for the roses." Derby Day is also a big deal for spectators, with people traveling far and wide to attend the race, hosting themed parties at home, or gathering at local bars to cheer for their favorite horse on TV.
With its iconic twin spires, lush turf, refreshing mint juleps, beautiful horses adorned with rose wreaths, and a grandstand full of ladies in flashy hats, Churchill Downs might seem like one big party. But make no mistake: The famous Kentucky racecourse has always been about one thing: making money. Over the years, the powers that be have frequently gone to great lengths to keep the profits coming. And wherever money flows, nefarious dealings and chaos follow. From stable murders to blatant racism to mysterious horse deaths, here is the shady side of Churchill Downs.
The founder of Churchill Downs died tragically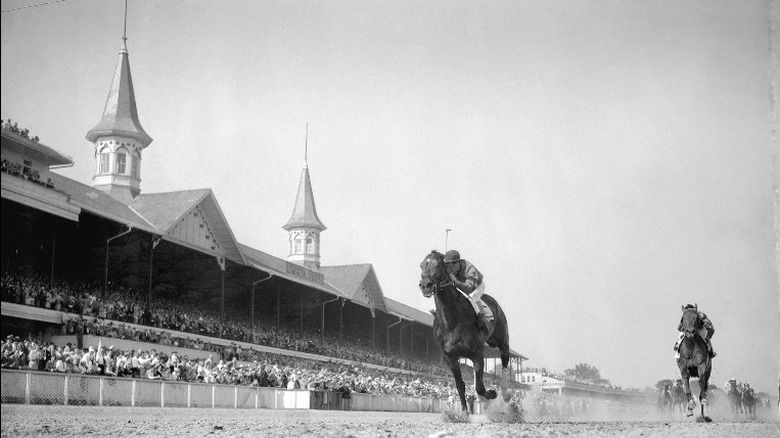 Bettmann/Getty Images
Both Churchill Downs and its famous race, the Kentucky Derby, were founded by one determined man: Meriwether Lewis Clark Jr. If the name sounds familiar, that's no coincidence! William Clark – of the Lewis and Clark Expedition – is Clark Jr.'s grandfather. He named his son – Clark Jr.'s father – after his old traveling partner, Meriwether Lewis.
Growing up in Louisville, Kentucky, Clark Jr. was always surrounded by horse-savvy folks. The Clarks were all into breeding horses and diligently tracking their pedigrees. He later lived with his wealthy uncles, John and Henry Churchill, who were horse racing connoisseurs. Given this equestrian background, it's no surprise that a group of concerned horse breeders chose him to spearhead efforts to resurrect Louisville horse racing in 1872. Clark Jr. took the task to heart.
He visited England twice to research the horse races there and returned to Kentucky a year later with an ambitious plan to build a racetrack on a rural plot of the Churchills' land. In just a few years, he founded the Louisville Jockey Club, oversaw the construction of Churchill Downs, and hosted the very first Kentucky Derby on May 17, 1875. Clark Jr. was extremely invested in advocating for his racetrack. In fact, he once pulled a gun on an opponent to ensure a business deal. Despite all his efforts, he struggled with poor health, depression, and financial hardship and died by suicide on April 22, 1899 – long before his Kentucky Derby became a success.
If you or anyone you know is having suicidal thoughts, please call the National Suicide Prevention Lifeline​ by dialing 988 or by calling 1-800-273-TALK (8255)​.
Black jockeys were dealt a cruel hand in the American South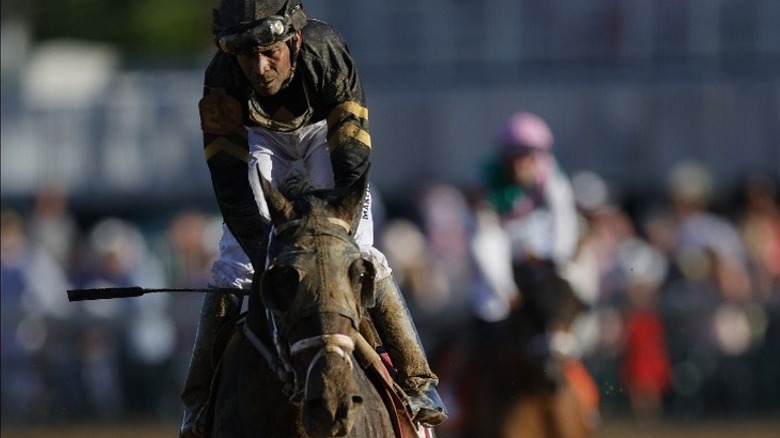 Sarah Stier/Getty Images
If you attended a race at Churchill Downs in the late 1800s, most of the horses would have been ridden by Black jockeys. In fact, 13 of the 15 jockeys riding in 1875's first-ever Kentucky Derby were Black men – including the one atop the winning horse. Owing to lives spent working on farms during slavery, many Black individuals were accustomed to raising, training, and caring for horses. This made them particularly well-suited for the task of riding one to victory. And they were very successful: 15 of the first 28 Kentucky Derbies were won by horses ridden by Black jockeys.
Being a jockey became a lucrative career, and many Black men, like Jimmy "Wink" Winkfield and Isaac Burns Murphy – who was the first jockey to win the Kentucky Derby three times – attained a prosperous standing in the sport. But racial discrimination was rife in the post-Civil War American South and it wasn't long before white Southerners took umbrage with the level of fame and wealth Black jockeys were achieving.
Black riders were forced out of the industry by death threats, being denied racing opportunities, bureaucratic sabotage, or, worse, by being physically "boxed in" by white jockeys, whipped, or even knocked off their horses and trampled to death midrace. Sadly, this exclusionary trend was never reversed. As of 2023, only four Black jockeys have ridden in the Kentucky Derby since 1921 and American horse racing remains a predominantly white sport.
Jockeys sometimes get violent with each other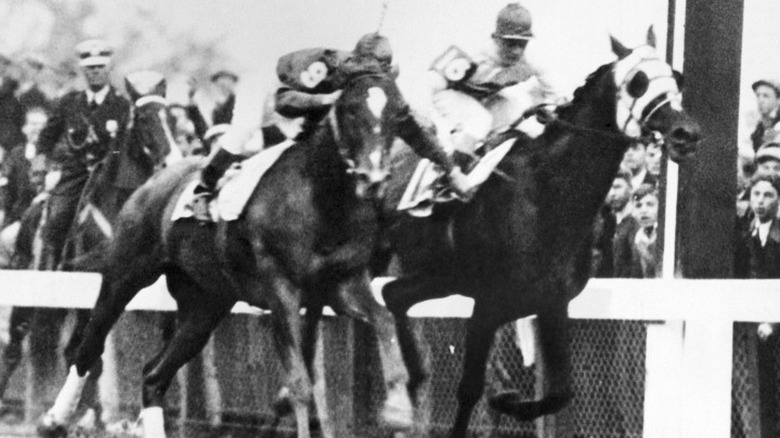 Underwood Archives/Getty Images
Competition among gamblers, horse owners, and equine trainers is certainly fierce on race day, but the jockeys are the ones actually battling it out on the track – sometimes quite literally. One of the most famous instances of jockey-on-jockey violence took place during the 1933 Kentucky Derby when two horses – Head Play and Brokers Tip – galloped across the finish line neck-and-neck, their jockeys enmired in an all-out fistfight with one another. The moment, immortalized by a Courier Times photographer, became known as the "Fighting Finish."
In a 1983 interview with the Louisville Courier-Journal (via Sports Illustrated), Herb Fisher – the jockey astride Head Play – claimed that Brokers Tip jockey Don Meade first grabbed him at the start of the home stretch after he ran Head Play close to him as an intimidation tactic. Fisher admitted that he struck Meade in the head with his whip several times in retaliation. But Meade told it slightly differently. "His reins were dangling perhaps the last sixteenth of a mile," he told the Courier-Journal, adding, "If he'd just ridden his horse, he'd have won by two or three lengths."
In the end, Brokers Tip was declared the victor, though Fisher claimed this was likely due to the industry showing favoritism to his well-connected owner. After mourning what he felt was an unfair loss, an angry Fisher attacked Meade in the locker room. Both jockeys were suspended for "rough riding" and the two remained mortal enemies for over three decades.
A champion jockey was found dead at Churchill Downs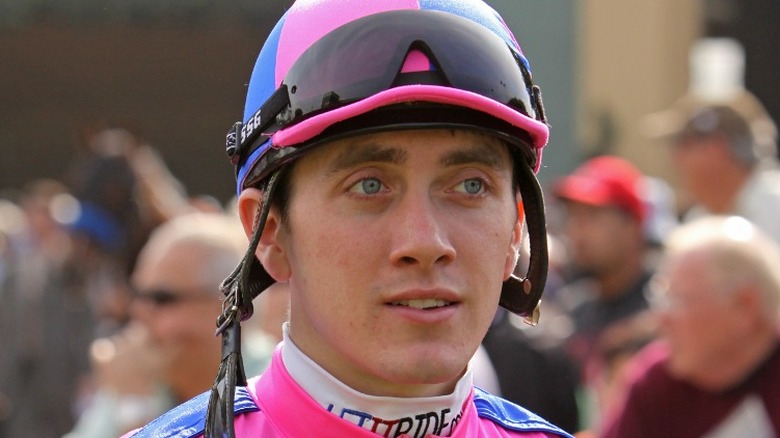 Cheryl Ann Quigley/Shutterstock
Jockeys lead difficult lives. They often spend months on the road away from their families, contend with the stress of their dangerous vocation on a daily basis, and frequently struggle with painful injuries all while constantly seeking out work as independent contractors. What's worse, many also starve themselves to keep below the strict weight requirements necessary for competition. None of these things do wonders for a person's mental well-being and sometimes it all becomes too much.
Such was the case for champion jockey Michael Baze, who, at age 24, had already ridden in 6,968 races, winning 918 of these and earning over $32 million. Sadly, his promising career came to a grinding halt. Just weeks after placing second in a race, Baze was found dead in his still-idling car outside the Churchill Downs stables on May 10, 2011. He had been visiting the renowned track in an effort to network with trainers and revive his career.
Though the police found no immediate cause of death, they did not suspect foul play. Baze had recently separated from his wife and had been struggling with drug and alcohol use, culminating in both a DUI and possession arrest. His death was later ruled to be an accidental overdose of cocaine and prescription pain medication.
If you or anyone you know needs help with addiction issues, help is available. Visit the Substance Abuse and Mental Health Services Administration website or contact SAMHSA's National Helpline at 1-800-662-HELP (4357).
Churchill Downs is located in a dangerous neighborhood
Though originally built in a rural area, Churchill Downs is now located in one of Louisville, Kentucky's most high-crime regions. Local residents describe frequent fatal shootings, prostitution, robberies, and drug-related activities in the neighborhoods bordering the race track, creating a strong divide between the wealthy patrons of the sporting event and the less fortunate people who live just outside its ornate gates. "When I was young, they'd tell you to look both ways before you cross the street," South Louisville resident Chris Brooks told WHAS11 ABC in 2017, adding, "Now it's look both ways before you come out of the house. That's the reality of the times."
Despite this, local police – who describe the area as "no man's land" – turn a blind eye to the region's illegal happenings until Kentucky Derby season, when they suddenly devote more energy to safeguarding the event's elite clientele. Despite being a major tourist draw that rakes in millions of dollars each spring, the owners of Churchill Downs seem content to ignore the problem for most of the year, leaving residents feeling like the track's proprietors could afford to do more for their community. "The thing is that we're the most famous neighborhood in the world for one day of the year," longtime resident Don Seibert explained to LEO Weekly in 2015, adding, "But we're kind of forgotten about the rest of the time."
A stablehand was murdered at Churchill Downs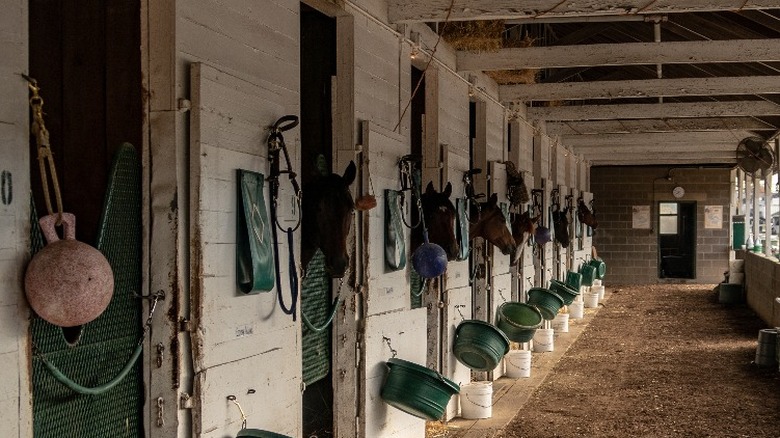 Arne Beruldsen/Shutterstock
Horse racing frequently illustrates the clash between the "haves" and the "have-nots." Though primarily enjoyed and perpetuated by millionaires and celebrities, the sport would not be possible without the scores of underpaid hard-working individuals tackling the less glamorous tasks behind the scenes. This stark dichotomy came to light on May 6, 2012, when a 48-year-old Guatemalan groom named Adan Perez was found murdered in a barn behind the Churchill Downs backstretch just hours after thousands of spectators had packed the stands for the 2012 Kentucky Derby.
Perez worked as a stablehand for horse trainer Cecil Borel. He had spoken to his son, also a stablehand working at Churchill Downs, just hours before being killed by blunt force trauma and seemed to be in good spirits. Adan's son, Wilson Perez, believes that his father's murderer was likely a fellow barn worker as the slaying happened in an area only accessible to staff.
The shocking crime exposed the hidden underbelly of the track, which relies on thousands of immigrant workers to function, hundreds of whom live and work on the premises for Derby season before leaving to seek work elsewhere. Because of the transience of barn staff and the secretive nature of those working in horse racing's seldom discussed "backside" community, the police are having an exceptionally hard time cracking the case and have few leads. In 2014, they revealed that the motive was likely robbery though, as of 2023, the case remains unsolved.
A sheik's horse ran in the Kentucky Derby amid controversy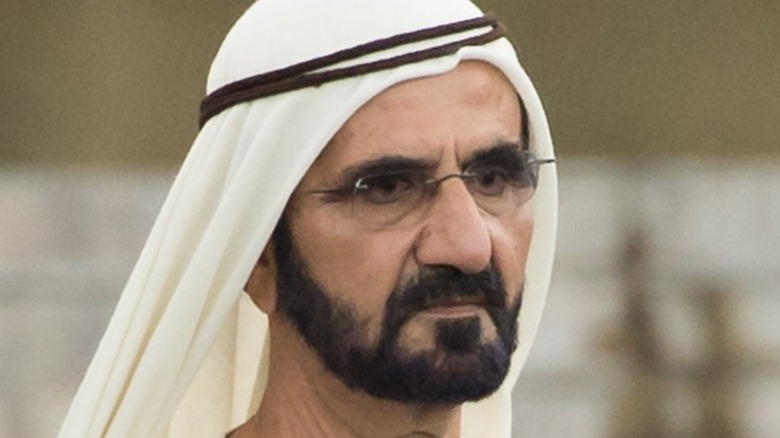 Cedric Ribeiro/Getty Images
Sometimes, the horse racing world runs afoul of basic human rights. Such was the case in 2021, when Sheikh Mohammed bin Rashid al-Maktoum, the ruler of Dubai, entered a horse in the Kentucky Derby amid a public outcry over the whereabouts of his then-missing daughter, Sheikha Latifa. What's more, the sheik's horse – Essential Quality – was favored to win the prestigious race. This drew additional international attention to the troubling politics of Sheikh Mohammed's family life.
In 2000, the sheik's older daughter, Sheikha Shamsa, left Dubai for a new life in England. But men working for her father abducted her from the streets and returned her to the Middle East, where, as of 2023, she remains imprisoned and sedated. Then, in 2018, Sheikha Latifa attempted to flee by boat. She, too, was captured and imprisoned. At the time of the 2021 Kentucky Derby, her whereabouts were unknown and many Americans were demanding answers.
On April 28, 2021 – days before the Derby – a group of Kentucky-based human rights lawyers and students lodged a formal complaint, requesting that the Kentucky Horse Racing Commission ban Sheikh Mohammed and Essential Quality from competing in the Kentucky Derby. Just one day later, the Commission dismissed the complaint, claiming no regulations were violated. Of course, the fact that the wealthy sheik spends millions on Kentucky's thoroughbred industry every year certainly didn't hurt his case. Essential Quality ran in the 2021 Kentucky Derby, placing fourth.
Doping led to the overturning of a Kentucky Derby win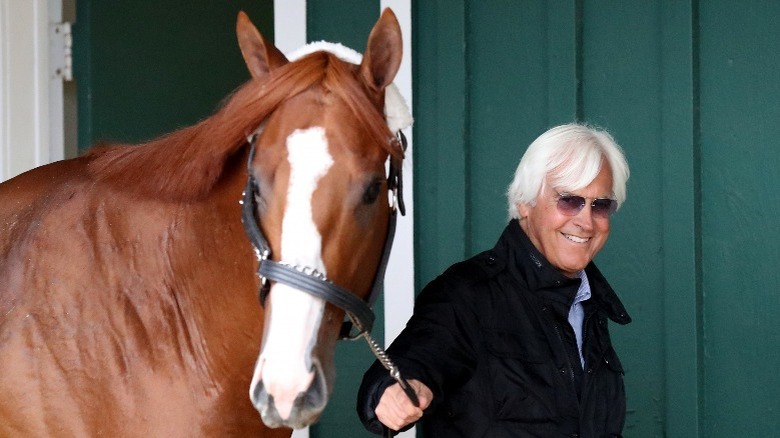 Rob Carr/Getty Images
As it turns out, doping is just as frowned upon in the horse racing world as it is in other sports. In 2021, Medina Spirit – an underdog horse – shocked the world when he beat the odds-on favorite, Essential Quality, and won the Kentucky Derby. But everyone's joy was short-lived, as tests revealed that the horse had the illegal steroid betamethasone in his system on race day. Churchill Downs officials promptly revoked Medina Spirit's victory, passing the first-place title and winnings to the second-place finisher Mandaloun.
They also punished Medina Spirit's trainer, Bob Baffert (pictured), banning him from participating in the Kentucky Derby for two years. In addition, the Kentucky Horse Racing Commission fined him $7,500. Outraged, Baffert denied any wrongdoing, blaming the test results on everything from using topical skin ointment on Medina Spirit to a groom urinating on the horse's hay after taking cough syrup.
But Baffert has a four-decade history of drugging his horses and footing the fines, with at least 29 known offenses spanning multiple states in the books as of November 2020. What's worse, Medina Spirit died of a heart attack in December 2021, just months after running in the Kentucky Derby. Still, Baffert has contested his two-year Derby suspension, even going so far as to sue Churchill Downs. In the end, he blamed his situation on "cancel culture." As of the 2023 Derby season, Churchill Downs officials still uphold their charges against him.
The Kentucky Derby's theme song is controversial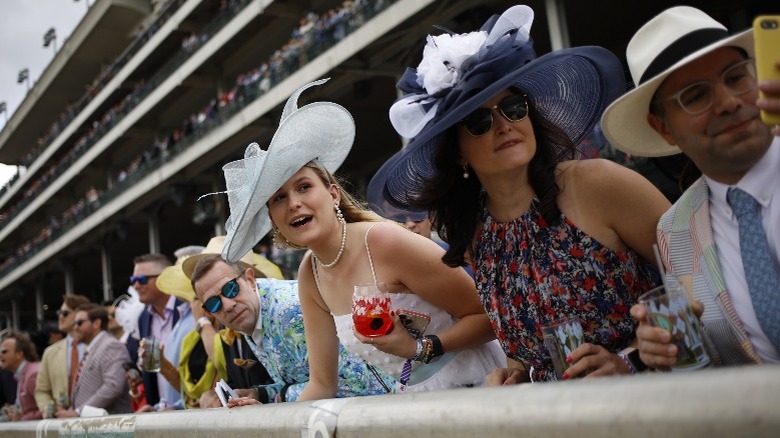 Bloomberg/Getty Images
Since 1921, "My Old Kentucky Home" has been sung with pride as the horses enter the track on Kentucky Derby Day. But the ballad – written by Stephen Foster in 1853 – is controversial. For starters, its lyrics tell the tragic story of a slave taken from his family and sold to work on a distant sugarcane plantation where he later dies. And it gets worse from there. In a 2022 interview with Sports Illustrated, author Emily Bingham claimed that the song has affiliations with Confederate blackface minstrel shows and romanticizes life in the Old South.
But, as a counterpoint, musicologist Susan Key claimed in a 1995 article published in American Music (via Smithsonian Magazine) that Foster was actually advocating for Black rights by humanizing their plight in the song's lyrics, qualifying it as an anti-slavery ballad. Bingham disagrees, alleging that Foster – a white man – merely appropriated and capitalized on Black suffering. Regardless, many find its continued use at the Kentucky Derby – a celebratory event primarily attended by wealthy white people – problematic, especially considering the fact that systemic racism is still rampant.
The song has already been modified to keep it palatable for modern consumption, with a racist slur and several verses being omitted. Still, Churchill Downs has no plans to retire its anthem. "It's the state song of Kentucky," Tonya Abeln – Churchill Downs' VP of Corporate Communications – told WAVE3 in April 2023, adding, "And we'll be singing it before this year's Kentucky Derby."
The horses at Churchill Downs lead stressful lives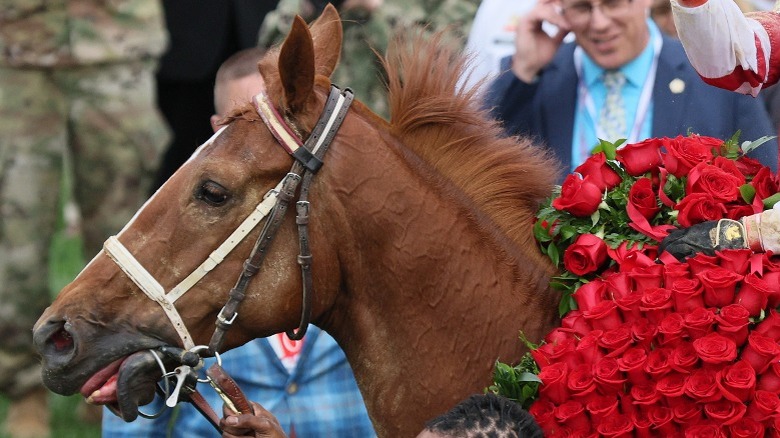 Andy Lyons/Getty Images
Horse racing is a sport in which the star athletes – the horses – don't willingly choose to compete. What's worse, racing is extremely hard on their bodies and mental well-being. Training typically begins when horses are only two years old, meaning their bones aren't fully developed. This makes them more prone to leg injuries which frequently end in euthanasia. Horses are often in pain after grueling training sessions that don't prioritize their health, and many must be heavily dosed with anti-inflammatory and pain medications to keep performing.
Prior to running a race, horses are confined to their stables for up to 23 hours a day to avoid injury. This is unnatural and stressful for them, as horses are social animals that have evolved to roam great distances daily. Come race day, horses are pushed to a state of agitation and fear – as that's when they run the fastest – and some are even whipped or plied with stimulants to further enhance this stressed state and boost performance.
Watch any horse race and you'll notice wide eyes with whites showing, tight facial tendons, and aggressive behavior – all telltale signs of fear. It is likely for these reasons that immediately after winning the 2022 Kentucky Derby, Rich Strike attacked the horses around him. "The idea that horses love the event they compete in is something we've created," neuroscientist Stephen Peters explained to The Guardian in 2023, adding, "It's a myth more for us than the horse."
Many racehorses die at Churchill Downs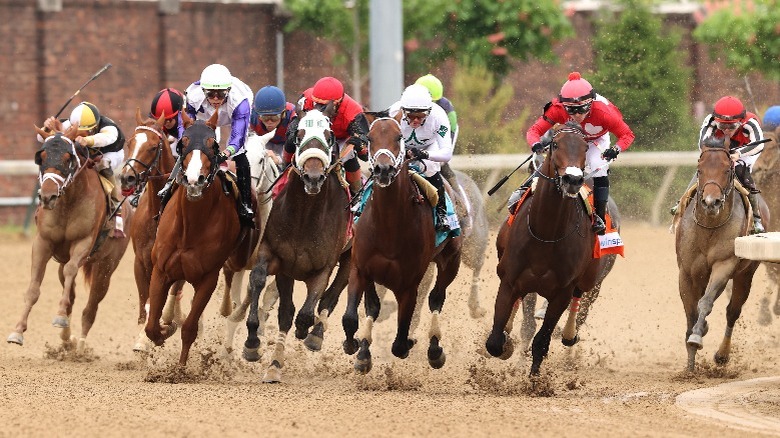 Andy Lyons/Getty Images
Churchill Downs ranks highly on the list of deadliest racetracks for horses. But the extent of the fatalities is not well understood because the Kentucky Horse Racing Commission keeps its data secret, choosing instead to protect the business interests of the horse racing elite. Therefore, unlike other states, Kentucky is not obligated to report the number of racing-affiliated horse deaths to the public.
Nonetheless, a slew of horse deaths ahead of the 2023 Kentucky Derby – two of which were sudden, unexplained, and deemed "highly unusual" by Churchill Downs officials – have brought the issue to public attention. Two of the horses – Parents Pride and Chasing Artie – were under the care of the same trainer, Saffie Joseph Jr., so Churchill Downs officials have suspended Joseph Jr. from competing indefinitely while the suspicious deaths are investigated and have scratched his other horse, Lord Miles, from the 2023 Kentucky Derby.
Amidst this chaos, five other horses were euthanized following injuries during the 2023 Kentucky Derby season – three on race day. And these are just the ones we hear about. Countless racehorses die from racing-related causes each year and many more are sent to the slaughterhouse simply because they failed to perform well. "The body of a racehorse is remarkably fragile," former exercise rider Elizabeth Banicki wrote in The Guardian in 2021, adding, "The shins and ankles, particularly of a baby, are hardly thicker than a man's wrist. But even for the horses who uphold well, racing is attrition warfare."