What Andre The Giant Was Like The Last Time These Celebs Saw Him Alive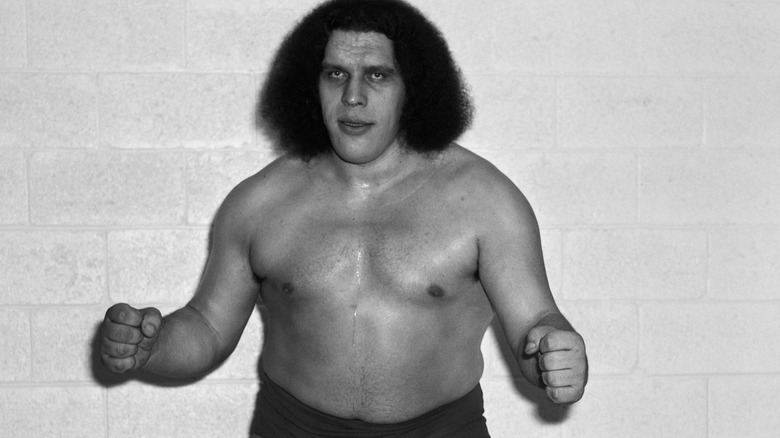 The Stanley Weston Archive/Getty Images
Few people have the kind of reputation that Andre the Giant had. Fearsome in the ring, kind-hearted out of it, the stories of him drinking people under the table are the stuff of legend. But just as famous are the bad things: The constant pain, the struggles to go through daily life living in a world that wasn't a size built for him.
Even those who didn't follow wrestling knew him, and his high-profile career was catapulted even higher with his role in "The Princess Bride" in 1987. The cast and crew he worked with had nothing but good things to say about him: Rob Reiner famously called him a "land mass sitting on a bar stool," but it was writer William Goldman who just as famously called him, "very shy and very quiet ... so strong and so dear." Still, life was hard: People quoted him as saying, "I don't really have too many friends. People want to be my friend because of my size. They want to take advantage of me. I don't like that."
Andre the Giant was just 46 years old when he died in 1993. For years, he was clearly suffering from the symptoms of his rapidly worsening acromegaly, and his days as a wrestler were very much behind him. For those who saw him in his final years, it was not only heartbreaking, but it imparted some very important lessons about living each day as though it might be the last.
Hulk Hogan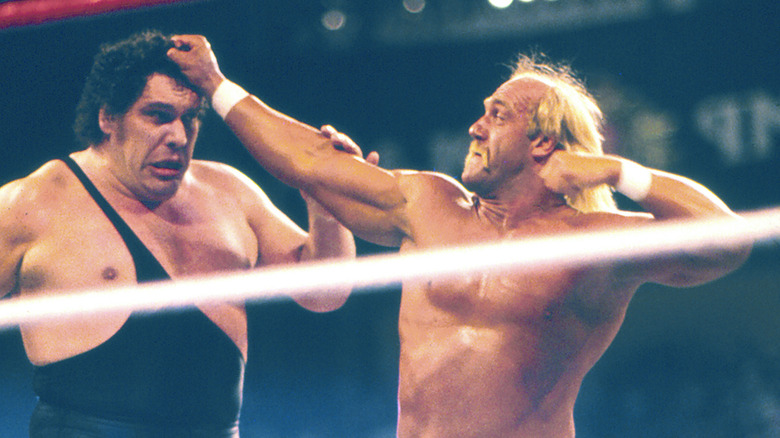 Jeffrey Asher/Getty Images
Few wrestling match-ups were as iconic as the rivalry between Hulk Hogan and Andre the Giant, and in 2023, Hulk Hogan talked about his experiences with Andre. "I remember the first time I saw Andre the Giant," he shared with A&E's "WWE Rivals." "I just remember looking at his leg ... it looked like ... a Clydesdale. I was like ... Oh. My. God."
Andre and Hulk Hogan went toe-to-toe on March 29, 1987, and that was the day everyone watched with breathless anticipation. The idea was that Andre — all 500+ pounds of him — was going to be body-slammed, and it almost didn't happen. At the time, Andre was already in extraordinary, chronic pain that necessitated a back brace, and there were problems. Not only could Andre not help the Hulkster pick him up, but he needed carefully crafted breaks in between moves. A wrong move, fall, or slam could have had devastating consequences.
The feud was legendary, sure, but outside of the ring, the two warmed to each other. Hulk Hogan credited Andre with "the credibility he's bestowed upon me, in such a beautiful storyline," and in the same retrospective, Hulk Hogan reflected on the end of Andre's life. Tearing up and needing to pause before continuing, he shared, "He just didn't know what to do with himself. He goes, 'I'm still living, but I don't feel like living anymore.' He passed shortly after that."
Vince McMahon
Feuding is the name of the game in wrestling, and it turns out that's pretty true for what goes on behind the scenes, too. Disagreements between Andre the Giant and Vince McMahon are well-publicized and the stuff of entertainment legend. At the time of Andre's death, they were still on the outs. As the former wrestler discussed on his podcast, "Something to Wrestle with Bruce Prichard," (via Wrestling News) McMahon and Andre had been incredibly good friends — but the better the friends, the worse the falling-out is. "I think there was a little bit of regret that hadn't been completely rectified, and he didn't have the opportunity to say goodbye to his friend," observed Prichard.
In "Andre the Giant: A Legendary Life," Vince McMahon recalled seeing Andre in his last days. "In the later days, Andre drank even more and internalized even more. He wasn't on the road anymore, so he felt like he had no value. I think that really got to him. Andre had an ego, and a good one. When it looked like he no longer had any value, I think that weighed on him more than anything else."
When interviewers for an HBO documentary asked McMahon about the last time he spoke with Andre, he admitted that he couldn't specifically remember. He did, however, say that he tended to deal with negative experiences by locking them away and compartmentalizing things: "If something hurts me, I get rid of it." He teared up, saying simply, "He was special."
Gino Brito
Canadian wrestler and headliner Gino Brito (pictured left) spent a lot of time with Andre the Giant, telling the Bleacher Report that he always had a bit of a fatalistic attitude. They were traveling across Quebec together when he asked if Andre really, truly felt the need to drink as much as he did. His response was heartbreaking: "Who cares? In a few more years, I'll be gone anyway."
Brito recalled the point when Andre showed a true interest in something else outside of wrestling: his North Carolina ranch. Brito described it as "a place for a giant to live," and said that it was the sanctuary Andre retreated to, relishing the chance to live a life out of the spotlight.
Still, life there wasn't as comfortable as he might have wished. Brito recalled seeing Andre in the final days and said that each time he saw him, things were a little bit worse. "He knew that, eventually, something would give out. His legs were swelling up like crazy. I don't know if he had gout or diabetes. His forehead was thickening. He was uncomfortable. He didn't like for anyone to see him with a cane, but just to walk to the ring was painful." In spite of the discomfort, Brito said he refused to see a doctor: "He said, 'I'll just keep going, then I'll drop dead."
[Featured image by Wrestling News via Wikimedia Commons| Cropped and scaled | CC BY-SA 4.0]
Tim White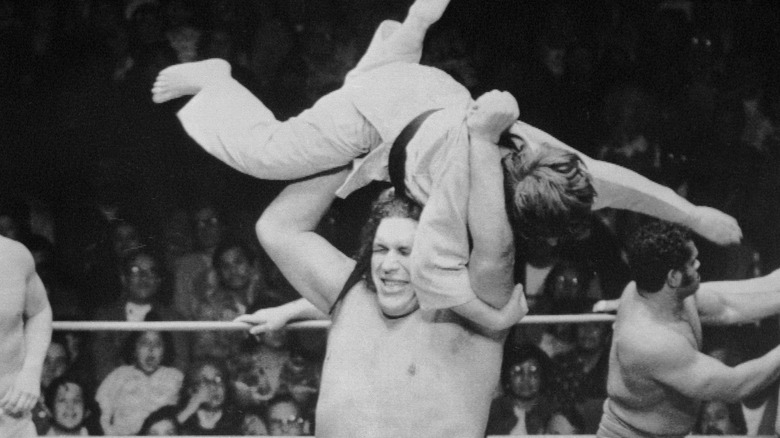 Bettmann/Getty Images
Referee Tim White was in the ring — and in the middle of the action — for many of wrestling's biggest matches, but before he was a referee, he was one of Andre the Giant's handlers. More than that, he was a friend, and he participated in Michael Krugman's biography, "Andre the Giant: A Legendary Life." It was heartbreaking stuff, and he recalled the last time he saw Andre. He had been traveling for work, and although Andre's North Carolina ranch wasn't really on the way, he stopped to see him anyway.
"That last time I saw him ... When I pulled away from the ranch I was crying like a baby, 'cause he looked so bad. He could barely hide his pain."
He, of course, didn't know it was the last time — no one ever does. He also recalled getting the phone call saying that Andre had already left for France and his father's funeral: "I'm thinking how hard it was going to be for him to make the trip, because of the way I saw him physically." Still, when he got the follow-up phone call that Andre, too, had passed away, it was still a shock. "I was devastated. I went numb. I went to my bar, the Friendly Tap, the place was closed, and had a few beers, just staring into space."
Cary Elwes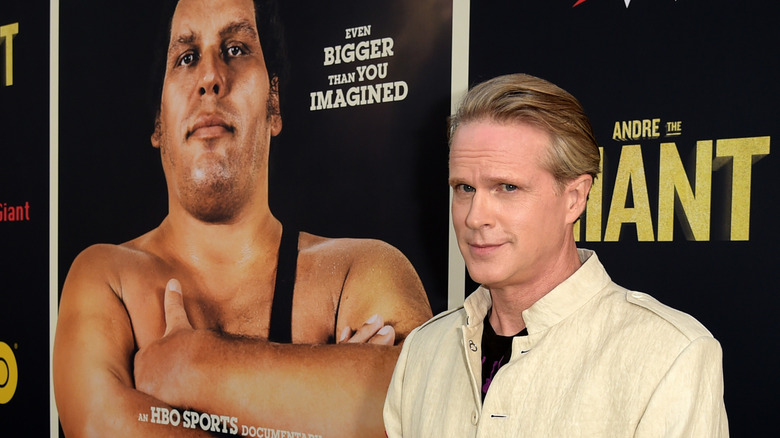 Kevin Winter/Getty Images
Andre the Giant was famously diagnosed with acromegaly, a condition in which the pituitary gland produces too much growth hormone, and results in parts of the body growing too big, too fast. It's incredibly rare — and often treatable — and according to the National Institutes of Health, it results in a slew of complications. While Andre's "The Princess Bride" costar Cary Elwes hasn't talked about his final meeting with his friend, he has talked about the fact that while they were filming, Andre knew he was nearing the end of his life.
He's also talked about the incredible attitude Andre carried with him, telling The Hollywood Reporter, "He really had an incredible outlook on life, which was — he knew he was dying. And so because of that, he cherished every moment. And he helped teach me that, about being present and grateful. When he shared with me that he knew he was going to die, I just about fell apart. But he always had a smile on his face. And I think he knew 'the' secret."
In his book, "As You Wish: Inconceivable Tales from the Making of The Princess Bride," Elwes recalled overhearing Andre telling Billy Crystal, "We don't get such a good break, the little guys and the big guys. We don't live so long." But he also shared conversations with Andre's friends and family, who said that even in the traveling he did in his final years, he would always sneak into any theater showing "The Princess Bride," and cherish the experience.
John Johnny Ace Laurinaitis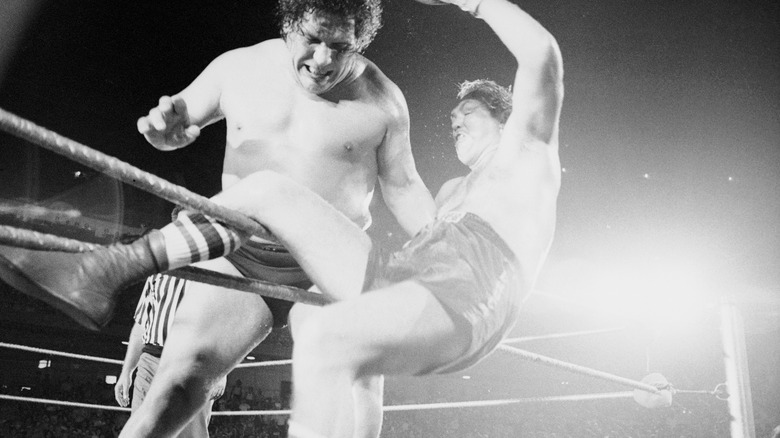 Bettmann/Getty Images
Wrestling mainstay John Laurinaitis — better known by his stage name, Johnny Ace — recalled Andre the Giant's final wrestling matches in Japan. Up into the very final years of his life, he was still doing a series of appearances in Japan. And they were really appearances, because, by that time, he wasn't physically capable of doing much more than that. But, it was awe-inspiring. "People loved him like a god over in Japan," he recalled for Michael Krugman's biography, "Andre the Giant: A Legendary Life." "The fans had such an appreciation and respect for what they did in the business, it wasn't about what they actually could do in the ring today."
Laurinaitis recounted stories of how he was paired with Giant Baba, and how the fans went wild when the two entered the ring. By the end of 1992, Andre was no longer able to participate.
Frenchy Bernard and Jackie McAuley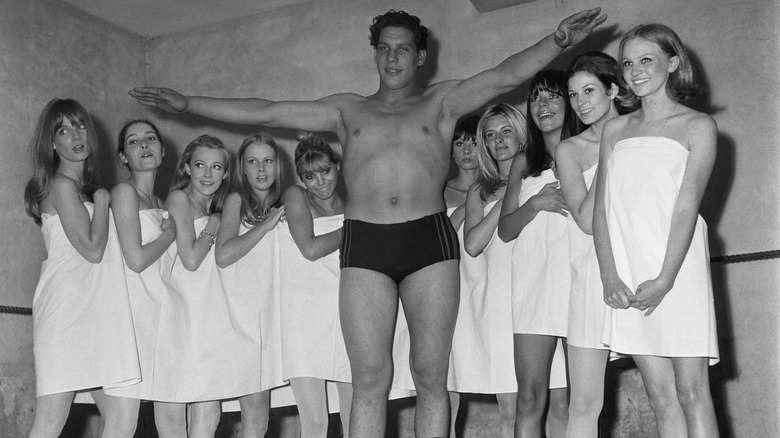 Universal/Getty Images
Fans of wrestling and particularly of Andre the Giant know the name Frenchy Bernard — after starting out as a wrestler in his own right, he gained more fame as a referee and later, as Andre's handler. Bernard and his then-wife, Jackie McAuley, were some of the few people that Andre confided in when he was first diagnosed with acromegaly, and explained why he refused treatment. McAuley told CBS, "He said, 'If this is the size that God wanted me to be, I'm going to be this size."
At the end of his life, Andre spent much of his time at a ranch called the AFJ Ranch. It was McAuley who told StarNews Online that just before he died, he was excited about a new movie role that had been offered to him: He was slated to star in a version of "Jack and the Beanstalk."
Andre died in France: He had returned for his father's funeral, stayed for his mother's birthday, and passed away. McAuley recalled that they'd spent some time with him before he'd left, and she'd been admonishing him for putting on weight. When she later saw pictures of him that had been taken at his mother's birthday party, she said, "I was shocked. His skin was gray and powdery and his eyes were so deep." McAuley flew to France to claim his body, and when she returned, she found he'd left a parting gift: A delivery of wine he'd ordered that his friends used to toast to his memory.
Wallace Shawn and Mandy Patinkin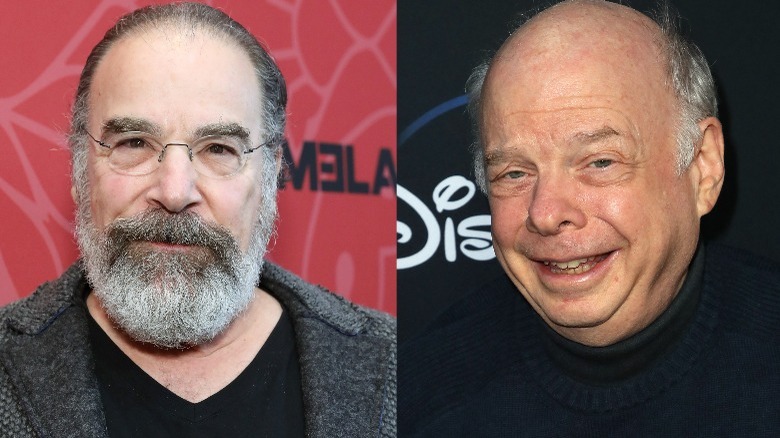 David Livingston & Monica Schipper/Getty
Those who have lost a beloved friend or family member know how sacred those last memories are, so in that context, it's perhaps unsurprising that it's difficult to find people who make those last, special moments public. But that's not to say they haven't spoken about what the end of a loved one's life was like. At 2019's Steel City Con, Wallace Shawn got candid (via FanFest) about just how proud Andre had been of "The Princess Bride," in spite of his on-set struggles.
"He couldn't do feats of strength that people thought he could do, and he could have done 10 years earlier because he was losing his strength," Shawn explained. "He was very, very sweet and lovely. And I think he was really enjoying it, and then enjoying the fact that he was doing a great job."
Mandy Patinkin, too, has said that he still carried some important lessons away from his friendship with Andre the Giant. He recalled (via NPR) his seemingly infinite kindness, made even more apparent as they wrapped shooting. "The movie was over, the final shot was made, and we stayed around for two, three, four, five hours while every person, every grown-up and their family came by, waited in line like children at Disneyland to stand with Andre and have their photograph taken. And he took his photograph with every single person that asked. And it was a lesson of a lifetime for me."