Why Some Race Horses Die Before Or During Races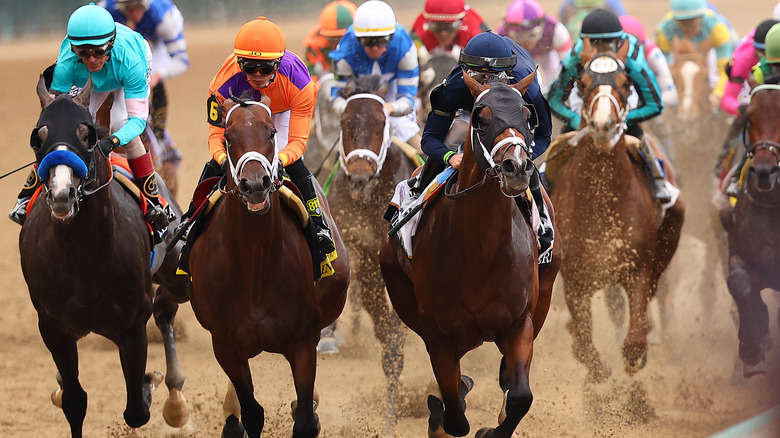 Michael Reaves/Getty Images
On April 29, 2023, at Churchill Downs, the Lexington, Kentucky horse racing track where the Kentucky Derby has been held since 1875, a 3-year-old gelding named Code of Kings began flipping over unexpectedly in the paddock before a race. It happened twice more and the horse started bleeding from the mouth. Code of Kings was rushed to a nearby equine hospital where veterinarians determined he had a broken neck and had to be euthanized. Code of Kings' trainer, Tim Glyshaw, told Daily Racing Form he believed the horse had become fixated on the lights from a nearby DJ booth.
Code of Kings was one of seven racehorses to die in a little over a week leading up to the 2023 Kentucky Derby, the sport's biggest event, per The New York Times. The leading cause of racehorse deaths is due to musculoskeletal injuries, according to DRF. But in the case of Code of Kings and other horses, their deaths may relate to the fear and mental stress racing places on them.
Broken bodies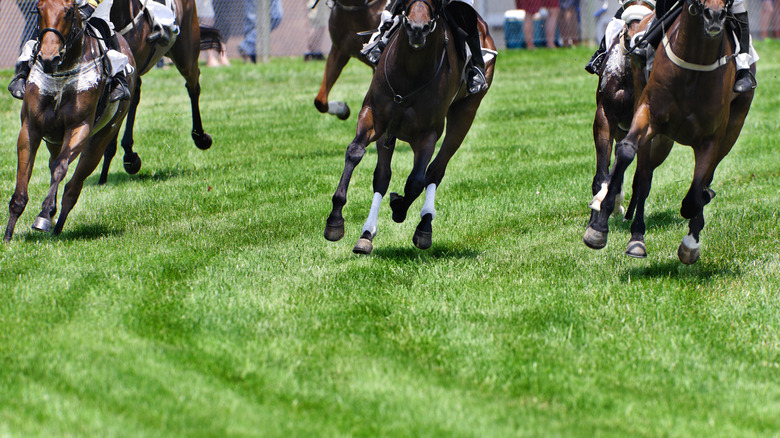 Cmannphoto/Getty Images
When racehorses experience leg injuries, the bones often shatter catastrophically, making it hard to return the animal to its former condition. "[Horses' bones are] very strong, to carry their weight, yet they're light, for them to be able to go fast," veterinarian Jenny Hall told The Guardian. "So, unfortunately, sometimes, when they break, they just shatter." The problem is often compounded because of the possibility of developing laminitis. This painful hoof disease, a type of pressure necrosis, can happen when the animal is forced to redistribute its weight on its other legs when one leg is injured and is similar to a bed sore, Hall told The Guardian.
Leg injuries often end with the horse being euthanized as was the case with Chloe's Dream — for a knee injury — and Freezing Point, who suffered an ankle injury, at Churchill Downs on the day of the 2023 Kentucky Derby, per USA Today. Racehorse owner Mike Repole told the Courier-Journal that these types of deaths are bound to happen in the sport. "It happens because they're competitive athletes that are working as hard as they can," Repole remarked. "And one bad step. One bad step. One bad step. Done."
Broken minds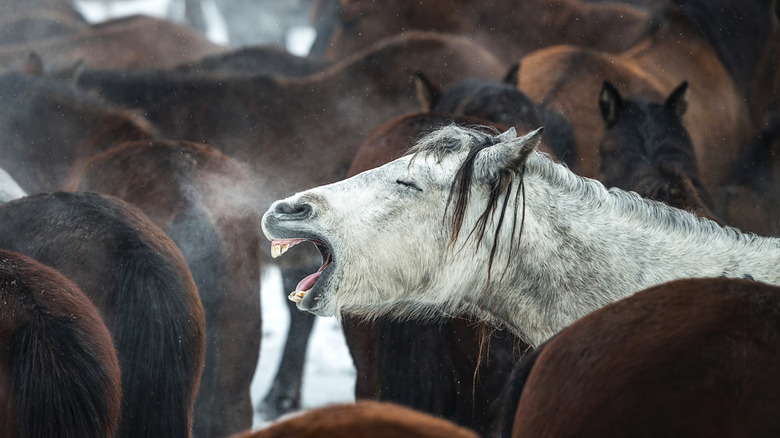 Ozgurdonmaz/Getty Images
While the physical side of the issue is more widely reported, there is a mental health aspect as well. Horses simply don't enjoy running races. They're hardwired to "seek freedom from confinement, pressure, or effort," according to horse trainer Martin Black (via The Guardian). The animals exhibit physical signs of fear during races, including constricted facial muscles and wide eyes that reflect panic and confusion, according to Black and Dr. Stephen Peters, a neuroscientist, and co-writer of "Evidence-Based Horsemanship" with Black.
The odd behavior that led to Code of Kings' death may have been fear related, although his trainer was unsure why the horse became spooked since he had raced on multiple occasions. "We all have horses we worry about in the paddock," he told Daily Racing Form. "We all have first-timers who have little problems going to the paddock. This was a really chill horse, and he had already had six starts, some of them under the lights at Turfway. It was just a really tragic thing."