Bone Thugs-N-Harmony: A Timeline Of The Iconic Hip-Hop Group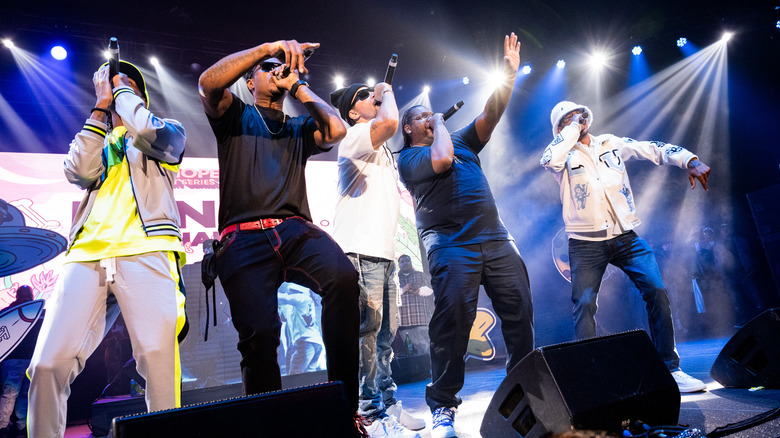 Scott Dudelson/Getty Images
There's a lot to be said for knowing what your passion in life is, and then fighting for it — no matter what kind of obstacles are in the way. Even better than making it is knowing that you had a long-lasting impact on the industry you've chosen to be a part of, and when Beat sat down to talk to Bone Thugs-N-Harmony's Krayzie Bone around the release of his solo album, "Chasing the Devil," he was able to look back at the group and see just what they'd done.
"When we came out, we changed the game with what we were doing," he said. "When we got into the business, it was new. Right now... you can really see how much of a big influence we were... That is our legacy after 20 years — we can sit back, not only as artists but as businessmen and entrepreneurs, and enjoy what we brought to the game."
When the Cleveland-based group burst onto the scene, the music industry was ready for something new and innovative — and they brought it in a big way. Innovation alone doesn't guarantee the kind of long-lasting impact that Bone Thugs has had, though, so what else is it? Is it their connection with their fans, it is their love for each other, or is it their relatability? Yes: And more.
From Cleveland to LA... to Cleveland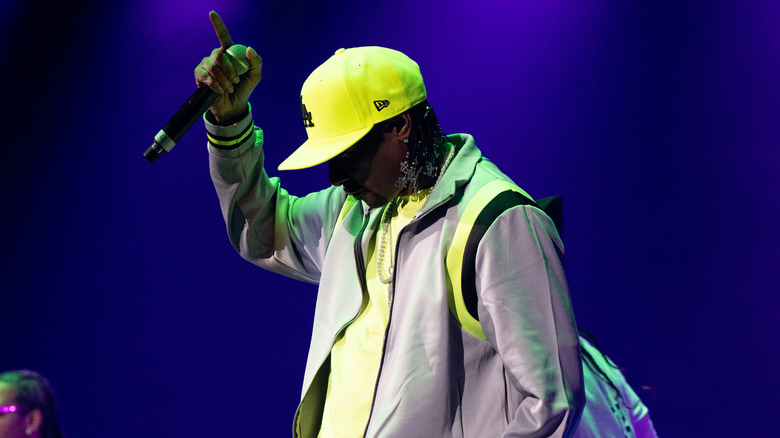 Scott Dudelson/Getty Images
No matter how much raw, innate talent someone has, they have to start somewhere — and a lot of times, that involves getting noticed by someone already established in the business. For Bone Thugs-N-Harmony, that meant leaving everything behind in Ohio and making a major gamble with a trip to Los Angeles. It was there that they hoped to get the attention of Eazy-E, and although they eventually did, it wasn't an overnight thing. In fact, Krayzie Bone told Thrasher Magazine that they spent about six months in L.A., homeless and calling Ruthless Records on a daily basis to try to get someone to listen to them.
Eventually, they did: Ruthless receptionist Kisha Anderson finally relayed a message to Eazy-E that he just needed to listen to these guys, because they were absolutely relentless in calling. So, he called them back, asked to hear what they had to offer, and Bizzy Bone's over-the-phone rap got his attention. And it wasn't a moment too soon: Things were so dire for the group that they later said they'd resorted to robbing local pizza delivery guys for some much-needed cash (via The Ringer).
Ironically, Eazy-E did have something lined up for the group, and it sent them right back to where they started: Cleveland. They ultimately burst onto the scene in the same place they'd left, but it was the connection with Eazy-E that really made things happen for them. 
Overnight success? It can happen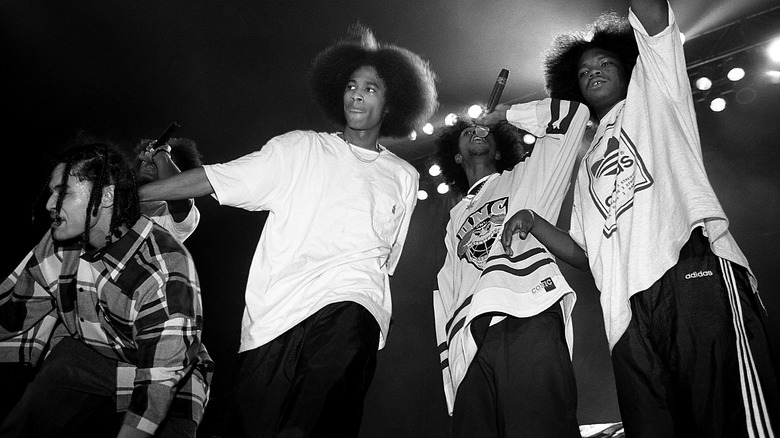 Raymond Boyd/Getty Images
Once Bone Thugs-N-Harmony had their foot in the door with the attention of Eazy-E, success came with a blinding speed. Krayzie Bone reflected on it to Thrasher Magazine, saying that they went from struggling to find success to being in the middle of it so fast that they didn't even know what happened — or how to deal with it. "Everything just started changing," he recalled. "It was the real deal. We were like, serious superstars. We still had a street mentality and we didn't understand what was going on, because it was going so fast."
Layzie Bone recalled the moment that they knew: "Success was hearing us on the radio for the first time," he said. Hearing their own voices blasting from car stereos was surreal, and even more surreal was the fact that at first, they were met with a bit of skepticism when they said who they were.
Krayzie added that there was a point where they were afraid that it had been all a dream: They were so caught up in getting the music made that they didn't think ahead, and when they got a phone call from Eazy-E telling them to tune in because they were about to be on the radio, "We turned it on and we were in the hotel just losing our minds."
Creepin on ah Come Up was a biographical smash hit
Scott Dudelson/Getty Images
Conventional wisdom has long been to write what you know, and for Bone Thugs-N-Harmony, that helped make their debut album, "Creepin on ah Come Up," a success. XXL spoke to the group members around the 20th anniversary of the album, and they chalked success and longevity up to the fact that they were invested in what they were saying.
Layzie Bone explained: "We was fresh off the streets, really living the life we were talking about, trying our best to get out. That album is where we designed our style, everything about ourselves, and what we came into." They recalled the album as being a major transition: Krayzie Bone added, "It was do or die at that time, we couldn't let the talent waste away. ... something was destined to happen to one of us, be it jail or the loss of one of our lives. We decided to go for broke."
It wasn't just an important record for the group, it was an important record for industry mainstay, Eazy-E. After putting together N.W.A., recording "Straight Outta Compton," and seeing the group disintegrate in a high-profile way, Eazy-E wanted to secure his own place in music history. Signing the next big group to his own record label was the way to make that happen, and he took it very seriously: He even took all the photos for the album.
E. 1999 Eternal was anchored in grief — and it worked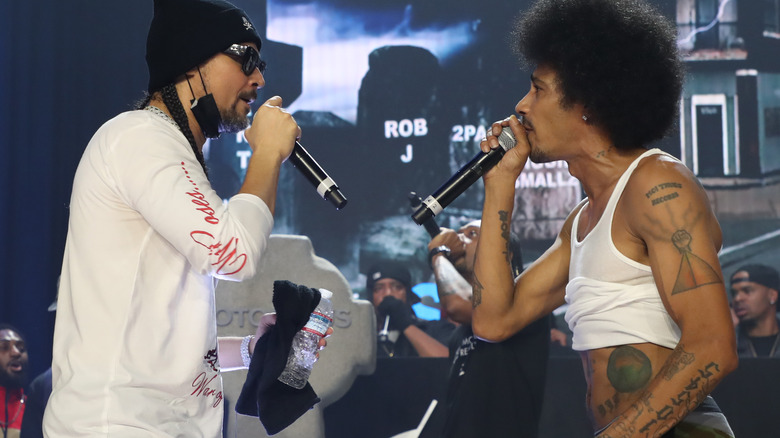 Jerritt Clark/Getty Images
It was a full 26 years since the release of "E. 1999 Eternal" when Krayzie Bone appeared on 93.5 KDAY's Morning Show with Cece and Romeo, and they asked him about the making of the album. He replied that there had been a lot going on for all of them at the time, and first and foremost was Eazy-E's illness. He would die in 1995 of complications related to AIDS, and they went from the excitement of a new album to mourning the death of their mentor and friend.
The album — and particularly the song "Tha Crossroads" — became something of an anthem to grief, loss, and remembrance. It was Krayzie who explained to Vibe that not only were they dealing with Eazy-E's loss, but the song had originally been written for a friend and former band member who had been killed. The revamped song folded in a lot of grief, including the feelings of loss from the deaths of Krayzie's cousin and brother-in-law, Layzie Bone's child, and Wish Bone's uncle. It's not surprising it resonated, and Krayzie explained, "It just goes to show you if you come from the heart, people will feel it."
To say that the album resonated with people is putting it lightly. "Tha Crossroads" netted Bone Thugs a Grammy in 1996, for Best Rap Performance By A Duo Or Group.
An in-the-works collaboration with Tupac Shakur didn't happen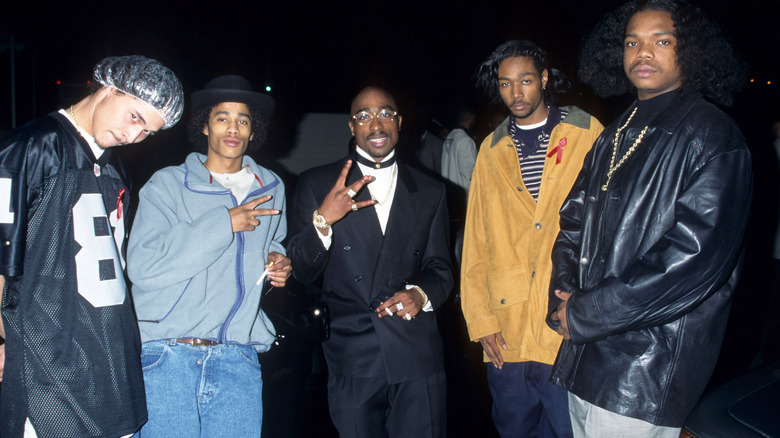 Kevin.mazur/Getty Images
Bone Thugs-N-Harmony wasn't just known for their own music, they made a serious name for themselves with their collaborations, too: Hot New Hip Hop called their "Thug Luv" with Tupac Shakur and "Notorious Thugs" with the Notorious B.I.G. "two of the greatest collaborations the culture has ever seen," and that's some pretty high praise.
Interestingly, the former of those two songs apparently wasn't always supposed to be a straight-up collaboration. When Bizzy Bone talked about the song on a vlog (via Hot New Hip Hop), he revealed that it had originally been intended as just a Bizzy and Tupac song, but between his recording time with Shakur and the song's release, the rest of the Bone Thugs were added — at the cost of a performance by Sylk-E Fine, which ended up on the cutting room floor. Sadly, there were other collaborations in the works that wouldn't come to fruition for a tragic reason.
At the time of his death, Tupac Shakur was putting together an album called "One Nation," and appropriately, it was slated to have groups from both sides of the East Coast vs. West Coast feud. On the list of groups he'd tapped to be featured on the album? Bone Thugs-N-Harmony.
There have been some major splits in the group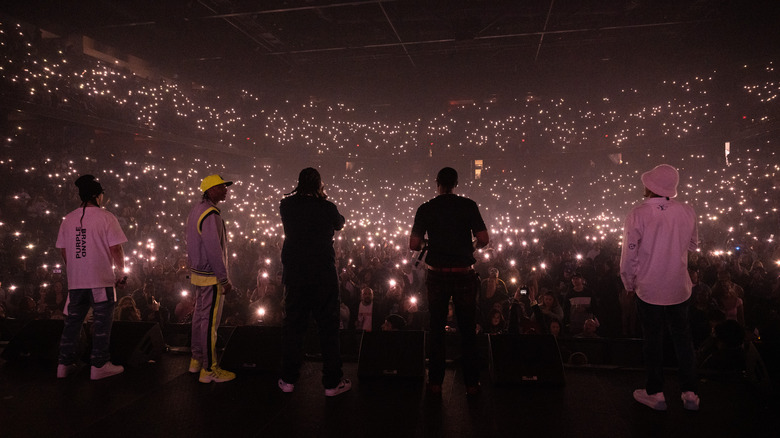 Scott Dudelson/Getty Images
It was Krayzie Bone who told Beat that although they'd had their fair share of arguments, the members of Bone Thugs-N-Harmony had always remained close. "Family can be at each other's throats, but it's always love — all of our differences that we've ever had — they were business differences, the love was always there and it was never personal," he explained. Krayzie himself famously quit the group in 2011, and at the time, he was pretty vague about his reasons. When he stopped by Power 106 Los Angeles in 2023, though, he had the perspective of time and called the disappearance of rap groups a result of selfishness, and a prevailing desire to be the center of attention, 100% of the time.
Bizzy Bone, too, has an extensive history of being kicked out and then welcomed back into the group amid various accusations. From the outside, the drama was very often unclear: In 2003, he issued a statement (via MTV) claiming that he didn't do any more or less than anyone else, but added that other commitments he'd made did, in fact, keep him away from the group. Fast forward to 2022, and he was releasing songs lamenting the fact that he was being left out of band affairs, recordings, and tours, and in September of that year he announced on his Instagram that he was rejoining them for one last tour, then he was done.
Part of Bizzy Bone's absence came after a million-dollar lawsuit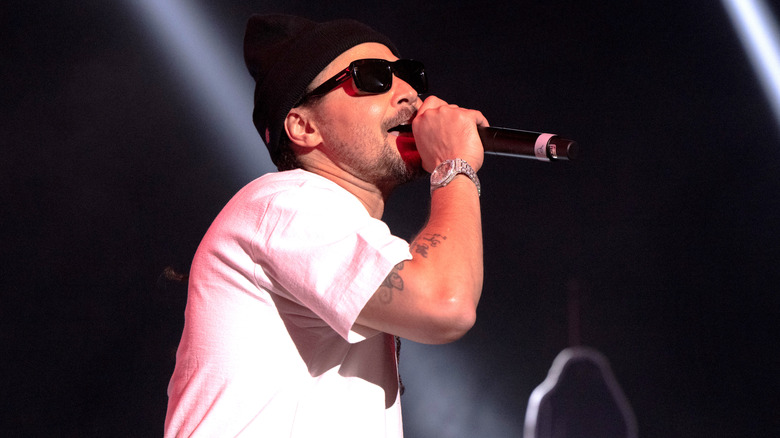 Scott Dudelson/Getty Images
When the rest of Bone Thugs-N-Harmony spoke out against Bizzy Bone and condemned him for his absences, they cited the fans' disappointment as one of the big reasons they decided to go public with their internal disagreements. One of those times that Bizzy went conspicuously missing was when he was in the midst of a lawsuit filed against Ruthless Records and Sony. The lawsuit was pretty straightforward, and he claimed that he was owed a whopping $1 million under a solo contract that never got settled, and he made it clear that he'd be happy to return things to the status quo — once he was paid what he was owed.
What happened as a result of the lawsuit had a massive impact on Bizzy's career: He was released from his solo contract. Bizzy explained why he'd agreed to it: "I dropped the suit because they gave me an opportunity and took the chains off me. They gave me what I wanted: my freedom."
Bizzy seized the day, explaining to Stuff: "I may have been young, but I didn't want to just get taken for every penny, or lay on the ground and be given alcohol and weed and all of those things to cloud my judgment, which I was doing at the time. ... I just really had to get my stuff together."
Flesh-n-Bone has been in and out of jail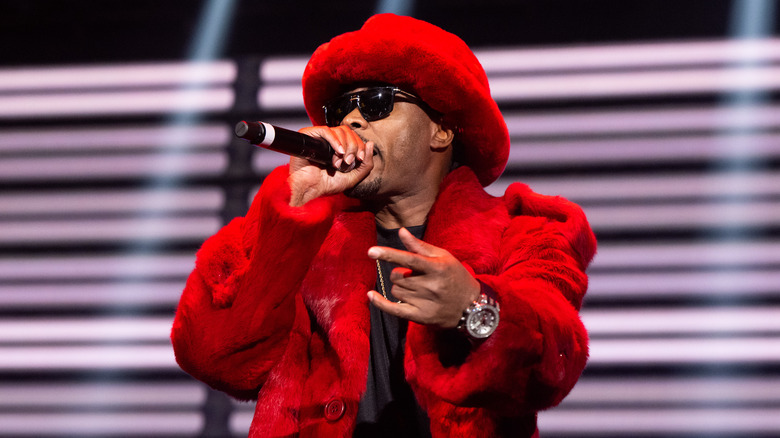 Scott Dudelson/Getty Images
The consistency of Bone Thugs-N-Harmony has also been impacted by a series of arrests and convictions involving Flesh-n-Bone. In 2000, he was handed a 12-year prison sentence for assault with an AK-47, a sentence that was made worse by the fact that he already had a criminal record for assault, making terrorist threats, and spousal battery. The sentence had, however, been lessened when the judge took into account his past history of childhood abuse and trauma. 
He was also arrested in connection with accusations that he had assaulted his mother, and in 2011, it was reported that he was once again in court. This time, he had been arrested on charges of domestic violence, but avoided serving another jail sentence after pleading guilty on charges of false imprisonment. 
In 2020, Flesh-n-Bone spoke with The Spokesman-Review about his past and the regrets he had: "I missed out on so much, but I was finally released and so much changed in the world." The outlet asked him about Tracy Morgan's "The Last O.G.," a show about a convict who's released from a long stint in prison to find just how much the world has moved on without him. It rang true with him: "I get it. I lived it. I wish I didn't lose all of that time, but I had no choice but to try to get back on my feet."
Here's what really happened with Three 6 Mafia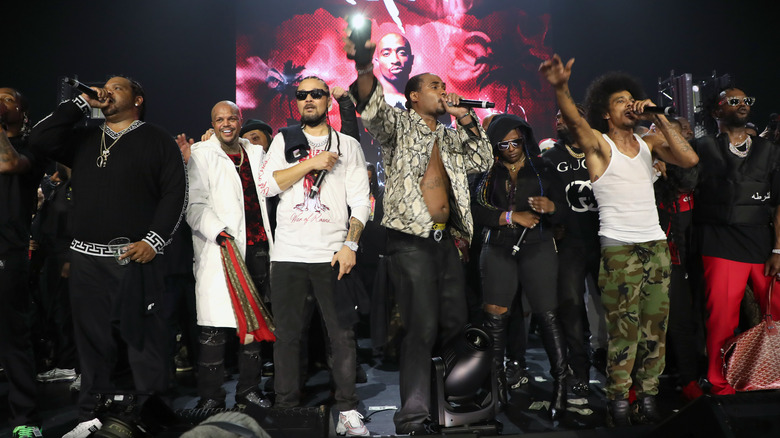 Jerritt Clark/Getty Images
It's no secret that there are two sides to every argument, and that's the case even when the argument is as high-profile and public as the feuding between Bone Thugs-N-Harmony and Three 6 Mafia. The beef was so long-running, in fact, that when the two groups met on Verzuz in 2021, a physical fight actually broke out. Insults were exchanged and eventually, so were apologies — but, what gives? 
According to DJ Paul's interview with Blurred Culture, it was all rooted in a misunderstanding. They had a particular style and gravitated toward certain types of imagery, but when Bone Thugs hit it big, "All of a sudden... we hear somebody kind of on our same style: "Faces of Death, redrum, murder, 666, tongue twisting. We were like, 'Damn these dudes done stole our style! That's why we got mad about it."
On the other side, Krayzie Bone talked to Hip Hop DX about the so-called feud, saying that they didn't know anything about it until one of their fans tipped them off that there was another group that had claimed that Bone Thugs had ripped off their style. "I really didn't understand what the beef was until I talked to somebody on the phone one day," he said. "It was a conference call, ... And they was like, 'We just want ya'll to know it ain't no beef, it ain't no nothing.' All that stuff was stupid."
The one-copy-only, $1 million album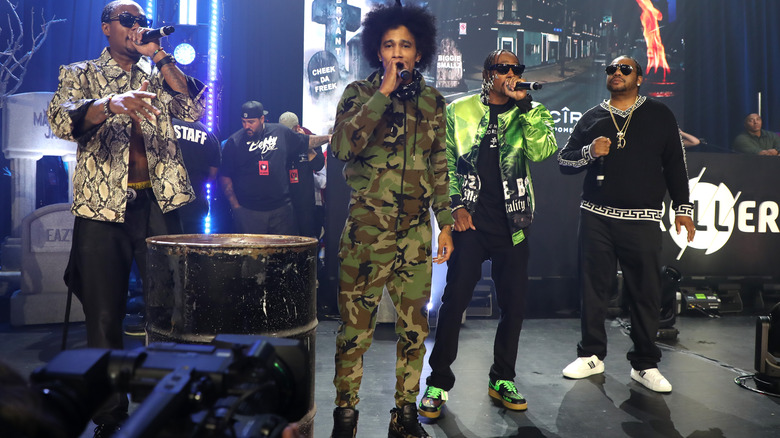 Jerritt Clark/Getty Images
It was the Wu-Tang Clan who first announced they were going to be making a one-off record and selling it to the highest bidder, and it wasn't long after that Bone Thugs-N-Harmony decided it was a pretty sweet way of doing things. Initially, their announcement that they were going to be doing the same thing came with a caveat: The winning bid would need to be at least a cool million. 
Interestingly, the announcement came on the heels of rumors that the group was going to be quietly retiring, way back in 2014. But all five members seemed to be on board with the prospect of making a single copy of a new album and cashing in, and it wasn't long before they said that they'd received the initial, million-dollar bid. 
And then? Things kind of went silent for a bit, and it wasn't until 2016 that Krayzie Bone updated VladTV about the project. In spite of the fact that Wu-Tang had successfully sold their one-and-only for $2 million, Bone Thugs had decided to go in a different direction. Krayzie cited pushback from the fans as their reason for putting the whole thing on hold, and while he said that down the road it might have been a possibility, they had realized how upset it made their supporters, and they'd opted to keep the people happy.
If it seems they've evolved to be more faith-based, they have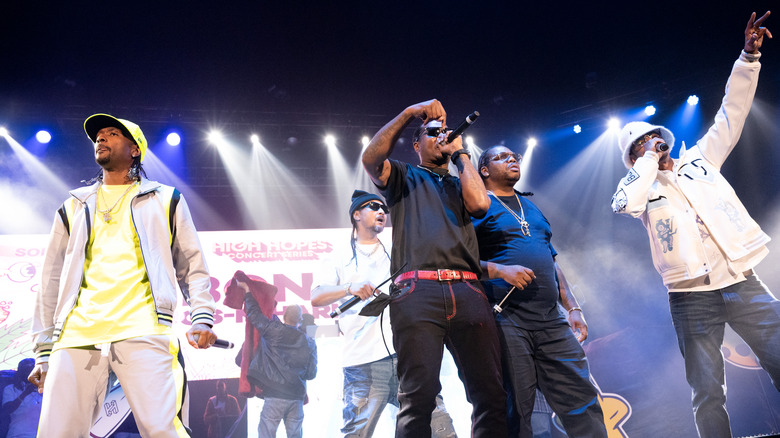 Scott Dudelson/Getty Images
A band isn't around as long as Bone Thugs-N-Harmony has been without changing and evolving. When Krayzie Bone sat down to talk to Vice in 2016, he addressed the change in their lyrics by saying, "I'm still going to tell my story in a way that's going to get a point across to people, ... But some of the things I would talk about 20 years ago, I wouldn't today. Just because I have a different perspective on life and things, you know?"
What did that shift in perspective involve? Krayzie went on to say that he firmly believed that many of music's biggest names were doing the work of the Devil with help from the Illuminati and the New World Order. He, however, was firmly on the side of God, so he opted not to use certain symbols and signs anymore. 
But it was Bizzy Bone's faith that made headlines in 2005: After appearing on a radio show and appearing to speak in tongues, he addressed what he had been doing before that: walking around Ohio. Literally. He walked so far that he ended up being hospitalized, and fought back against his family's attempts at having him institutionalized: "Just because I have a blessing and you don't feel what I feel, that gives you no right," MTV quoted him as saying.
On their brotherly relationship with Eazy-E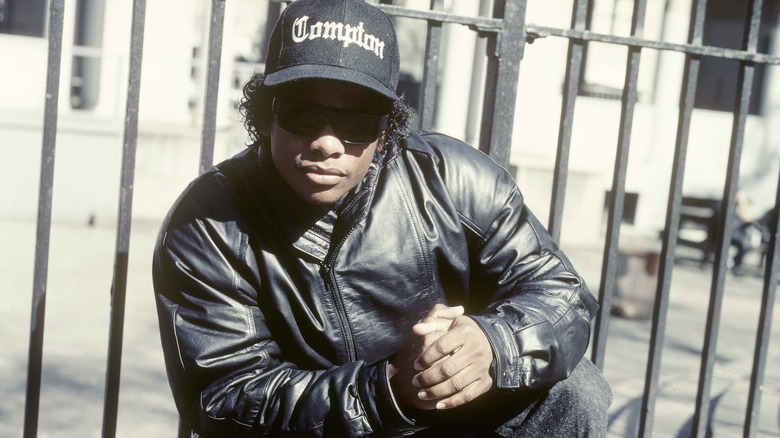 Al Pereira/Getty Images
At the end of the day, everyone has relationships that define them: For Bone Thugs-N-Harmony, that's always been their relationship — as short as it was — with Eazy-E. When XXL spoke with them to get a retrospective of their career, one of the things they agreed on was that before Eazy-E, life was pretty awful. According to Flesh-n-Bone: "We was with the biggest, all across the board... we grew up gutter." Layzie Bone added, "We were living in a war zone... Day to day, fast living, up all night trying to make some money as kids trying to find our way."
But once Eazy-E took them under his wing, things changed. Bizzy Bone recalled what it felt like, saying that for the first time, he felt "Taken care of, having fun, clean, fed, no more worrying about rent or where you're gonna sleep tonight." And Wish Bone added, "Eazy was a real dude... He was like a brother to us ... We were grateful we got the time we did get with him, because where would music be without Eazy-E?"
The Bone Thugs even imagined what life would have been like if they hadn't gotten that phone call back from Eazy-E. Their film "I Tried" came out in 2007, and it's basically the story of how different their lives could have turned out. In short? Very differently.