How Bob Dylan And Paul Simon's Rivalry Began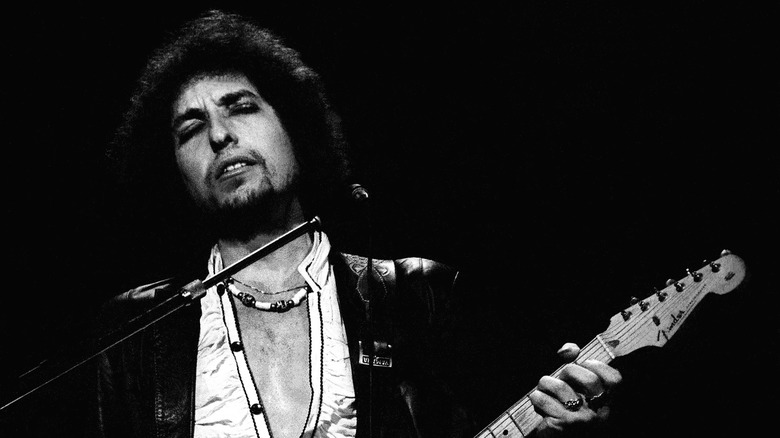 Larry Hulst/Getty Images
Paul Simon and Bob Dylan penned some of the most beloved songs of the 1960s and 1970s, and both musicians continue to produce vital works to this day. These two songwriting luminaries didn't always get along, though. As Simon told Rolling Stone in 2011, "I usually come in second to (to Dylan), and I don't like coming in second." Luckily, the two musicians seemed to smooth things over when they toured together in the late 1990s.
It all began when Simon and Art Garfunkel sat on the stage of Gerde's Folk City in Manhattan's Greenwich Village in March 1964. It was a big show for Simon & Garfunkel, who were about to finish recording their debut album, "Wednesday Morning, 3 A.M." for Columbia Records. With Simon playing guitar while he and Garfunkel sang together, a harsh nasal laugh cut through their close harmonies. It was impossible to miss, and Simon could see that it was Bob Dylan at the bar talking with The New York Times music critic Robert Shelton and laughing. Simon said he "was hurt."
"Here was someone laughing during my performance — especially someone I admired," Simon later recalled, per "Paul Simon: The Life." He had loved Dylan's music since hearing his first album in 1962. He and Garfunkel even included one of Dylan's songs — "The Times They Are A-Changin'" — on their debut album. And here was Dylan loudly laughing while they were performing. This was the start of the rivalry between the two singer-songwriters that finally ended with a tour at the turn of the 21st Century.
Paul Simon's dig at Dylan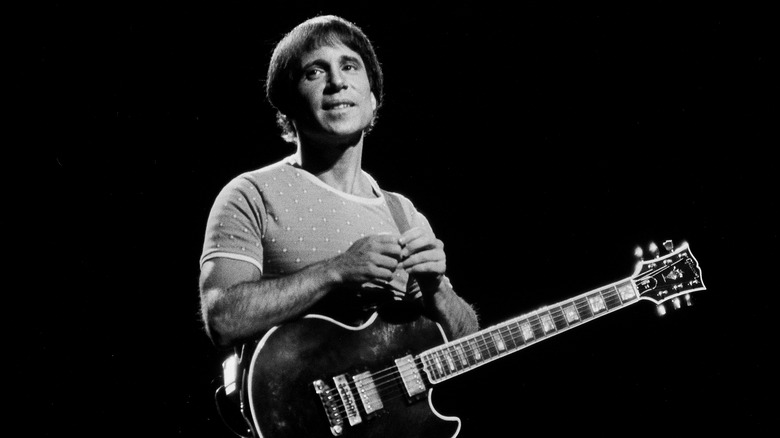 Paul Natkin/Getty Images
Bob Dylan and Paul Simon had met not long before the fateful concert. Carla Rotolo, the sister of Dylan's girlfriend, Suze Rotolo, had introduced them, but the meeting didn't go well. Both men were awkward and didn't say much to one another, per "Bob Dylan: Outlaw Blues." The incident at the concert made things worse. But, at least according to Robert Shelton, he and Dylan hadn't been laughing at Simon & Garfunkel's music that night. He recalled that they had been drinking a lot and were just giggly. "We weren't laughing at the performance, but Simon was furious," he recalled, per "Paul Simon: The Life."
In the aftermath of the concert, Simon got back at his rival — or at least that's how it came across to many. Simon released his first solo record in the United Kingdom in 1965, "The Paul Simon Songbook," featuring the song "A Simple Desultory Philippic (Or How I Was Robert McNamara'd Into Submission)," which seemed to parody Dylan's music and lyrics. The song would later appear on Simon and Garfunkel's third album, "Parsley, Sage, Rosemary and Thyme."
Despite those tensions, Simon respected Dylan, especially early on. "In the very, very beginning, when we were first signed to Columbia, I really admired Dylan's work," Simon explained to Rolling Stone in 2011. "'The Sound of Silence' wouldn't have been written if it weren't for Dylan. But I left that feeling around 'The Graduate' and 'Mrs. Robinson.' They weren't folky anymore," he said.
A thawing relationship and a tour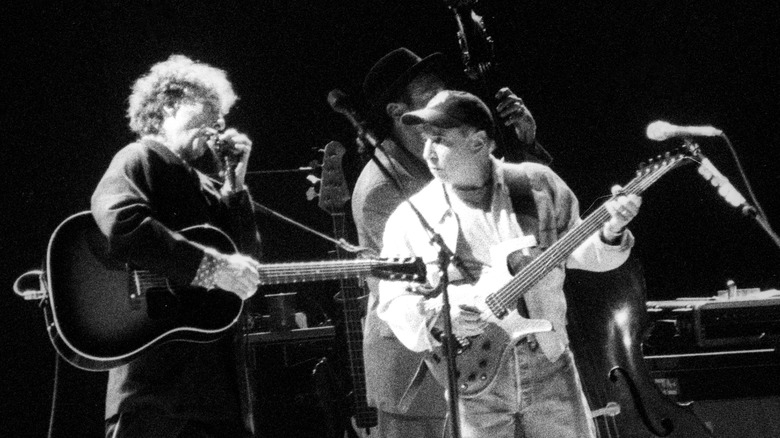 Larry Hulst/Getty Images
Paul Simon also made fun of Bob Dylan for going electric and helping to kick off the folk-rock explosion and even did a brief Dylan impression on stage, according to "Homeward Bound: The Life of Paul Simon." Dylan, for his part, responded by pretending not to know who Simon even was. In May 1966, he told New Musical Express he'd "never heard" of him.
Over the years, though, Dylan and Simon began to admit a grudging respect for one another. "Paul Simon's written some good songs, I think 'America' is a good song, I think 'The Boxer' is a good song," Dylan said in a 1984 radio interview with Bert Kleinman. "I think 'Bridge Over Troubled Water' is a good song. I mean he's written a lot of bad songs too, but everybody's done that." In 1999, the pair went on tour together, and while it got some mixed reviews — Rolling Stone called the pair's set together "half-historic, half-train wreck" — the two iconic musicians seemed to have buried the hatchet.
That said, Simon did reach out to Dylan for a duet on Simon's 2011 solo composition, "So Beautiful or So What." In particular, Simon said Dylan's older voice would fit perfectly on the verse "Ain't it strange the way we're ignorant / how we seek out bad advice." But as Simon told Uncut that year (via The Guardian), "I sent it to him, but I didn't hear back. I don't know why." So maybe there's still some bad blood between the two songwriters, after all.