Who Is Joran Van Der Sloot's Wife, Leidy Figueroa?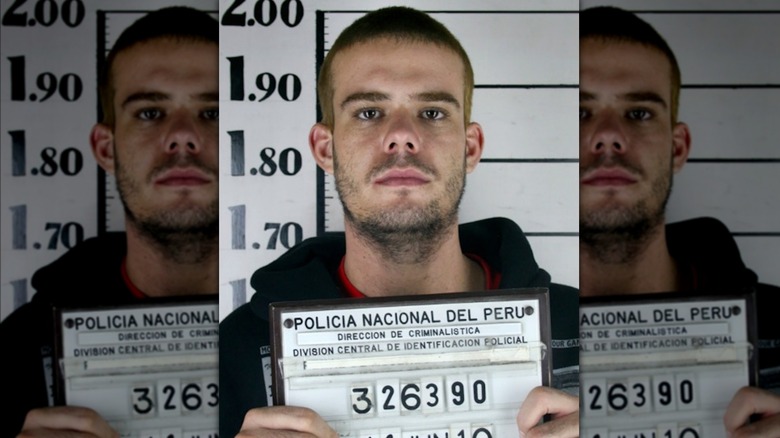 Kypros/Getty Images
Once extradited to the U.S. to face fraud and extortion charges, Dutch national Joran van der Sloot will leave two loved ones behind in Peru: his wife, Leidy Figueroa, and their daughter, Dushie, UPI reports. The prime suspect in the 2005 disappearance of Alabama teen Natalee Holloway, van der Sloot was serving a 28-year prison sentence for the 2010 murder of Stephany Flores, which is linked to the Holloway case, CBS News reports. The fraud and extortion charges stem from an incident with Natalee's mother, Beth Holloway, who paid van der Sloot for information regarding her daughter's whereabouts that turned out to be false.
One of three men Natalee was seen with in Aruba before she went missing, van der Sloot also pleaded guilty to Flores' murder. Figueroa, an accountant, reportedly met van der Sloot in a Peruvian prison while visiting another inmate. According to Maximo Altez, a Peruvian lawyer who married the couple (via CNN), "They became friends and spent a lot of time together in his cell. Unlike the United States, here in Peru, loved ones or relatives can see inmates inside their jails." (Prison conjugal visits are allowed in four U.S. states, according to JSTOR Daily). Van der Sloot and Figueroa, who was pregnant at the time, were married in 2014. Their daughter, Dushie, was born that same year.
Van der Sloot wrote Figueroa love letters
In 2014, Leidy Figueroa spoke with CBS News' "Crimesider" about her life with Joran van der Sloot. In that interview, she mentioned that the inmate she knew at the same facility in which van der Sloot was serving his sentence acted as a matchmaker for the couple. She saw van der Sloot in prison several times a week, and she often cooked and brought him meals. Van der Sloot has become a new man in prison, she said. Van der Sloot reportedly bought Figueroa's ring through his lawyer, and the couple married in a civil ceremony.
During and after their prison courtship, the convicted murderer reportedly wrote Figueroa love letters from behind bars, according to the Daily Mail. "I love you my princess. I want you to know I think of you every day, you are the best thing that has happened in my life. Marry me and share the rest of your life with me in the good and bad times," one note read. Elsewhere, he mentioned his plans to buy Figueroa a house. Prior to his U.S. extradition in 2023, van der Sloot would have remained in a Peruvian prison until 2038. After this time, he would likely still have been extradited to the U.S. on fraud charges.
Van der Sloot's no monster, Figueroa said
In 2014, the same year Joran van der Sloot and Leidy Figueroa married, van der Sloot was stabbed in prison, according to his wife (via CNN). At that time, Director of Peru's National Penitentiary Institute Jose Perez Guadalupe denied the attack happened and called Figueroa a "compulsive liar. "For starters, no woman in her right mind goes to a maximum-security prison and marries the biggest killer there," he said. According to RTL (via CNN), Figueroa smuggled van der Sloot's bloody shirt out of prison in order to prove the attack happened.
Per Reuters, prison officials claimed van der Sloot likely staged the stabbing. Because of behavior issues, van der Sloot had recently transferred prisons away from Lima, where Figueroa lived. Around that same time, in an exclusive interview with Daily Mail on the unusual nature of her marriage to a convicted killer serving a decades-long prison sentence, Figueroa said, "Many people judge Joran and criticize him saying he is a monster and an assassin, but when you get to know him, you know he is different. ... I know he has killed, but he is now paying for what he did. He is asking God for forgiveness and praying every day."