Tragic Stories About Jamie Foxx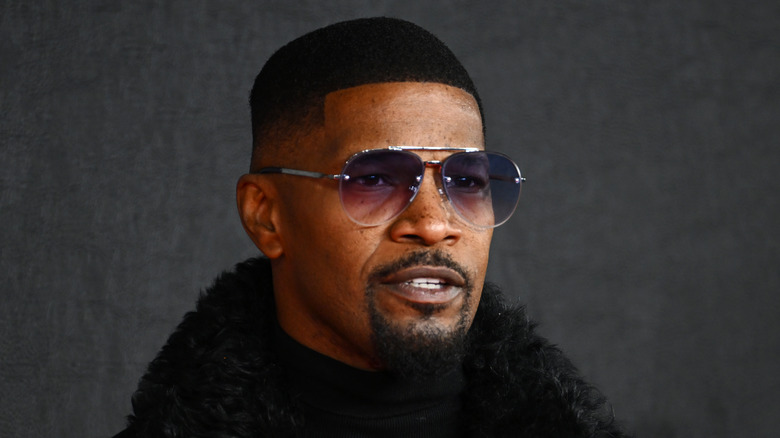 Joe Maher/Getty Images
At a time when celebrity is just as much about being in the headlines as it is about the craft of acting, singing, or performing, there are a handful of celebrities that still manage to promote their work yet hold tightly onto their privacy. Jamie Foxx is one of those celebrities: For all of his high-profile roles, his accolades, and his awards, there's really not much that's known about his private life — and that's the way he seems to like it.
When he was suddenly rushed to the hospital in April of 2023, there were no specifics given about his condition, what had happened, or his prognosis. All that was known was that he had been in the process of filming a movie for Netflix, and even as his representatives were silent on the matter, his friends were just as respectful.
Kevin Hart appeared on the podcast Impaulsive, and when he was asked about Foxx's condition, he said that he was grateful to be a close enough friend that he could ask him, but at the same time, he wasn't going to break his confidence. He did, however, reassure listeners that their support, thoughts, and kind messages were heard and appreciated, and at the end of the day, that's what matters the most. However, over the years, Foxx has divulged some information on his lifelong struggles and tragedies, giving an inside look into this notoriously private life.
His missing parents left him with questions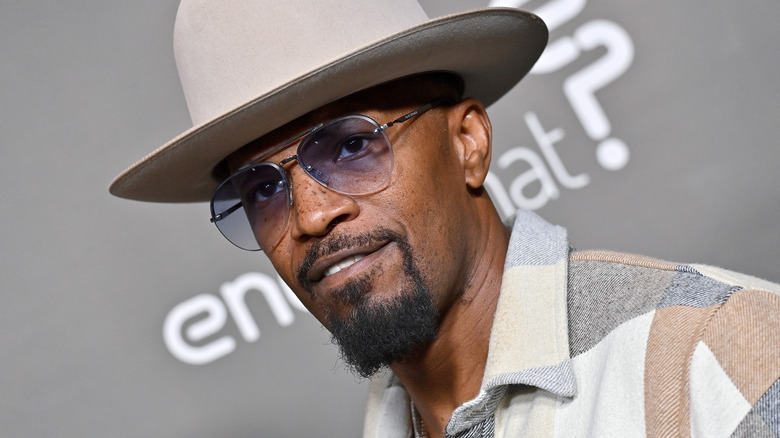 Axelle/bauer-griffin/Getty Images
Jamie Foxx's childhood was famously complicated: Abandoned by his parents not long after he was born, his grandparents adopted him when he was just a few months old. Although that seems like the sort of thing that would be played as a tragedy if it unfolded on the big screen, it wasn't necessarily like that for Foxx. In 2005, he told Oprah Winfrey, "I was never short on the love of a mother and father, though it came from an earlier generation of the family."
As he got older, though, he knew that his father lived just miles away, but wouldn't make the trip even to see him play football. Foxx explained: "I was puzzled. Why couldn't he drive 28 miles to check on a son...? I think some of his absence has to do with his being a Muslim. He drew a line in the sand: 'I'm a Muslim, and since you're not, I can't be your father.' During our last conversation, ... I said, 'Listen, I understand observing your religion, but is that worth missing out on your son's life?'"
At the time of that interview, he wasn't on speaking terms with his mother, either. That would eventually change: In 2020, Foxx talked about his rather unconventional home life on "The Graham Norton Show," saying that both his parents were living with him, in spite of the fact that they'd been divorced for more than two decades.
His shocking experiences with racism started when he was a child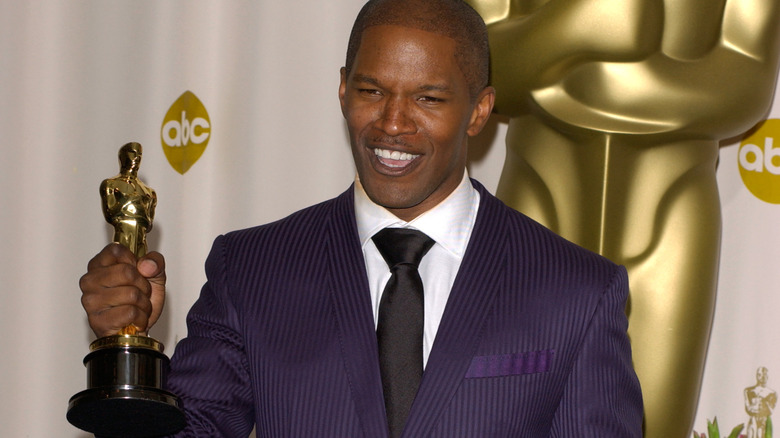 Featureflash Photo Agency/Shutterstock
Jamie Foxx grew up in a small, racially-divided Texas town. According to Anne M. Todd's biography, "Jamie Foxx," Foxx learned from not only his grandparents' work ethic but how they were treated by their white employers. Extra hours, all hours of the day ... it didn't matter.
When Foxx spoke to Oprah Winfrey in 2005, he told a heartbreaking story about being 15 years old and getting hired by a white family to play piano for their Christmas party. When his friend dropped him off and walked to the door with him, Foxx remembered being asked, "But why are there two of you here at the same time?" That was followed by some racial slurs, and Foxx having to ask his friend to leave and pick him up later because the family didn't want two Black kids at the house at the same time.
Foxx was ushered into the house, reprimanded for not having a tux, and then given one from a massive closet. As he sat down to play, the head of the household and his friends told one racial joke after another, and at the end of the night, Foxx went to give the tuxedo jacket back. "When I ... handed it to him, he said, 'I can't wear that jacket now. Keep it.'" Foxx said that it always left him wondering: "What is it about me being born that bothers you so much?"
He was there for his grandfather's death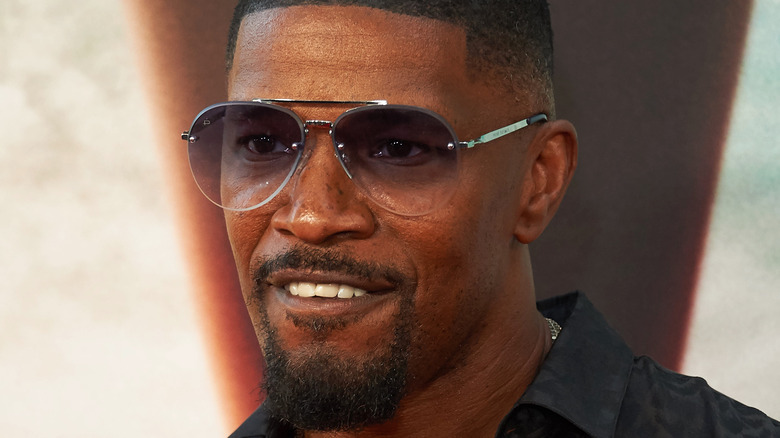 Unique Nicole/Getty Images
Jamie Foxx was raised by Mark and Estelle Talley, who were the adoptive parents of his mother, Louise. He credited them with a lot, from his work ethic to his devotion to his family, his sense of community, and his success. In Anne M. Todd's biography, "Jamie Foxx," it's detailed how even though the couple worked long, grueling hours, they always had time to invest in the next generation, from teaching the neighborhood kids to read to making sure Foxx was always signed up for piano lessons. He credited those early lessons for kick-starting his love of music and ultimately his career, but it's not an unconditionally happy story.
Dealing with the death of a loved one is one of the most difficult things a person has to do at any age, and Foxx was just 17 years old when his grandfather died after an unspecified illness. He was there at the end of his grandfather's life, in fact, and although he attempted to resuscitate him, his efforts were in vain.
It was his final year in high school: Not only was he dealing with the loss himself, but he was watching his beloved grandmother deal with it, too. A year after his grandfather's death, he graduated high school. Neither of his parents went to the graduation ceremony.
A spiked drink left him struggling with after-effects for years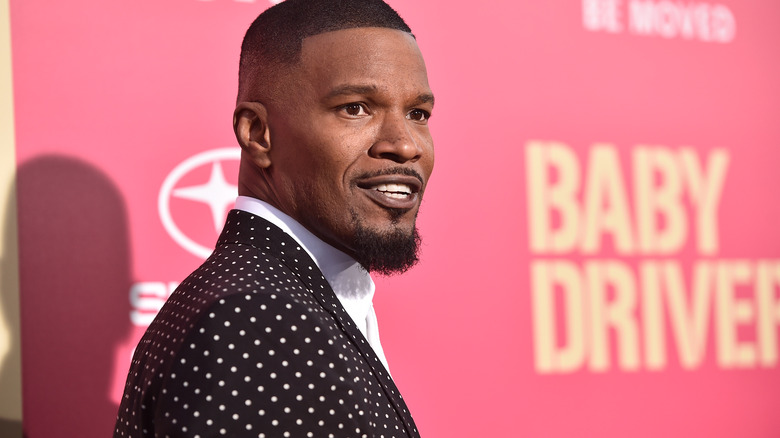 Alberto E. Rodriguez/Getty Images
Life can be a terrifying thing, and Jamie Foxx found that out the hard way when someone spiked his drink at a college party. He spoke with The Daily Mail in 2009, around the release of his film "The Soloist," and he was candid about the fact that he'd started hearing voices while filming. He explained that his doctor had told him the extreme weight loss he'd undergone for the role could have kick-started the effects of the PCP that was still in his system, and had been since that awful college night.
Foxx recalled that he had been drinking whiskey when suddenly, "I knew something was wrong. ... I was almost in a coma, and I couldn't move, couldn't talk, couldn't even say, 'Take me to the hospital.'" Fortunately, he wasn't alone — he was taken to the emergency room, and found out that his drink had been spiked. He had active and frequent flashbacks for nearly a year afterward, saying a friend stayed with him during the worst times. "I was afraid of the dark, and he would talk to me every night and calm me down and say stuff like, 'You're OK, the demons aren't real.' He saved my life."
The flashbacks got fewer and farther between, but Foxx said that they'd lasted into his 30s. Even though they'd stopped, he added, "I always worry about it coming back."
His world changed with the death of his grandmother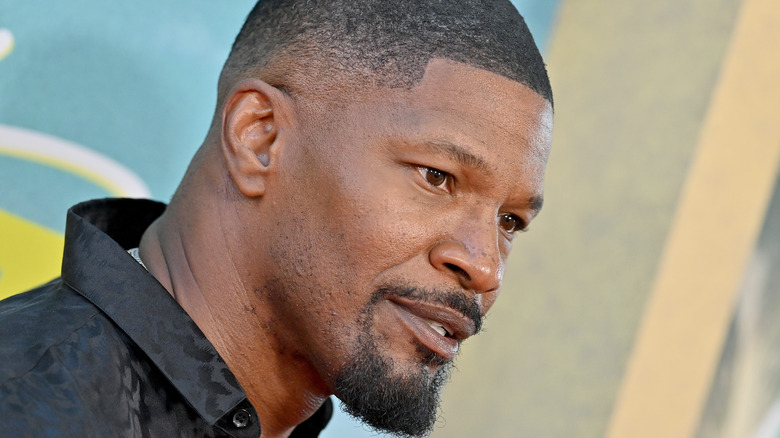 Axelle/bauer-griffin/Getty Images
Jamie Foxx sat down to talk to Entertainment Weekly about his grandmother, and the love and admiration are clear: "Come up by myself, I didn't have a crew. My grandmother was my crew," he said. He credited her with raising him, protecting him, and allowing him to become the person he grew up to be, and that's powerful stuff.
GQ interviewed him in 2004, and at the time, he had just returned to his hometown of Terrell, Texas for his grandmother's funeral. She had died at the absolutely respectable age of 95, but for the last 11 years of her life, she had lived with Alzheimer's. Foxx recalled knowing that no matter how bad it got, he'd always known that she could sense his presence, and although she did live to see his success, she died just before he earned three Golden Globe nominations and an Oscar for his performance in "Ray."
Foxx called his biography "Act Like You Got Some Sense," (via Entertainment Weekly), and he quoted his Oscar acceptance speech as explaining the inspiration for the title: "'She was my first acting teacher,' I said from the stage. 'She told me, 'Stand up straight, put your shoulders back, act like you got some sense,' ... She still talks to me, only now she talks to me in my dreams."
He had a terrifying encounter with a stalker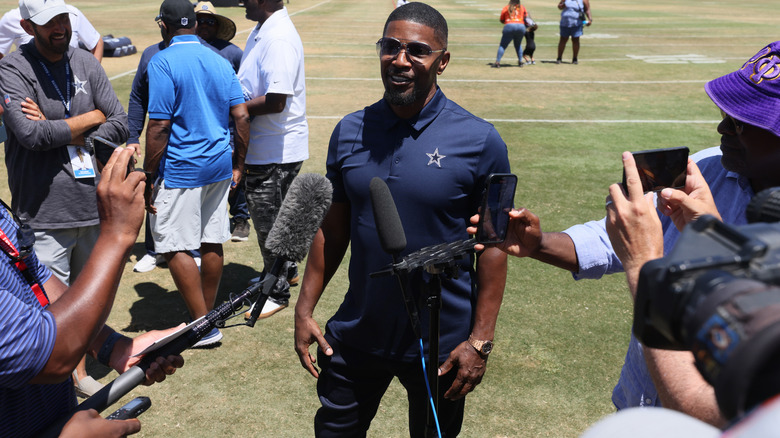 Josh Lefkowitz/Getty Images
Fame definitely comes with downsides, and for anyone who enjoys their privacy, the life of a celebrity might not be all it's cracked up to be. Jamie Foxx counts people like Tom Cruise and Will Smith among his friends, so it's not entirely surprising that at that level, personal security teams are a must. Still, he's had some terrifying encounters, including one that involved a stalker who tried to break into his hotel room back in 2009.
Foxx talked to The Daily Mail about the situation, which had fortunately been resolved by the time of the interview. Foxx said that he was staying in Philadelphia when a man tried to force his way into his hotel room twice, and was arrested a month later. It was only after his arrest that Foxx realized his would-be stalker/attacker had been arrested around 40 times, and had a criminal record that included things like stalking and weapons possession. At a hearing, Steven Taliver was ruled mentally incompetent to stand trial, and was remitted to a psychiatric facility. 
Foxx said that it had a lasting impact on him: "When I'm out, whether it's by myself or whether I'm with someone watching me, I'm always thinking, 'Where's the way out?' If I'm at a restaurant or club — wherever — it's, 'Where's the exit?' You have to think that there could be peril because of the life you lead, and you have to think about all the things that could happen."
He lost his beloved sister at a young age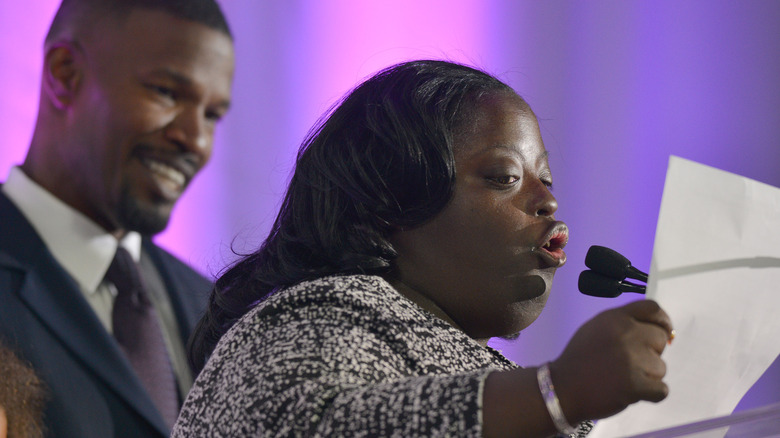 Thomas Cooper/Getty Images
Deondra Dixon summed up her relationship with her brother on Today, saying, "I love this man." Jamie Foxx responded with, "And I love you," and a hug. "Deondra has a light on that has been on since she's got here, since she was born," he continued. The siblings were so close that after she graduated from high school, Foxx called her and had her move in with him, where she seized every opportunity she could: She became an official ambassador for the Global Down Syndrome Foundation.
Foxx credited his sister with keeping him grounded, saying, "Sometimes, we get caught up in our world, on the extras of everything. ... And then you see this girl over here. I just want to live, I want to dance, I want to love. So, she brings you back down to what life is."
Dixon died in 2020, at the age of 36. In an Instagram post, Foxx shared (in part): "My heart is shattered into a million pieces... Deondra you have left A hole in my heart... but I will fill it with all of the memories that you gave me... I love you with every ounce of me." Representatives from the Global Down Syndrome Foundation also mourned her passing, lauding her contributions to the organizations and using her favorite event — the Be Beautiful Be Yourself Fashion Show — to honor her memory.