The Tragic 2006 Death Of Anna Nicole Smith's Son At 20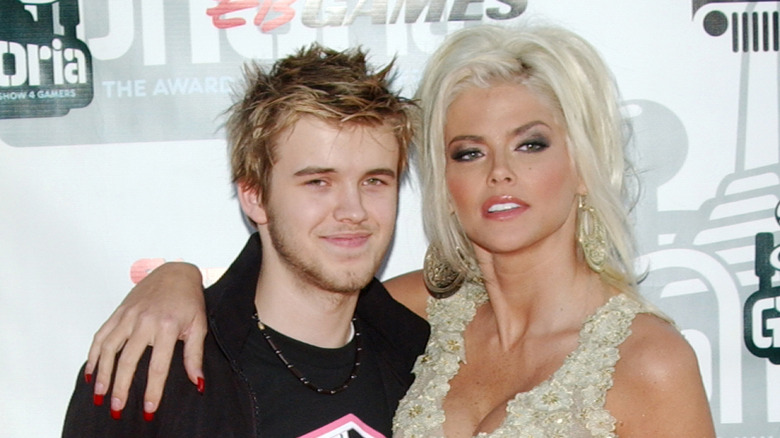 Jon Kopaloff/Getty Images
In a sad sequence of events, Anna Nicole Smith — subject of the 2023 Netflix documentary "Anna Nicole Smith: You Don't Know Me — died only about a year after her son, Daniel Smith, The Guardian reports. In 2006, the actress and former Playboy Model had just given birth to her second of two children, Dannielynn Birkhead, in the Bahamas. Her son Daniel was in the reality TV star's hospital room when he died (via People). 
According to the autopsy and toxicology report, Daniel's cause of death was a mix of antidepressants and methadone and was ruled accidental, according to pathologist Dr. Cyril Wecht. In the early going, though, some thought it was intentional, according to Dr. Lee Hern, lab director for the Miami-Dade County medical examiners office, who testified at Daniel's death inquest. 
Daniel took a large number of pills and was not known to be addicted to opiates, nor did he show signs of tolerance that could indicate he was a methadone user, Hern said. In his testimony, Hern added (via Daily Mail), "It's not common for people in recreational use to take large quantities all at once." But in 2008, a Bahamian inquest jury agreed with Wecht's ruling: Daniel overdosed unintentionally, per Reuters. 
Daniel, who was 20, reportedly lived with depression, and methadone — often used to treat opiate addiction — is also a prescription painkiller. Under similar circumstances, Anna Nicole's 2007 death at the age of 39 was caused by a number of prescription medications, including methadone and chloral hydrate, a powerful sedative, The New York Times writes.
If you or someone you know needs help with mental health, please contact the Crisis Text Line by texting HOME to 741741, call the National Alliance on Mental Illness helpline at 1-800-950-NAMI (6264), or visit the National Institute of Mental Health website.
She was worried about her son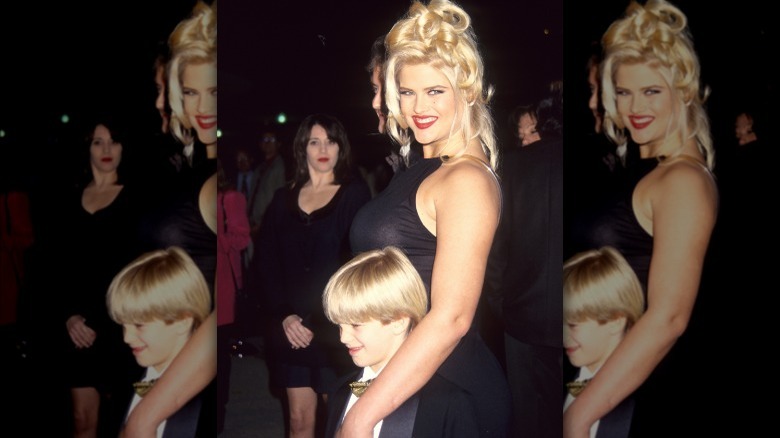 Terry Mcginnis/Getty Images
According to Larry Birkhead — the father of Daniel's half-sister Dannielynn Birkhead and Anna Nicole's former boyfriend — at the time Daniel Smith visited Anne Nicole Smith in a Bahamas hospital room, his mother had grown concerned about her son's wellbeing. Daniel was the son of Anna Nicole's first husband, Billy Wayne Smith, whom she married when she was just a teenager.
Daniel had lost weight and was breaking curfew. He was also drinking heavily and may have also been using drugs, Birkhead said, testifying at Daniel's death inquest (via News24). "[Anna Nicole] didn't care for the kids he was hanging out with at the community college he attended," he added. At Daniel's inquest, Birkhead also said that Anna Nicole preferred her son to use drugs in her company rather than with friends, and she gave her son the drug ecstasy on one occasion. 
In a police report, Birkhead said he saw Anna Nicole, Daniel, and Howard K. Stern — Anna Nicole's lawyer and boyfriend when she died — using marijuana together. He later backtracked on that version of events. Marijuana may have only been present at a party all three attended, based on his recollection. Anna Nicole also abused methadone — which has a high potential for dependence — and Daniel was caught on security cameras taking a bottle from her Los Angeles home, Birkhead testified (via Addiction Center).
Anna Nicole was devastated by her son's death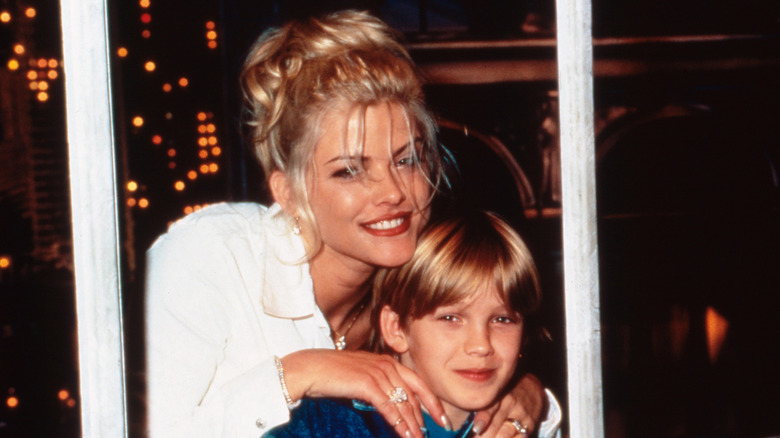 United Archives/Getty Images
Once informed her son died, Anna Nicole Smith was naturally distraught. "I don't understand why God took him and didn't take me," she said, crying, CBS News reports. In her final "Entertainment Tonight" interview shortly before she died, Anna Nicole said she thought of her son every day and dreamed about him at night. "He comes to me in my sleep, he comes to me in the sky. It's like he's calling me to come to him. He looked like he was scared. Like he's scared, and he wants me to come to him," she said (via YouTube). 
After Anna Nicole died, Howard K. Stern spoke of the close bond that she had with her son. "I would say that physically, she died last week," Stern told People in 2007, "but in a lot of ways, emotionally she died when Daniel died." Anna Nicole and Daniel are buried side-by-side at Lakeview Memorial Gardens in the Bahamas (per The Guardian). Like her son, Anna Nicole's death was ruled accidental.
If you or anyone you know needs help with addiction issues, help is available. Visit the Substance Abuse and Mental Health Services Administration website or contact SAMHSA's National Helpline at 1-800-662-HELP (4357).