Tragic Stories About Mötley Crüe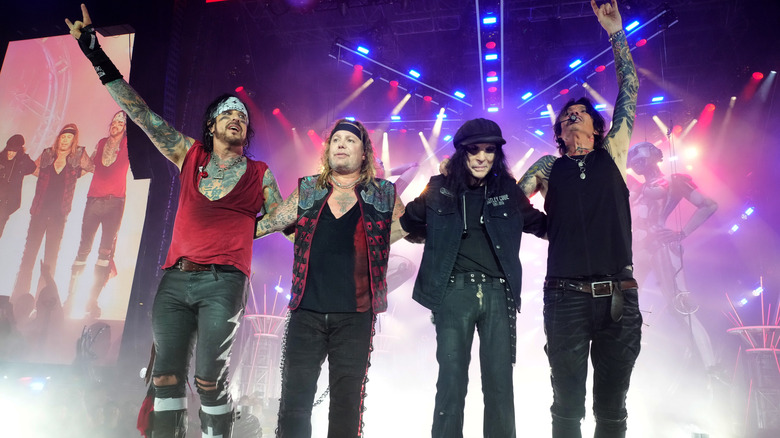 Kevin Mazur/Getty Images
Few rock bands have achieved equal fame for their music as well as their depravity like Mötley Crüe. The band formed in 1981 and, after several lineup changes, settled on the classic formation of bassist Nikki Sixx, drummer Tommy Lee, guitarist Mick Mars, and singer Vince Neil. Mötley Crüe's musical style perfectly captured the spirit of LA's Sunset Strip in the early 1980s — wild, fast, and sleazy. Of course, the band needed an image that matched their sound, so they adorned themselves with heavy makeup, spikes, and chains, and incorporated various pyrotechnics into their performances. It was only a matter of time before Mötley Crüe became one of the most popular and decadent bands, not just of the 1980s, but in rock history.
Since they formed, Mötley Crüe has sold more than 100 million albums around the world, scored many Billboard hit songs, won multiple awards and garnered even more nominations, and even had a movie made about them based on their New York Times bestselling autobiography, "The Dirt." However, despite their massive popularity (or maybe because of it), the band and its various members have suffered considerable misfortunes and experienced their share of struggles. Death, addiction, and more have plagued Mötley Crüe throughout its existence, serving as a bleak reminder that rock stardom isn't always what it's cracked up to be. Let's take a look at the tragic real life story of Mötley Crüe.
Vince Neil's terrible car accident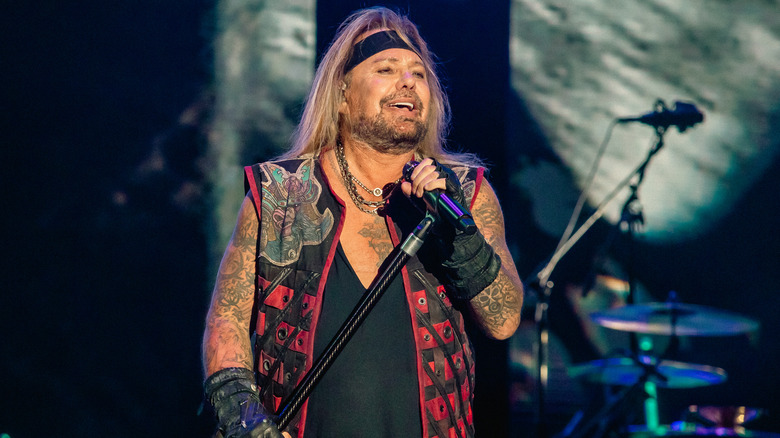 Medios Y Media/Getty Images
Hanoi Rocks was a glam rock band that was just starting to make a splash outside of their native Finland in the early 1980s. The members of the band had crossed paths with Mötley Crüe on several occasions, but it wasn't until Hanoi Rocks was in Los Angeles as part of their first North American tour in 1984 that the two sleazy groups really became acquainted — in a wild, days-long party, of course. One evening as the bash started to dry up, Vince Neil decided to take Hanoi Rocks drummer Razzle on a liquor run in his flashy 1972 Ford Pantera. However, the very drunk Neil crashed into two other cars in a massive wreck. Neil survived with only minor injuries, but Razzle was killed.
Perhaps because of his notoriety at the time, Neil was let off with what many thought was a slap on the wrist: His punishment included paying $2.6 million to the people he injured in the crash, carrying out 200 hours of community service, and taking courses on the risks of substance abuse. Decades later, Hanoi Rocks guitarist Andy McCoy recalled to Classic Rock a time when the band's manager lectured Razzle on his excessive partying, to which he replied, "'You know, I don't care if I f***ing die. I just want to get to LA.'"
"And he got to LA," McCoy lamented. "He just never got to enjoy it. And I just wish he had."
Nikki Sixx's death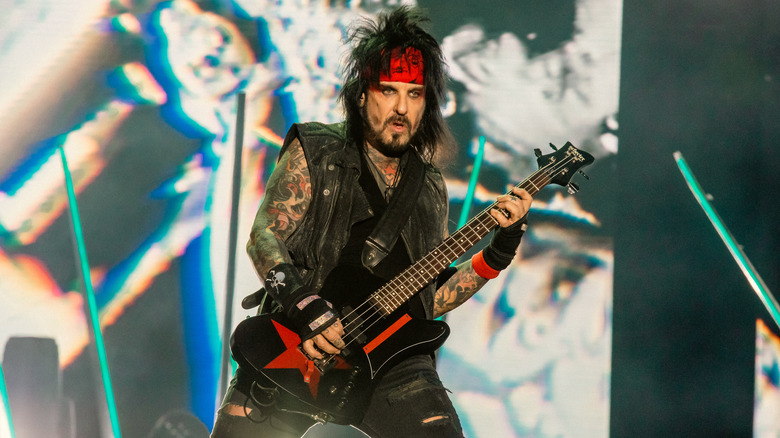 Medios Y Media/Getty Images
Unfortunately, Razzle's untimely alcohol-related death did little to shake the members of Mötley Crüe of their hard-partying lifestyle. And it wouldn't be long until that lifestyle claimed another life. Sort of.
1987 was a big year for them as they had just released their album, "Girls Girls Girls," to great success, and were about to embark on a world tour. In late December of that year, Nikki Sixx was on a binge with fellow rockers from Guns N' Roses and Ratt until he took things too far. Sixx, according to his LA Times Op-Ed, was already pushing the limit by mixing cocaine and alcohol, but it was the use of heroin that proved fatal; he lost consciousness and was pronounced legally dead.
Luckily for Sixx, however, someone was around to call 911, and paramedics arrived to revive him with two shots of adrenaline, so his death only lasted for a couple of minutes. The bassist recounted in the book "The Dirt: Confessions of the World's Most Notorious Rock Band" (via Ultimate Classic Rock) an out-of-body experience he had while dead: "Above me, everything was bright white. I looked down and realized I had left my body. Nikki Sixx — or the filthy, tattooed container that had once held him — was lying covered face-to-toe with a sheet on a gurney being pushed by medics into an ambulance." This was the wakeup call Sixx needed, thankfully, as he's since become an addiction recovery advocate.
Mick Mars' lifelong medical condition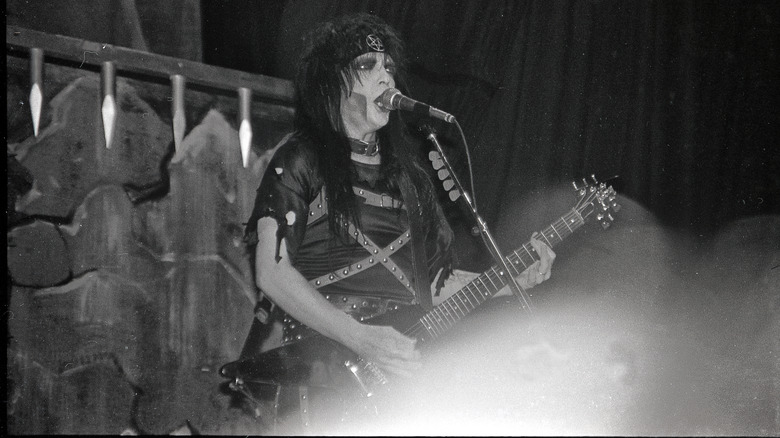 Bill Tompkins/Getty Images
Since he was a teenager, Mick Mars has had ankylosing spondylitis (A.S.), a painful and degenerative disease that's often impaired his ability to play guitar and tour. In Mötley Crüe's book, "The Dirt" (via Variety) Mars talked about the earliest symptoms of A.S.: "My hips started hurting so bad every time I turned my body that it felt like someone was igniting fireworks in my bones. I didn't have enough money to see a doctor, so I just kept hoping that I could do what I usually do: will it away, through the power of my mind. But it kept getting worse." While the condition was a massive inconvenience to his indulgent rock-star lifestyle, it never stopped him from being an active member of the World's Most Notorious Band.
As he's gotten older, however, his condition has only made playing and performing harder. During an extended period when Mötley Crüe was on a break, Mars' condition was so bad that he couldn't play guitar for around two years. While a subsequent hip surgery helped him recover enough to tour with the band, he officially announced that he would no longer be performing live with Mötley Crüe due to the progression of his disease. It was revealed soon after that touring duties would be handled by guitarist John 5, who made a name for himself playing with such solo acts as David Lee Roth, Marilyn Manson, and Rob Zombie.
The death of Vince Neil's daughter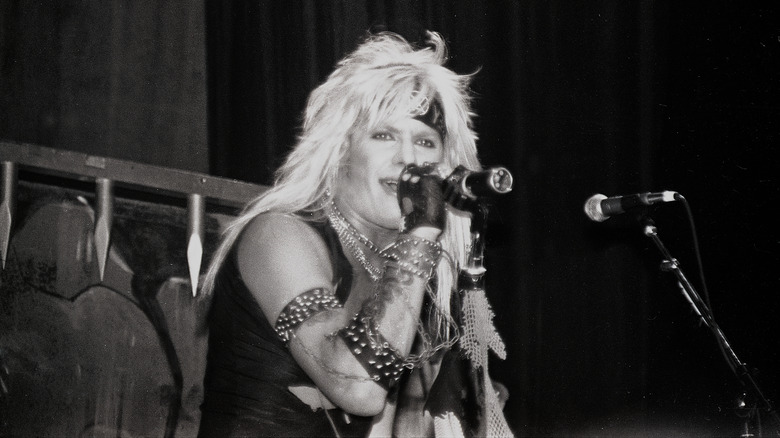 Bill Tompkins/Getty Images
Vince Neil's life in the early 1990s was in a slump compared to the fame and fortune he experienced in the previous decade. He was ousted from Mötley Crüe, he and his wife Sharise Rudell had divorced, and his first solo album, 1993's "Exposed," wasn't exactly a massive hit.
However, Neil's life became even more tragic when his 4-year-old daughter Skylar began showing some symptoms that, while minor at first, quickly worsened. A hospital visit revealed that she had Wilms' tumor, a rare yet potentially deadly form of cancer that affects children's kidneys. Over several months, Skylar underwent multiple surgeries to remove the tumor that had spread throughout her body, along with various chemotherapy and radiation treatments. She was released from the hospital after spending more than a month there, but her return home only lasted a few days when her condition caused her tremendous pain, and she was quickly taken back to the hospital.
Neil recalls to People that he had just gotten home from visiting his daughter in the hospital when he got a call from his ex-wife to return to Skylar's side, saying, "'Her vital signs are dropping ... You'd better come back." Neil recounted that "Sharise sat by Skylar's side as 'Skylar's Song' [from Neil's 1995 album "Carved in Stone"] played in the background. Finally, Sharise told her, 'Don't be scared, sweetie. Go to sleep now. It's all right.'" Despite the doctors' best efforts, Skylar passed away on August 15, 1995.
Nikki Sixx's relationship with Vanity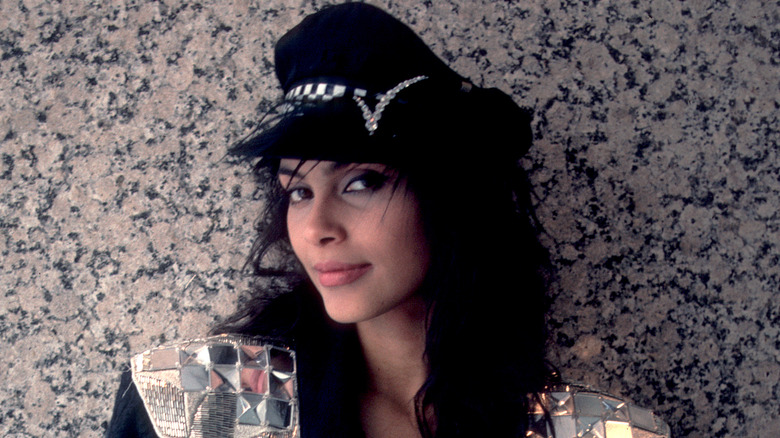 Paul Natkin/Getty Images
Born Denise Matthews, Vanity was a singer, actress, and model who garnered as much notoriety for her personal life as she did for her creative work. She first achieved fame for her romance with Rick James before moving on to Prince, who helped launch her music career, bequeathing her the name "Vanity" and forming the vocal trio Vanity 6. The group produced a hit song in 1982's "Nasty Girl," but that was the extent of their fame, and they broke up the following year with Vanity pursuing a solo career.
While striking out on her own didn't further her music career much, her taste in men solidified her place in popular culture, although not for the best of reasons. After leaving Prince, Vanity struck up a drug-fueled relationship with Nikki Sixx, who was in the midst of a tumultuous time in his life; Sixx revealed in his book, "The Heroin Diaries: A Year in the Life of a Shattered Rock Star," that he learned how to freebase cocaine during his time with Vanity. "As soon as she showed me the real ins and outs of cooking up a good rock, it was love," he writes. While their twisted courtship didn't last long, it certainly contributed to Vanity's growing drug addiction, which culminated in her near-fatal kidney failure in 1994, prompting her to spend the rest of her life as an evangelist. She died in 2016 at the age of 57. 
Nikki Sixx's struggle with depression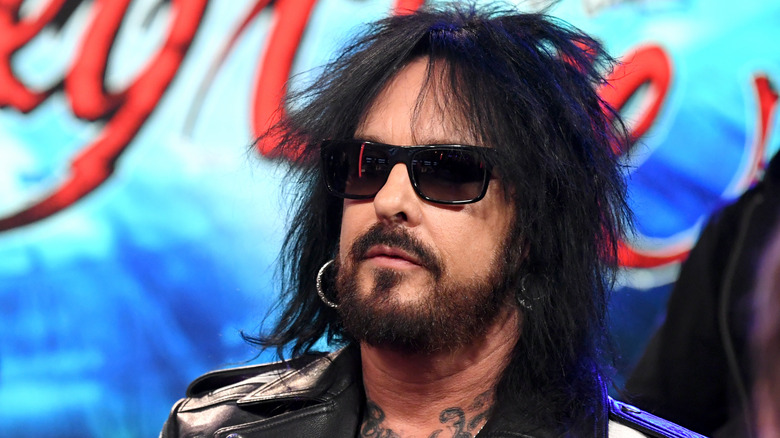 Kevin Winter/Getty Images
From having wealth beyond one's wildest dreams to the constant adoration from fans around the world and more, who wouldn't want a life of cars and guitars? However, what rarely gets discussed is how much of an emotional and mental toll that overnight fame and fortune can take on a person. Case in point: Nikki Sixx. In his sobering book, "The Heroin Diaries: A Year in the Life of a Shattered Rock Star," Sixx recounts how, despite being in one of the most popular bands at the time, he was wrestling with a miserable existence. "I'm gonna go back to the bookstore cause I think I might have depression. Maybe something there can help me? I can't control my moods. I feel like I'm coming apart at the seams... even when I'm not on drugs. If only they knew," he wrote on April 9, 1987.
Since then, Sixx has made it his mission to raise awareness about mental health. He's even called out fellow rocker Gene Simmons of Kiss, who made some thoughtless remarks about people with depression, suggesting that they should simply kill themselves. Sixx responded on his "Sixx Sense" radio show (via Rolling Stone) with, "For people who are depressed, there is a way out. There are many, many ways out. And I don't want people to listen to an interview from a rock star, who's telling you the only way out is out."
Nikki Sixx's paranoia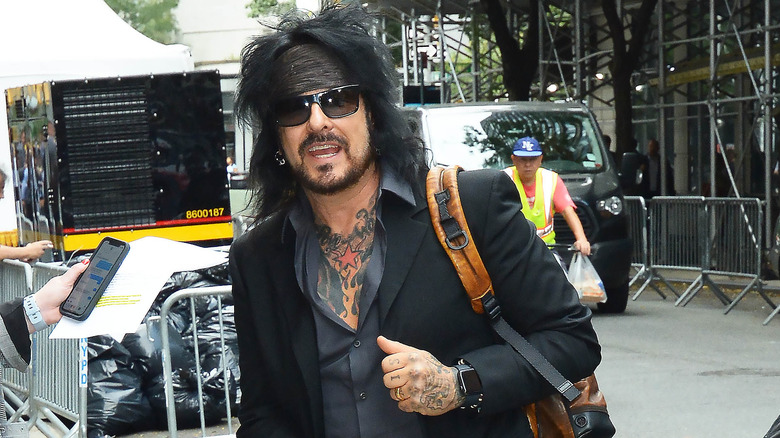 Patricia Schlein/star Max/Getty Images
Between Christmas of 1986 and Christmas of 1987, Nikki Sixx was on top of the world. Mötley Crüe's 1985 album "Theater of Pain" was a huge success (thanks in no small part to "Home Sweet Home" and its domination of MTV at the time), and their 1987 album "Girls Girls Girls" propelled the band even further into the stratosphere.
Yet that one-year period was a living hell for the bassist.
The combination of substance abuse, declining mental health, and instant fame induced in him an extreme sense of loneliness and paranoia. Despite his massive creative and professional achievements, Sixx was left feeling that the world was out to get him and that there was nobody around to help him. His book, "The Heroin Diaries: A Year in the Life of a Shattered Rock Star," largely consists of journal entries from that fateful year wherein he recounts uncountable days spent in his closet, naked and wielding a shotgun in a drug-fueled daze, believing that the police were going to burst in at any moment and put an end to his career. Sixx has since pulled himself out of that dark place, but he still remembers the feelings of that manic year, telling Gigwise, "When I think back on all those years of 'living' that I missed, all the 'experiences' that got canceled because I was shooting up in my closet, hiding, thinking nobody understands, maybe I was right — most people back then probably wouldn't understand."
Vince Neil's money and legal problems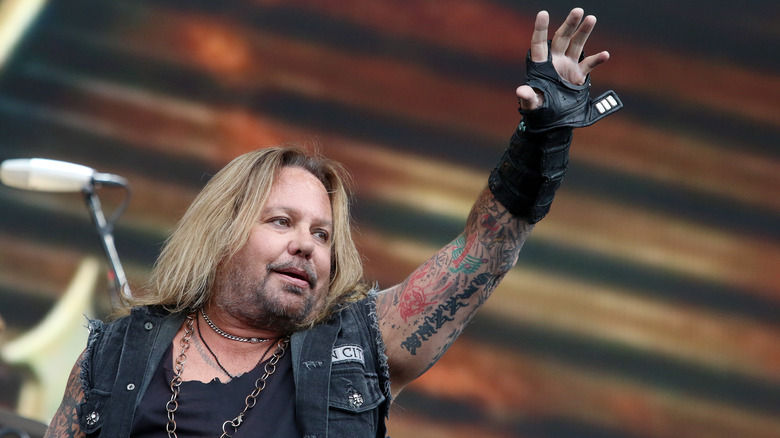 Medios Y Media/Getty Images
As should be quite clear by now, rock stars who live lives of excess are almost always doomed to reap what they sow, and Mötley Crüe's frontman is certainly an example of that. Even well past his 1980s heyday, Vince Neil has gotten himself into all kinds of legal and financial trouble.
According to TMZ, Neil was having lunch with actor Nicolas Cage and comedian Carrot Top in April 2016 at the Aria Hotel and Casino in Las Vegas when a woman named Kelly Guerrero approached the trio and complimented Cage. She claims that Neil responded by grabbing her hair and yanking her to the ground. Neil was charged with misdemeanor battery; Guerro later sued him for lost wages, and for medical expenses incurred over her neck, back, and hip injuries.
The Blast reported that 2019 saw Neil's former lawyer from the firm Howard & Howard Attorneys accuse him of refusing to pay nearly $190,000 in fees, which he owed even as the firm continued to represent him in Guerrero's lawsuit against him. Neil denied the accusations, claiming that his lawyer took advantage of his celebrity status to overcharge him for services.
Vince Neil's drug and alcohol addictions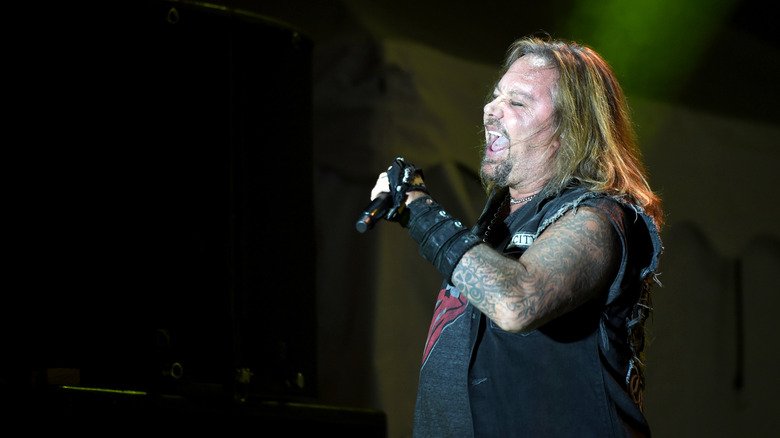 Stephen J. Cohen/Getty Images
Drugs and alcohol are part and parcel of the rock 'n' roll lifestyle, and for many rock stars, these vices follow them long after they've left the stage or the recording studio. Vince Neil's hard-drinking habit is what led to the untimely death of Hanoi Rocks' drummer Razzle. But the tragedy did little to dissuade Neil from alcohol, who told Louder, "I tried [to straighten out] for a while afterwards but then I got back into the same old motions that I was doing before. The band was never supportive of me not drinking and doing drugs. They wanted me to do it, so it happened. I couldn't get out of it."
But that wasn't the only terrible incident that pushed Neil further into his addiction. While the early 1990s saw a bit of a resurgence in his music career, his daughter's death in 1995 only exacerbated his substance abuse. Neil revealed to Louder that "when my daughter [Skylar] passed away [from cancer] it was a difficult time. I really tried to kill myself with drugs and alcohol for months just to try to deal with it. I probably went to three or four rehabs in a year."
Unfortunately, Neil's struggles with addiction continued well into the 2000s. In 2011, he pleaded guilty to drunk driving in Las Vegas, which resulted in a 15-day jail stay and a 15-day house arrest.
The death of 4-year-old Daniel Karven-Veres at Tommy Lee's house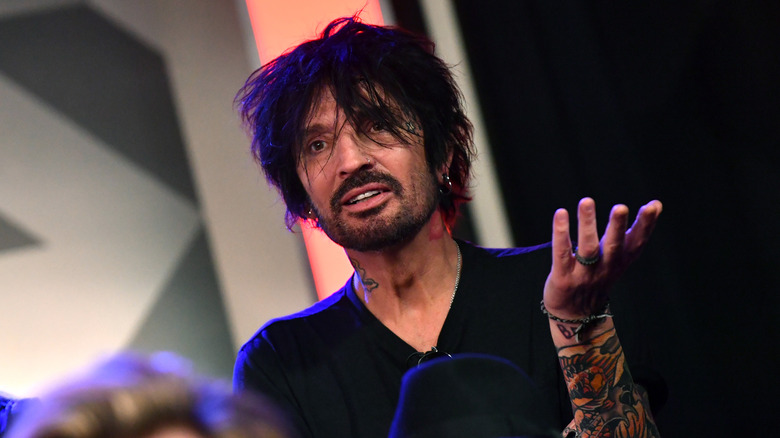 Emma Mcintyre/Getty Images
This is one of the most unfortunate incidents to happen in the world of Mötley Crüe. On June 16, 2001, Tommy Lee was hosting a birthday party at his Malibu mansion for his son Brandon that was attended by 15 preschoolers. What should've been a fun day for the children ended in tragedy when 4-year-old Daniel Karven-Veres drowned in Lee's pool. Christian Weihs was the nanny who chaperoned Daniel to the party, leaving babysitter Judith Zeihm in charge of the young boy. However, Zeihm briefly left the party to walk her dog, which is apparently when Daniel, whose parents Ursula Karven-Veres and television producer James Veres claim didn't know how to swim, drowned at the party. When Lee noticed that Daniel wasn't breathing, he called a 911 dispatcher who instructed him in attempting to resuscitate the young boy, but it was too late.
Despite Lee not being charged of any wrongdoing by the authorities, the Vereses filed a civil suit against him for $10 million, accusing him of irresponsibility regarding the wellbeing of the children who attended the party. The trial lasted for five days, wherein the Vereses' lawyer claimed that Lee's negligence was what caused Daniel's drowning. However, Lee's lawyer pointed out that lifeguards are not required by law at private parties in the state of California. Lee was ultimately found not guilty by a unanimous vote by the jury.
Mick Mars' lawsuit against the band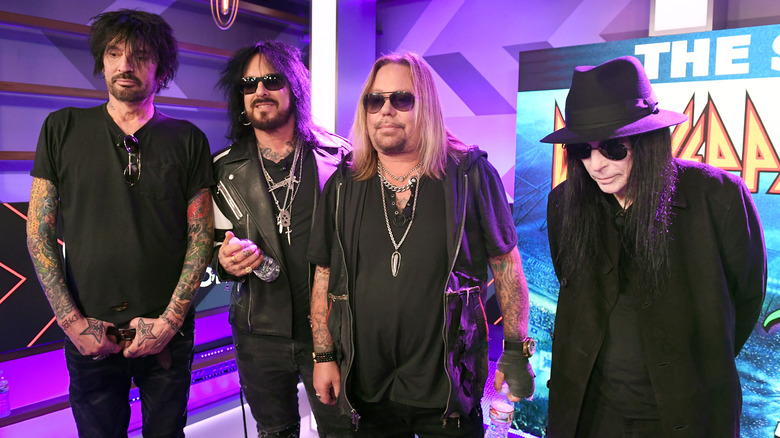 Kevin Winter/Getty Images
There's no shortage of ugly band drama in rock 'n' roll history, and Mötley Crüe is no exception. As previously mentioned, Mick Mars' worsening health condition has led to him taking a smaller role in the band; he released a statement in October of 2022 announcing that, while he's still a member of the band, he will not join them on future tours. However, Mötley Crüe released their own statement not long after Mars' wherein they announced that he had retired entirely from the band. In response, Mars has filed a lawsuit against his former bandmates to reveal business documents that he believes substantiate his claims that they've been trying to force him out for some time.
The Crüe camp has denied these allegations, asserting that the band is both a recording and touring entity; because Mars retired from touring with Mötley Crüe, he effectively retired from the band itself. They also accused Mars of failing to perform at the quality expected of him, claiming that they've done everything they could to hide his dwindling guitar playing from the public. Mötley Crüe's litigation attorney Sasha Frid released a statement to Variety saying that "despite the fact that the band did not owe Mick anything... the band offered Mick a generous compensation package to honor his career with the band. Manipulated by his manager and lawyer, Mick refused and chose to file this ugly public lawsuit."
Tommy Lee's tumultuous family life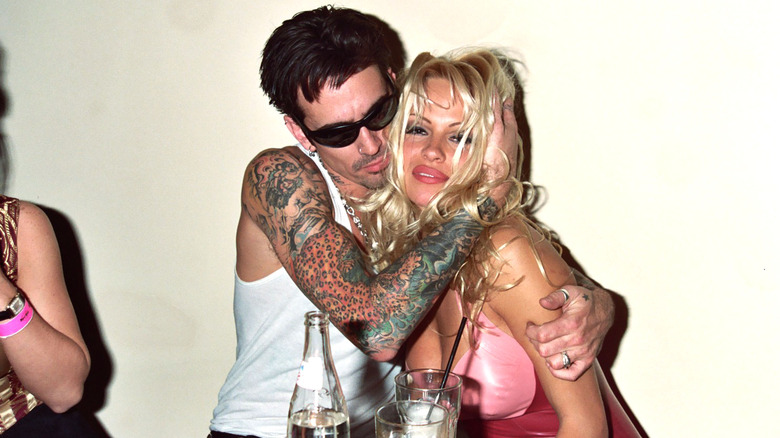 Jeff Kravitz/Getty Images
Tommy Lee has experienced his fair share of ups and downs with Mötley Crüe, but his family life over the years has been no less turbulent. His on again-off again relationship with Pamela Anderson is peppered with controversies and drama that no family should ever have to go through. Early in their marriage, their sex tape was stolen and released to the public which, while not necessarily tragic, didn't bode well for their future. After the two seemingly split for good in July 2001, they became embroiled in a custody battle wherein Anderson accused Lee of multiple instances of emotional and physical abuse against her and their two sons, Brandon Thomas Lee and Dylan Jagger Lee.
While Tommy won partial custody of his sons, his relationship with them has been far from idyllic. Tommy's relationship with Brandon has been particularly rocky, with the two accusing each other of assault. In 2018, Brandon got into a heated argument with his father, leading to a fight that resulted in Tommy being taken to a hospital. In a statement to People, Brandon claimed the fight was connected to his father's alleged drinking. Tommy tweeted the following in response to a TMZ report that Brandon had acted in self-defense: "My fiancé and I were in bed when my son busted into the room and assaulted me. I asked him to leave the house and he knocked me unconscious. He ran away from the police. THAT'S the truth."
Tommy Lee's battle with alcoholism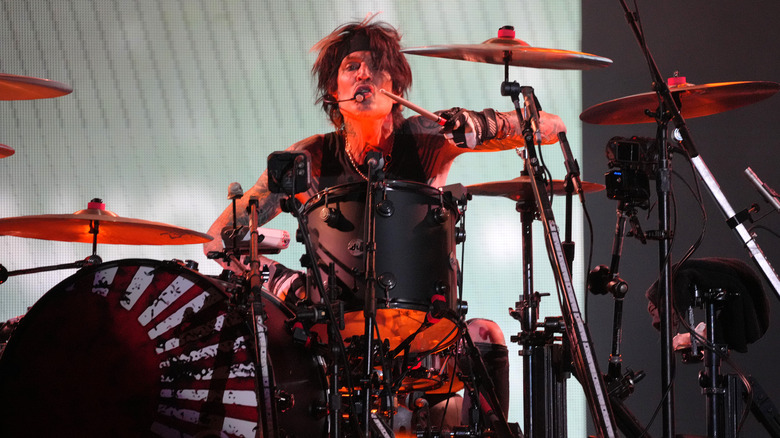 Kevin Mazur/Getty Images
Following Tommy Lee's fight with his son Brandon Thomas Lee, Pamela Anderson wrote about her ex-husband's struggle with alcoholism and the pain it has caused their family, stating that "this matter is ideally between just a father and a son. And rehab if the stars align. I will never talk to Tommy again before he is sober and in his right mind... Nobody understands the lifetime of disappointment this man has brought our family." Anderson further wrote that Brandon, aware of his father's substance abuse, has completely stayed away from drugs and alcohol.
However, it seems that Lee has taken the appropriate steps to address his alcoholism in recent years. He revealed to Yahoo Entertainment in 2020 that he was left with little to do following a Mötley Crüe tour, except hang out in his pool and drink. His wife Brittany Furlan became worried about his growing alcohol use and expressed her fear for his life. "She was like, 'Baby, I don't think I've ever even seen anybody drink that much," Lee says. "'Like, are you going to wake up? Am I going to wake up to, like, you not breathing?' And I was like, 'That sucks. That's not cool to have you worry like that. And it's worrying me.'" Lee took his wife's concerns to heart and checked himself into rehab, and has been clean ever since, even to the point of surprising his doctor with how good his health was.
Mötley Crüe's second drummer, Randy Castillo, died from cancer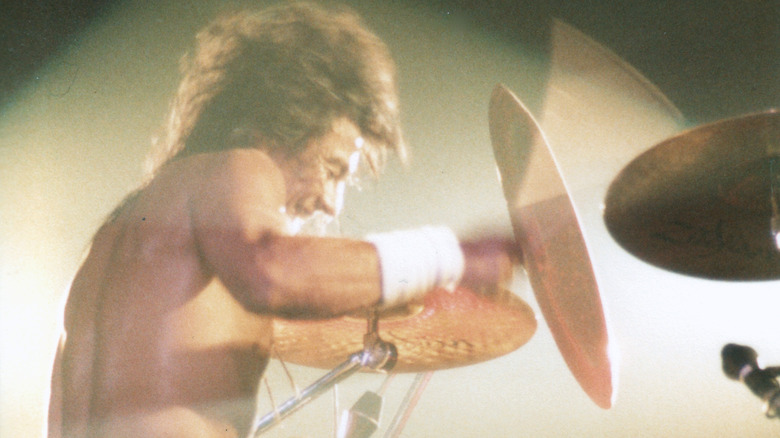 Jim Steinfeldt/Getty Images
While Mötley Crüe's classic lineup will always consist of Vince Neil, Nikki Sixx, Tommy Lee, and Mick Mars, the band has featured numerous other incredibly talented musicians over the years. One of those musicians is drummer Randy Castillo, who replaced Tommy Lee in the late 1990s and early 2000s.
But before he joined the World's Most Notorious Rock Band, Castillo was born on December 8, 1950, in Albuquerque, New Mexico, picking up the drums after seeing the Beatles' American debut on "The Ed Sullivan Show" in 1964. The early 1980s saw him relocate to LA. where he played with higher-profile musicians before playing drums on Lita Ford's 1984 album, "Dancin' on the Edge." However, his real big break came when the "Prince of Darkness" himself, Ozzy Osbourne, tapped him to be his drummer, a collaboration that lasted across three studio albums and their accompanying tours.
Once his time with Osbourne was done, Castillo worked on a variety of music projects before joining Mötley Crüe in 1999 when Lee left the band to pursue a solo career. He recorded an album with them, 2000's "New Tattoo," but his time with them was cut short following a cancer diagnosis. He underwent treatment for the condition — squamous cell carcinoma — and believed it had gone into remission. However, it returned and claimed his life on March 26, 2002, ending the career of one of rock 'n' roll's great veteran drummers.
Nikki Sixx's doppelgänger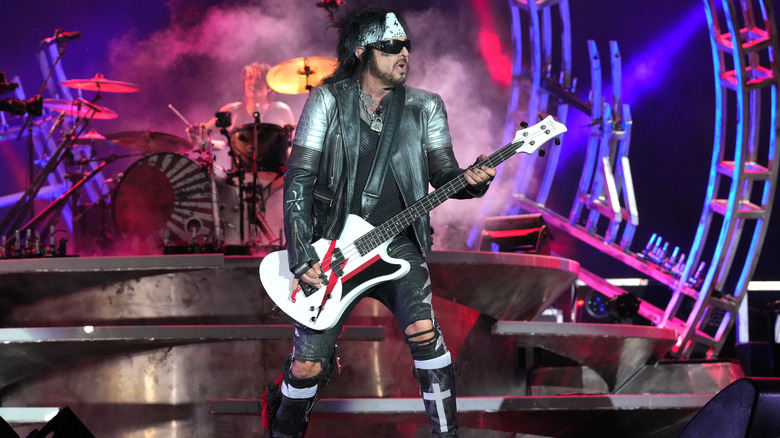 Kevin Mazur/Getty Images
Matthew John Trippe is one of the more bizarre — and tragic — characters to orbit Mötley Crüe. Before he made his way to Los Angeles to become a rock star, he was a young troublemaker who got kicked out of multiple schools and ran away from multiple halfway houses. But what makes Trippe's story so unique is that he claimed he was Nikki Sixx.
Throughout the 1980s, Trippe spread the story that, after Sixx injured his shoulder in a car accident (which really happened), Mötley Crüe needed a bassist so they recruited Trippe to take over not just bass duties, but Nikki Sixx duties. According to Trippe, he wrote several songs that appeared on their "Shout at the Devil" album, and even participated in the accompanying tour. However, when the tour concluded, Trippe was told that the real Nikki Sixx was returning to the band, and he was given his walking papers.
Refusing to back down from his claims, Trippe sued Mötley Crüe manager Doc McGhee in the late 1980s, claiming that he was an official member of the band and that they used songs that he wrote. The lawsuit was ultimately dropped in 1993, and Trippe largely faded back into obscurity, though he never stopped telling anyone who'd listen that, for a brief period, he was Nikki Sixx of Mötley Crüe. He died on December 1, 2014, taking one of rock 'n' roll's weirdest legacies with him.