The Only Time 2 Indy 500 Drivers Died In The Same Race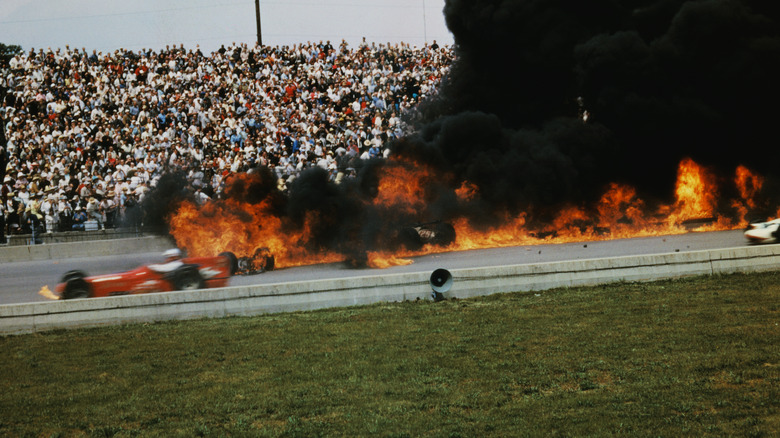 Bettmann/Getty Images
At the Indy 500, man and machine must work in unison to emerge victorious. Held each Sunday of Memorial Day weekend at the Indianapolis Motor Speedway, the Indy 500 is five miles long and typically takes around three hours to complete. Today, top racing speeds often exceed 200 mph (via Motorsport). Any kind of car traveling that fast is dangerous, not to mention the powerful IndyCars that compete at this premiere event. And sadly, since 1911, the first year the Indy 500 happened, a number of drivers, crew members, and even some spectators have died in accidents, per AP News.
On that tragic note, the 1964 race carries a dark distinction for the deadliest accident in Indy 500 history — or the only time two drivers were killed by the same wreck: Dave MacDonald and Eddie Sachs. For this reason, to this day, the accident that killed MacDonald and Sachs at the `64 Indy 500 is known as "Black Noon," as recorded by Art Garner in his 2014 book, "Black Noon: The Year They Stopped the Indy 500." 
In those days, safety precautions weren't what they are now, and a number of other drivers were involved in the accident, among them, Johnny Rutherford, who witnessed the conflagration. Speaking with Motor Trend, Rutherford described the heat like someone opened "the door on a blast furnace."
MacDonald lost control in lap 2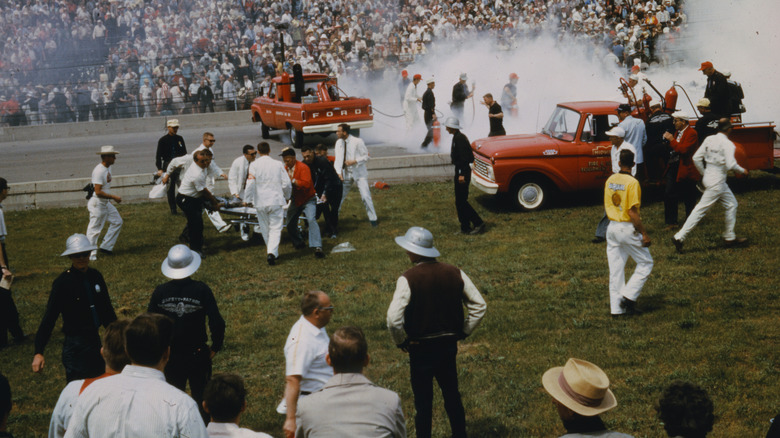 Bettmann/Getty Images
At the 1964 Indy 500, driver Dave MacDonald, a rookie, had moved to the outside of the pack when Walt Hansgen abruptly maneuvered to the left, causing MacDonald to lose control of his vehicle. According to Motor Trend, MacDonald's car spun 180 degrees before it slammed into the wall, broadside. His car then bounded back toward the other oncoming vehicles. At that point, Eddie Sachs' car struck MacDonald's and also blew up. Both Sachs and MacDonald were driving out-of-date rear-engine cars which ran on highly-combustible gasoline compared to the more stable fuel other cars many drivers used at that time, according to IndyStar.
Recalling the scene, driver Johnny Rutherford, who raced that year and witnessed the wreck, said, "I saw a cloud of dust and then a flash of red, a red car. It was sideways off the track. Then it just exploded" (via Motor Trend). Sachs, a flamboyant veteran, died on the scene. While sources vary on the timeline of MacDonald's death, Art Garner writes in "Black Noon," MacDonald succumbed 15 days later in the hospital. Other drivers were badly injured, and it was the first time in Speedway history that the race was stopped for this reason, IndyStar reports. Because of public pushback after the tragedy — some called for the race to be banned — race car designs were better regulated, and methanol fuel became mandated. 
The Indy 500 resumed almost two hours later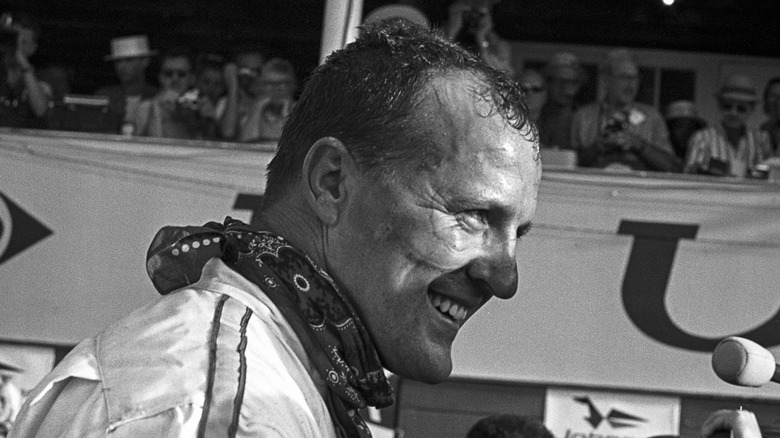 Bernard Cahier/Getty Images
Though the 1964 Indy 500 was "red-flagged" and halted, engines revved back up nearly two hours later, and despite the fact one driver was killed and the other hospitalized with life-threatening injuries, the race finished. Bob Daugherty, an Associated Press photographer who was there that day, later said (via IndyStar), "I couldn't imagine them wanting to have a race after that, but it had to happen. There was a tradition that had to live on. And they ... cranked it up. I got back into my spot and finished shooting the race. I have no idea who won." The Indy 500 winner that year was A.J. Foyt (pictured).
"I am sorry those guys died," Foyt said (via Sports Illustrated). "We are all sorry they died. That is racing. But I am afraid of those rear-engine cars. I am scared of having all that gasoline around me in that type of chassis. Why, damn it, you are sitting on gasoline, you have gasoline on each side of you." Speaking after the race, Foyt added, "You can't let this get you down, about those guys getting killed ... You can't let anyone get too close to you in this game. If they get killed it breaks your heart. And if you are going to race you have got to race alone."