What Happened To Vince Papale From Invincible?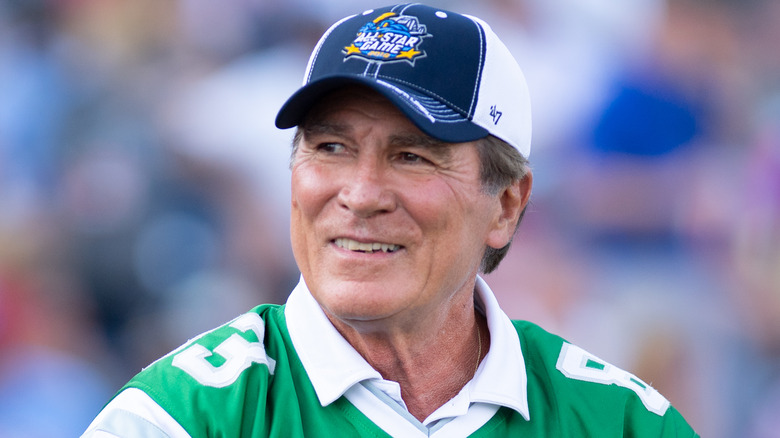 Mark Brown/Getty Images
It's the stuff of legend: A talented high school athlete, who never played football in a college, is given the opportunity to try out for his favorite NFL team, the Philadelphia Eagles. On his resume, a brief stint playing with the Philadelphia Bell in 1974, of the short-lived World Football League, as well as some amateur football teams. This is exactly what happened to Vince Papale when he was 30 years old — Methuselah in the world of pro sports. And to this day, Papale is the oldest rookie in NFL history.
Not only did Papale make the Eagles roster — he played three seasons for the team. He has a 15-yard reception and two fumble recoveries, according to Bleacher Report. This incredible true story is told in the 2006 Disney feature film, "Invincible," starring Mark Wahlberg as Papale. Naturally, the movie version of Papale's life took some creative liberties with the truth. (In the movie, that fumble recovery we mentioned gets run back for a touchdown, as the Chicago Tribune points out.) Meanwhile, the football experience Papale did have is largely glossed over.
Still, Papale was on the Eagles roster for the 1976 through 1978 seasons, and it's an undeniable underdog story, like a real-life Rocky Balboa — who doesn't love that? Once the lights went down on Papale's final pro game, though, what happened to him? Could he ever match that former glory? Like anyone, Papale's post-football life has been marked by some challenges and many victories.
Papale became a sportscaster
Bill Mccay/Getty Images
By 1979, Vince Papale's playing days were done, sidelined by a shoulder injury. Still, Papale's lifelong interest in sports never waivered: He became a part-time sports broadcaster with a local Philadelphia TV station, according to Sportskeeda. From there, Papale transitioned into work as a regional sales director for Frito-Lay, and then as a commercial mortgage banker, according to The Famous People. Later on in life, he worked for Sallie Mae as a senior account executive for higher-education marketing.
Papale's days inspiring people weren't over, though, as he built a career as a highly sought-after motivational speaker, life coach, and mentor, per the Vince Papale website. He told Digital Journal, "The theme around my presentations is always around the 'dream' and that dreams really do come true. My favorite theme is 'born to be invincible.' Everybody has within them the potential to do something great or to do the unthinkable." 
Around 2007, Papale was honored by the Philadelphia Eagles as "Most Outstanding Special Teams Player" for the team's 75th anniversary. As a player, Papale was made Special Teams Captain and given the "Man of the Year" award in 1978. In 2011, Papale was inducted into the Pennsylvania Sports Hall of Fame, Main Line Media News explains, and in 2012, Papale received an Iwo Jima Leadership Award for his leadership work, according to the Marine Military Academy. 
Papale was diagnosed with colorectal cancer in 2001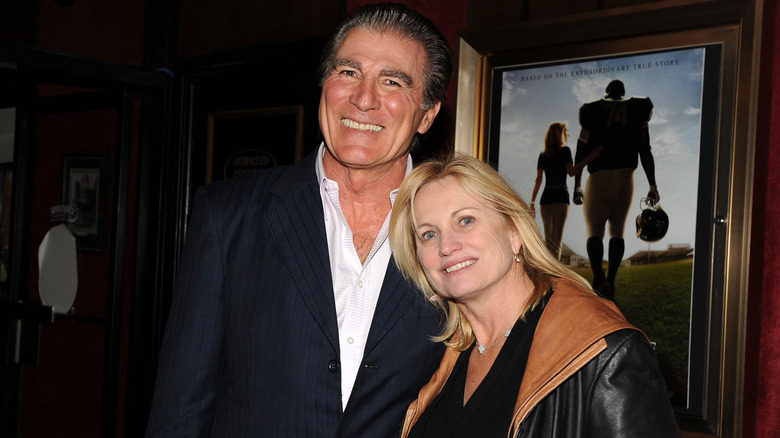 Stephen Lovekin/Getty Images
In his post-football life, Vince Papale also became an author, publishing "Invincible: My Journey from Fan to NFL Team Captain" and "Be Invincible! A Playbook For Reaching Your Full Potential," co-authored with his third wife Janet Cantwell-Papale. Amidst all that success, he was challenged by a colorectal cancer diagnosis in 2001, but he recovered. In the aftermath, though, Papale became an outspoken advocate for colorectal cancer screening at the Thomas Jefferson University Hospital, the Philadelphia facility where he was treated.
Papale has also served as secretary-treasurer for the Philadelphia Chapter of the NFL Alumni Association. He reportedly lives with his wife, Janet, in New Jersey. Papale has two children: Gabriella Papale and Vinny Papale, who is also a football player. When asked about his legacy, Papale told Digital Journal, "I am thrilled that my fans see me as a motivation or inspiration to them. I did it for them and for the dream. Keep the dream alive, and keep grinding and stay true to yourself and those in your family and everything will be fine."
Of all the accolades Papale has received over the years, the 75th-anniversary recognition means the most. "The ultimate award was the receive that 75th-anniversary award from the fans. I was one of them, and to have that dream come true, to go from the nosebleed seats to being caption of the team by your peers, was the greatest honor I could possibly receive," Papale said.