The Inspiration Behind Pearl Jam's Black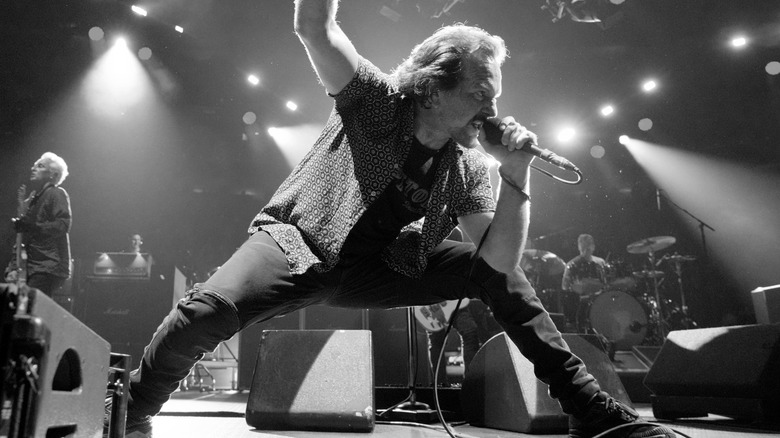 Kevin Mazur/Getty Images
When Pearl Jam released their debut album "Ten" in 1991, it proved as much of a touchstone for the band as it did the era. Standout tracks like the savage, disturbing "Jeremy," soaring "Alive," and rocking "Even Flow" — along with their videos — propelled the band into instant success and acclaim, and stand out to this day for their musicianship, singability, and passion. But buried within "Ten's" eleven tracks dwelled loads of hidden gems. "Oceans" presaged the kind of lowkey acoustics Pearl Jam would highlight on future albums, while the opener "Once" could have easily been another radio-friendly single. But out of all the non-single tracks it's "Black" that's taken on the deepest, longest-held meaning for fans, and grown to become one of Pearl Jam's most often-discussed songs.
As Long As It's Black calls "Black" "one of the saddest songs ever written," and many would agree. For years, singer Eddie Vedder stayed tight-lipped about the meaning of the track, though many assumed it referred to he and his then-future wife Beth Liebling's relationship. The two had dated since 1983, got married in 1994 — three years after "Black's" release — and then ultimately divorced in 2000. Much of the speculation about the song came from Vedder's clearly emotional performance during Pearl Jam's early days, especially his jaw-dropping, painfully soul-baring "Unplugged" performance in 1992. While Vedder hasn't said directly what the song means, he did confirm in the 2011 documentary "Pearl Jam 20" that "Black" is about "love unrequited."
Washed in black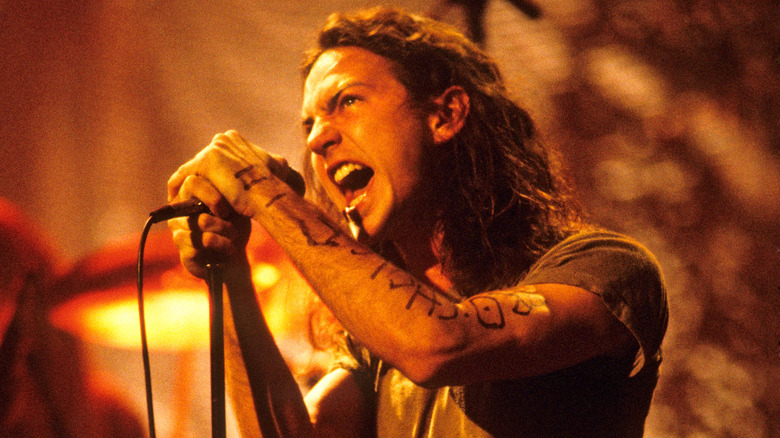 Kmazur/Getty Images
A big part of the appeal, beauty, and power of "Black" isn't just Eddie Vedder's vocal performance, but Vedder's lyrics: "And now my bitter hands chafe beneath the clouds / Of what was everything / All the pictures had all been washed in black / Tattooed everything." Beyond such moving poeticism, the track ends with what is arguably it's most haunting, heart-broken lyrics: "I know someday you'll have a beautiful life / I'll know you'll be a star in someone else's sky / But why, why, why can't it be / Oh, can't it be mine?" With words like these, it isn't hard to see why "Black" stands out, why it impressed people when "Ten" was released, why it's stood the test of time, and why folks want to know more about the story behind its lyrics.
Song Stories Matter says that Vedder wrote those lyrics on the flight to meet his future band — or so the legend goes. Back then in 1990, Pearl Jam was still an incomplete outfit. Guitarist Stone Gossard wrote a five-track instrumental demo that he used to garner auditions for a singer and drummer. The demo contained "Dollar Short," which became "Alive," and "E Ballad," which became "Black" ("Black" is in E-minor). Vedder, who was working at a gas station in San Diego at the time, impressed Gossard with the vocals he laid down for the demo. And on his way to Seattle Vedder apparently drafted the words for "Black."
Unrequited love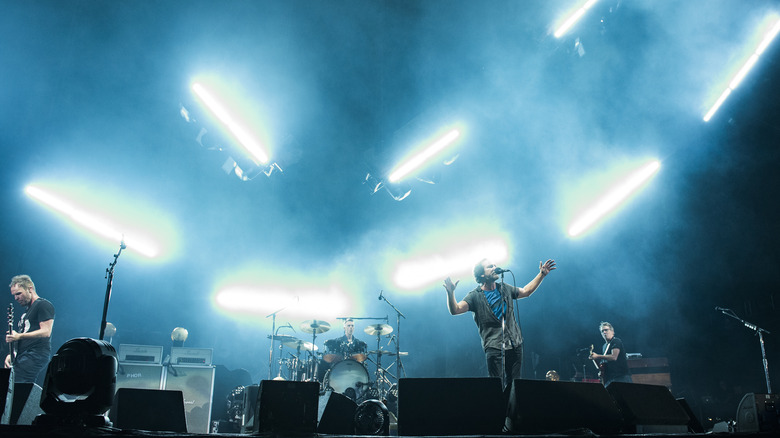 Jim Bennett/Getty Images
If "Black" is such a superb song, some might wonder if it was never released as a single. As Genius says, Epic Records wanted Pearl Jam to release it as a single, but the band said no. "Fragile songs get crushed by the business," Eddie Vedder said. "I don't want to be a part of it. I don't think the band wants to be part of it." As it stands, As Long As It's Black estimates that "Pearl Jam" has performed the song live about 500 times. It's not just the emotional centerpiece of "Ten," but possibly Pearl Jam's entire output. The song's lyrics have also evolved over time. Even by the time the band performed "Black" for MTV Unplugged in 1992, Vedder added the line "We belong together" to the outro.
As far as the meaning of the song is concerned, As Long As It's Black quotes Vedder as saying, "The song is about letting go ... It's very rare for a relationship to withstand the Earth's gravitational pull and where it's going to take people and how they're going to grow. I've heard it said that you can't really have a true love unless it was a love unrequited. It's a harsh one, because then your truest one is the one you can't have forever." That's about as specific as we're going to get. Whether or not Vedder meant this explanation to speak of his first marriage to Beth Liebling remains unknown, but regardless of Vedder's personal reasons for the lyrics, legions of fans can find their own meaning in the song.