Muhammad Ali's Greatest Wins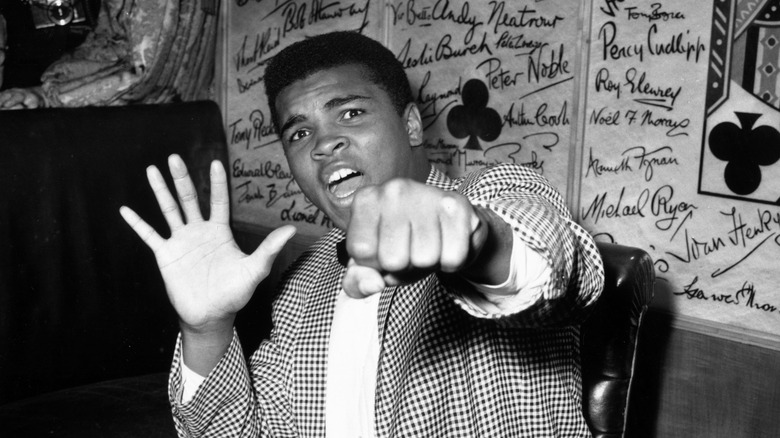 Kent Gavin/Getty Images
No name is more revered in the boxing world than Muhammad Ali. It doesn't matter if you're a casual sports fan or a hardcore boxing aficionado; everyone is aware, at least to some degree, of Ali's legend and status as a global icon.
Ali's name was cemented into the pages of history for his staunch beliefs and refusal to fight in the Vietnam War. An outspoken critic of American foreign policy and the country's treatment of its own Black citizens, Ali became a significant face of 1960s counterculture. Parallel to his journey as one of the most famous activists of his time, Ali forever changed the landscape of sports by becoming arguably the greatest heavyweight boxer ever.
Born Cassius Marcellus Clay Jr. on January 17, 1942, in Louisville, Kentucky, the American boxer would first gain international fame in the 1960 Olympics, winning a gold medal. Turning professional shortly after, Ali embarked on a career that saw him defeat the greatest fighters of his time and secure himself a sports legacy still discussed and lauded today. Here are 12 of Muhammad Ali's greatest victories.
Muhammad Ali proved he was more than just a flashy showman against Henry Cooper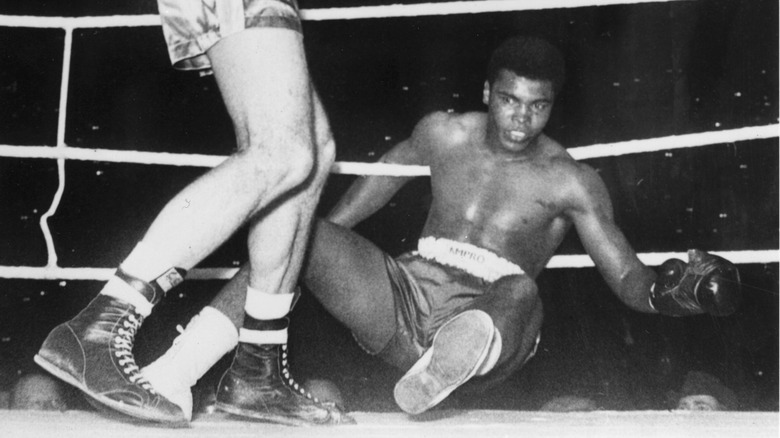 Central Press/Getty Images
In 1963, Muhammad Ali — then known as Cassius Clay — was gearing up for a world title bout against Sonny Liston. But before the brash upstart would get into the ring with the terrifying power puncher, he would travel to London to fight the British and Commonwealth heavyweight champion, Henry Cooper, a resilient fighter famed for his devastating left hook. Cooper had fought many notable names at the European level, but none of this mattered to boxing's rising star. To Clay, Cooper was a "bum" and nothing more than a "warm-up" before challenging Liston (per "Facing Ali").
The two squared off at Wembley Stadium on June 18, 1963. Clay started the fight with three swift jabs. Cooper immediately began throwing his left hook. While it was apparent from the opening bell that Clay had the speed advantage, it was also evident that he was not accustomed to the Englishman's brutal in-fighting game. Within a minute of the bout, Clay's nose was bloodied, and he was complaining to the referee over Cooper's hold-and-brawl style.
By the fourth round, Cooper was dealing with a gruesome cut over his left eye. Clay looked to be in his groove when Cooper suddenly landed a mighty left, dropping his young opponent. Wembley erupted. Clay looked badly stunned, but got to his feet right as the round ended. In round five, Clay poured the heat on the British champion, exacerbating the cut and forcing a stoppage. The victory moved Clay closer to the heavyweight crown, while also proving he was more than just a loudmouth; he was a fighter with incredible heart.
Ali was dominant in his 1970 return against Jerry Quarry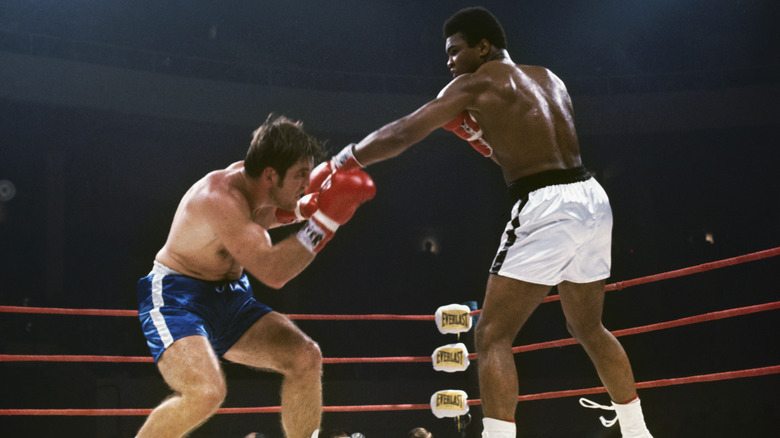 Bettmann/Getty Images
In 1970, Muhammad Ali made his dramatic return to boxing after a three-and-a-half-year suspension from the sport. His opponent was heavyweight contender Jerry Quarry.
Quarry was a solid fighter with a good record. He had quick hands and could pack a punch. By the end of his career, he had distinguished victories over the likes of Floyd Patterson, Ron Lyle, and Earnie Shavers. However, against "The Greatest," the Californian boxer failed to overcome Ali's devastating speed and precision.
From the opening bell, Ali danced around the ring. He peppered Quarry with one-two's and easily dodged whatever was thrown back. In the third round, Ali opened a serious cut over his opponent's left eye and went in for the kill, landing with alarming accuracy. Blood poured over Quarry's face, and the bout was halted after the third round. While not the most thrilling of fights, Ali's comeback proved that the former champion was still in a league of his own and was just itching to reclaim the crown he had never lost.
Muhammad Ali had a hellacious title defense against George Chuvalo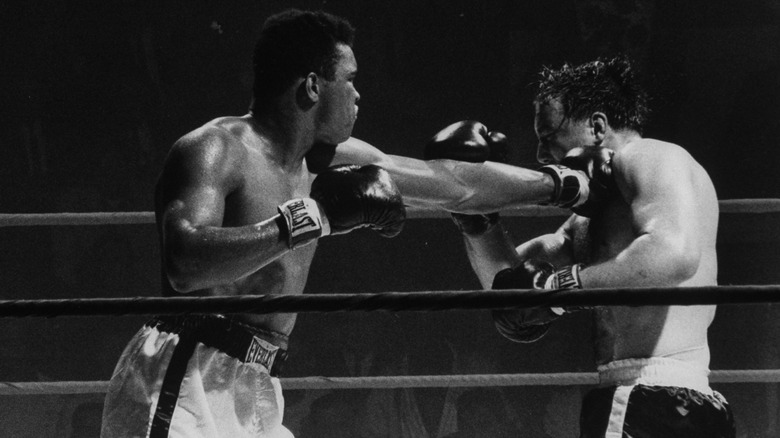 Mark Kauffman/Getty Images
In 1966, Muhammad Ali defended his heavyweight gold against Canadian contender George Chuvalo. The two battled in Toronto in a brutal bout that saw the young champion eat heavy blows to the body. In the 2009 documentary "Facing Ali," Chuvalo acknowledged that he immediately realized Ali was the fastest man he had ever fought. In the first round, Ali famously held Chuvalo behind the head and pulled him close, goading the latter into attacking his body while making a show of how little he felt the punches. "[H]e only did it once," Chuvalo jabbed.
Ali earned a hard-fought victory over 15 rounds. Against Chuvalo, the champion proved that he wasn't just some fleet-footed pretty boy. Even when pulled into the fire, he could emerge with his hands raised.
The fight with Chuvalo holds important historical significance. During this time, Ali was plagued with political issues due to his stance on the Vietnam War and statements regarding possibly being drafted into the military. By 1966, many states began refusing to sanction his bouts, forcing the champion to defend his title abroad for the first time. After his win over Chuvalo, Ali's next three title defenses all took place outside of the United States.
Ron Lyle gave Muhammad Ali some serious trouble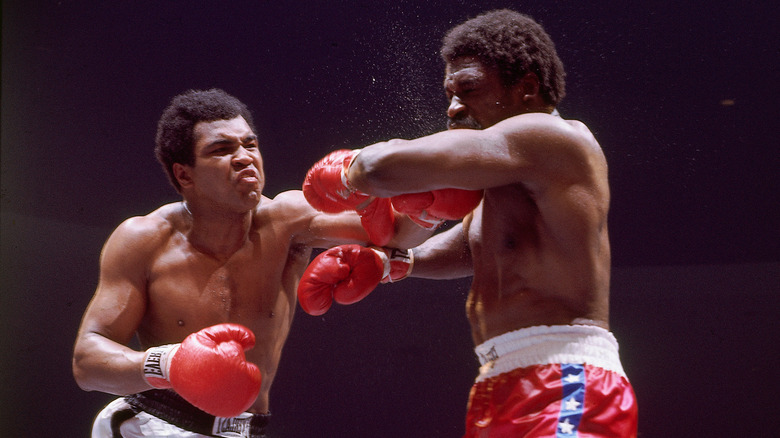 Herb Scharfman/sports Imagery/Getty Images
Muhammad Ali made the second defense of his world titles on May 16, 1975, against the formidable Ron Lyle. By this point in his career, "The Greatest" was an almost mythic figure, inside the ring and out. He was Muhammad Ali. He floated like a butterfly and stung like a bee. He conquered conquerors and talked spectacular smack while doing so.
This meant little to the Ohio-born Lyle, who pressured Ali throughout their bout. However, unlike certain previous opponents, Lyle did not waste energy whaling on Ali whenever the latter shelled up against the ropes. Instead, he relied on precise uppercuts and straight rights that surprised the champion and split his guard, eventually even bruising Ali's left eye. As the bout dragged on, Lyle had built up a lead on the scorecards and seemed to have nullified Ali's famed rope-a-dope strategy.
Instead, Ali found more success in the middle of the ring, blitzing Lyle with quick, accurate right hands. In the 11th round, he landed an incredible right cross that stunned Lyle and pushed him toward the ropes. The champion then unleashed a furious combination, further hurting the contender and causing him to wobble across the ring. Trapped and dazed in the corner, Lyle was forced to eat consecutive right hands and left hooks from Ali, who implored the referee to stop the fight, which he did. The victory over Lyle proved the 33-year-old champion wasn't as fleet-footed as in his Olympic days, but his hands still had their blazing speed and sniper-like accuracy.
Against Floyd Patterson, Ali proved the old guard's time was over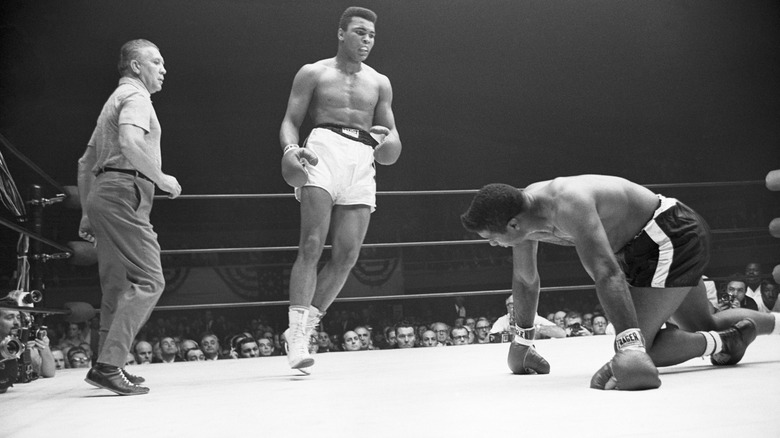 Bettmann/Getty Images
In 1965, Muhammad Ali was ready to bring forth a new era of heavyweight boxing. After his two victories over Sonny Liston, the newly crowned champion faced former titleholder Floyd Patterson, one of the primary champions of the '50s.
In one of his finest performances, Ali put on a masterclass against Patterson. Using his superior reach and speed to full effect, Ali was able to pepper Patterson with shots from a safe distance and tied up the former champion anytime the latter tried to get close. While Patterson did show some slick defensive movement on occasion, he wasn't able to put up any meaningful offense throughout the contest. Knocking his opponent down in the sixth round, Ali punished Patterson with impunity for the remainder of the contest. According to Sports Illustrated, Ali's trainer, Angelo Dundee, begged and shouted in the 12th round: "Ali, knock him out, for Christ's sake!" The bout was stopped that same round.
While Patterson suffered severe back issues before the fight, the bout still proved that a new era had dawned upon the sport. With him, Ali brought forth a level of bravado, speed, agility, precision, and showmanship that heavyweight boxing had never seen. And with such a dominant performance against a veteran like Patterson, it was becoming difficult to imagine someone dethroning boxing's new king.
Muhammad Ali versus Ernie Terrell proved there was only room for one champion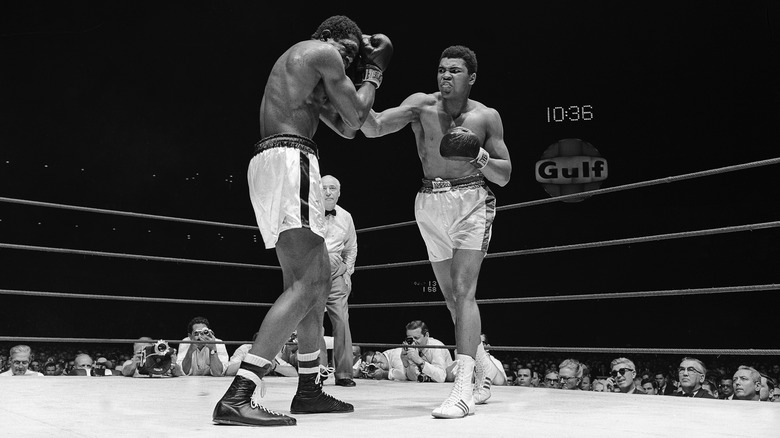 Herb Scharfman/sports Imagery/Getty Images
In early 1967, Muhammad Ali practically cleared out the heavyweight division after defeating fellow titleholder Ernie Terrell. Terrell, known for his terrific left jab, was baffled by Ali's swift footwork and slick head movement and struggled to mount any worthy offense. In a dominant performance that went the distance, a 25-year-old Ali earned a 15-round unanimous decision victory, unifying his world titles with Terrell's WBA championship. After the contest, Terrell was left with a cut over his right eye, and his left eye was nearly swollen shut.
The bout is particularly iconic due to Terrell consistently referring to Ali as "Cassius Clay" during the buildup to the fight, rather than calling the star by his newly assumed name. This led to Ali famously shouting at Terrell: "What's my name?" during the contest.
A month later, Ali would defend his titles for the last time against Zora Folley before being suspended from the sport and stripped of his world titles due to his refusal to be inducted into the American military after being drafted.
Ali once more made history by defeating Leon Spinks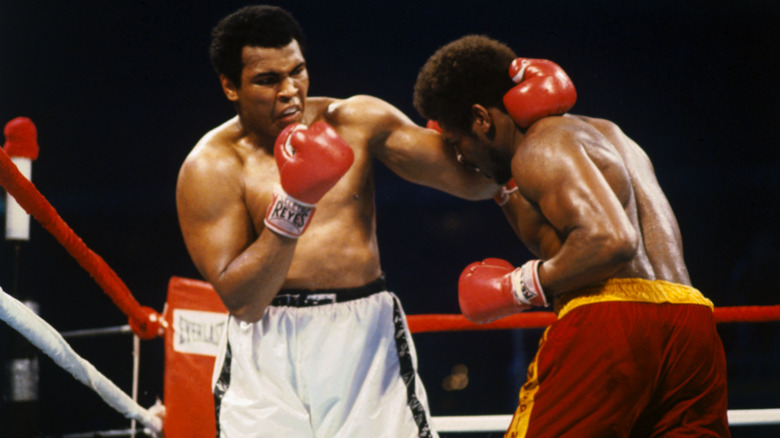 Bettmann/Getty Images
On September 15, 1978, several months after shockingly losing his world titles for the first time inside the ring to a young Leon Spinks, Muhammad Ali made history by becoming the first man to win the world heavyweight championship on three separate occasions.
It was a frustrating contest for Spinks, a fellow Olympic gold medalist, as he frequently struggled against Ali's movement; "The Greatest" consistently halted his younger foe's momentum and rhythm by jabbing and dancing around the ring. Whenever Spinks got close, Ali tied up. For most of the fight, Ali landed with greater accuracy, snapping Spinks' head back with stinging straight rights, and often threw more combinations. In the last three rounds, Spinks was able to turn things around and pressure the older and more fatigued Ali. However, it was too late, and Ali earned a 15-round unanimous decision.
Ali's win over Spinks would prove to be the last victory of his professional career.
Ken Norton was Muhammad Ali's kryptonite
Bettmann/Getty Images
Ken Norton was a puzzle Muhammad Ali always struggled to crack. Having fought three times, "The Greatest" won two of those bouts. However, all three fights were highly contested. George Foreman, speaking candidly in 2009, expressed just how much of a stylistic nightmare Norton was for Ali. "Muhammad Ali, Norton could beat him on any given night. I don't think he's ever beaten Kenny Norton, to be honest with you" (per "Facing Ali").
After losing to Norton in a surprising defeat in early 1973, Ali rematched his new-found rival later in the year. Everything was on the line for "The Greatest." Having lost to Joe Frazier after his return from exile in 1971, Ali went on a tear through the heavyweight division in order to secure a chance to recapture his crown. However, Norton put a dramatic halt to Ali's momentum in March 1973. So, when the two stepped between the ropes again in September, Ali needed an emphatic victory to bounce back, else his career would fall into a dark limbo.
Ali-Norton II was a fantastic fight. Both men pulled every weapon from their arsenal. Ali threw his best punches at Norton and the latter rarely took a step back. Always in front of Ali, Norton pressured "The Greatest" and fought with a gas tank that would've made Captain America jealous, punishing Ali throughout the contest. Right before the 12th and final round, the scorecards were even; whoever won the 12th would be the victor. Ali sensed this and knabbed the round by hitting Norton with some serious combinations, earning the win via a close split-decision.
Muhammad Ali beat one of boxing's most feared punchers in Earnie Shavers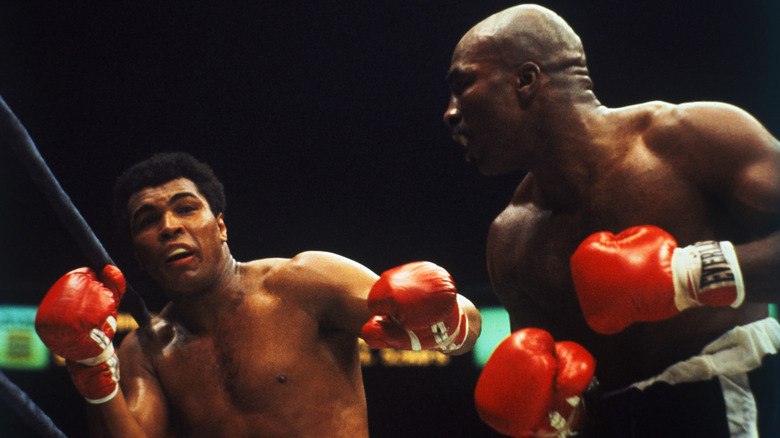 Bettmann/Getty Images
Earnie Shavers was one of the most terrifying punchers in heavyweight boxing history. To put things into perspective, Ken Norton, the man who continuously gave "The Greatest" trouble, fell to Shavers in one round. While not the most polished boxer, Shavers had pure dynamite in his gloves and getting hit by him would surely solve even the strongest case of insomnia.
Muhammad Ali battled Shavers in a brutal 15-round contest. Although he was able to earn a unanimous decision, the champion was forced to eat brutal blow after brutal blow. Simply put, Shavers pulled Ali into a grueling nightmare. After the bout, Ali was always candid about Shavers and his punching power: "Next to Joe Frazier, that was the hardest I ever got hit" (via "Facing Ali"). While not possessing the most scientific fighting style, Shavers was still able to predict some of Ali's pattern of attack, finding opportunities to counter the champion's signature right hand. However, Ali, forever the crafty veteran, was able to hide being hurt and would jokingly wobble his legs whenever Shavers landed something good. "Ali was a very, very smart fighter. He knew how to con you in many different ways," Shavers admitted in the "Facing Ali" documentary.
In the end, Ali pulled out another close victory. He always tried to end every round strong in order to leave an impression on the judges, and in the last round, despite being put through 14 rounds of agony, the champion came out and put on a hellacious pace, staggering Shavers with crisp rights and lefts. With his triumph over Shavers, Ali once again proved to be one of the most resilient boxers in the history of the sport.
Muhammad Ali truly shocked the world when he beat Sonny Liston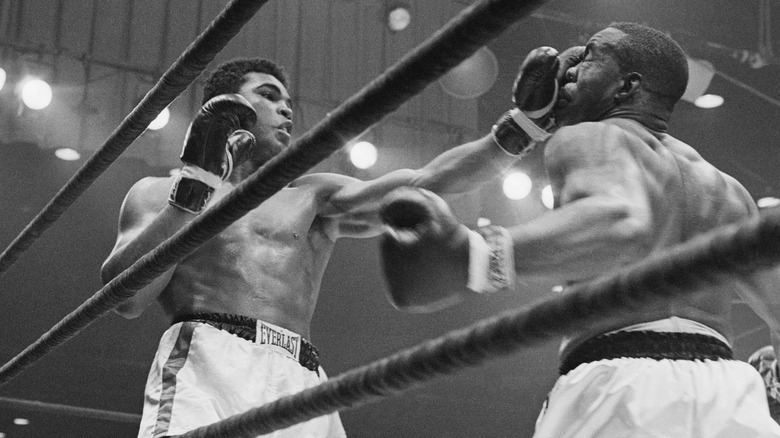 Bettmann/Getty Images
In February 1964, after being dropped by Henry Cooper in his last outing and engaging in loads of trash talk, nobody gave 22-year-old Cassius Clay a real chance to beat heavyweight kingpin Sonny Liston. The fearsome champion was going to destroy the "Louisville Lip." According to The New York Times, only three of 46 journalists covering the contest picked the Kentucky-born boxer to win.
From the opening bell, Liston, a brutal power puncher with a gigantic reach, was only able to hit dust. Clay's agility and speed proved to be the ultimate obstacle. He danced around his opponent with his hands hung low, avoiding Liston's jab by simply leaning his head slightly back. Such a fighting style had never been seen before in heavyweight boxing. Clay had flipped the script. While Liston might've stalked forward, he was anything but the predator. Against the young challenger, the champion ultimately looked like the prey. Equipped with the speed of a lightweight, Clay threw blurry barrages that broke through Liston's bewildered defense; this was the main pattern of the fight. Liston pressed forward and lunged but rarely landed. 
The fight was stopped after the sixth round, with Liston's camp citing a shoulder injury. A thrilled Clay jumped for joy and hysterically shouted at the stunned crowd. Leaving the arena that night, spectators would have had no idea that they just witnessed the beginning of a legend — the legend of Muhammad Ali.
Muhammad Ali shocked the world again when he dethroned George Foreman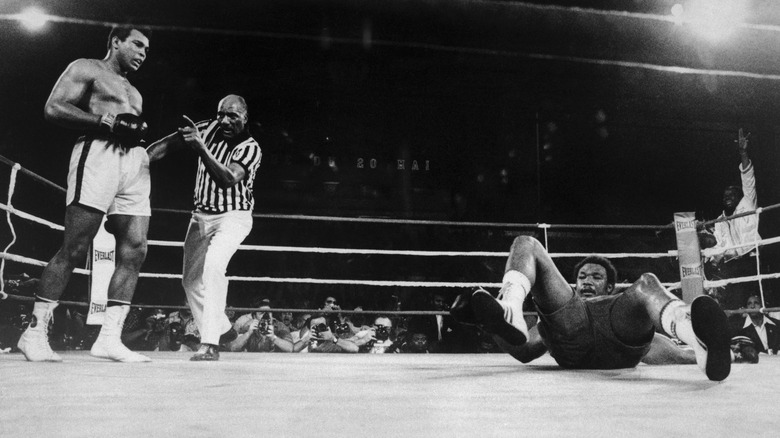 Bettmann/Getty Images
In 1974, a decade after doing the impossible and defeating the unstoppable Sonny Liston, Muhammad Ali was once again a lamb going to slaughter. Except this time, he was 10 years older, and he was going up against another Olympic gold medalist, a knockout artist from Texas — George Foreman. Foreman was going to demolish Ali. With an unblemished record of 40 victories, 37 by knockout, and having annihilated the only two men to have beaten Ali at that point, everyone truly believed the Texan was going to crush Ali. 
How wrong the world was. In one of the most epic battles in boxing history, George Foreman and Muhammad Ali clashed in Kinshasa, Zaire, present day Democratic Republic of the Congo. Once again, Ali shocked the world by defeating his younger and more powerful opponent. 
Early on into the bout, Ali began employing the strange tactic of raising his guard and leaning on the ropes. He let Foreman whale on him. The champion poured everything into his shots, swinging his arms wildly, not caring a bit about defense. Ali took advantage, and peppered Foreman with counters while the latter was in the middle of his offense. Eventually the strategy, now known as the rope-a-dope, paid off in cinematic fashion, with Ali flooring and stopping an exhausted Foreman in the eighth round, giving fans around the world one of the greatest moments in sports history.
Muhammad Ali versus Joe Frazier III is one of the greatest boxing fights of all time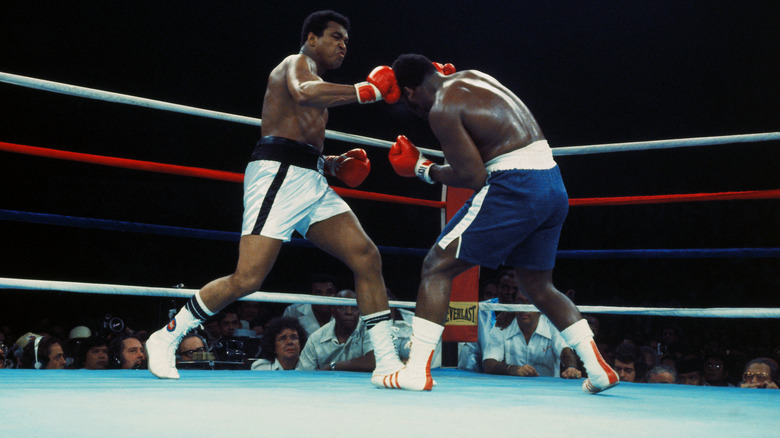 Bettmann/Getty Images
On October 1, 1975, Muhammad Ali and Joe Frazier blessed the world with possibly the greatest boxing match of all time. The fierce rivals, each boasting a win over the other, clashed for the final time in the Philippines in a bout famously titled "the Thrilla in Manila." 
In a grueling and thrilling display of human tenacity, Ali and Frazier put each other through absolute hell. Both men fought with a superhuman pace. Frazier, with his signature cross-armed defense and frantic upper body movement, constantly pressured his rival. "The Greatest" couldn't rely on his rope-a-dope strategy this time around. Frazier's speed and punch selection were far too great for that. He landed brutal shots when Ali was on the ropes, which was often. However, the champion always fired back. With some of the greatest precision ever displayed in a boxing ring, Ali landed blistering combinations on Frazier throughout the fight.
While Frazier had immense success during the middle rounds, the champion began to rally around the 10th. Ali landed with incredible accuracy and punished the challenger with terrible rights and nasty lefts. However, Frazier never went down. Equipped with an iron will, he kept coming forward. By round 14, both men were visibly tired but kept throwing, with Ali getting the better of the exchanges. After one of the best rounds heavyweight boxing had ever seen, both men went to their stools, exhausted. Frazier's corner would halt the fight, giving Ali his greatest and most hard-fought victory and concluding one of the best sports rivalries of all time.