There's A Lot You Don't Know About George Foreman's Life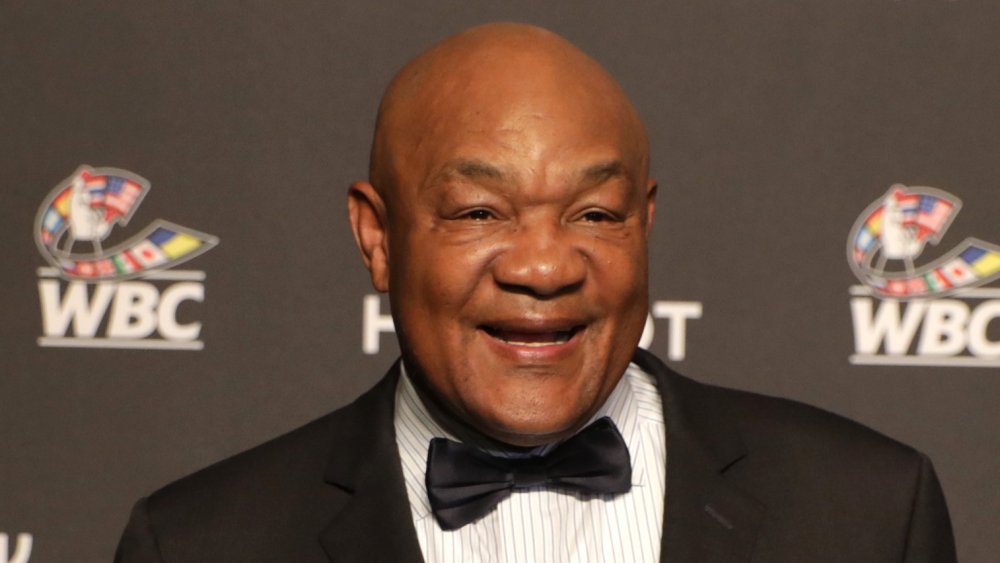 Roger Kisby/Getty Images
A youngster's heart is set on dance, or painting, or acting, or any number of other ways to quickly go broke while pursuing the heart's desire. And a parent/elder/mentor will listen carefully and then suggest, "Make sure you have a backup plan. Maybe learn to type." Or wait tables. Something. A Plan B is not such a bad thing.
George Foreman, born in 1949 in Marshall, Texas, embraced the principle. At 6'4" he would have been a welcome addition to any school basketball team, but he dropped out in ninth grade and became, in his word, a thug, says Biography. In 1965 he joined the Job Corps, which provides free assistance in education and career training. It connected him with a trainer who helped him hone and apply his skills in a more legal fashion. By 1968 Foreman was a member of the U.S. Olympic Boxing Team, taking home gold in the heavyweight division. It's no surprise that Foreman, once simply a Texas hoodlum, went pro.
Weighing in at 218 pounds, he quickly earned a reputation as a fierce competitor in the ring. He won his first 37 professional fights before he went up against the legendary Joe Frazier in 1973, a fight George won to earn the heavyweight title. The next year he fought Muhammad Ali in the "Rumble in the Jungle" — Foreman lost by knockout for the first and only time in his career.
Foreman has won the heavyweight title twice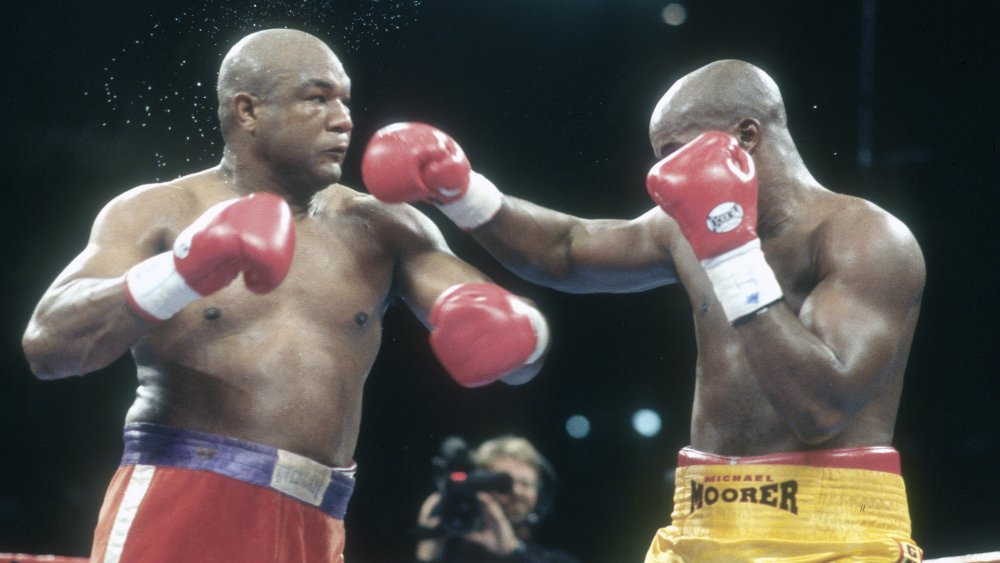 Focus On Sport/Getty Images
Foreman was working his way back toward the title when he lost to Jimmy Young in 1977. In the locker room afterward, he had an encounter with God: "I believe in you," he said, "but not enough," according to a 2003 interview on BeliefNet. He became enclosed in what he describes as "a deep dark nothing over my head, under me, all around me was just a dump yard of every sad thought I ever had in my life, multiplied like nothing." He responded to the darkness, "I don't care if this is death, I still believe there's a God." A hand lifted him out of the darkness and he came to on the table in the room, "and I started screaming words I never screamed before that Jesus Christ was coming alive in me. And I jumped in the shower started screaming 'Hallelujah, I'm clean, I'm born again, I'm going out to save the world!' and they said, 'You better put on some clothes first.'"
He became an ordained minister and returned to North Houston, where he joined the Church of the Lord Jesus Christ, reports The Daily Record. When the congregation began to break apart in 1980 he stepped into the breach and brought it back again as its pastor, and established his passion project, a youth center.
Foreman became a minister after a post-match encounter with God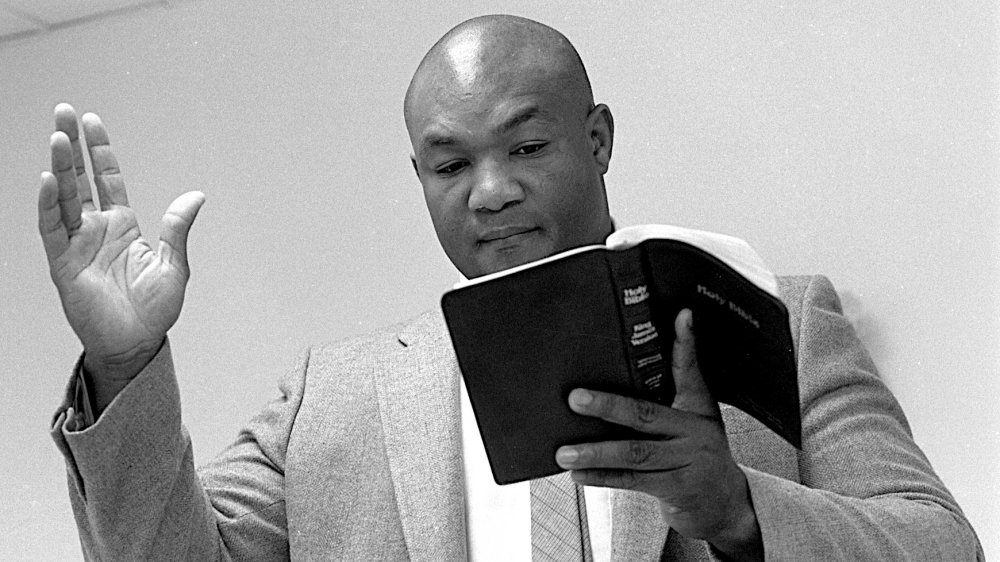 Michael Brennan/Getty Images
In 1987 the center needed an infusion of funds, and Foreman, at 38, fought for the paydays on Saturday nights, returning in time to preach on Sunday morning, says The Sun. In 1994, at 45, he won the title for the second time — the oldest boxer to do so — against an opponent 19 years his junior. He retired five years later, with a record of 76 wins (68 by knockout) and five losses.
If you've done it not once, but twice, there's bound to be the temptation to try one more time. Foreman was in his mid-50s, reports TMZ — "I was in shape and everything," Foreman said — but his wife disagreed, telling him, "George, isn't that the way you want to leave the sport, believing that you can still do it?" It was a moment of clarity: "I got closure right there and I walked away."
Married five times, with 12 children, he's famous for naming his sons George. People reports: "If you're going to get hit as many times as I've been hit by ... you're not going to remember many names." He's made a tidy fortune hawking his signature grill products on TV, but his ministry is where he truly invests his time and energy. As he told The Sun, "On Sunday evenings, I understand that people need something to help them all through the week. I have the New Testament to draw on. It's 2,000 years old. I can't run out of ideas."