The Untold Truth Of Josh Freese, The Foo Fighters New Drummer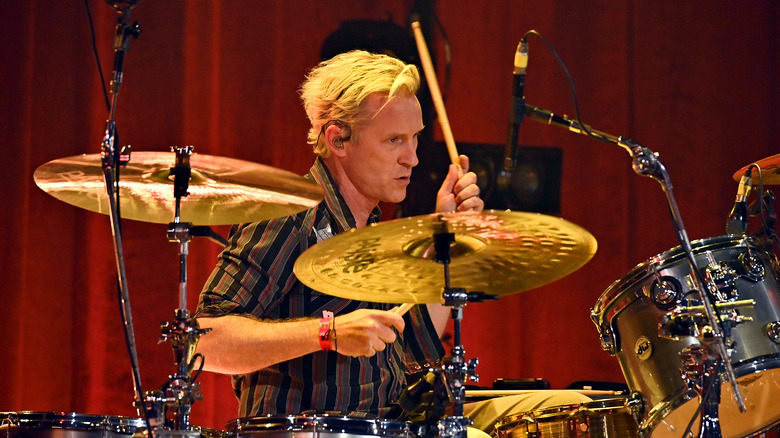 Andrew Toth/Getty Images
On March 25, 2022, the music world lost one of the biggest personalities, and talents, to ever sit behind a drum kit: Foo Fighters drummer Taylor Hawkins, who passed away unexpectedly while on tour with the band at the age of 50. Beloved in his band and among fans and fellow musicians alike, Hawkins' passing prompted not so much an outpouring of sympathy as a tidal wave. A pair of September 2022 tribute concerts, one in London and one in Los Angeles, brought out all of the stars, with the LA gig clocking in at over six hours — and the list of drummers who signed up to honor Hawkins was a literal who's-who of some of the greatest of all time.
Among such legends as Lars Ulrich of Metallica, Stewart Copeland of the Police, Brad Wilk of Rage Against the Machine, and Chad Smith of Red Hot Chili Peppers — plus Hawkins' son Shane, a talented drummer in his own right — there was one man whose name might not have been immediately familiar to the audience. His body of work, though, speaks for itself — as does his prodigious talent. In May 2023, Josh Freese, a longtime friend of both Foo Fighters frontman Dave Grohl and Hawkins, was tapped to fill Hawkins' throne. If the question on the minds of many fans was, "Um, who?" the answer should satisfy those fans completely.
Music is in his blood
In all the annals of music, one could probably count those fitting the description "renowned tuba soloist" on one finger, and said finger would represent Stan Freese, Josh Freese's father. A multi-instrumentalist, Stan specialized in the tuba, and in the '70s, he appeared on such TV shows as "Hee-Haw" and "The Lawrence Welk Show" plying his unusual trade. His genial personality and the extraordinary skill with which he played his instrument during segments with titles like "Play That Country Tuba" (pictured above) made him a good fit for that decade's television airwaves, and his wholesome approach to his craft made him an even better fit for his longtime main gig: conductor of the Disneyland Band, and the talent booking agent for that storied park.
According to Scott Wolf, the author of the as-yet-unpublished Stan Freese biography "Music, Mayhem, and the Mouse," Freese's life has been ... colorful, and not quite as wholesome as his musical persona. Despite struggling with alcoholism, he was a mainstay at Disney parks for over four decades beginning in 1971; he played at the White House, on television, and at punk rock concerts; he once led the band down Disneyland's Main Street in his bathrobe while high on marijuana. (Yes, really.) He also worked with the U.S. Army School of Music, and founded a music education program for elementary school students — a natural fit, as he imparted the music bug to his own young son.
He started playing drums as a pre-teen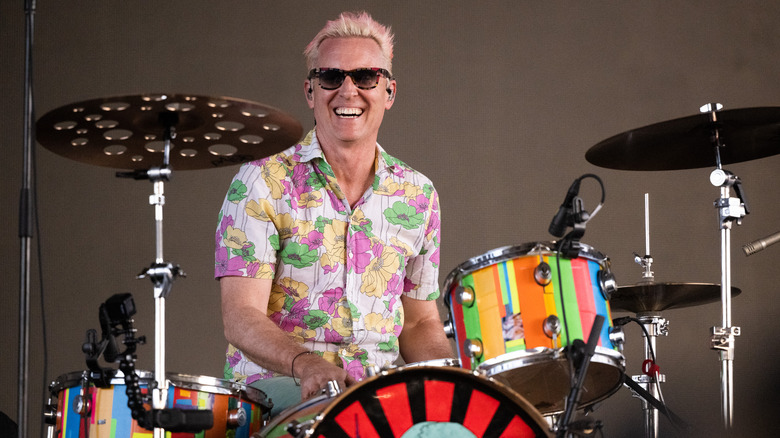 Scott Dudelson/Getty Images
Speaking with Modern Drummer, Josh Freese remembered how his introduction to the drums came courtesy of a Yamaha Recording series kit, a "pretty extravagant first kit," which was gathering dust in his dad's attic. (Stan Freese had an endorsement deal with the company.) He asked his parents to haul it down for him, and they complied, with Stan giving his son his first lesson. "I remember my dad sat down behind the drumset and played the simplest 4/4 beat, and it sounded like a record to me," Freese said. "He told me to try it, and I was able to do it right away." 
Transfixed, young Josh immediately began learning all that he could about drumming, not only from the popular records of the day, but from any authority he got the chance to speak to. "My mom remembers how I'd get up at 7:00 a.m. to call [famed cymbal manufacturer] Zildjian on the East Coast before I went to school," he said. "I'd be talking shop with [manager] Lenny DiMuzio when I was in the fifth grade." His obvious talent and LA residency got him in the door to receive tutoring from such drum giants as Missing Persons' Terry Bozzio and veteran session man Gregg Bissonette, and by his teen years he was hanging out with legends like Motley Crüe's Tommy Lee and Jeff Porcaro, who played with the likes of Steely Dan and Toto, and who laid down drums on four tracks on Michael Jackson's "Thriller."
He played in a Disneyland band as a teenager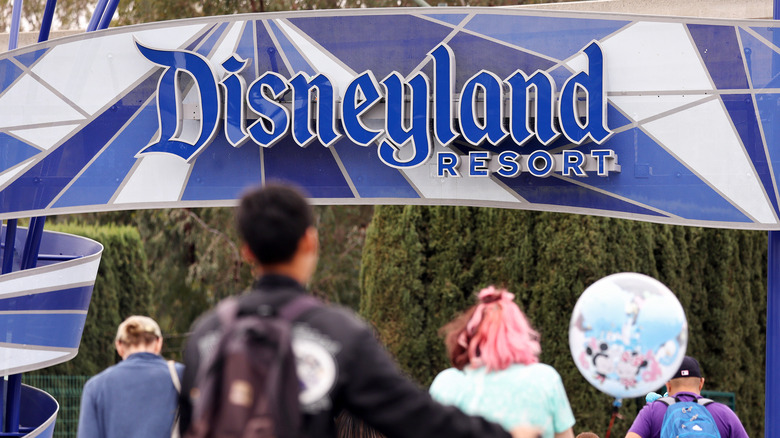 Mario Tama/Getty Images
Josh Freese also reminisced fondly during his Modern Drummer sitdown about his first drum teacher, Ron Romano, a relationship that came to a close when Stan Freese hooked Romano up with a job playing at Disney World in Orlando. While young Josh was upset ("I cried when Ron left," he remembered), it wouldn't be long before he would follow in the footsteps of his musical mentor by drumming for the House of Mouse. At the age of 11, Freese had attended a National Association of Music Merchants conference, at which his impromptu performance on a set of Simmons electronic drums had landed him a deal with the fledgling company to promote their product. Freese even appeared in a TV commercial (which you can catch on YouTube), and his proficiency with the electronic kit got him a slot in the lineup of Polo — a band composed of youngsters and formed specifically for Disneyland performances.
At the tender age of 14, while drumming for Polo, Freese's unbelievable chops landed him a profile in the Los Angeles Times. In it, he expressed his desire to become a "household name," and while he acknowledged that his singular focus didn't allow him much time to hang out with his friends, he didn't seem too bothered. "I'm proud of what I've done and what I'm doing," he said. "I just want to play drums, and I want to do it the rest of my life."
Josh Freese had some eclectic influences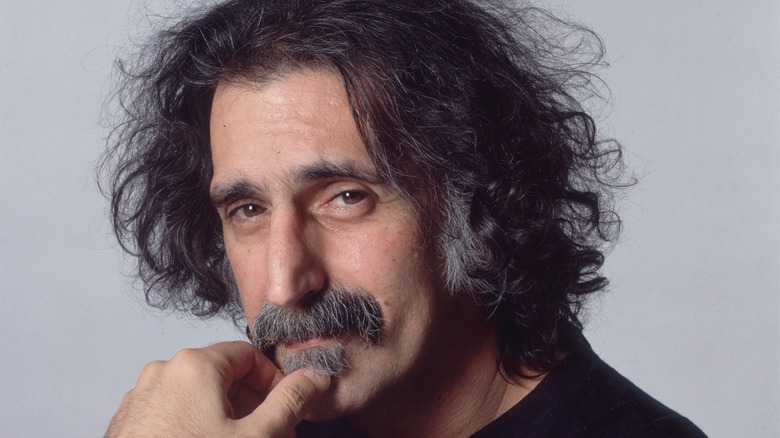 Nancy R. Schiff/Getty Images
While Josh Freese definitely put in time playing along to Van Halen and Queen records, he had another early influence that was pretty darned quirky for a kid his age. Speaking with Spin, he recalled the special relationship he had with art rockers and New Wave pioneers Devo, and particularly their 1980 LP "Freedom of Choice." "It was the first album I got, when I was 8 years old," he said. "I sat in my basement and played along to it all the time ... It's fun in the way that it's very metronomic and the patterns are very deliberate." 
As Freese started to pay attention to what other drummers were holding up as influences, he started to notice a common thread among his heroes, folks like Terry Bozzio, session legend Vinnie Colaiuta, and jazz fusion technician Chad Wackerman. "They were saying, 'Playing with Frank Zappa [pictured above] was so challenging — playing with Frank was so this, playing with Frank was so that,'" he told Modern Drummer. "So I started going out and buying Zappa records, and I became infatuated with that music at a pretty young and impressionable age." Freese never did get to jam with Zappa, who passed away in 1993. One of his first major professional partnerships, though, constituted the next-best thing.
One of his first gigs came with the son of a legend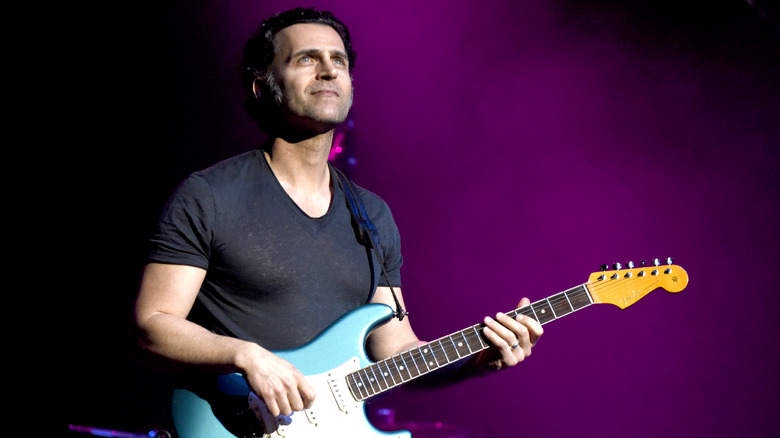 Tim Mosenfelder/Getty Images
Dweezil Zappa (pictured above) is a songwriter and guitarist in the very mold of his father — his compositions are complex, virtuoisic, and wildly eccentric, and when he put together his own band, it was pretty much a matter of necessity that he poach musicians from the most recent incarnation of Frank Zappa's band. Dweezil recruited guitarist Mike Keneally and bassist Scott Thunes for his 1991 LP "Confessions," and on drums, he took a chance on a teenager who seemed to know his way around unconventional compositions with weird and abrupt time signature changes: Josh Freese, who was an acquaintance of Dweezil's younger brother Ahmet.
The opportunity to play with the son of one of his musical heroes would constitute a bit of foreshadowing for Freese, as the exposure opened doors for studio work. But in his Modern Drummer interview, Freese also credited his time playing with Dweezil's band, and with Thunes in particular, with broadening his musical horizons to an extent that would benefit him throughout his career.
Josh Freese has been an in-demand session musician for decades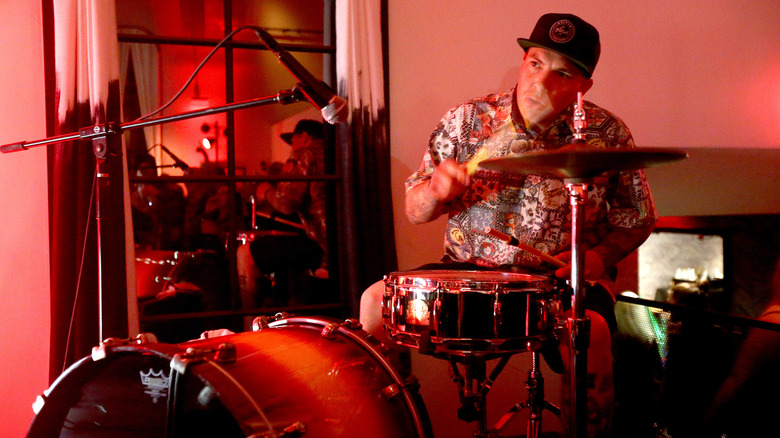 Tommaso Boddi/Getty Images
While on a break from touring with Dweezil Zappa's band, Josh Freese killed time and made bank by hooking up with soap opera star-turned-musician Michael Damian for a tour, which brought him into the orbit of bands such as Infectious Grooves and Suicidal Tendencies, who recruited him for studio work. Before long, those sessions were coming fast and furious. In the five years between 1992 and 1997 alone, Freese notched recording credits with artists as varied as Paul Westerberg, Juliana Hatfield, Boxing Gandhis, Meredith Brooks, Indigo Girls, The Wilsons, and Rickie Lee Jones.
Despite holding down membership in several bands as either a full or partial member, Freese kept showing up to the studio for pretty much anyone who asked — and a lot of people were asking. Throughout his career, Freese has appeared on over 400 recordings, including a number of stone-cold classics across multiple genres. His drum work has been featured on such LPs as "Breakaway" by Kelly Clarkson, "Under My Skin" by Avril Lavigne, "Any Port in a Storm" by Dirty Heads, "A Taste of Bublé" by Michael Bublé, "Raditude" by Weezer, "Hard Times and Nursery Rhymes" by Social Distortion, and "10,000 Gecs" by 100 gecs.
He has been a full member of three iconic bands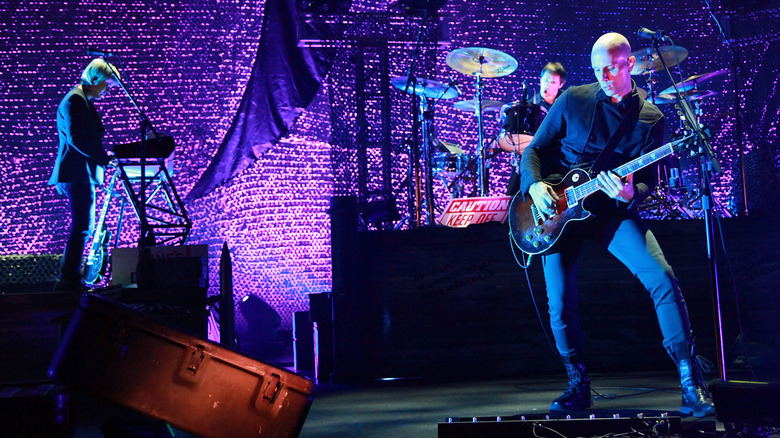 David Livingston/Getty Images
Even as he was putting in time with Dweezil Zappa's band, Josh Freese was also playing with The Vandals, who had been seeing some success on Southern California's punk scene since forming in 1980. Freese joined in 1989 at the tender age of 17, just in time for the band to get their most significant national exposure to date with their 1990 LP "Fear of a Punk Planet." Freese would continue as a key member of the band for over 30 years and a slew of studio and live albums, most recently 2021's "25th Annual Christmas Formal" — but the drummer has never been a one-band type of guy.
In the late '90s, Freese was recruited by Tool frontman Maynard James Keenan to join with him, guitarist Billy Howerdel, and ex-Failure member Troy Van Leeuwen to form the arty, metal-y side project A Perfect Circle, which counted the drummer as a full member until his departure in 2012. But in 1995, Freese landed the gig of his dreams — as the new drummer for Devo, who had so inspired him to pursue his craft as a kid. Freese is still technically a member of the band, most recently appearing on the 2015 live album "Hardcore Devo Live!" 
He's been a partial member of pretty much every band ever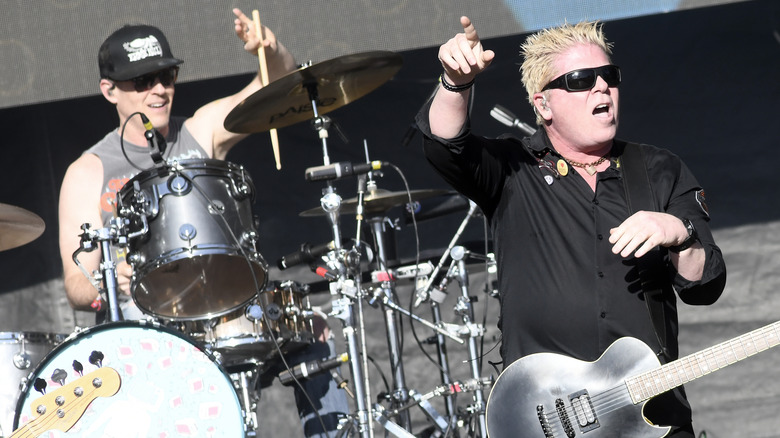 Tim Mosenfelder/Getty Images
As if all of the above credits don't constitute enough of a supremely hardcore discography, Josh Freese has worked extensively enough to be considered a partial member of a slew of other bands. He's put in time as the touring drummer for former Police frontman Sting, and appeared on a handful of his studio albums; he's also appeared on multiple LPs by such bands as The Offspring (pictured above), Puddle of Mudd, Miley Cyrus, and Rob Zombie, in addition to recording for the likes of Lana Del Rey, Bruce Springsteen, Steve Perry, Richard Marx, Chris Cornell, and legendary spoofster Dr. Demento. Freese is, one might say, the very definition of versatile.
He has also put in multi-year tenures with two other slightly notable outfits: Guns N' Roses, with whom he served out a two-year contract in 1998 and 1999, and Nine Inch Nails, whom he joined in 2005 and departed in 2008. Freese's involvement in both bands ran deeper than a simple role player; with Axl Rose, he co-wrote the title track to Guns' long-awaited comeback album "Chinese Democracy," and upon his departure from NIN, Freese related to fans that the gig had been enormously creatively fulfilling, saying, "I'm a big believer in Trent [Reznor] and his music, and feel fortunate and privileged to have had the chance to work alongside of him and be a part of what he does for the past three years."
His time in Guns N' Roses ended on a sour note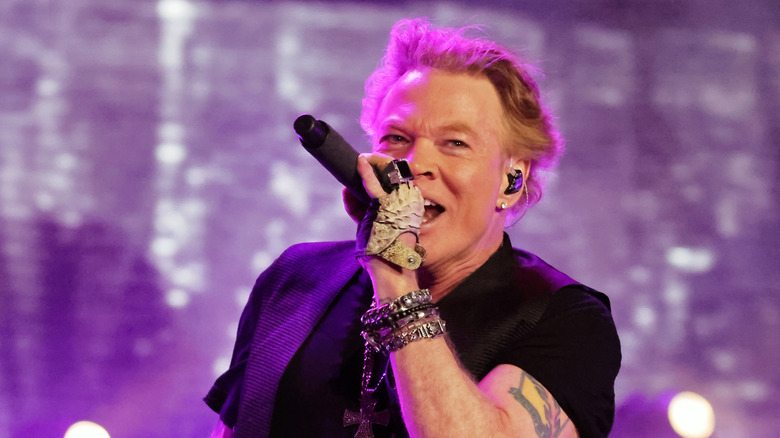 Amy Sussman/Getty Images
The production of Guns N' Roses' 2008 LP "Chinese Democracy" could politely be described as "troubled," or, more accurately, as "a 17-year-long train wreck." That was the amount of time between its release and the release of Guns' previous albums, 1991's "Use Your Illusion I" and "Use Your Illusion II," and the band's fans spent much of that time debating as to whether the perpetually in-the-works project was ever actually going to happen. Josh Freese was in the middle of his two-year stint for Guns when he helped to pen the title song (all the way back in the late '90s), and after leaving the band, he disclosed that he had recorded drum tracks for fully 30 tunes meant for the album — but while his compositions appeared on the finished product, his playing did not.
This is because famously eccentric frontman Axl Rose (pictured above) insisted that Freese's replacement, legendary Primus drummer Bryan "Brain" Mantia, re-record all of Freese's parts, note-for-note. In an interview with EQTV, Mantia shared that the re-recording was a massive undertaking, costing $300,000 and spanning about five years. As for Freese, he told YouTube channel Appetite for Distortion in 2022 that he had astutely realized that the album's recording was liable to drag on well into the next millennium, and by the time his contract was up, A Perfect Circle was beckoning, making his decision to depart Guns N' Roses a pretty easy one.
His brother is also a gifted and prolific musician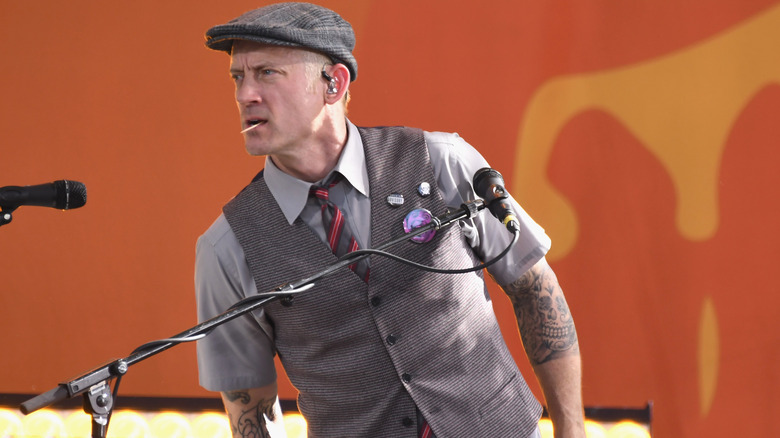 Gary Gershoff/Getty Images
The musical inclinations of the Freese family are not limited to Josh and Stan. Jason Freese (pictured above), Josh's younger brother, has also honored the family's musical legacy as an in-demand studio musician and sometime member of several bands; he is an ace saxophonist, and also knows his way around the keyboards. Jason has joined Josh on several recordings, including tunes by The Vandals, Sublime with Rome, and A Perfect Circle; on his own, he's contributed to recordings by the likes of Avenged Sevenfold, Death by Stereo, Dr. Dre, Goo Goo Dolls, and others, and he's even produced a record or two, such as Jewel's 2009 release "Lullaby."
Like his brother, Jason has found a gig or two that has stuck — most notably as the keyboardist for iconic pop-punk outfit Green Day, whom he joined in 2004. Speaking to Cycle World in 2010 (he's also a bit of a motorcycle enthusiast), Jason spoke fondly of his ongoing tenure in the band. "I was in another band with the same management, so they got a hold of me through him," he remembered. "Now, it's all history. I love playing in the band; it's like a family."
He put together the most hilarious album package deal in history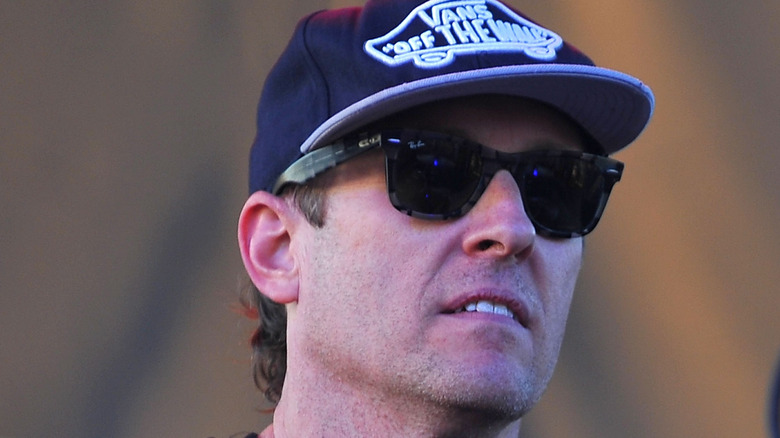 Jerod Harris/Getty Images
Somehow, Josh Freese has also managed to find time over the years to record four solo projects, beginning with 2000's epically titled "The Notorious One Man Orgy." In 2009, for his solo release "Since 1972," Freese decided to put together an online, multi-tiered album package of the sort that had come into vogue at that time. Freese, though, is a man with an odd sense of humor — and as such, his package contained tiers that sported outrageous prices and unlikely perks.
As reported by The Guardian, these ranged all the way from $7 ("Digital download of 'Since 1972,' including 3 videos") to $75,000 (a plethora of benefits including "Have Josh write, record and release a 5-song EP about you and your life story" and "Take shrooms and cruise Hollywood in Danny from Tool's Lamborghini"). In case you're wondering if any of those pricier tiers were actually purchased, check this out: In April 2009, the Los Angeles Times reported that 19-year-old Thomas Mrzyglocki had grabbed himself a $20,000 package that included playing mini-golf with members of Devo and Tool, a couple of custom Freese-penned songs about him, and his choice of three items of clothing right out of Freese's closet. Said Freese, "I couldn't believe this kid had spent that money ... We did a lot of fun stuff and boring stuff. He ran some errands with me and played video games with my son."  
Josh Freese is a perfect fit for Foo Fighters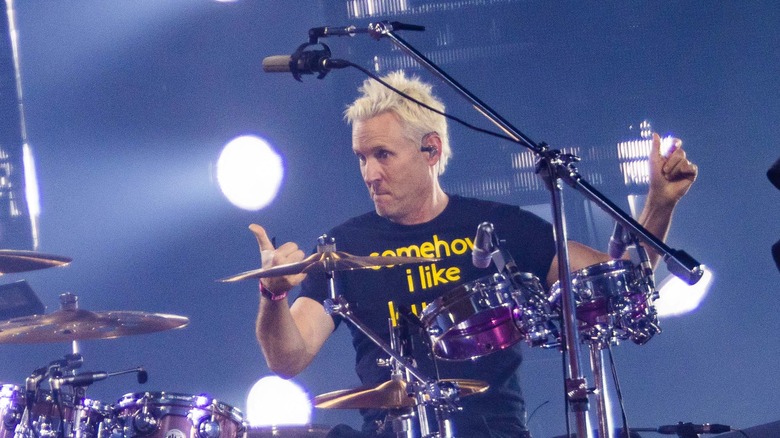 Gina Wetzler/Getty Images
With his amazing sense of humor, peerless chops, and decades of experience, Josh Freese should feel right at home among his fellow Foo Fighters. During a pre-recorded livestream announcing his joining, Freese even took part in a playful little sketch acknowledging the endless speculation about who the band's new drummer would be. As Dave Grohl and the rest of the guys stood around talking, a bunch of legendary drummers just happened to pop by: Red Hot Chili Peppers' Chad Smith (who was blocked in by keyboardist Rami Jaffee's car), Motley Crüe's Tommy Lee (conspicuously sporting a Vandals shirt, who just dropped by to bring the guys PF Chang's), and Tool's Danny Carey (who was dropping off Grohl's poodles, which he'd just finished grooming). Finally, Freese — whom it was revealed had been sitting behind the drum kit the whole time — implored his new bandmates, "Guys, can we just, like, I don't know ... play a song?"
At a subsequent concert in Columbus, Ohio, Grohl gave Freese a warm introduction, telling the audience that they had heard his work before, even if they didn't know it — and then proceeded to demonstrate what he was talking about, leading the Foos in a medley of tunes by Devo, Nine Inch Nails, and Puddle of Mudd that Freese had played on. It was a heartfelt and amazing start to what will hopefully be a long tenure for a consummate professional, and a truly great drummer.