Rock Guitarists Who Never Got Enough Credit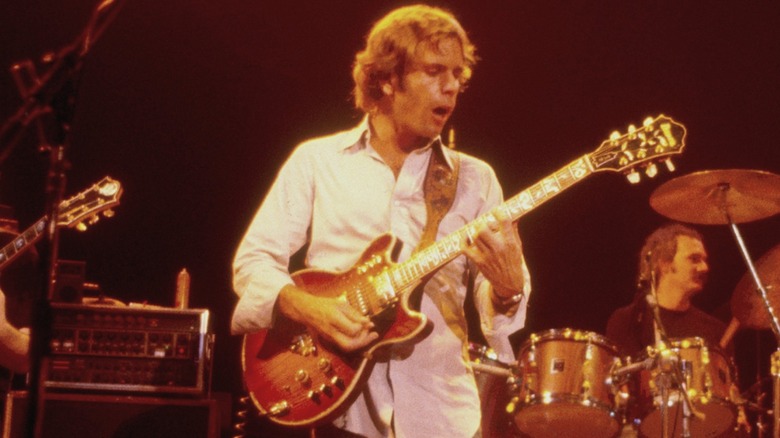 Ed Perlstein/Getty Images
When you think about rock and roll, one of the first things that comes to mind is probably the electric guitar. From Jimmy Page and Jimi Hendrix, to Joe Satriani and Derek Trucks, the pantheon of guitar gods is fully stocked with rock and roll legends. Today, these guitarists are considered some of the most revolutionary in rock history, as they changed the way people played and even conceptualized the electric guitar. But what about some of the other guitar gods, who have made undeniable impacts but have never gotten the same plaudits?
Lead guitarists typically get all of the credit in popular rock bands, but many times it's actually the rhythm player who sets the tone and really controls the band. They might not get the blistering 30-second solo after the chorus, but without them, the music would be hollow and empty. In addition, sometimes even the lead guitar player can be overshadowed by iconic frontmen, like Jim Morrison or Freddie Mercury, who effortlessly steal the show with their exuberance and rock and roll attitude.
Well, today that changes, because we're looking at the most underappreciated guitarists in rock and roll history. From Bob Weir constantly playing second fiddle to Jerry Garcia, to Malcolm Young living in the shadow of his younger brother Angus, there are countless rock and roll pickers over the years who have not nearly gotten the respect they deserved. Plug in, because these are the rock guitarists who never got enough credit.
Bob Weir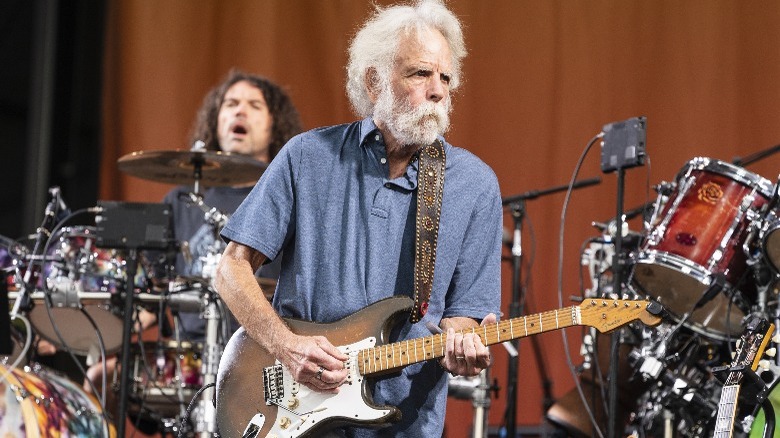 Erika Goldring/Getty Images
Known as one half of the Grateful Dead's iconic guitar duo, Bob Weir has been active in the music industry since the Dead formed in the mid-1960s. In the nearly six decades since, Weir has played with a variety of bands, including as a solo act, as well as in the many post-Garcia iterations of the Grateful Dead. During his time in the Dead, Weir established himself as the ice to Garcia's fire, providing stealthy rhythm accompaniment to his blazing leads. He was also one of the minds behind fan-favorite songs like "Estimated Prophet," "The Other One," and "I Need a Miracle." 
Considering the massive success of the Dead, it might seem a little strange to include Weir on our list. However, if you think about it, he's been perennially overshadowed almost his entire career by his bandmates. During his time in the Grateful Dead, it was always Garcia whom fans and critics latched on to. Garcia's lead playing was always front and center compared with Weir's delicate rhythms, and for many, the Grateful Dead was really the cult of Garcia.
In addition, even after Weir and the remaining members reinvented themselves as Dead and Company in the 2020s, it seems like all of the attention goes to Garcia's replacement: John Mayer. Will Weir ever get his proper due? Only the future will tell, but anyone who has listened to him for even a few seconds can easily tell he was always on par with Garcia (and Mayer), even without the recognition.
Brad Whitford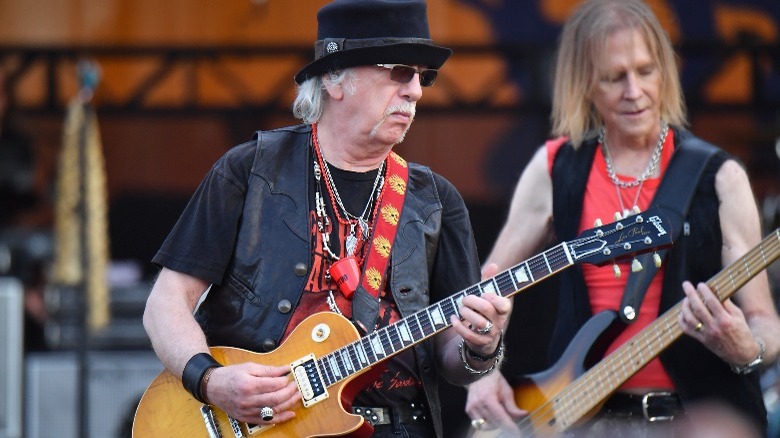 Jeff Kravitz/Getty Images
When most people think of Aerosmith, two names usually jump to the forefront: Joe Perry and Steven Tyler. Often left behind is longtime guitarist Brad Whitford, who joined the band when they were just starting out. Whitford was born in 1952 in Reading, Massachusetts, and at one point was a student at the Berklee School of Music. He stayed with the band until 1981, helping to co-write several songs, including "Last Child," "Nobody's Fault," and "Round and Round."
Whitford was only gone from Aerosmith for a few years, returning in 1984 along with Perry, and he has remained with the band ever since. In addition to his work with Aerosmith, Whitford has been featured on albums by legends like Joe Bonamassa and Ian Hunter. Whitford also has composing credits for several bands, including Hanoi Rocks, L.A. Guns, and Van Halen.
While Perry and Tyler often receive the lion's share of the credit for Aerosmith, without Whitford they would be a very different-sounding band. In addition to his many composing credits, Whitford also plays lead on a number of tracks, with chops that rival even Perry's. His driving rhythms made Aerosmith the kings of rock for a time, and they have always been vital to the classic Aerosmith sound.
Robby Krieger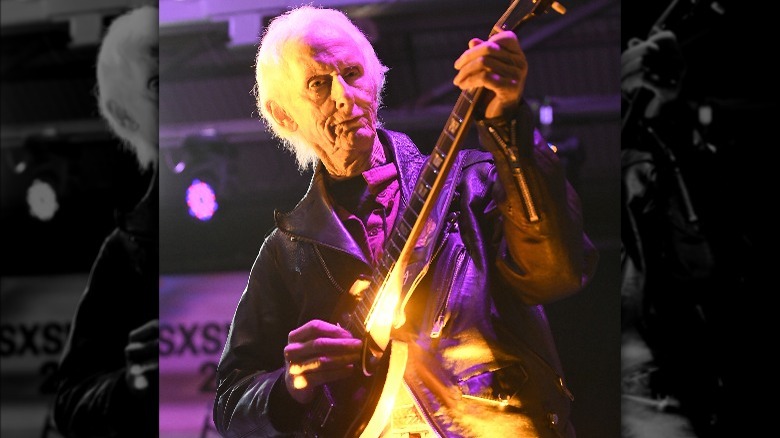 Tim Mosenfelder/Getty Images
Even though he is responsible for some of the most iconic and catchy guitar riffs of the 20th century, not many people place The Doors' Robby Krieger on their list of top guitarists. Krieger, born in 1946 in the same city of Los Angeles he would later light on fire with his music, joined The Doors in their formative years and appeared on all of their albums. Without a bass player, Krieger was the only member to play a string instrument, but his innovative and groovy riffs more than filled the gap.
During his career with The Doors, Krieger was often overshadowed by charismatic frontman Jim Morrison, and he is probably the most overlooked member of the entire band. Following Morrison's death in 1971, Krieger and the other members tried to keep the band going, which allowed Krieger to showcase some of his unique writing skills. Following the end of The Doors, Krieger embarked on a mildly successful solo career, where he mixes together everything from rock and reggae, to jazz.
While most people only associate Krieger with The Doors, his solo work has earned critical praise from many corners. Krieger has certainly proven that he is more than a second fiddle to Morrison — or any other legends of psychedelia — and he deserves much more praise for his musicianship.
Paul Kantner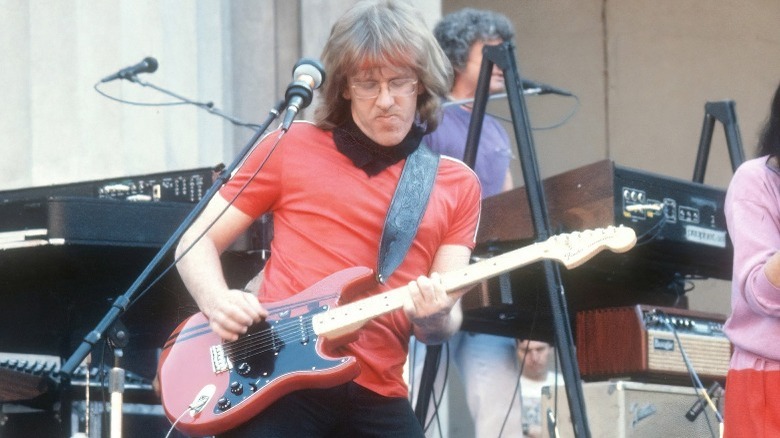 Larry Hulst/Getty Images
In terms of outstanding rhythm guitarists in rock and roll, Paul Kantner is right at the top of the list. As the rhythm player to Jorma Kaukonen's leads in Jefferson Airplane, Kantner provided outstanding songwriting and a steady, solid presence. Born in 1941 in San Francisco, Kantner helped found the Airplane, who in turn served as the vanguard of the psychedelic music movement in the 1960s. His guitar playing was a big part of their early success, and gave a unique edge to the burgeoning "San Francisco Sound" they were helping to pioneer.
After the Airplane dissolved, Kantner was part of its successor, Jefferson Starship, and he contributed many songs to the group's repertoire. He also co-wrote the Crosy, Stills, and Nash song "Wooden Ships." Kantner and Jefferson Starship reached incredible levels of success, even without Airplane virtuosos Jack Casady and Jorma Kaukonen, which is a testament to Kantner's songwriting ability and guitar work.
Though he left Jefferson Starship for a few years in the '80s, Kantner rejoined them in the early '90s and continued to tour with them for another two decades. He passed away in 2016 from organ failure and septic shock following a heart attack. Though he never earned the accolades of bandmates like Casady or Kaukonen, Kantner's rhythm playing is some of the best in rock history. 
Andy Summers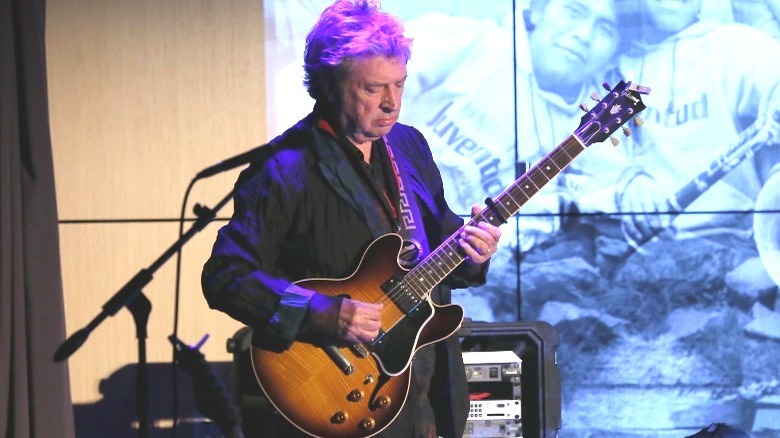 Rebecca Sapp/Getty Images
As the guitarist for The Police, many rock fans have known the name Andy Summers for years. Born in 1942 in England, Summers' first forays into music largely included jazz, and he later traveled stateside to attend the University of California, Los Angeles, and study music. In the late 1960s and early 1970s, he played with acts as diverse as Eric Burdon & the Animals and Neil Sedaka. He joined The Police in the late 1970s, with whom he would earn several Grammys.
The Police, though one of the most popular bands of the 20th century, had a short shelf life and disbanded after less than a decade. And while Sting and Stewart Copeland are largely recognized as two of the greatest musicians in rock history, for some reason the same accolades seem to escape Summers. And it's not as if Summers' career stopped at The Police; on the contrary, since their dissolution he's put out some of his most creative and inventive music.
In The Police, Summers largely wrote his guitar lines around Sting's bass lines, which helped create a unique punk-reggae fusion (per a 2019 interview with Guitar Player). However, during his solo career — which has spanned an incredible 15 albums — Summers has branched out to include many more jazz influences. He has an incredible talent for adding sonic texture to impart presence and feel to songs, and he can also play leads when needed. Summers truly is a complete musician, and certainly not just Sting's former guitar player.
Jimmy Herring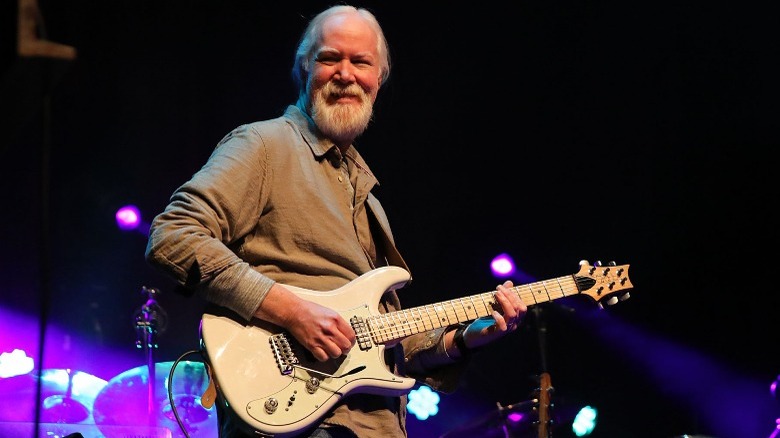 Rachel Murray/Getty Images
Even though he has been active in the music industry for more than three decades, unless you have been following the jam band circuit, you likely aren't very familiar with Jimmy Herring. Originally from North Carolina, Herring first made a name for himself in the late 1980s as the co-guitarist in Col. Bruce Hampton's The Aquarium Rescue Unit, alongside Hampton. In addition to playing with Aquarium, Herring is also known for his contributions to Jazz Is Dead, and for his multiple connections to the Grateful Dead universe. 
Herring took over duties for the departed Jerry Garcia during the Dead's incarnation as The Other Ones, and he also played in Dead bass player Phil Lesh's solo project Phil Lesh and Friends for several years. Since the mid 2000s, Herring has served as the co-guitar player for mega-jam band Widespread Panic, taking over for Mike Houser. Herring's contributions can be heard on more than 20 albums, and he plays a unique brand of Southern-inspired rock.
Just looking at a few of the names Herring has shared the stage with, like Derek Trucks, Bob Weir, Oteil Burbridge, and John McLaughlin, it's clear that Herring must have some serious chops to be able to hang with them. It's unfortunate that more rockers don't know Herring's name, and he is criminally underrated as a guitarist today.
Mike Campbell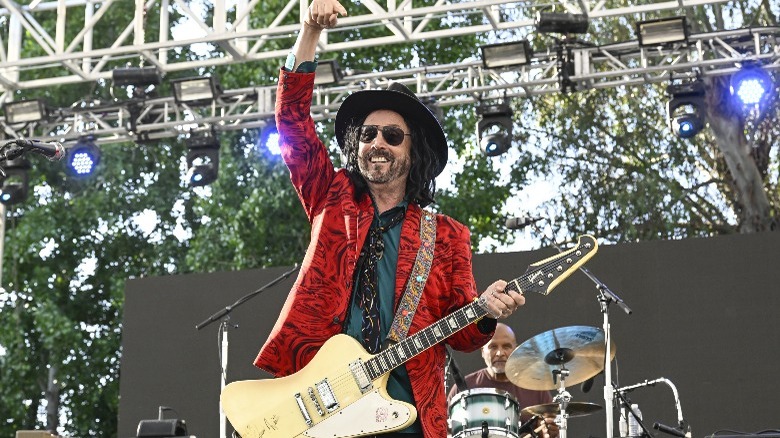 Steve Jennings/Getty Images
Born in 1950 in Panama City, Florida, Mike Campbell is one of the greatest, but also least recognized, guitar players in rock and roll history. He is best known for being the rhythm guitarist in Tom Petty & The Heartbreakers for their entire career, and he had previously played with Petty in Mudcrutch. While guitarists have long revered Campbell's ability to play driving rhythms and the occasional solo, he always seemed to come in second to Petty with critics and mainstream audiences. It's understandable, considering Petty is one of the gods of rock and roll, but Campbell definitely is deserving of praise all his own.
Besides his work with Petty and The Heartbreakers, Campbell has played with rock legends like Fleetwood Mac, Bob Dylan, and Warren Zevon. He also wrote the music for the song "The Boys of Summer," which Eagles drummer Don Henley recorded after Petty turned it down. He also formed a band, Mike Campbell and the Dirty Knobs, in which he has played full-time since Petty's death. Over the years, Campbell has proven himself as a solid songwriter and steady rhythm player, and he can lay down a technical solo when the music calls for it. Surely, he deserves just as much attention and respect as his longtime bandmate, Petty. 
Robert Fripp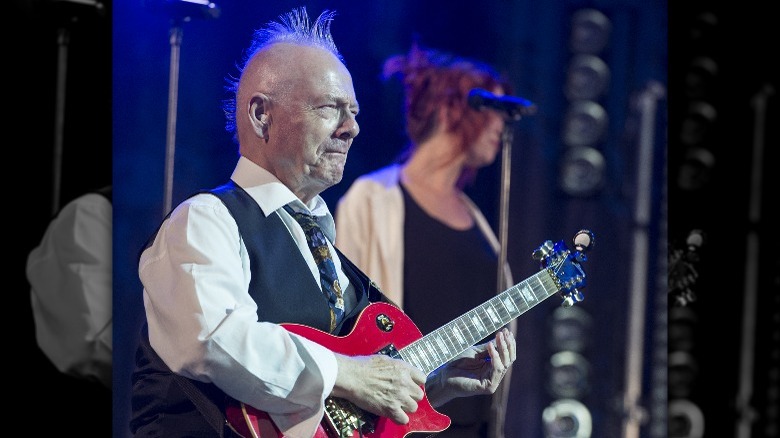 Steve Thorne/Getty Images
Known by many as a musician's musician, Robert Fripp has undeniably been one of the most unique voices in rock and roll since the 1960s. Born in 1946 in England, Fripp's idiosyncratic guitar methods helped his band King Crimson become one of the progenitors of the modern progressive rock movement. His guitar lines mixed rock with jazz and even some classical stylings to create a wholly new type of music. He was the only consistent member of King Crimson during their long history, mixing and matching different musicians over the years to fit his sounds.
Fripp's work is not just limited to King Crimson, as he has released a ton of solo albums and appeared as a guest on other works. Fripp is one of the most technically gifted players in rock history, with the ability to seamlessly switch between virtuoso leads and driving rhythms. And while King Crimson never reached gargantuan mainstream heights and he might not be as recognized as other prog rock stars like David Gilmour or Frank Zappa, Fripp was invited on the G3 tour in 2004 alongside Steve Vai and Joe Satriani. The G3 tour is one of the most famous guitar concert tours in the world, and Fripp's invitation is proof of his immense chops.
Malcolm Young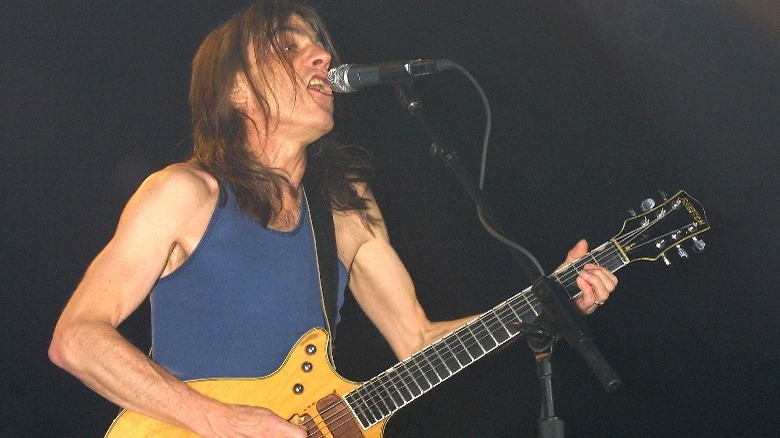 George De Sota/Getty Images
As one of the co-founders of AC/DC, guitarist Malcolm Young lived and breathed rock and roll every day. Malcolm founded the band with his younger brother Angus in Australia in the 1970s, and they soon rose to become one of the biggest international acts in all of rock. However, for all of Malcolm's contributions to the band — and they were numerous — Angus always garnered much more attention. This was mainly due to Angus playing all of the guitar solos, as well as his penchant for dressing up like a school boy and doing a tongue-in-cheek striptease.
Yet, without Malcolm, AC/DC would never have risen to the heights they did, and Angus would not have had the platform to become the rock god he is widely recognized as. Together, the two wrote the vast majority of AC/DC's songs, including most of their biggest hits, and Malcolm became known as one of the steadiest rhythm players in rock. With a right hand that would make Thor blush, Malcolm had the ability to produce thundering rhythms that drove AC/DC concerts for hours.
Young died in 2017, three years after retiring from the band due to dementia. Upon his death, tributes poured in from some of the biggest names in rock, including Dave Grohl, Tom Morello, and Dave Mustaine. A Rock and Roll Hall of Fame inductee, Malcolm definitely has a place on the Mount Rushmore of rock rhythm guitarists.
Susan Tedeschi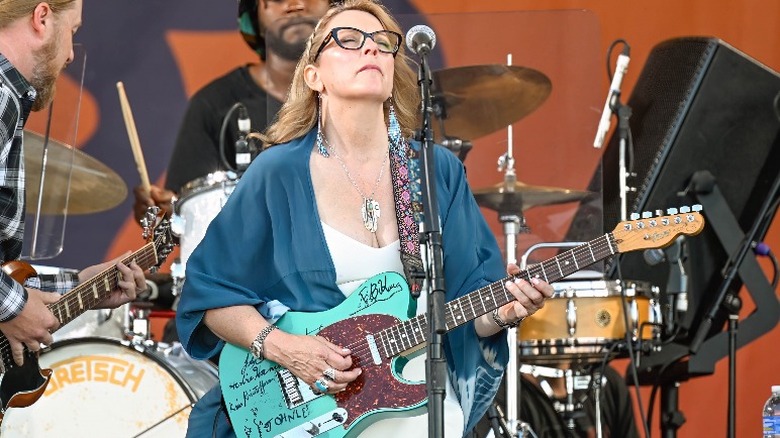 Astrida Valigorsky/Getty Images
Rock and roll has long been known as a boys' club, and lamentably only a few women have managed to break past the patriarchal paradigm and misogyny of the rock world. One of them is Susan Tedeschi, and despite her being an amazing guitar player and songwriter, she is regularly overlooked in favor of less-talented male guitarists. Tedeschi began her career at the age of just 13, and she released her first solo album with her blues band in 1995. Tedeschi earned her first of seven Grammy nominations a few years later for Best New Artist.
She is married to guitar legend Derek Trucks, and together they formed the Tedeschi-Trucks Band, winning a Grammy for their debut album "Revelator." It's unfortunate, but many people only know Tedeschi as Trucks' wife, rather than due to her incredible skills on guitar. However, for those who have really listened to her music, it's clear she has an immense amount of talent. 
Tedeschi plays a distinct brand of blues rock that also incorporates elements ranging from R&B to soul. Tedeschi has been one of the top acts in blues rock for more than 20 years, and hopefully she will start to be recognized as the guitar goddess she is.
Kerry Livgren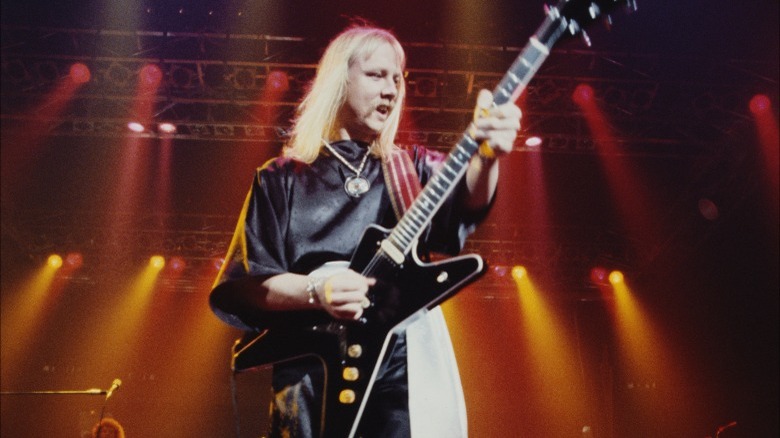 Michael Putland/Getty Images
For many people, Kerry Livgren provided the soundtrack to the 1970s — they just don't know it. As a member of Kansas, Livgren penned classics like "Carry On Wayward Son" and "Dust in the Wind," two of the biggest rock and roll hits of the decade. He was one of the founders, and played with the band until their initial breakup in 1983. After Kansas, Livgren formed a new band, AD, which embraced Christian themes but had little commercial success. Still, the music showcased Livgren's innovative and unique songwriting abilities. 
Kansas reformed years later, and in 2000, Livgren was once again the primary songwriter for their album "Somewhere to Elsewhere." Besides his work in AD and Kansas, Livgren has also released several solo albums, starting with "Seeds of Change" in 1980. Though he has extensive talents as a songwriter, Livgren's lead playing is also some of the best in the business. According to an interview he gave with Guitar International in 2010, Livgren was the primary lead player for Kansas. 
While Livgren's career might not have had the commercial success he was hoping for in terms of his solo work and AD, his work in Kansas will forever be immortalized as some of the best guitar playing in rock history. You won't find him on Rolling Stone's list of 100 Greatest Guitarists, but perhaps he should be there. 
Leslie West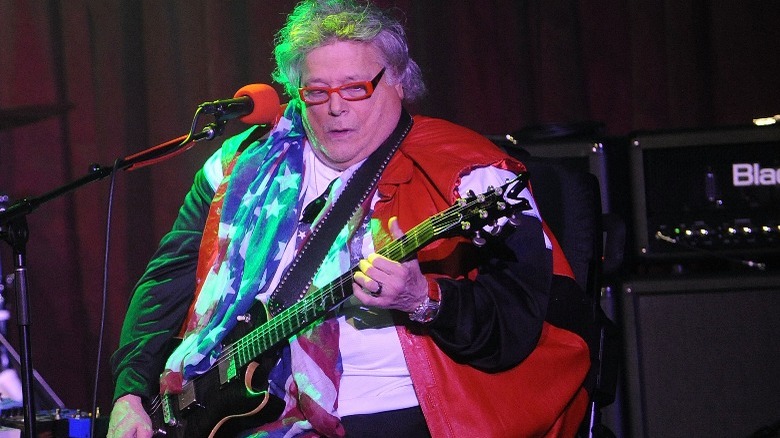 Bobby Bank/Getty Images
Born in 1945 in New York City, guitarist Leslie West was long known as one of the biggest men in rock. A large man of imposing stature, West first came to mainstream attention in 1970 when his band Mountain released their debut album "Climbing!" The album included the now-iconic rock anthem "Mississippi Queen," which featured West's thunderous vocals and guitar playing. The band, partly named for West's huge size, even played Woodstock the previous year, cementing their legacy in rock history.
After Woodstock, West would release a few more albums with Mountain and as a solo artist, but he never again experienced the commercial success that "Mississippi Queen" gave him. Still, West was one of the best under-the-radar guitarists of the last few decades, and many prominent guitarists like Eddie Van Halen have praised his abilities. Interestingly, it seems like many rappers and hip-hop artists are fans of West's work, and his music has been extensively sampled by huge acts including Kanye West, Jay-Z, and ASAP Rocky.
Sadly, West passed away in 2020 from cardiac arrest. His legacy is forever tied to Mountain and "Mississippi Queen," but West contributed so much more to rock and roll during his career. He will forever be an undeniable part of rock history, and his influence is still felt in multiple genres today.