What Happens To Kate Once Prince William Becomes King?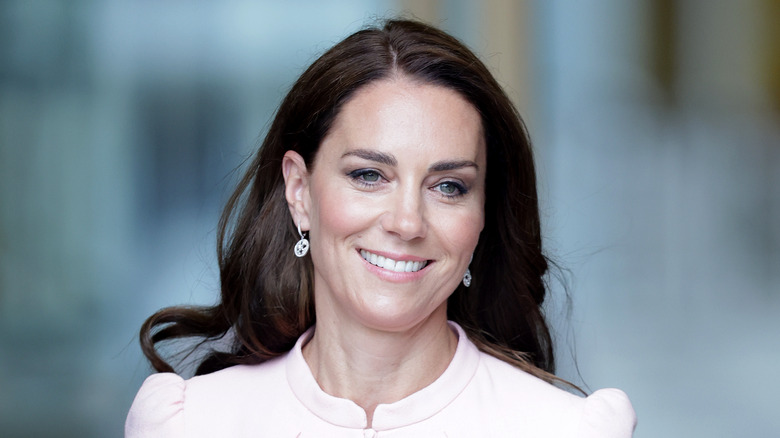 Chris Jackson/Getty Images
The royal deck of cards was shuffled as soon as Queen Elizabeth II died September 8, 2022 at her beloved Balmoral Castle in Scotland. With her death, Elizabeth's eldest son, Charles, now King Charles III, immediately became the new king, as was expected, though Charles was officially crowned at a later date. Meanwhile, Charles's second wife, Camilla Parker Bowles adopted the title queen consort.
Along with that, Charles' eldest son, William, became the Prince of Wales, next in line for the crown, and William's wife, Kate Middleton became Princess of Wales, the first woman to have that title since Princess Diana, William's mother, died in 1997. William and Kate are also the Duke and Duchess of Cornwall, to name just a few of their titles in the royal merry-go-round that the British royal family can sometimes be.
On Kate's new role, King Charles III said in a statement (via Cosmopolitan), "With Catherine beside him, our new Prince and Princess of Wales will, I know, continue to inspire and lead our national conversation." In his mid-70s at the time of his coronation, King Charles III was the oldest monarch ever to take the British throne. This means Prince William may not have as long to wait for his own crowning ceremony. 
When that day comes, what will William's ascension to the throne mean for Kate? Given the rules and customs of British royalty, Kate will most certainly become the queen — it just depends on which kind of queen you mean.
Kate will always be the queen consort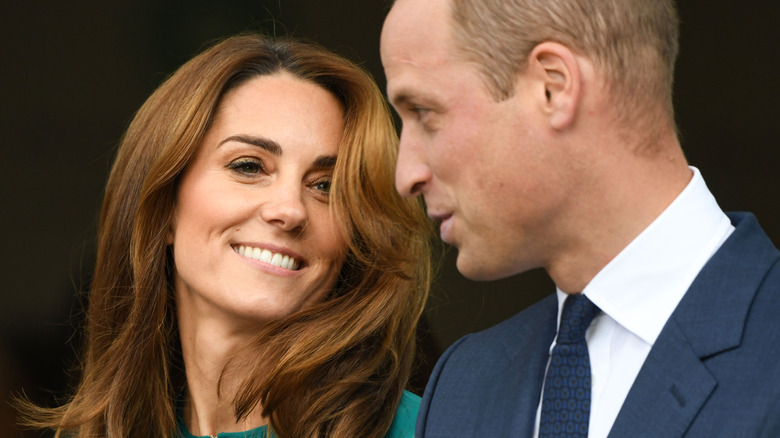 LINGTREN.COM/Shutterstock
With her marriage to Prince William, Kate Middleton is on track to become queen when King Charles III dies, though she'll never be queen regnant, like William's grandmother, Queen Elizabeth II. As opposed to queen regnant, Kate is a queen consort or the wife of a king who is in the direct line of succession. Queen Elizabeth II's husband, Prince Phillip was a prince consort and not a king consort, according to Britannica, because royal tradition dictates that when a man marries a queen he does not get the title of king. The running theory is it's because kings outrank queens, per Insider.  
King Charles III's wife, Queen Camilla is also a queen consort (dropping the consort off your title is a matter of choice when coronation day comes). If Charles dies first, Camilla will likely become the queen dowager — a royal term for a widowed queen — and step aside for Kate to take over her royal duties, which according to the Royal Family website consists primarily of providing support and companionship to the sovereign. Per the royal family, kings and queens consort primarily provide, "companionship and moral and practical support to the Monarch. The consort does not hold a formal position in the structure of government ...[or] see State papers or hold official audiences."
Like Camilla, Kate could sign some routine documents, though, attend certain official meetings, and play some role in diplomacy, NBC News explains. She might also step in for the future King William should he be incapacitated though British law makes that a rare occurrence in the modern age.
If William dies first, Kate could become the queen mother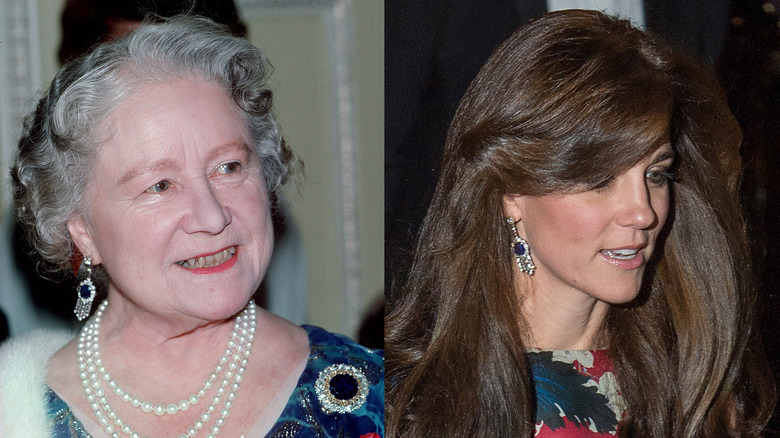 Anwar Hussein/Getty Images
With Prince William and Kate in their early 40s as of King Charles III and Queen Camilla's coronation, there's a good chance they'll take the throne at a much younger age than Charles and Camilla were at their crowning ceremony. Once they're on the throne, if William dies first, following him in the line of succession is Prince George, William and Kate's eldest son. With George as king, Kate would likely become the queen mother — think of that as something like queen consort in retirement.
Or according to royal expert Marlene Koenig (speaking with Town & Country), "When [Prince] George is King (if Catherine is still alive), she can choose to be styled as HM Queen Catherine, the Queen Mother." You can also expect Kate, or Queen Catherine as she'll be called when the time comes for William to become king, to be crowned alongside her husband, as most often happens with queen consorts. The same can't be said for prince consorts, though, who aren't typically crowned alongside their sovereign queen, according to Royal Collection Trust. 
The last queen mother in England was William's great-grandmother and Queen Elizabeth II's mother, also named Queen Elizabeth (pictured above). She was queen consort to King George VI, Queen Elizabeth's father. Elizabeth, the last queen mother of England died in 2002 at 101 years old.