Professional Athletes Who've Tragically Drowned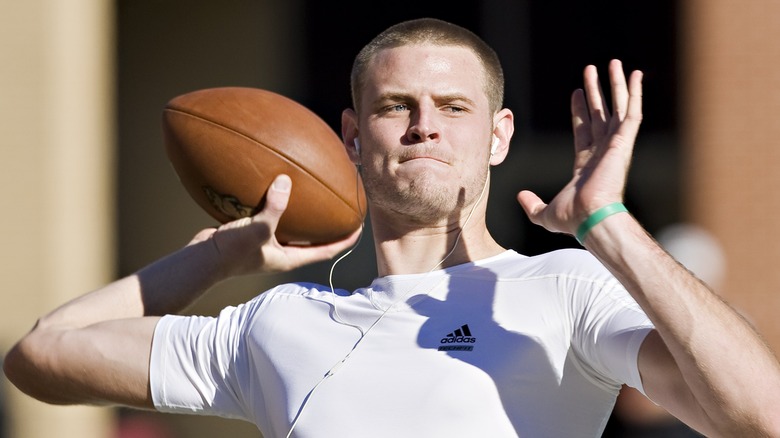 Wesley Hitt/Getty Images
On Tuesday, June 27, 2023, Ryan Mallett, a celebrated NFL quarterback who had played for the New England Patriots, the Houston Texans, and the Baltimore Ravens before beginning a successful coaching career, tragically died at the age of 35. According to Destin Beach Safety, Mallett was pronounced dead after struggling to return to shore while swimming off a beach in Destin, Florida (via Facebook). 
The news of Mallett's death made headlines and elicited a shocked response from his NFL colleagues and from the league itself. "The NFL family is deeply saddened by the passing of Ryan Mallett. Our thoughts are with his family and loved ones," the league said in a statement posted on Instagram.   
Mallet's death is one of 12 drowning deaths in Florida's panhandle in June 2023, as the summer heat entices more people into the water while weather conditions cause prolific rip currents, per NBC. A lifeguard shortage is also an issue. Mallet is the latest in a line of professional athletes that have sadly lost their lives in similar circumstances. Some were also NFL stars, while others competed overseas in other sports.
Joe Delaney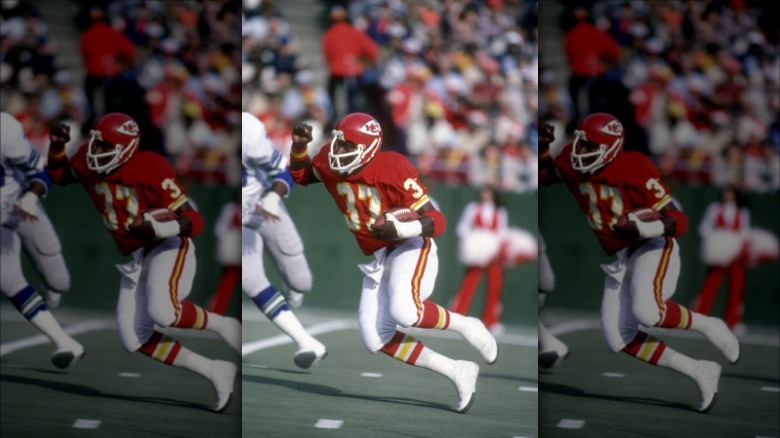 Focus On Sport/Getty Images
Another tragic death is that of Joe Delaney, who in the early 1980s was making a name for himself in the NFL as a running back for the Kansas City Chiefs after setting records in both football and track in the National Collegiate Athletic Association Division I-AA All-America.
On the afternoon of June 29, 1983, Delaney was walking in Chennault Park in Monroe, Louisiana, when he came across a horrifying scene. Three young boys, whom Delaney didn't know, had got themselves into trouble in the middle of a large body of water and were struggling violently. The football star, who reportedly couldn't swim particularly well, waded fully clothed into the water to save them. Though one child was able to make it to shore, two of them, plus Delaney himself, drowned. 
Delaney was just 24 years old and left behind a wife and three young children. Four decades on, Delaney's sacrifice is remembered by a memorial in the park where he lost his life, Joe Delaney Day in Kansas City, and the Joe Delaney Memorial Highway on Interstate 435. In 2022 several Kansas City agencies, including the YMCA, partnered to form the Joe Delaney Learn to Swim Program to sponsor swim lessons for children.
Jerry Anderson
A story uncannily similar to that of Joe Delaney is of the death of Jerry Anderson, another football star for the Cincinnati Bengals and the Tampa Bay Buccaneers whose instinctive urge to save the lives of others led to his tragic and untimely death at 35. And his heroics on the field were matched by his heroics off it. As well as being a local celebrity thanks to his respectable NFL career, Tennessee-born Anderson was a lifesaver, who was in Tulsa during the Memorial Day floods of 1984, and put himself on the line to save the lives of two people. In the aftermath, Anderson told his wife that the urge to save people from perilous situations was instinctive, according to Tulsa World. 
Anderson proved this again five years later, when on a fishing trip in his hometown of Murfreesboro the former football star saw two kids fall into a river swollen by recent rains. The current was strong but Anderson dived into the river and managed to save them. He did so but lost his life in the process. 
In 2014, it was announced that Murfreesboro was renaming a street in Anderson's honor, with a grand ceremony attended by council members, his friends, and family, with includes his widow and children (via The Daily News Journal).
Jiro Sato
The name Jiro Sato isn't much known today outside of the world of tennis fanaticism. However, some would argue that the Japanese tennis star, who was considered the country's best in a decade and who had recorded famous victories over players such as Fred Perry and Jack Crawford, may have been one of the sport's enduring greats were it not for his tragic death on the eve of one of the biggest competitions of his life.
In April 1934, Sato was on board a liner traveling from Singapore to Penang, just one leg of a journey toward England, where he and his David Cup teammates would play against the Australian team and compete at Wimbledon. Sato had already made it to five major semi-finals, and belief was growing in his home country that the finest Japanese lawn player in a generation was about to achieve even greater heights. He was ranked the third-best player in the world.
However, Sports Illustrated claims that the tennis star struggled with the weight of expectation. The 26-year-old — who was also due to be married — went missing from his cabin, though he left two notes explaining that he was unable to go on with the sport. He is believed to have died by suicide after throwing himself overboard.
If you or anyone you know is having suicidal thoughts, please call the National Suicide Prevention Lifeline​ by dialing 988 or by calling 1-800-273-TALK (8255)​.
Hubert Pit Martin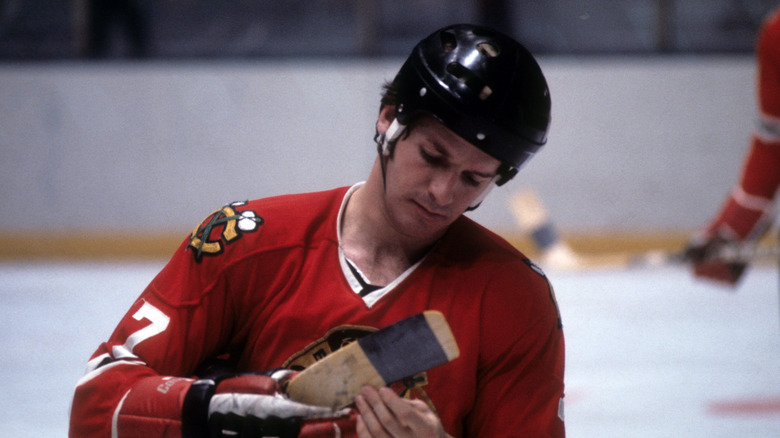 B Bennett/Getty Images
Hubert "Pit" Martin had an incredibly prolific hockey career in the '60s and '70s, playing more than 1,100 games as a center in the NHL. Martin racked up a total of 324 goals and 485 assists resulting in 809 points over the course of nearly two decades. His career included a legendary ten-year stretch for the Chicago Blackhawks, whom as captain he led to the final of the Stanley Cup twice.
In his retirement, Martin lived in a house on an island lake in his native Quebec. In the winter, the house was accessible by snowmobile, though the ice could be treacherous. Tragically, on November 30, 2008, Martin went missing when his snowmobile crashed through the ice near his home, and his body was recovered days later. He was 64.
"This is a very sad day for the Blackhawks family," said Blackhawks general manager Dale Tallon, via Bleacher Report. "Pit was a wonderful human being and a mentor to me ... He was such a great man that did so much for his family and the community. He is going to be missed by everyone in our organization. Our thoughts and prayers are with his family."
Marquis Cooper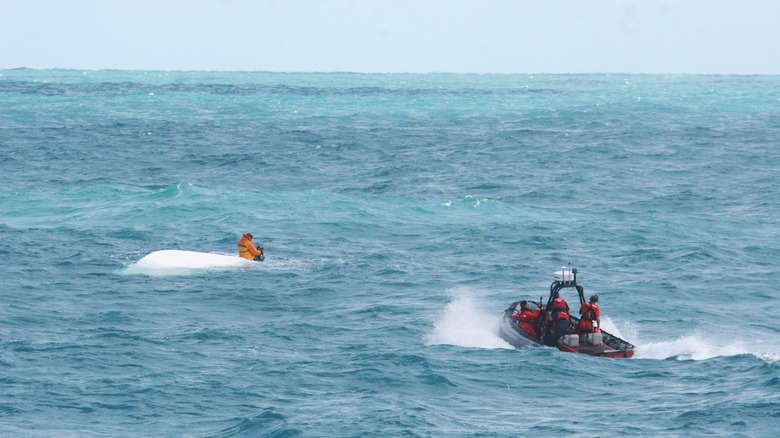 U.s. Coast Guard/Getty Images
Arizona-born Marquis Cooper was a 26-year-old linebacker who had played for six NFL teams over the course of four years, including three spells with the Pittsburgh Steelers. In November 2008, he was signed by the Oakland Raiders after a short period as a free agent.
In March of the following year, Cooper was aboard a fishing vessel alongside his NFL colleague Corey Smith, a 29-year-old defensive end who had previously played for the Tampa Bay Buccaneers and the Detroit Lions, as well as two college football players, Nick Schuyler and Will Bleakley, who played for the University of South Florida. The boat, which had gone out to sea from Florida's Clearwater Pass, failed to return at the expected time, triggering a search by the Coast Guard. It was found capsized the following day, with only Schuyler still clinging to the upturned boat.
The bodies of the three missing men were never found. The Associated Press reported that Cooper's wife applied for a presumptive death certificate a week after the Coast Guard announced that they were calling off their search for Cooper and his friends. In 2010, Nick Schuyler published a book, "Not Without Hope," chronicling the harrowing two days he spent waiting to be rescued while his friends perished around him.