Tragic Stories Behind Rock And Roll Hall Of Fame Inductions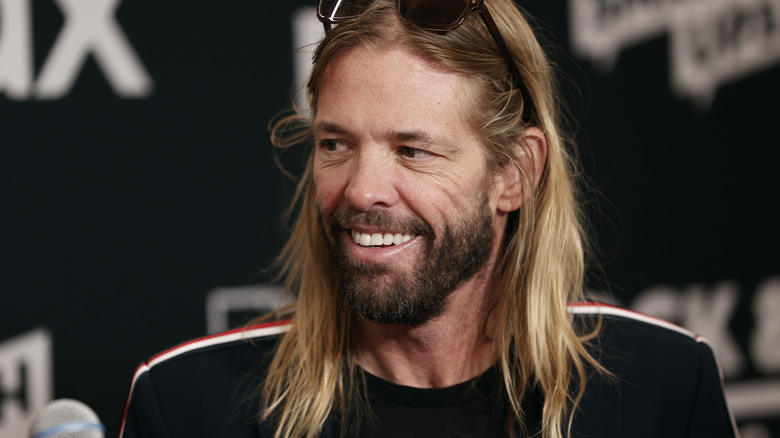 Arturo Holmes/Getty Images
Induction into the Rock and Roll Hall of Fame is a career-capping achievement. In honor of a life well-lived in devotion to music, artists receive an abundance of accolades from music industry professionals and fans alike for their body of work, indelible songs and albums, and other needle-moving wonders that capture the human experience. But sometimes, when bands, singers, and producers get that Rock Hall nod, essentially a lifetime achievement award for popular musicians, it arrives at a time when their lives are in the midst of turmoil, marred by tragedy, or, unbeknownst to the honorees, just about to come to an end.
They're some of the greatest artists of all time, and they lived out their sometimes difficult lives, with tragic milestones arriving right before or after their selection or induction to the Rock and Roll Hall of Fame. Here are some of the most notable inductees of the Rock Hall whose otherwise happy enshrinement was shadowed by tragedy, sadness, and bad news.
Carly Simon's sisters died just before her induction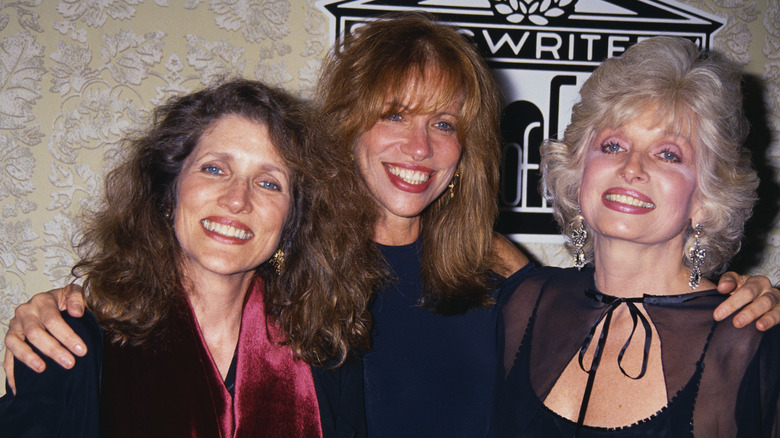 Mitchell Gerber/Getty Images
At the forefront of the 1970s singer-songwriter era was Carly Simon, who wrote and performed sensitive and poetic works exploring the pain of love, romance, and modern life. She contributed many well-crafted songs and major pop hits to the American canon, including "Nobody Does It Better," "You're So Vain," "Mockingbird," and "Anticipation," and in May 2022, after decades of eligibility, it was announced that Carly Simon would be inducted into the Rock and Roll Hall of Fame.
The ceremony took place on November 5, 2022, in Los Angeles, but Simon was not in attendance. About two weeks before the event, Simon suffered two profound personal losses on successive days. On October 19, 2022, Simon's sister, opera singer and arts reporter Joanna Simon, died at age 85 following a thyroid cancer diagnosis. The very next day, Lucy Simon, a Grammy-winning children's musician and musical composer (who got her start with Carly in the 1960s folk duo the Simon Sisters), died at age 82, some time after being diagnosed with breast cancer. In lieu of appearing at the Rock Hall ceremony, Simon sent a statement (via the Los Angeles Times) for inductor Sara Bareilles to read, citing "personal tragedy" as the reason for her absence.
Joe Strummer died just before the Clash could have reunited at the Rock Hall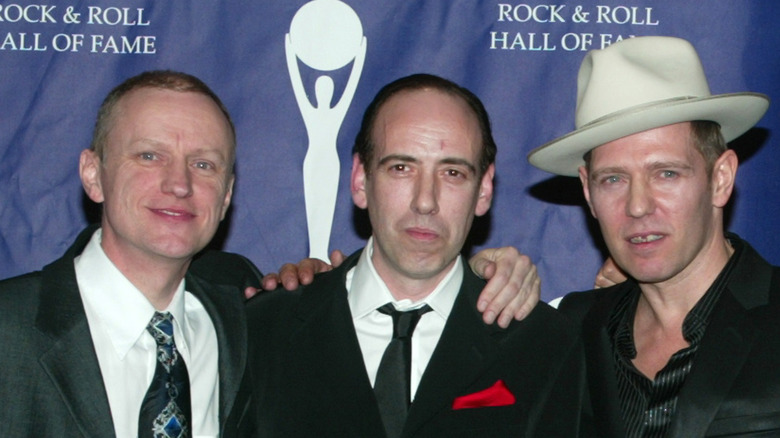 Jim Spellman/Getty Images
The Clash helped break punk rock, combining shredding guitar riffs with politically minded lyrics, a formula that earned it the nickname "the only band that matters." After recording radio-friendly but still edgy late-'70s and early-'80s classics like "London Calling," "Train in Vain," "Should I Stay or Should I Go," and "Rock the Casbah," the Clash slowly began to fall apart. The group fired drummer Topper Headon in 1982 and then let guitarist and singer Mick Jones go too, ostensibly because he didn't want to embark on a world tour. Remaining original members Joe Strummer and Paul Simonon kept going for a little while, dissolving the group following the release of 1985's "Cut the Crap."
The Clash never fully reunited after its official breakup. But tentative plans were in the works in the late 1990s and early 2000s. "Everybody seemed quite interested in the idea, but I wasn't," Simonon told Uncut. "I'd rather me and Joe worked together again in another project." Long-defunct bands will often get together to play a few of their songs at their Rock and Roll Hall of Fame induction ceremony, but even that wouldn't happen for the Clash. Strummer died of a cardiac event at age 50 in December 2022, mere weeks before the band was scheduled to enter the Rock Hall.
Linda Ronstadt was too ill to attend her ceremony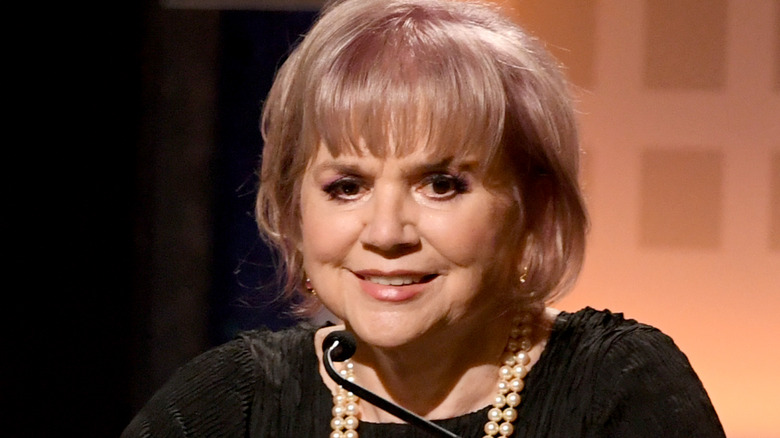 Kevin Winter/Getty Images
Following a stint in late-'60s hippie rock band the Stone Poneys, Linda Ronstadt became a major figure on the country rock scene of the 1970s. Boasting a powerful, emotional voice, Ronstadt became a superstar singer and interpreter of songs who could handle most any genre she tried, including ballads ("Hurt So Bad"), rock ("You're No Good"), and R&B ("Tracks of My Tears"). Ronstadt won Grammy Awards in a variety of categories, including folk, tropical, country, and pop.
More than 50 years after her voice first hit the radio, Rock and Roll Hall of Fame voters elected Ronstadt into their institution. She didn't grace the 2014 ceremony in New York, partly due to disinterest. "If you're working for prizes, you're in trouble. There's nothing wrong with it. I don't mind it. It's just not anything I ever gave a thought to," Ronstadt told Billboard. In 2013, the singer announced she'd been diagnosed with Parkinson's disease, a degenerative neurological disease that greatly affects movement, balance, and muscle control (per WebMD). Upon the news, which she received in late 2012, Ronstadt retired from performing; doctors later realized they'd misdiagnosed the singer, pinpointing her condition as the Parkinson's-like rare brain disorder progressive supranuclear palsy.
Those issues limited Ronstadt's ability to perform and travel, so she had to decline a Rock Hall appearance. "I can't travel very easily. I have to save traveling for things I really have to do," she said.
Stevie Nicks faced a life-threatening illness the day after she was inducted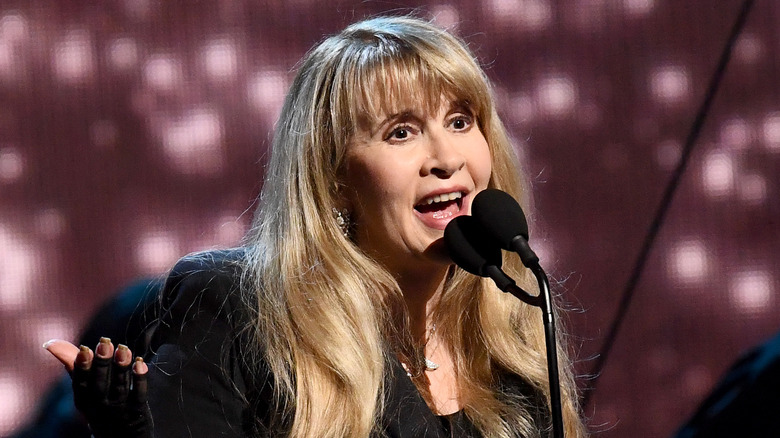 Dimitrios Kambouris/Getty Images
In December 2018, Steve Nicks was among the names listed in the Rock and Roll Hall of Fame's class of 2019. Set to be officially inducted in a few months' time, Nicks became the first woman voted into the Rock and Roll Hall of Fame twice. In 1998, she was enshrined along with her band, Fleetwood Mac; the second honor came for her wildly successful solo career as a singer-songwriter. Among her biggest and enduring non-Fleetwood Mac hits: "Stop Draggin' My Heart Around," "Edge of Seventeen," "Stand Back," and "Talk to Me."
Nicks attended the ceremony in March 2019, inducted by Harry Styles, performing a few songs and delivering a long acceptance speech. And that could have amounted to her final public performance or appearance. When she was on stage, Nicks didn't feel well, and the next day felt severely ill. "I ended up going into the hospital in Philadelphia for a week in ICU with double pneumonia and human metapneumovirus and asthma," Nicks later told Variety. "My oxygen levels were hardly existing." The singer made a full recovery.
The Velvet Underground reunited to honor a deceased member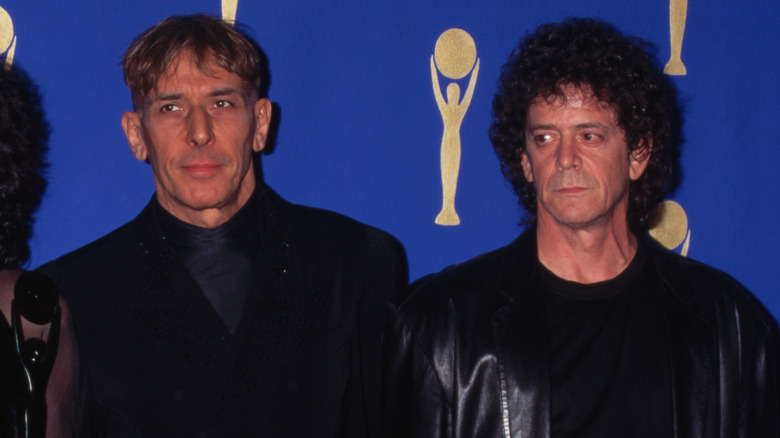 Mitchell Gerber/Getty Images
A dark, avant-garde band that came of age in the late '60s, an era defined by bubblegum pop and psychedelic rock, the Velvet Underground stretched the boundaries of rock and influenced future generations of musicians. The Andy Warhol-championed outfit began to collapse in 1968 after Warhol lost interest and original member and major creative force John Cale left. Unwilling to work with German singer Nico, added to the band by Warhol, Lou Reed also abandoned the Velvet Underground, leaving in 1970 and launching a successful solo career.
Cale and Reed (pictured) continued to clash creatively during a short 1993 reunion tour, with each promising to never again collaborate with the other. Tragic events forced them to rethink those plans. Guitarist and original Velvet Underground member Sterling Morrison died in August 1995 at age 53, from the effects of non-Hodgkin's lymphoma. Two months later, the Rock and Roll Hall of Fame announced that the Velvet Underground would be inducted as part of its 1996 class. Not only did Reed and Cale put aside their feud to appear at the event (along with drummer Maureen Tucker), but they performed an original song. Prior to the ceremony, Reed, Cale, and Tucker convened to write that tune, "Last Night I Said Goodbye to My Friend" — a song about Morrison.
Taylor Hawkins of Foo Fighters died just after he was enshrined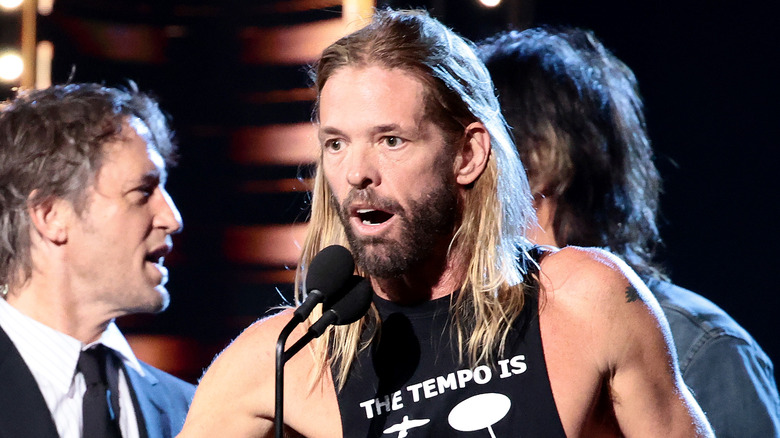 Dimitrios Kambouris/Getty Images
As one of the last major traditional, guitar-based rock bands to break through since the 1990s — and a steadily touring, recording, and hit-making combo fronted by a former member of already-inducted Nirvana – Foo Fighters walked right into the Rock and Roll Hall of Fame in 2021, voted in on the first time the band was even eligible to be nominated. Following remarks by inductor Paul McCartney and performances of "Best of You," "My Hero," and "Everlong," all six then-current Foo Fighters members got to deliver an acceptance speech at the October 2021 ceremony. Drummer Taylor Hawkins used half of his time to honor other musicians, thanking McCartney and recommending acts for future Rock Hall enshrinement, including Jane's Addiction and Soundgarden. "I'd like to see George Michael in there one day," Hawkins proclaimed.
Just shy of five months later, 50-year-old Hawkins died unexpectedly in his hotel room in Bogota, Colombia, during a Foo Fighters tour. Authorities would later determine that cardiac arrest triggered by a combined overdose of heroin and prescribed medications killed the musician. Foo Fighters immediately went on hiatus, and in May 2023, hired Josh Freese as Hawkins' replacement. Right around that time, the Rock and Roll Hall of Fame announced its class of inductees for 2023. The list included one of Hawkins' favorites: George Michael.
The Rock and Roll Hall of Fame got the Cars together for what would be the last time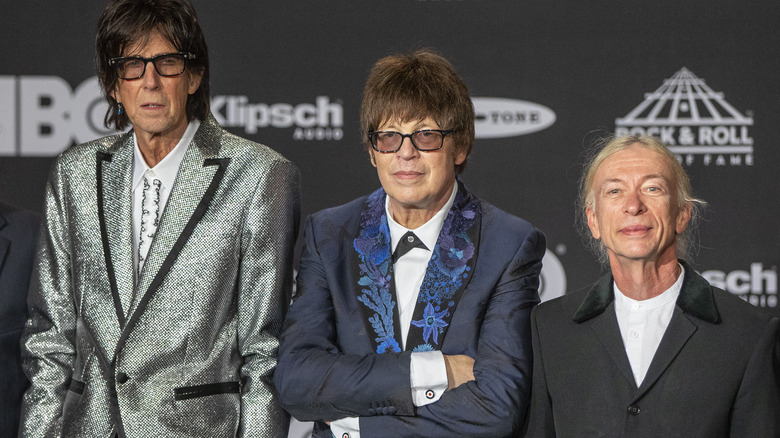 Scott Legato/Getty Images
The Cars generated one catchy, guitar-and-keyboard-driven gem after another in the 1970s and 1980s. The Boston group hit it big with "Just What I Needed" and "My Best Friend's Girl,"  and then became MTV darlings with cinematic clips for songs like "You Might Think" and "Drive." According to Cars guitarist Elliot Easton (pictured, center), the band felt burned out after their 1984 release "Heartbeat City." "It had a lot of singles, and it took a long time to make," Easton told Vulture. "We were fried and should've taken a hiatus to recharge our batteries." The Cars made another album, "Door to Door," before contentiously breaking up in 1988.
Co-lead singers and close friends Benjamin Orr and Ric Ocasek (left) had a falling out amidst the split, according to Rolling Stone, but patched things up right before Orr died of pancreatic cancer in 2000. The surviving Cars recorded the 2011 album "Move Like This" then moved apart again, then reunited to perform at the Rock and Roll Hall of Fame induction in April 2018. "It reignited a spark. We hadn't hung out together in a long time, so spending that week together was wonderful," Easton said. "We left that on a really positive note, and there would've been an excellent chance for another project." That wouldn't come to pass — Ocasek died in September 2019 from heart disease-caused cardiac arrest at age 75.
Judas Priest welcomed back Glenn Tipton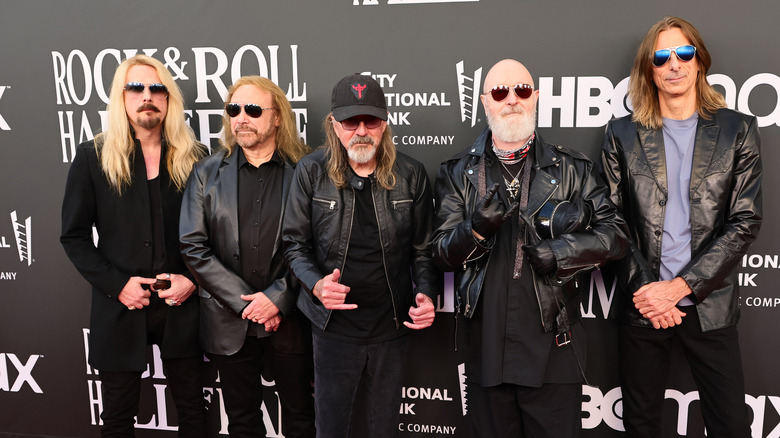 Theo Wargo/Getty Images
Judas Priest formed in 1970, but it would take the addition of guitarist Glenn Tipton in 1974 for the band to truly find its sound and become one of the most pioneering and definitive heavy metal bands of all time. Along with K.K. Downing, Tipton provided a double-lead guitar audio punch, heard on metal standards like "Breaking the Law" and "You've Got Another Thing Comin'." Following two nominations on the standard ballot, the Rock and Roll Hall of Fame welcomed Judas Priest in 2022 via the "Musical Excellence" category, curated by a special committee rather than voters, in recognition of the band's development of heavy metal as a viable genre.
In the first decade of the early 2000s, Tipton was diagnosed with Parkinson's disease, which gradually affected his motor skills so much that by 2018, he was no longer able to play many of Judas Priest's more complicated songs. He retired from touring with the band at that point, but when Judas Priest performed at the 2022 Rock and Roll Hall of Fame induction event, Tipton took the stage with the rest of the group.
Donna Summer died just before her long-delayed induction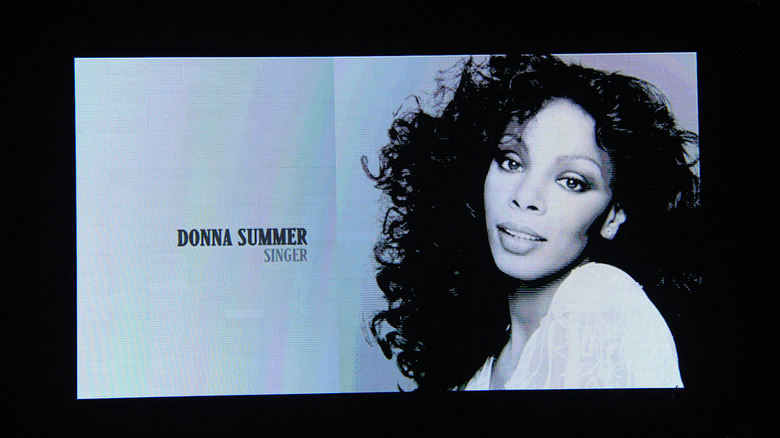 Kevin Winter/Getty Images
For much of its early history, the Rock and Roll Hall of Fame took a hardline stance on its inductees, operating from the idea that rock was more or less a guitar-based, blues-derived genre. It took years for icons of other major forms of popular, rock-adjacent music to enter the hall, such as hip-hop and disco. Donna Summer, the huge-voiced singer who first found fame in the late 1970s belting out danceable hits like "Love to Love You Baby," "I Feel Love," "Last Dance," "Hot Stuff," and "Bad Girls," was heralded as the "Queen of Disco," sold millions of records, and won five Grammy Awards. But because she sang disco and later pop, she wasn't immediately taken seriously by Rock Hall voters.
In December 2012, the Rock Hall announced who its membership had decided to induct in the following year. After four past unsuccessful ballot appearances, Summer finally got voted into the Rock Hall. Her inductor, Destiny's Child Kelly Rowland, delivered a glowing tribute speech, and the singer's acceptance remarks were delivered by her husband, Bruce Sudano. Summer wasn't able to enjoy the career-capping triumph because she died of cancer in May 2012 — just a few months before she would've received the news of her successful vote.
One of the Beastie Boys died right after his group made it in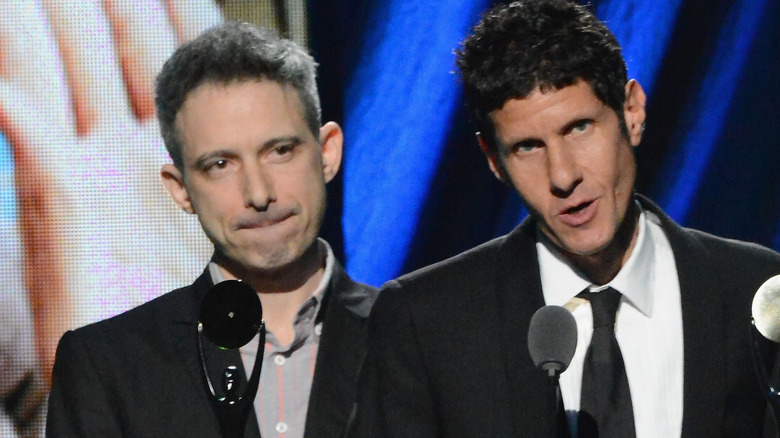 Jeff Kravitz/Getty Images
Beginning in the late 1970s as an abrasive punk outfit, Beastie Boys discovered hip-hop when it was just starting to develop in their hometown of New York City and incorporated it into their sound. Through the '80s, '90s, and beyond, Beastie Boys became reliable hit-makers, lacing rock into their predominantly rap-based, lyrically agile tunes, like "Hey Ladies," "Paul Revere," "Intergalactic," and "Sabotage."
Following early hip-hop progenitors Grandmaster Flash and the Furious Five and superstar trio Run-DMC, Beastie Boys became just the third rap act to win favor with the Rock and Roll Hall of Fame, their induction announced in December 2011 and officially taking place at a ceremony in April 2012. Members Adam "Ad-Rock" Horovitz and Michael "Mike D" Diamond (pictured) delivered an acceptance speech but didn't perform. Gym Class Heroes rapper Travie McCoy, Black Thought of the Roots, and Kid Rock instead performed a medley of Beastie Boys hits in the group's honor. In 2009, the third Beastie Boy, Adam Yauch, aka MCA, was diagnosed with cancer following the discovery of a salivary gland tumor. He was unable to attend the induction ceremony and died just a few weeks later, on May 4, 2012, at age 47.
Cancer prevented a Duran Duran member from attending the induction ceremony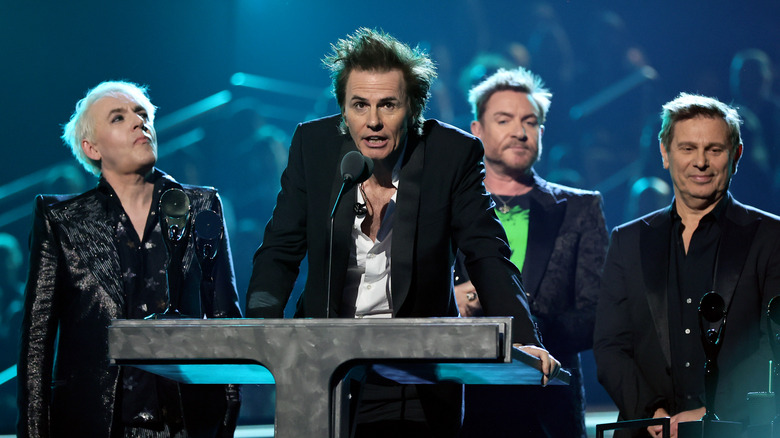 Theo Wargo/Getty Images
Duran Duran took the burgeoning "New Wave" movement of the early 1980s into the pop mainstream. The five telegenic members of the British band became global superstars in part because they embraced the new medium of music video. Their big-budget videos for songs like "Hungry Like the Wolf" and "Rio" propelled sales of millions of records, and they'd remain a major pop-rock act through the early '90s with sophisticated radio-friendly songs like "Ordinary World" and "Come Undone."
Of the five-man original, peak-era Duran Duran lineup, only four attended the 2022 Rock and Roll Hall of Fame induction ceremony to deliver acceptance speeches and perform live. Guitarist Andy Taylor was unable to make it, and he explained his absence in a letter he sent (via The Guardian), read aloud by his bandmates. "Just over four years ago I was diagnosed with stage 4 metastatic prostate cancer," Taylor explained in writing, announcing his illness for the first time. He also described aggressive treatments he'd received that had led to a noticeable improvement in his condition up until days before the ceremony. "I suffered a setback, and despite the exceptional efforts of my team, I had to be honest in that both physically and mentally, I would be pushing my boundaries" by attending, he wrote.
The Byrds reunited at the Rock Hall just before the deaths of two members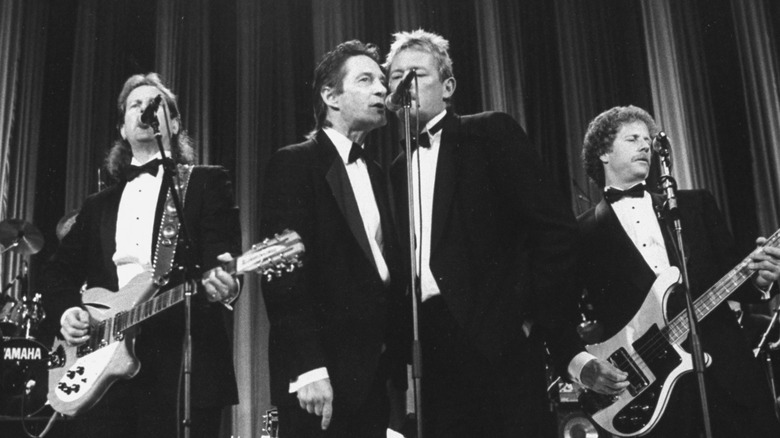 Robin Platzer/Getty Images
Mixing folk elements with harder, psychedelic rock origins and a hippie ethos, the Byrds made some lovely music in the 1960s. The musicians' ringing guitars and country-leaning tone would influence bands like R.E.M. and Wilco, and their contributions to the band were important career milestones for members like David Crosby, Gram Parsons, and Roger McGuinn. Some the Byrds' very-'60s songs still get airplay today or are used to instantly convey that a movie is set in that era, including No. 1 hits "Mr. Tambourine Man" and "Turn! Turn! Turn!"
Following some contentious exits, the core lineup reunited in 1973 then fell apart again, only to reconvene in the late 1980s in various legal settings. Drummer Mike Clarke and multi-instrumentalist Gene Clark mounted a tour billing themselves as the Byrds, to the official objection of former bandmates McGuinn, Crosby, and Chris Hillman. The matter was still hung up in the courts when the Rock and Roll Hall of Fame inducted the Byrds as part of its class of 1991. Those five musicians all showed up, and cordially performed their two No. 1 hits, and "I'll Feel a Whole Lot Better." That Rock Hall appearance would mark the last performance by the peak-era Byrds. Four months after the event, Gene Clark died of a heart attack at age 46. Mike Clarke died at age 49 in December 1993.