The Wave That Nearly Killed Mikala Jones Prior To His Tragic Surfing Death
On Sunday, July 9, pro surfer Mikala Jones' daughter Isabella announced on Instagram that her father had gotten into a sudden "bad surfing accident" and died. "I wish you were still here with us, you weren't supposed to leave yet," she wrote, "Life will never be the same without you. I miss you so much." People elaborates on what happened, citing freak circumstances involving a surfboard fin cutting the inside of Jones' left groin and severing his femoral artery. Cleveland Clinic says that the femoral artery is the body's main blood-supplying vessel to the lower half of the body. Presumably, in Jones' case, he lost too much blood and couldn't recover. He was 44 years old.
As Surfer says, Jones was a legend in the surfing world. Known amongst surfer communities in his birthplace of Hawaii and his adopted home of Indonesia, Jones came to recognition to wider audiences through self-recorded GoPro surfing videos. One such video on YouTube gives us a surfer's-eye perspective on barreling through waves toward a little light at the end of the tunnel: the setting sun. Such feats of daring characterize not only Jones' life but plenty of other surfers' experiences around the world. 
Years before this recent accident took his life, Jones defied death in a surfing accident that nearly killed him, as he recounts in an interview on Surfer. After paddling to catch a "big double-up" wave, he got sucked underwater, his surfboard broke, and several powerful waves crashed into him every time he surfaced. But in the end, he survived. 
Seconds away from drowning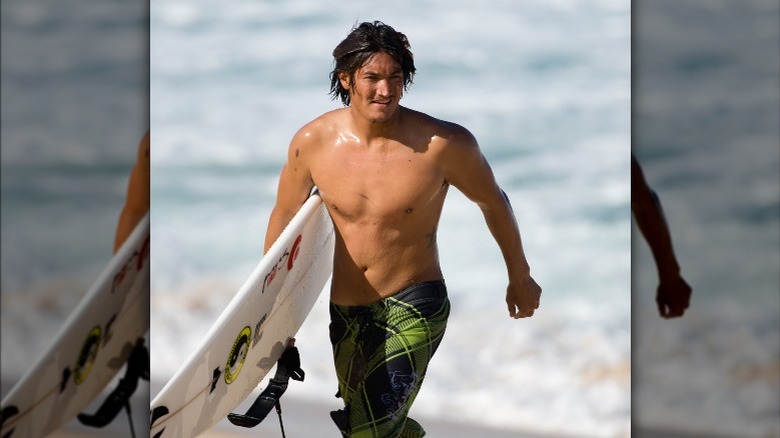 jarvis gray/Shutterstock
In his interview with Surfer Mikala Jones went into detail about his harrowing, near-death experience. And we mean that in both ways: he nearly died, and he had an honest-to-goodness, near-death experience. It's a hard thing to visualize, but Jones had a knack for making the less-than-visible visible, as his GoPro videos also attest.
Jones doesn't say exactly where he was surfing when he had his accident but mentions "second reefing:" the second round of waves rolling in towards the coast. As Surf Simply discusses, this could be a nod to the world-famous Pipeline at Ehukai Beach in Oahu, Hawaii. This would track with Jones' experience because Surfer Today describes Pipeline as a surfing destination as renowned as it is lethal. 
At some point, Jones got sucked back toward the beach instead of making it over the top of an incoming wave. He was thrown onto his board, three out of the board's four fins snapped off, and he touched bottom and pushed up. He broke the surface only to have a 10-foot wave crash on his head and send him spinning back down into the water "doing somersaults" with no sense of direction. He kept getting pummeled by waves and couldn't do anything but clutch his board. That's when he says he floated above his body and saw himself in the sea, and heard his daughter's voice say, "Daddy, come home." He woke up on the beach spitting out water, mere seconds away from drowning.
Maestro of the waves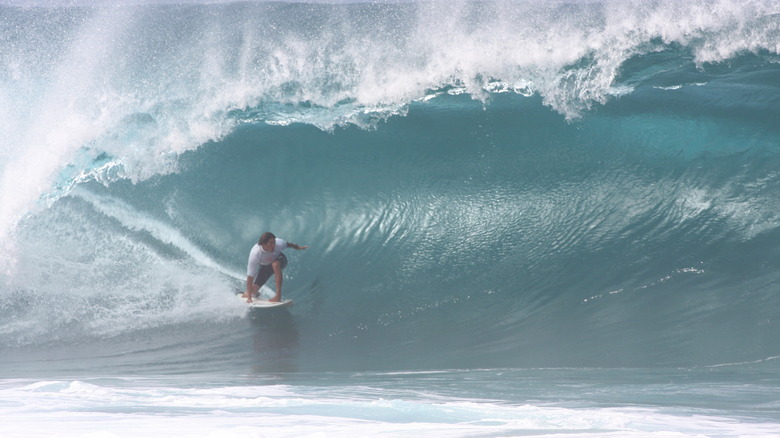 Mana Photo/Shutterstock
As Surfer describes, Mikala Jones was emotional when talking about his near-death experience, especially the part when he talked about hearing his daughter's voice calling him back to life. But even in that moment when he was lying on the beach he said, in true hardcore surfer fashion, that he was "bummed to miss the rest of the swell." But, he conceded, "I guess that's better than going home in a bodybag."  
Following the recent announcement of Jones' death, other members of the surfing community spoke up online to express their sorrow and condolences. Many did so through Jones' Instagram account. Comments include, "Legend," "Love you MJ," "RIP Brother," "RIP MY BROTHER," and more. People Magazine recounts surfer Tia Blanco saying to Jones' daughter Isabella, "Your dad was one of the nicest humans I've encountered in the surfing community. So sad to hear this news." Surfline, meanwhile, focused on Jones' work and called him, "easily one of the 21st century's most photogenic surfers," as well as praised his "mesmerizing" use of GoPro to bring POV surfing footage to folks who'd otherwise never see it. Surfing apparel and accessory site Reef issued a similarly praise-filled statement about Jones, calling him a "surfing savant" and "an artist ahead of his time painting his canvas on waves like no other."
Jones is survived by his daughter Isabella, another daughter whose name isn't publicly known, his wife Emma, his sister Malia, and his brothers Keoni and Daniel.