The Real Reason Washington, D.C. Has Catacombs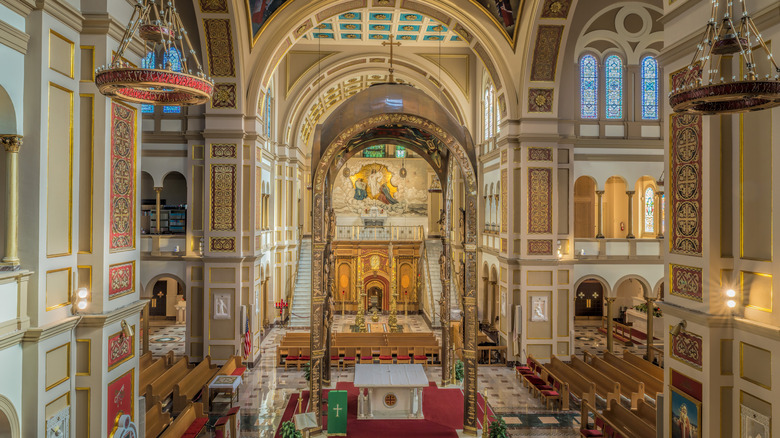 Guillermo Olaizola/Shutterstock
We're going to be honest with you: If you've ever visited Washington, D.C. and stuck to the typical tour plan — Washington Monument, Lincoln Memorial, White House, etc. — you totally missed out on the coolest thing the city has to offer. And yes, we mean cooler than that new escape room, craft beer brewery, or super hip political campaign headquarters. We're talking "hanging out in hidden underground catacombs with narrow stone passageways, a mummified 7-year-old martyr, a headless soldier's skeleton, and arcane wall art" cool. Not your thing? Fine. Feel free to stick to your itinerary, but know that all this fascinating — some might say ghoulish — paraphernalia lurks underfoot. 
But to the friars of the Franciscan Monastery of the Holy Land in America, D.C.'s old world catacombs underneath a new world city contain nothing ghoulish at all. Granted, the catacombs don't have gruesome bone designs like in the Monastery of San Francisco in Lima Peru, literal walls of bones from 6 million dead like the Paris Catacombs, nor are they remotely as vast as the 1,550-mile-long sprawl of Odessa Catacombs in Ukraine. In fact, the D.C. catacombs aren't even ancient and contain no occupied graves. The catacombs under Washington, D.C. were designed by an Italian architect a mere 120 years ago. They're copy-paste segments of actual catacombs in Rome meant to mimic the experience for people who can't make the journey overseas.
Modelled after real catacombs in Rome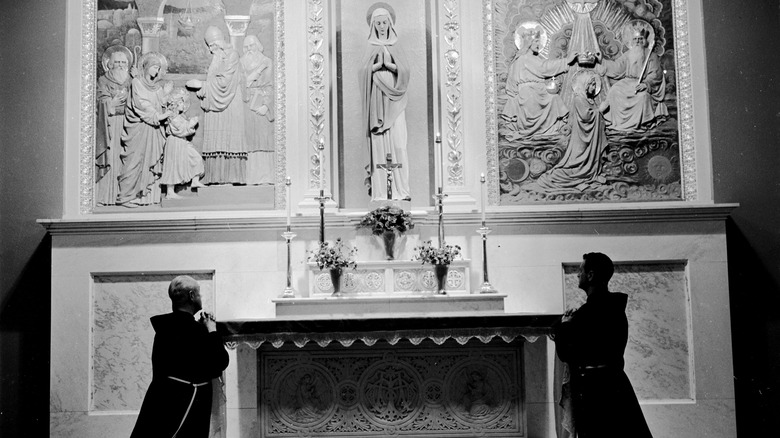 Evans/Getty Images
It's true that the United States isn't located within striking distance of many other countries, and plane tickets across either ocean aren't cheap. That's where the Franciscan Monastery of the Holy Land in America comes into the picture. They've been "living, working and guiding pilgrims in the Holy Land for 800 years," which in this case includes a crash course on Roman catacombs depicting scenes from Christianity's history.
Aside from being interactive experiences for the general public, the catacombs were meant to be teaching aids for turn-of-the-20th-century friars who lived in the monastery in Washington, D.C. The catacombs are divided into three main sections, each with different architecture and which tell a different part of the story of the Christian church. The catacomb's designer, Aristide Leonori, tried his best to mimic the dimensions and proportions of actual catacombs in Rome. The monastery's virtual tour page gives a 3D view of two rooms in the catacombs: Bethlehem Shrine and Purgatory Chapel, the latter of which has large wall paintings that include a portrait of Death carrying a scythe.
But even though the catacombs aren't actually real or ancient, they do contain some real remains, including 7-year-old St. Innocent shipped over from Rome in a glass class with his mummified hands exposed. Besides him, there's the body of a Roman soldier who converted to Christianity. His head is still back in Rome.
A complete Holy Land theme park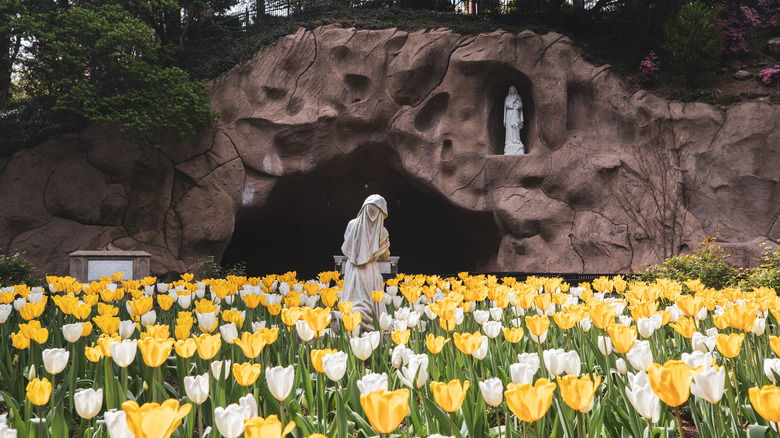 Nicole Glass Photography/Shutterstock
While the catacombs span below ground, it's aboveground where the Franciscan Monastery of the Holy Land in America truly lives up to its name. The monastery's grounds are a walk-through theme park containing recreations of sites in the Holy Land, including a romanticized version of Jesus' tomb. The grounds also house beautiful gardens containing over 1,000 roses, grottos, altars, some benches to sit down on, etc., all of which might help shed the spooky subterranean feeling of the site's catacombs. Then there's the main church itself: An admittedly impressive structure with a gorgeous, detailed interior.
Folks interested in visiting the church and gardens can stop by as they like, as the Franciscan Monastery of the Holy Land in America tour site says. The catacombs, however — perhaps because of liability issues — necessitate a guide. That guide will be either a friar or "trained lay personnel." Then there are some other rules like photos being okay but tripods needing pre-approval, no shorts even in summer (out of respect), no on-site cafeteria or lodging for visitors, and Spanish-speaking visitors needing to book at least 14 days ahead of time to give the monastery time to procure a translator. There are also some special tours throughout the year on certain calendar days. For those unable to make the journey overseas, the monastery stands ready. For those unable to get to the monastery, the virtual tour awaits.