The Most Infamous Parties In Rock History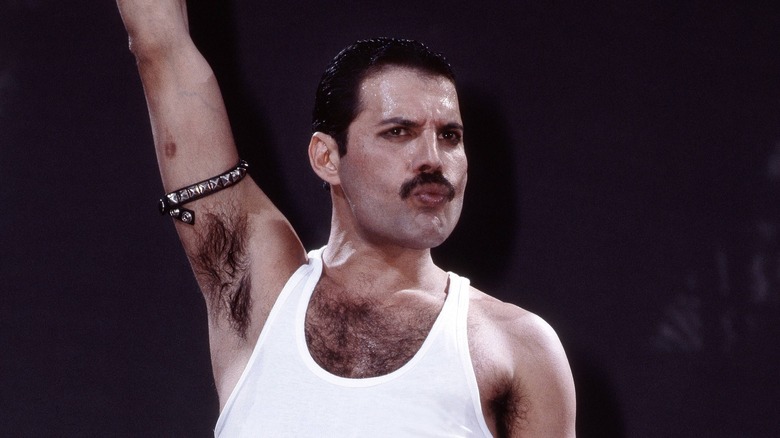 Phil Dent/Getty Images
Rock and roll has been associated with depravity and excess since it was first unleashed on the world decades ago. From the thrusting hips of Elvis in the 1950s to the hippie drug culture of the 1960s to heavy metal's flirtations with satanism in the 1980s, the genre has been seducing the minds of the youth and upsetting the sensibilities of parents for nigh on 70 years.
While there's certainly an element of theatricality in rock and roll's tendency to take things too far (and, really, who doesn't enjoy offending uptight parents on occasion?), countless rock stars have lived their lives on the edge, both musically and in their private lives. As such, rock history is filled with parties that went well beyond the usual "invite a few friends over for some drinks" gatherings most people are used to. No, in a genre that has so often celebrated sex, substances, and all forms of immorality, few rock stars have ever said, "Okay, that's enough partying for tonight." Let's take a look at some of the most infamous parties in rock history.
If you or anyone you know needs help with addiction issues, help is available. Visit the Substance Abuse and Mental Health Services Administration website or contact SAMHSA's National Helpline at 1-800-662-HELP (4357).
Nikki Sixx rocks 'til he drops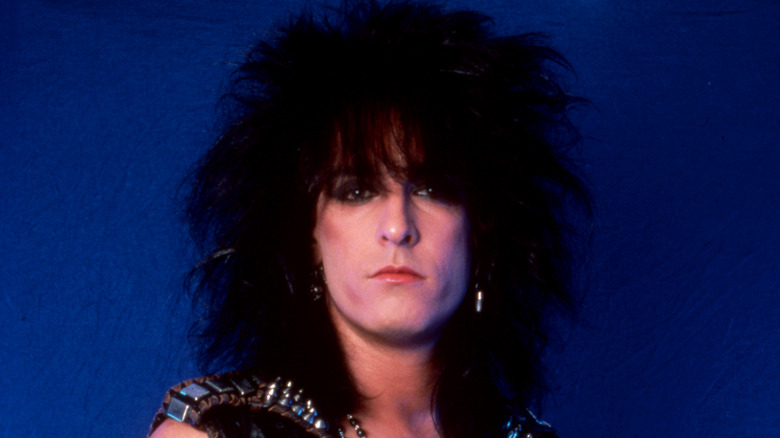 Icon And Image/Getty Images
Nikki Sixx founded Mötley Crüe in 1981. They became one of the biggest bands of the decade, but their wild, party-hardy antics attracted almost as much attention as their music, and their shenanigans have become the stuff of raunchy legend.
However, there was one time when Sixx partied a little too hard. It was on December 23, 1987, and the Mötley Crüe bassist was binging with fellow rockers Slash and Steven Adler of Guns N' Roses, Robbin Crosby of Ratt, and David Ellefson of Megadeth. Some of the specifics of the heavy metal bash are hazy, but one thing was clear: there were plenty of drugs involved. When the party landed at the Franklin Plaza Hotel, Sixx overdosed on heroin and had to be taken to the hospital. He was then declared dead for two minutes before being resuscitated. According to "The Dirt: Confessions of the World's Most Notorious Rock Band" (via Newsweek), Sixx recalls having an out-of-body experience, saying that "I looked down and realized that I had left my body. Nikki Sixx — or the filthy, tattooed container that had once held him — was lying covered face-to-toe with a sheet on a gurney being pushed by medics into an ambulance." Sixx is one of the few people who can unironically say, "I was dead, but I got better."
Vince Neil's fatal car crash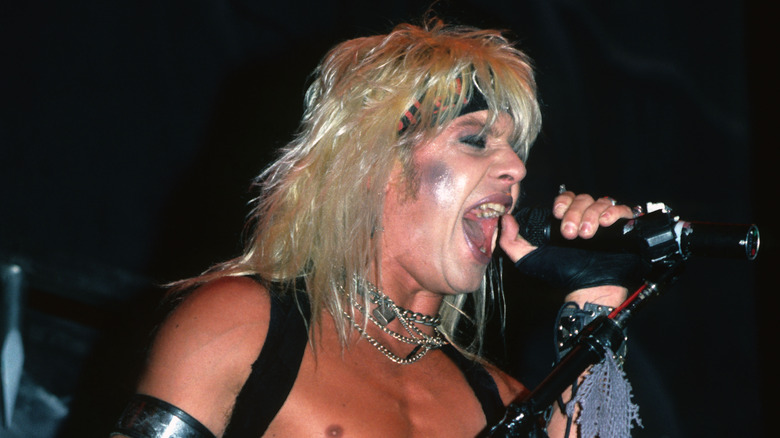 L. Busacca/Getty Images
By 1984, Mötley Crüe had more than established itself as the band to beat, but nipping at the Crüe's heels was the glam metal outfit Hanoi Rocks. While they hadn't achieved the level of fame as Mötley Crüe, they had just released an album with a major label and were about to start their first American tour.
It only makes sense that both bands teamed up to party, as Hanoi Rocks' gluttony for revelry rivaled Mötley Crüe's. What resulted was a constant party that lasted for several days in Los Angeles. As expected, the nonstop immoral marathon led to a beer shortage, which prompted a very drunk Vince Neil of Mötley Crüe to get more beer with Hanoi Rocks drummer Razzle. Unfortunately, the two rockers never made it to the liquor store as Neil, driving 65 mph in a 25 mph zone, swerved too quickly and collided with two oncoming cars. While one of the drivers didn't endure any severe injuries, the driver and passenger of the other car suffered broken bones and brain damage.
However, the real tragedy was the death of Razzle in the accident. Neil's punishment for his actions was lighter than you might expect. He was sentenced to 30 days in jail (and only served about half that time) and had to pay $2.6 million in restitution — after that he was a free man.
Freddie Mercury's birthday party in Ibiza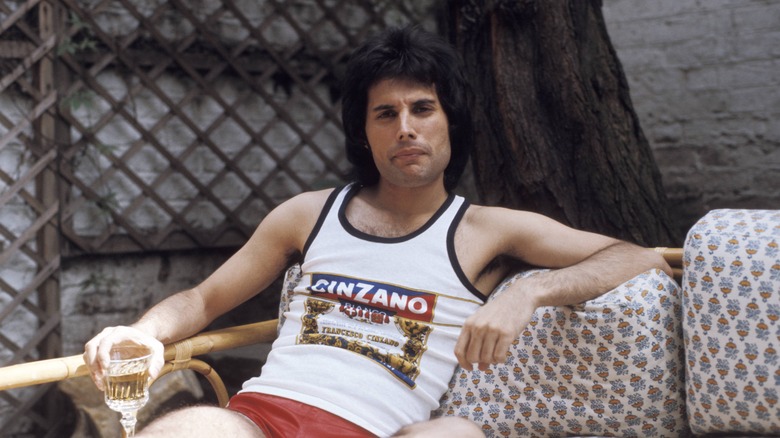 Ian Dickson/Getty Images
Freddie Mercury is one of rock and roll's great singers. With a stunning range that went from operatic highs to bluesy mids, his voice played a major part in turning Queen into the iconic band that it is today. All the while, Mercury developed a reputation for his extravagant lifestyle that only his massive stage presence could rival. When it came to birthdays, the Queen singer wanted to throw the "drinks with friends" to end all "drinks with friends," and money was no obstacle to that. 
One of his most infamous bashes was his 41st birthday party at the Pikes Hotel on the Mediterranean island of Ibiza. Held in September 1987, the party saw the singer fly in 700 of his friends, including bands Bon Jovi and Spandau Ballet, and actors Anthony Quinn and Jean-Claude Van Damme. There were so many balloons decorating the party that it required hotel staff three days to fill them with helium. The high-profile crowd went through a reported 350 bottles of Moet & Chandon champagne, downed a gigantic cake modeled after the Sagrada Familia cathedral in Barcelona, and marveled at a fireworks show that, to unsuspecting bystanders, probably looked like the beginning of the next World War.
Billy Idol's streak in Thailand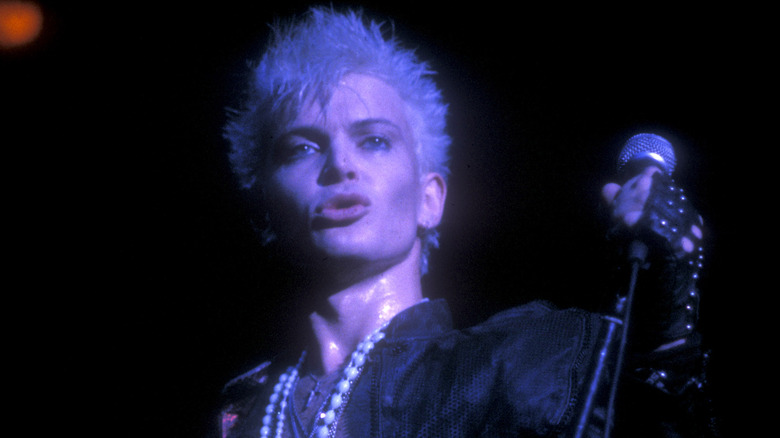 Barry King/Getty Images
Billy Idol became a major draw in the 1980s, with the help of the then-new MTV. Some of his biggest hits from the era include "White Wedding," "Dancing with Myself," and "Rebel Yell." The decade was a great time for Idol. Perhaps too great... 
Following the breakup with his girlfriend model Perri Lister in 1989, Idol and a friend went on a weeks-long bender in Thailand that included sleeping with as many women as they could and ingesting numerous substances that shouldn't be mixed together. Or, for most people, even ingested on their own. The two got tired of drinking alcohol so they asked their cab driver to fetch them some cocaine; he later returned with what Idol claimed was the strongest heroin available at the time. Throughout this everlasting blowout, Idol and his friend went through multiple hotels, racking up around $20,000 in damages. Idol's partying got so out of hand that the military had to be called in; he told Classic Rock that the drugs he took made him "become violent and start smashing things ... I think we went through a few hotels like that before the Thai army escorted me out of the country on a gurney."
Led Zeppelin's whipped cream party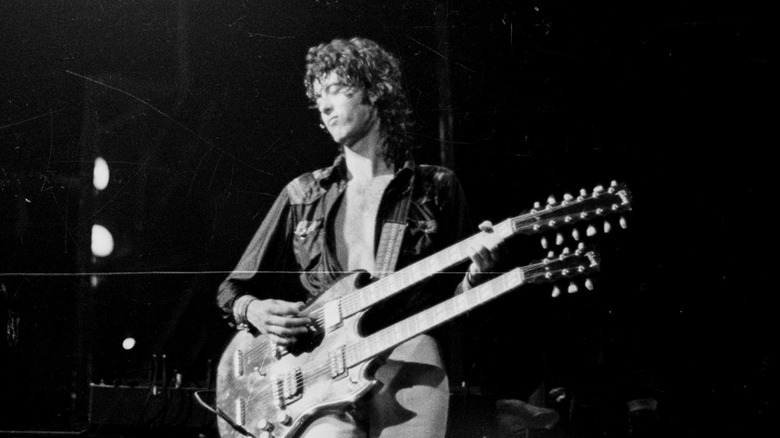 Laurance Ratner/Getty Images
Jimmy Page is one of the most important and influential guitarists in all of rock history, becoming a six-string giant after joining Robert Plant, bassist John Paul Jones, and drummer John Bonham to form the mighty Led Zeppelin.
The band dominated the airwaves throughout the 1970s, so it's no wonder that they got into all kinds of scandalous hijinks. One of their more fabled antics involved Page and Bonham thinking up a new way to entertain a roomful of groupies waiting for them at the hotel they were staying at. The two put their shaggy heads together (no doubt while under the influence of something or multiple things) and hatched the perfect scheme: have Page get naked, cover himself in whipped cream, and get escorted to their guests on a cart with Bonham dressed like a waiter. We'll let you use your imagination as to how the rest of the, ahem, festivities played out, though because Led Zeppelin was so popular at the time, it's easy to assume that the groupies were probably pretty excited about their human dessert.
Ozzy Osbourne out-parties Mötley Crüe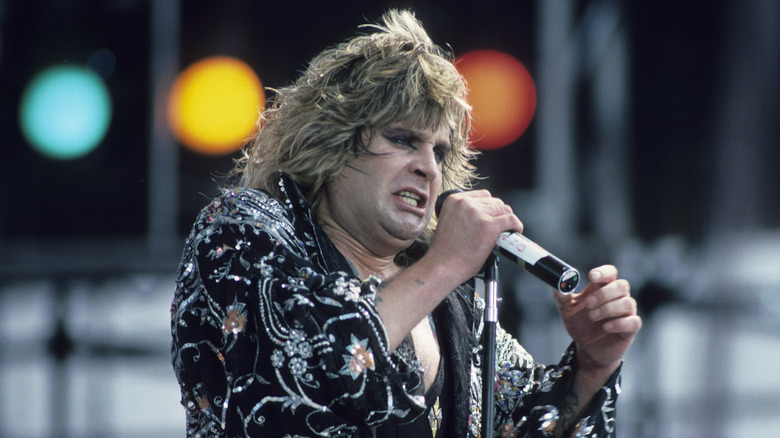 L. Busacca/Getty Images
Any fan of Mötley Crüe knows the group partied enough to fill up a dozen of these articles. But there's one particular get-together that far exceeds even Mötley Crüe's wildest antics, and it includes the Prince of Darkness himself showing the boys how it's done. According to "The Dirt," by Neill Strauss (via Vanity Fair), the story goes as follows: While Mötley Crüe was on tour with Ozzy Osbourne, they made a stop in Lakeland, Florida, in February 1984, where they hung out by the pool one day. Ozzy was in the mood for cocaine, but because the band didn't have any, he instead snorted a line of live ants that were crawling nearby.
But just to make sure he placed first in this party-hardy competition, Ozzy immediately followed this up with another gross act: He urinated on the ground, then got down on all fours and licked it up. Ozzy turned to the stunned Crüe's bassist and said, "Do that, Sixx!" Nikki Sixx apparently did have some self-respect, so he had no choice but to give the win to the true party animal. Ozzy's guitarist at the time, Jake E. Lee, told Tone-Talk that Ozzy wasn't gross enough to snort live ants and that all he snorted was a "little tiny stupid spider." But what about the urine part? "Oh, that was true," says Lee.
Iggy Pop's celebrity rehab party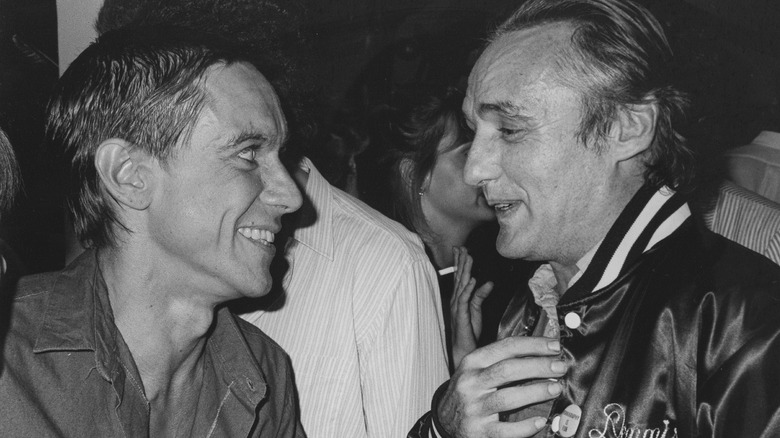 Michael Ochs Archives/Getty Images
It's not uncommon for A-list celebrities to make appearances at rock stars' parties. However, what's less common is them showing up at parties set in drug rehabilitation centers. That's exactly what happened in 1975. At the time, proto-punk rocker Iggy Pop was institutionalized in a UCLA facility for his drug addiction following a string of related misdemeanors. Wanting to cheer up a friend during a tough time, David Bowie decided to pay him a visit –- and smuggle in some cocaine. Depending on the version of the story, accompanying him was either Oscar-nominated actor Dean Stockwell or Dennis Hopper.
According to one version in "David Bowie: The Golden Years," by Roger Griffith, Bowie and Stockwell adorned themselves with spacesuit costumes and arrived at the facility demanding to see their buddy. The staff, for whatever reason, thought it totally fine to let them in, and Bowie and Stockwell arrived at Iggy's room for a drug-fueled soiree.
Bowie himself related the other version of the story, wherein the actor who actually accompanied him was Hopper. The singer told Blender, "If I remember right, it was me and Dennis Hopper. We trooped into the hospital with a load of drugs for him. This was very much a leave-your-drugs-at-the-door hospital. We were out of our minds, all of us. He wasn't well; that's all we knew. We thought we should bring him some drugs, because he probably hadn't had any for days!" With friends like Bowie (and possibly Hopper or Stockwell), who needs drug dealers?
If you or anyone you know needs help with addiction issues, help is available. Visit the Substance Abuse and Mental Health Services Administration website or contact SAMHSA's National Helpline at 1-800-662-HELP (4357).
Freddie Mercury's 39th birthday party
For Freddie Mercury's 39th birthday party, like all of his other birthday parties, he decided to push hedonism in a surprising new direction. This time, it was in the form of a black-and-white affair. But don't let the minimalist colors fool you — there was still plenty of depravity on display.
This particular party took place at a club in Munich called Mrs. Henderson, and included 100 guests who he encouraged to dress in formal drag. Funny that the man who always pressured his guests into giving in to their decadent desires as much as possible would, for this party, demand that they stick closely to the color code for the night. For his part, Mercury appeared in a typically over-the-top Harlequin costume that made it clear to everyone in attendance just whose party it was.
One of the more fascinating details about this party is that footage of it was included in a promotional video for Mercury's solo song, "Living On My Own" (shown above), but was not actually released. Apparently, record label head honcho Walter Yetnikoff was disgusted by sexually charged images in the video, and so it wasn't seen by the public until eight years after the infamous bash. It's a fairly tame video by today's standards, but it's probably safe to assume that things were a lot wilder just offscreen.
Mick Jagger's 29th birthday party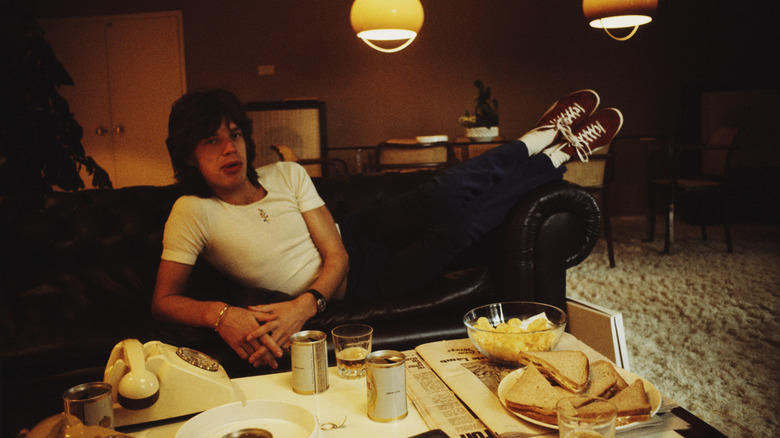 Michael Putland/Getty Images
Mick Jagger, and the Rolling Stones in general, were presented as a rougher counterpoint to the more polished brand of The Beatles, who were beginning their domination of the airwaves in the 1960s. While the Beatles played songs about wanting to hold a girl's hand, the raunchier Stones played songs about wanting to spend the night with her.
Is it any wonder that the latter band went all out when it came to partying? Jagger in particular was a sucker for a good time, as evidenced by his notorious 29th birthday bash in July 1972. The band kicked things off with a performance at Madison Square Garden, followed by a huge 500-guest party at the St. Regis Roof Ballroom that was capped off by the band's members throwing custard pies at their frontman. But the fun only ended for the paying guests — for the A-list VIPs (which included the likes of Zsa Zsa Gabor, Tennessee Williams, and Woody Allen, among others), the blowout continued well into the morning with dancers and jam sessions with Count Basie's band, legendary bluesman Muddy Waters, and R&B icon Stevie Wonder. 
And what's a birthday party without a birthday cake? Of course, this being a birthday cake for Mick Jagger, it contained the mostly naked Andy Warhol ingénue Gerri Miller to surprise the Stones' singer.
Elton John's 50th birthday party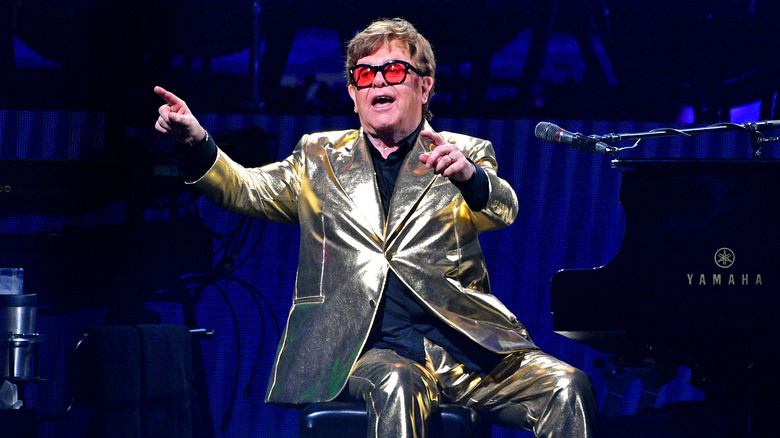 Jim Dyson/Getty Images
While Elton John has more than deserved the recognition he's received for his musical talents, he's garnered almost as much attention for his grandiose stage presence and hard-partying ways. His most memorable party was the one celebrating his 50th birthday in 1997. The only venue that could contain the gargantuan event was the Hammersmith Palais music hall, which saw over 600 guests attend. 
There were festivities galore at the glorious affair, but the main attraction was John's luxurious entrance — the icon arrived in an ostentatious King Louis XIV-inspired outfit that also included a three-foot-tall wig. The outfit is so legendary that it's now featured in an exhibition at London's Victoria and Albert Museum, showcasing famous costumes worn by celebrities. 
While John's threads were the highlight of the affair, there were so many guests decked out in the most lavish costumes that the singer told Louder Sound that he "didn't recognize half the people at that party until the end. They were wearing masks and helmets; Rick Astley was wearing a spacesuit. It was like: 'Oh my God, you're here!'"
Queen's Jazz album launch party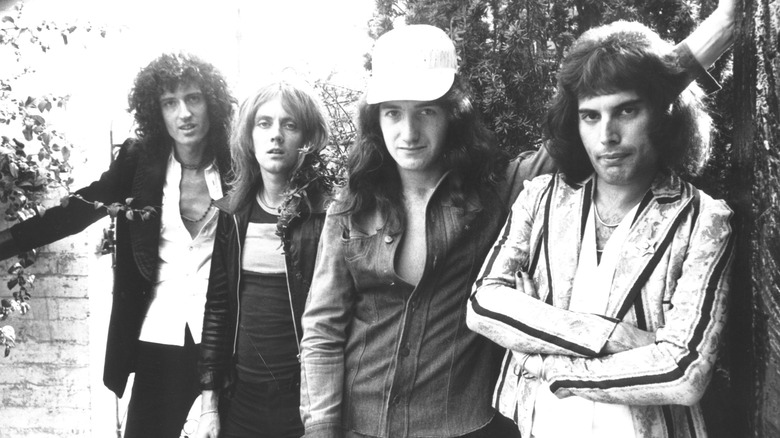 Chris Walter/Getty Images
By the late-1970s, Queen was one of the most popular bands in the world, so it only made sense for Freddie Mercury to throw an album release party for their 1978 album "Jazz" that would make all other album release parties look like church BBQ. While the band agreed to a £200,000 budget for the shindig (a huge budget, even by today's standards), Mercury completely ignored the order and went nuts by booking the stunning Fairmont hotel in New Orleans' French Quarter, inviting 500 people, and hiring a caterer to serve up a menu that included oysters, lobsters, caviar, and more.
Publicist Bob Gibson was tasked with recruiting entertainment for the evening, telling Uncut that "Freddie decided that he wanted to bring in a lot of street people to liven things up. I was instructed to find anyone vaguely offbeat who might bring a little, ahem, color to proceedings." And color they did: the "entertainers" included contortionists, fire-eaters, drag queens, a man whose performance included biting the heads off of live chickens, and little people walking around with trays of cocaine on their heads. Is it any wonder why this affair has been dubbed "Saturday Night In Sodom?"