The Biggest Pieces Of Evidence In The Gilgo Beach Murders So Far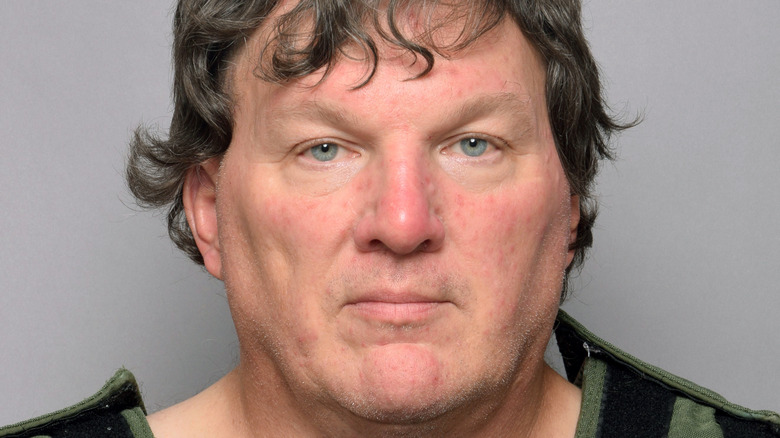 Handout/Getty Images
A web of evidence led authorities to Rex Heuermann, the 59-year-old man arrested Thursday, June 13, 2023, in connection with three women found dead near Gilgo Beach on Long Island, New York. Heuermann was charged with killing those three women and is the prime suspect in a fourth death related to remains found in the area. Besides those four women, there were seven other sets of remains found near Gilgo Beach – five more women, a man, and a toddler, all believed to be the work of a serial killer, according to CNN.
The New York Times reported that after a lengthy investigation, it was determined Heuermann owned a Chevy Avalanche truck spotted in one victim's driveway before she disappeared. Burner phones linked to Heuermann were also used to contact the women, who were sex workers, before they died, and to call one victim's family after one murder took place. Heuermann reportedly used fake email accounts to contact the women and searched the internet for sadomasochistic sexual content and news related to the Gilgo Beach murders, near where he lived. Heuermann also matched a physical description from one witness who reportedly saw the killer.
Perhaps the most damning evidence against Heuermann, though, came when DNA discovered on the remains was linked to DNA recovered from Heuermann's garbage. That evidence led to Heuermann being officially charged with killing Amber Lynn Costello, Megan Waterman, and Melissa Barthelemy. He is the prime suspect in the killing of Maureen Brainard-Barnes, also found in the area. Heuermann pleaded not guilty to all charges against him.
Similarities in how all 4 women were found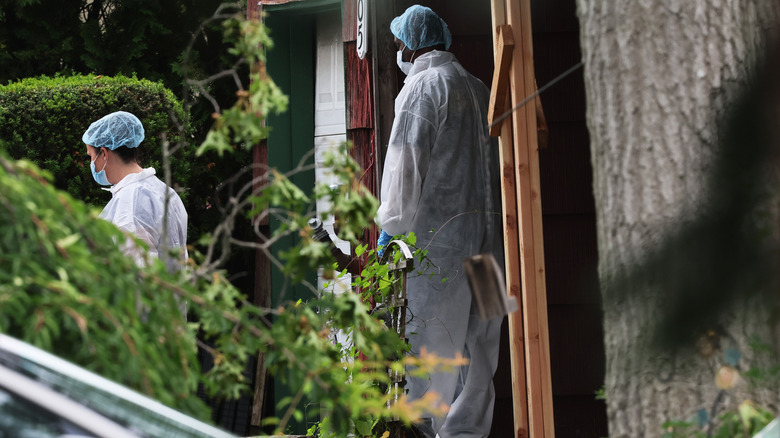 Michael M. Santiago/Getty Images
Additional evidence linking Rex Heuermann to the Gilgo Beach murders were patterns and similarities in how the remains of all four women were recovered. According to New York District Attorney, Ray Tierney (via BBC News), "[E]ach of the four victims were found similarly positioned, bound in a similar fashion by either belts or tape, with three of the victims found wrapped in a burlap-type material." The New York Times reported a belt recovered from one body was monogrammed in a manner linked with Heuermann.
A married father, Heuermann is a reputable New York architect and several burner cell phone calls were made either near his Manhattan office or near his Massapequa Park, Long Island home. As well as phone calls, Huermann used fictitious email accounts to solicit and search for "sex workers," and "sadistic, torture-related pornography and child pornography," as well as "images depicting the murdered victims and members of their immediate families," according to his bail application (via CNN). He also reportedly searched the internet for media coverage of the crimes.
Referring to the Maureen Brainard-Barnes murder, for which Heuermann was a "prime suspect" when he was arrested, Tierney said he was confident that official charges related to Brainard-Barnes' death were forthcoming (via CNN). 
DNA connected to Heuermann's wife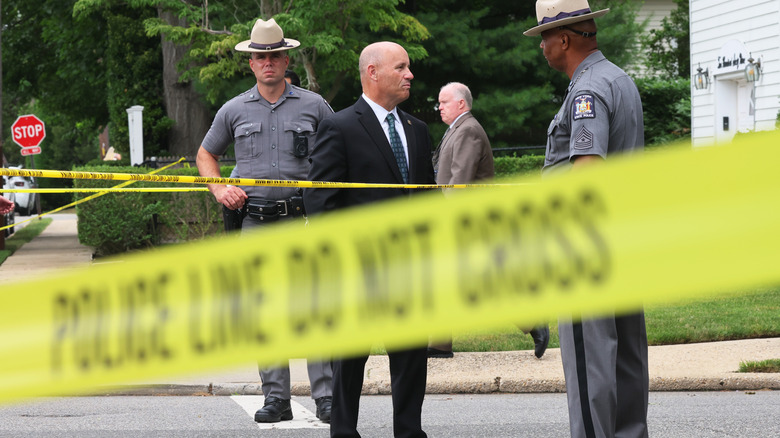 Michael M. Santiago/Getty Images
Rex Heuermann's arrest finally came after DNA discovered on pizza crust disposed of outside his Manhattan office was linked with hair found on one set of remains. A hair reportedly belonging to Heuermann's wife was somehow transferred to a victim, while DNA recovered from the women's remains was also linked to Heuermann. His wife and children were reportedly out of the country or state when the women were killed. 
Referring to the DNA evidence, New York DA Ray Tierney said (via CNN), "With regard to that DNA and those hairs, it's either transfer — in other words, one person comes into contact with a second person who then comes into contact with a third person — or, they were at a location where, you know, the family member occupied, whether it's a car or a house." After Heuermann's arrest, his home as well as a storage unit linked with the New York architect were searched for further evidence, CBS News reports. 
Heuermann, who was under surveillance for some time before he was taken into custody, owned hundreds of firearms, taken from his home, along with a mallet, tools, and several boxes. New York D.A. Ray Tierney, said the murders Heuermann is charged with "were the worst I've ever seen," and that Heuermann continued to contact sex workers until shortly before his arrest, using fake identities. As of this report, the investigation into the remaining Gilgo Beach murders was ongoing.