The Tragic 1944 Death Of Jean Tatlock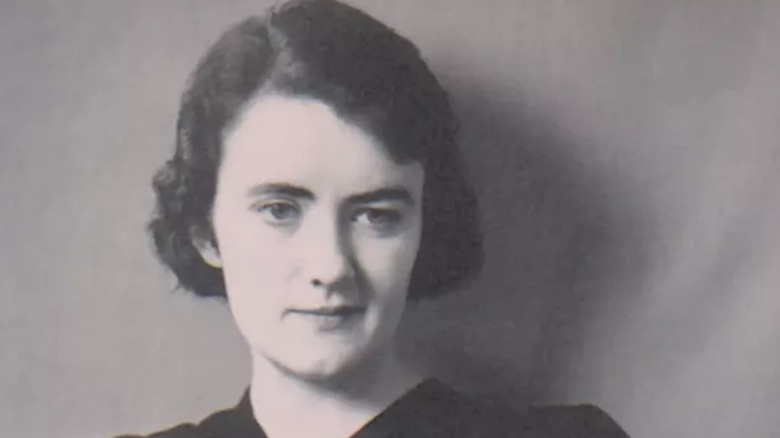 Library of Congress
"Now I am become Death, the destroyer of worlds." These famous words were quoted by J. Robert Oppenheimer, lead scientist on the Manhattan Project that developed the world's first atomic bomb from 1942 to 1945. Taken from the Hindu scripture the "Bhagavad-Gita," which Oppenheimer learned to read in the original Sanskrit, the quote shows how, through the development of weapons of mass destruction, the talented theoretical physicist looked back with a sense of dread and shame over his deadly breakthrough.
But death also figured prominently in Oppenheimer's personal life, not least the tragic end of Stanford University Medical student Jean Tatlock, one of the women in his life whom biographers Shirley Streshinsky and Patricia Klaus claim was the scientist's "first and most intense love" (via "An Atomic Love Story"). She first began her relationship with Oppenheimer in 1936, and, though Oppenheimer would go on to marry another woman, they would remain in each other lives until Tatlock's tragic death in 1944 at the age of 29.
Oppenheimer and Tatlock's first romance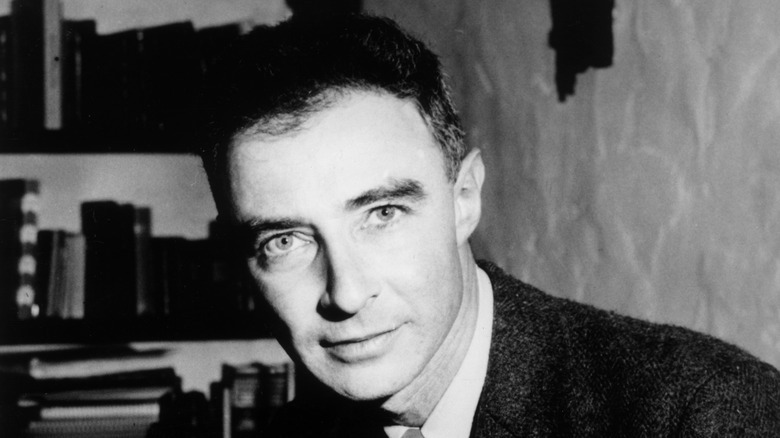 Hulton Archive/Getty Images
In the early 1930s, J. Robert Oppenheimer, a professor of theoretical physics at UC Berkley in 1929, took on lodgings at 2665 Shasta Road, where he became friendly with his landlady, Mary Ellen Washburn. Washburn and her husband were keen socialites, who often held parties and salons where Berkley intellectuals discussed politics, literature, and social issues. At one of these functions, Oppenheimer first met Jean Tatlock, who was still a student at the time.
The two enjoyed an intense and passionate romance based on a shared love of poetry, which they would reportedly read to each other. But their attraction was physical as well as intellectual. Tatlock, a voracious reader and talented wordsmith, wrote of Oppenheimer: "I can easily imagine becoming drunk over his body and more over his delight in mine. He could have all that and whatever of the rest of me he could find" (via "An Atomic Love Story").
Despite the intensity of her feeling toward Oppenheimer, Tatlock suffered from clinical depression, and Oppenheimer was reportedly distressed by the symptoms Tatlock's depression manifested (via "An Atomic Love Story"). Nevertheless, he remained confident that his love might help her overcome her illness. Instead, the first flush of their relationship was short-lived, with Tatlock — who was unsure that she could fulfill the role of wife and mother to an ambitious scientist like Oppenheimer — rejecting multiple offers of marriage from him and breaking off their relationship in 1939.
A security-breaching affair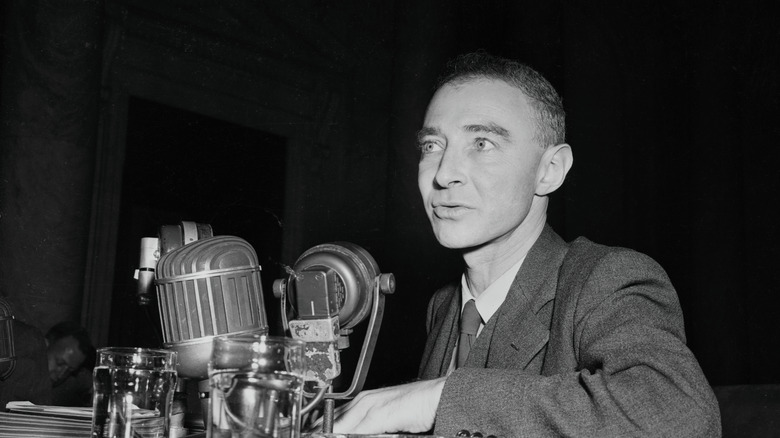 Bettmann/Getty Images
Within months of his romance with Jean Tatlock coming to an end, J. Robert Oppenheimer — who was reportedly a charming figure — began a relationship with a woman named Kitty Harrison. Harrison wasn't the first woman that the scientist had been romantically involved with since Tatlock — indeed, it seemed that Oppenheimer became notorious for his liaisons, particularly with married women — and Harrison certainly fit the profile of the women he was interested in. Age 29, Harrison was married to a medical student, from whom she filed for divorce after becoming pregnant through Oppenheimer, whom she married the day her divorce was finalized.
However, Oppenheimer's marriage to Harrison didn't mean that Tatlock was out of his life. Instead, he would make regular trips to see his former lover, continuing their romance as an extra-marital affair. Little did Oppenheimer know that his trysts with Tatlock would later prove to be a point of contention with his colleagues, who considered it a potential security risk during the Manhattan Project. Tatlock, like Harrison, had been a member of the Communist Party, while Oppenheimer himself had developed left-leaning political sympathies in his university days.
Oppenheimer was forced to defend his visits to Tatlock under oath in front of a security hearing, where he explained that he felt it his duty to visit Tatlock, who was dealing with mental illness and was still in love with him years after their relationship had come to an end.
The tragic death of Jean Tatlock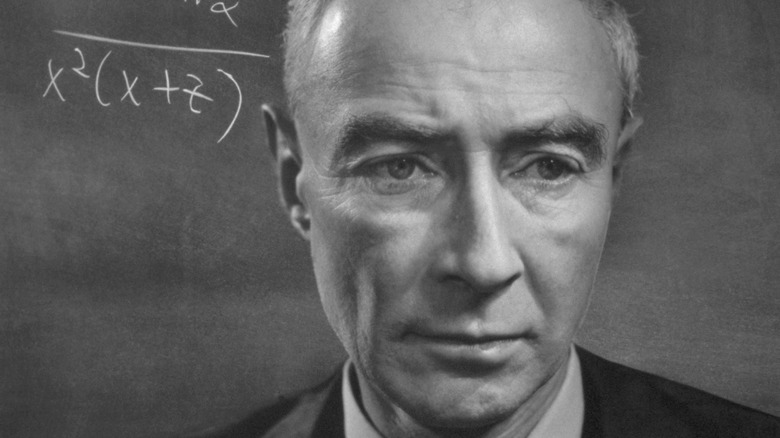 Historical/Getty Images
On January 4, 1944, Jean Tatlock died by suicide in her apartment in San Francisco, her body found by her father who reportedly burned various pieces of correspondence but retained her suicide note, part of which read: "I am disgusted with everything ... To those who loved me and helped me, all love and courage. I wanted to live and to give and I got paralyzed somehow. I tried like hell to understand and couldn't ..." Oppenheimer was devastated by the news when it reached him, and he took to taking long, mournful walks to work through his grief.
While Tatlock's death has been most commonly ascribed to suicide, some sources argue that her death was possibly the product of foul play by forces that potentially wanted Tatlock neutralized as a potential security threat. The book "American Prometheus: The Triumph and Tragedy of J. Robert Oppenheimer," outlines details through which such suspicions have arisen, including the fact that an autopsy had found that Tatlock had eaten recently eaten a large meal, which, as a trained doctor, she knew would have undermined the effect of the sleeping pills she was also found to have taken. However, there is no direct evidence of the involvement of a third party in the 29-year-old's death.
Oppenheimer gave the first-ever atomic bomb test the codename "Trinity" after a verse by the British metaphysical poet John Donne, and it has been speculated that the reference was made in honor of Tatlock, who adored the poet's work.
If you or someone you know is struggling or in crisis, help is available. Call or text 988 or chat 988lifeline.org