Pro Athletes Who Died Before Turning 45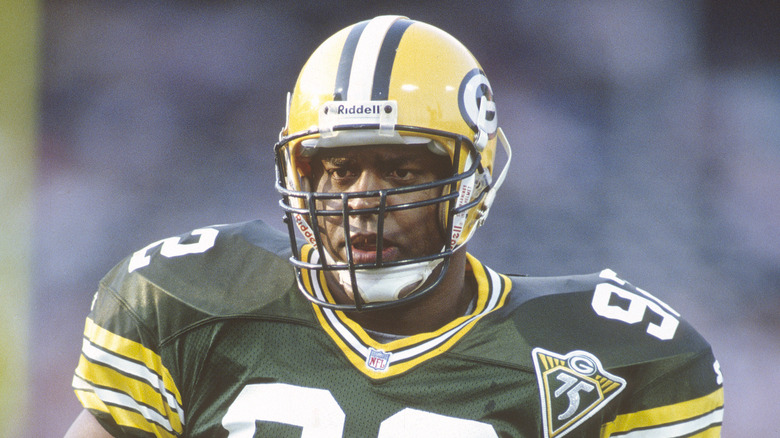 Focus On Sport/Getty Images
It's easy to complain about the sometimes astronomical salaries commanded by pro athletes, but let's face it: unless you're a logger, heavy machine operator, or trash collector (yes, really), your job probably doesn't require you to put your health on the line every day. Athletes spend their careers risking life and limb for the amusement of their fans, and even non-contact sports can be hazardous — as evidenced by the surprising number of athletes who have actually died while competing.
As it turns out, athletes are mortals just like the rest of us, and one never knows when the Grim Reaper is going to pull one's name out of his hat, or hood, or whatever he pulls names out of. Whether they were engaged in competition, practicing their athletic pursuits for fun, or just living their lives, there are a number of professional athletes who have left our earthly plane far too early. They may not have lived to a ripe old age, but their legacies are immortal — as is the love of their fans.
Kobe Bryant
Harry How/Getty Images
The word "legend" is often applied to sports figures, but when discussing Los Angeles Lakers great Kobe Bryant, any other descriptor seems downright inappropriate. The son of NBA player Joe "Jellybean" Bryant, Kobe was drafted straight out of high school in 1996 by the Charlotte Hornets, who made the outrageous error of near-immediately trading him to the Lakers. Ferociously intelligent and physically dominant, Bryant made an immediate splash in the NBA, becoming the youngest-ever All-Star at the age of 19 — and as part of one of the most patently unfair tandems in basketball history with fellow legend Shaquille O'Neal, he won three consecutive championships between 2002 and 2004. More rings, MVP awards, and accolades followed until his retirement in 2016 — and he was only a few short years into that well-earned retirement when tragedy struck.
On January 26, 2020, Bryant and eight others — including his 13-year-old daughter Gianna — boarded a helicopter in Orange County, California, en route to a youth basketball tournament at which Bryant was to coach his daughter's team. Due to what would later be determined to be pilot error combined with poor visibility, the craft barreled full-speed into the side of a hill in Calabasas, killing everyone on board; Bryant was just 41. It was a tragedy that shocked the entire world, as summed up for the Los Angeles Times by Bryant's friend and fellow Laker giant Earvin "Magic" Johnson: "Your stomach just turned upside down, because I was like, 'Nah, not Kobe,'" he said. "He's Superman ... Then sure enough, it was confirmed, and man, I just broke down."
Pat Tillman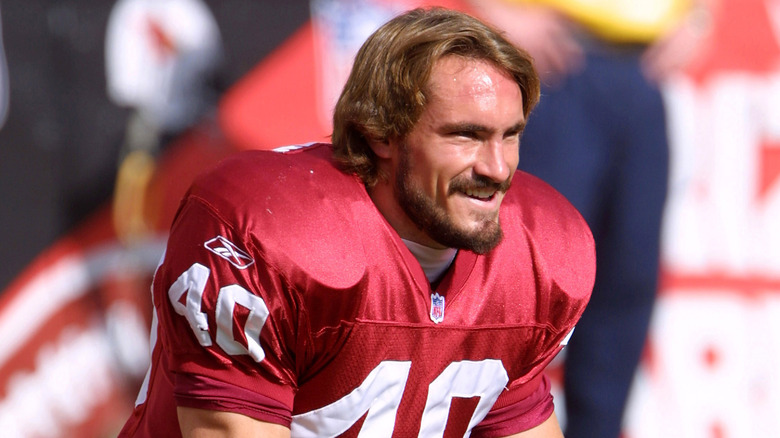 Gene Lower/Getty Images
Arizona Cardinals safety Pat Tillman was destined for greatness in the NFL. An undersized defensive back, he distinguished himself on the field not just with his intelligence and leadership abilities, but with an unlikely ability to channel all of the energy in his comparatively small frame into absolutely bone-rattling hits. Tillman was drafted by the Cards in 1998 after a stellar collegiate career at Arizona State University, and after setting a team record for tackles in 2000, he was courted by the then-St. Louis Rams, who dangled a huge contract in front of his face — but Tillman opted to stick with the team that drafted him because that's the kind of guy he was.
He was also the kind of guy to shock the pro sports world by walking away from football in 2002 to join the U.S. Army in the aftermath of 9/11. After a stint in Iraq, he was deployed to Afghanistan in 2004, where he was tragically killed in action at the age of 27 — by members of his own battalion, who had mistaken him for an enemy soldier after their unit had gotten split up while dealing with a broken-down vehicle and an untimely ambush. Unbelievably, the Army and U.S. government both spent quite some time asserting to the public — and Tillman's family — that he had been killed by enemy fire. When the truth came to light weeks later, the incident had the effect of introducing the unfortunate phrase "friendly fire" into the popular lexicon — and to this day, questions remain about the exact circumstances of Tillman's death.
Mikala Jones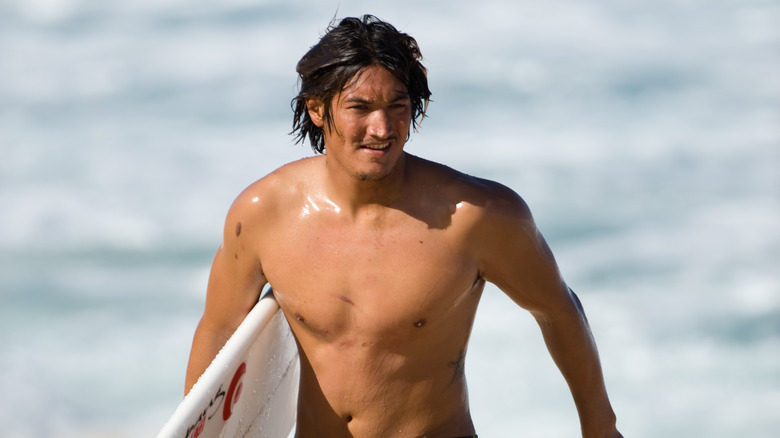 jarvis gray/Shutterstock
Mikala Jones might have been born riding a surfboard; few surfers have ever seemed quite so at home in the ocean, as evidenced by the photos that made him famous. Oh, sure, Jones won a couple of amateur championships, and his technique was certainly impressive — but the photos tell the real story, and not any old photos taken of him by journos or fellow surfers. These are shots that Jones took himself — of himself, riding inside the kind of gigantic, crushing waves that would make most of his peers shake their heads and say "No way, dude." Jones was a pioneer in the field of surf photography, and the shots he somehow managed to capture were beyond stunning, which he shared on his Instagram.
Jones died doing what he loved, in what can only be described as a freak accident for a surfer of his experience level. After bailing from his board, the board's fin came into contact with his leg; many surfers take precautionary measures to avoid this circumstance ending in tragedy, like wearing protective gear or sanding down the fin's sharp edge, but Jones was a purist. The fin sliced open his femoral artery, causing him to bleed to death. He was just 44 years old.
Derrick Thomas
Tim Defrisco/Getty Images
Linebacker Derrick Thomas is a Kansas City legend, having played every single one of his 11 seasons in the NFL for the Chiefs. Thomas played with the kind of chip on his shoulder one might expect from an extremely talented player who went in the fourth round of the draft; he was a terror in the middle of the field, not to mention an all-time great pass rusher. The nine-time Pro Bowler set a single-game record with seven sacks in a 1990 game against Seattle, and it took eight seasons for that record to be threatened — by Thomas himself, who recorded six sacks against Oakland in 1998. "DT" simply couldn't be stopped, and he was beloved by all of Kansas City — a city that was thrown into mourning by his shocking, untimely death in 2000.
In January of that year, Thomas and two buddies were involved in a horrific car accident while en route to Kansas City International Airport. Thomas' friend Michael Tellis was killed, and Thomas suffered a spinal fracture that left him paralyzed from the chest down. This was awful enough — but during his recovery, Thomas went into cardiac arrest resulting from a blood clot and died in the hospital at the age of 33. At a press conference, then-Chiefs head coach Gunther Cunningham perfectly articulated the feelings of all Chiefs fans: "Derrick," he said, "will hang over this stadium forever."
Reggie White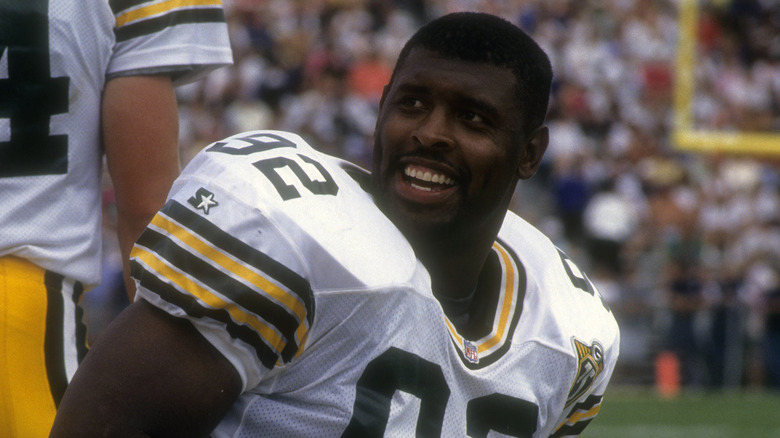 Al Pereira/Getty Images
Defensive end Reggie White had a blinding smile and a gregarious personality, all the better to distract opponents from the fact that he was capable of delivering hits that would knock their astral form right out of their body. White began his career in the short-lived USFL before moving on to the NFL, establishing himself as a force during eight seasons with the Philadelphia Eagles; he then moved on to the Green Bay Packers, whom he helped to their first Super Bowl victory in nearly three decades in 1997. White was unrealistically dominant, recording 198 sacks during his career — but for all his ferocity on the field, he was also outspoken about his Baptist faith. He was an ordained minister, which earned him that most obvious of nicknames, the "Minister of Defense."
White finished out his career with the Carolina Panthers before retiring in 2000, a retirement he got to enjoy for four short years before a cardio-pulmonary condition claimed his life. He had dealt with the condition, known as sarcoidosis, for years — but in 2004, the disease, which affected his ability to breathe properly, worsened to the extent that White experienced an irregular heartbeat. The condition never resolved, and White died in the hospital at 43 years old. He was posthumously inducted into the Pro Football Hall of Fame in 2006.
Roberto Clemente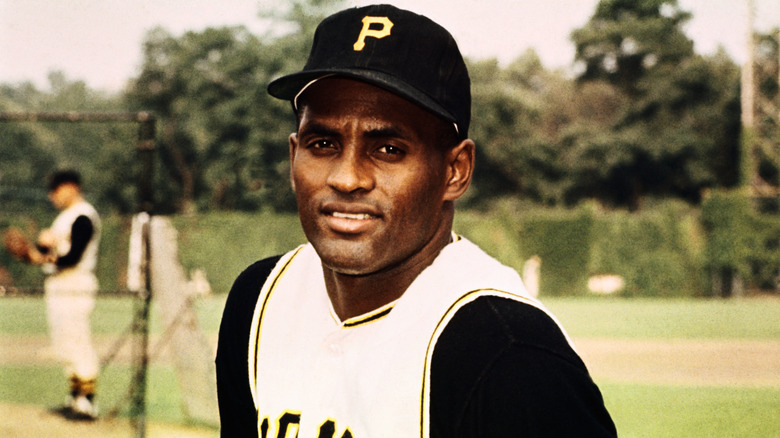 Bettmann/Getty Images
Puerto Rican right fielder Roberto Clemente became a Major League superstar during a time period, the mid-'50s, during which Jim Crow laws were in full effect, and baseball's color barrier had not even been broken for a full decade. Landing with the Pittsburgh Pirates after being aggressively pursued by the Dodgers, Clemente became known for his off-the-field work with charities, establishing baseball camps for inner-city youths and working to provide relief to impoverished areas of Puerto Rico. Oh, and he also became known for being perhaps the greatest right fielder to ever play, racking up eye-watering statistics in the course of his 18 seasons — including 12 Gold Glove awards, four batting titles, a National League MVP award, 15 All-Star selections, and two World Series championships.
Sadly, it was Clemente's dedication to charitable causes that would bring about the circumstance that led to his death. In December 1972, a vicious earthquake shook Managua, Nicaragua, and when Clemente discovered that there were delays in delivering aid to the region, he decided to take matters into his own hands. He hired a private plane, and loaded it up with supplies — but the plane, which was owned by a pilot with a horrendous safety record, was in terrible shape, not to mention overloaded with cargo. It crashed into the ocean shortly after takeoff, and the bodies of those aboard were never recovered; Clemente was only 38.
Thurman Munson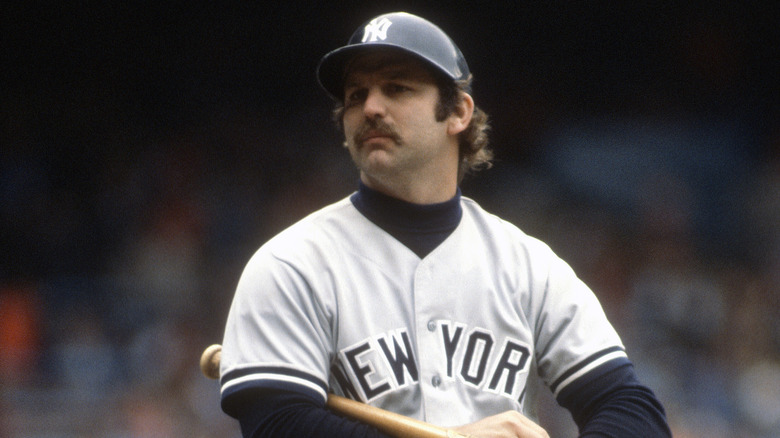 Focus On Sport/Getty Images
Catcher Thurman Munson was instrumental in molding the sad-sack New York Yankees, who had not been within shouting distance of a World Series since 1964, into contenders after their acquisition by shipping tycoon George Steinbrenner in 1973. Munson's plain-spoken leadership and hard-charging playing style endeared him to the club's fans, and his tendency to frequently butt heads with Steinbrenner and star right fielder Reggie Jackson did nothing to diminish his standing; if anything, it made those fans love him all the more (this is New York we're talking about). As team captain, Munson helped the Yankees to their first two World Series championships of the Steinbrenner era, in 1977 and 1978 — but in 1979, a tragic accident cut his career, and life, terribly short.
Munson was an amateur pilot, and in August of that year, he was practicing landings at Ohio's Canton-Akron airport when his small plane, with his friends David Hall and Jerry Anderson also aboard, crashed short of the runway. Munson's neck was broken in the crash, but he survived — only for the plane to burst into flames. Hall and Anderson were unable to free Munson from the wreckage, and as flames engulfed the aircraft, they were forced to abandon their friend (per The New York Times). So important is Munson to Yankees history that, when the club's new stadium was completed in 2009, his locker from the old Yankee Stadium was installed in the facility's museum, where it remains to this day.
Junior Seau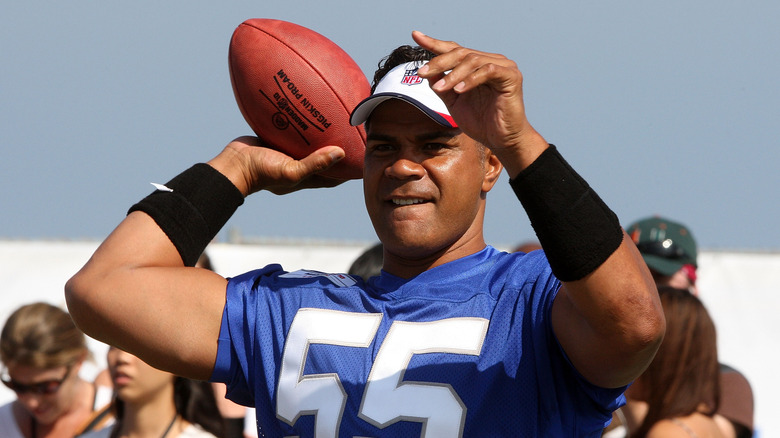 Frazer Harrison/Getty Images
San Diego Chargers legend Junior Seau was as dominant as linebackers come, and while the team never won a championship during his 12-season run, it certainly wasn't for lack of effort on Seau's part. The definition of a hard-hitting linebacker (sportscasters liked to crack wise on the pronunciation of his last name, "say 'ow'"), the man racked up personal achievements and awards like nobody's business: six straight All-Pro selections, 12 Pro Bowls, multiple team MVP awards, and later, an induction into the Pro Football Hall of Fame. Unfortunately, that induction was posthumous, as Seau was one of the most high-profile NFL players to suffer from chronic traumatic encephalopathy — the condition known as CTE.
In May 2013, Seau died by suicide at 43, shooting himself in the chest so as to preserve his brain for study. He was indeed found to have been stricken with the disease, which has been linked to depression as well as progressive symptoms similar to dementia, and can only be diagnosed post-mortem. Speaking with the Los Angeles Times, Seau's college teammate Gary Plummer lamented that Seau's most admired quality, his toughness, might have contributed to his early demise: "Your entire life, that is probably your most revered characteristic as a player," he said. "Junior was obviously very good at it. He'd play through ridiculous pain that some people wouldn't even get out of bed with to go to an office job." 
If you or anyone you know is having suicidal thoughts, please call the National Suicide Prevention Lifeline​ by dialing 988 or by calling 1-800-273-TALK (8255)​.
Cedric Benson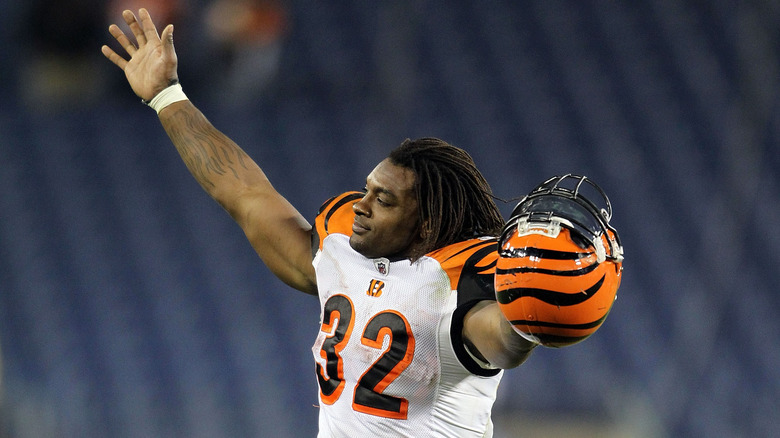 Andy Lyons/Getty Images
Cedric Benson was a dominant running back during his college days playing for the University of Texas Longhorns, winning the Doak Walker award for running backs as a senior and coming in second only to the great Ricky Williams in total rushing yards in the school's history. Selected by the Chicago Bears in the 2005 NFL draft, he struggled to make an impact — but upon being traded to the Cincinnati Bengals after three seasons, he hit his stride. His four seasons as a Bengal saw him eclipse the 1,000-yard mark three times, and after a final, truncated season with the Green Bay Packers during which he was hampered by injury, Benson called it a career.
In August 2019, Benson and a female companion were riding on a motorcycle in Austin, Texas, when authorities say they collided with a minivan that was crossing an intersection after stopping at a stop sign. The crash was violent enough that both vehicles burst into flames, and while the minivan's occupants were able to escape serious injury, Benson and his companion were not so lucky. The woman was killed instantly, while Benson hung on for a few minutes before passing away at the scene; he was 38 years old.
Tyler Skaggs
Jayne Kamin-oncea/Getty Images
MLB pitcher Tyler Skaggs was diligently working his way into the ranks of elite hurlers, having been drafted by the Los Angeles Angels before being shuttled off to the Arizona Diamondbacks, then traded back to the Angels again. Despite spending the entirety of the 2015 season on the bench recovering from surgery, Skaggs was playing his best ball by 2018, setting career highs in wins, starts, and strikeouts that season. He was also active in the community and seemed to have his sights set on becoming an all-time Angels great — but in 2019, that dream was unceremoniously dashed.
In July, Skaggs was found dead in his hotel room due to what was later found to be an overdose of a cocktail of drugs which included oxycodone and oxymorphone, as well as fentanyl. In 2022, former Angels employee Eric Kay was convicted and sentenced to 22 years in prison for supplying Skaggs with the drugs that resulted in his death. The judge not only imposed the maximum 20-year sentence but tacked on two extra years due to shockingly callous and derogatory remarks which Kay made about Skaggs while awaiting trial. "We are very grateful to everyone who worked so hard to investigate and prosecute Eric Kay," Skaggs' family said in a statement after the trial. "The real issue in this case is holding accountable the people who are distributing the deadly drug fentanyl."
If you or anyone you know needs help with addiction issues, help is available. Visit the Substance Abuse and Mental Health Services Administration website or contact SAMHSA's National Helpline at 1-800-662-HELP (4357).
Jason Leffler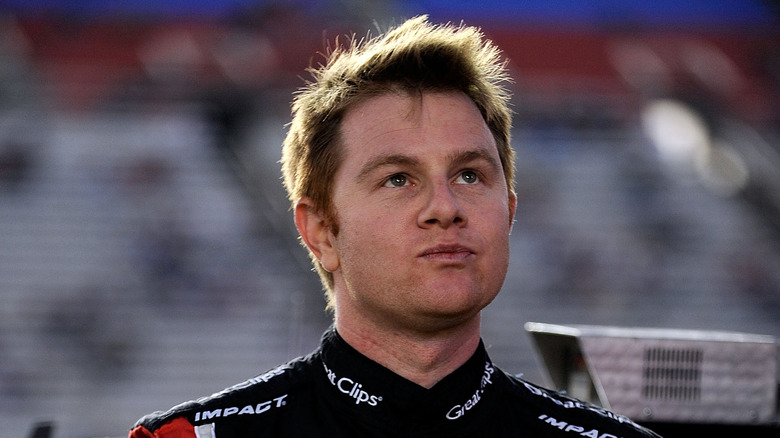 John Harrelson/Getty Images
Open-wheel and stock car driving veteran Jason Leffler was a NASCAR mainstay for years, competing among the ranks of the sport's elite between 1999 and 2013. He recorded dozens of starts and his fair share of wins in his career, including a victory in the 2007 Busch Series — which happened to be the first time that particular series had ever been won in a Toyota Camry, giving that manufacturer its first major NASCAR win. He had competed in both the Daytona 500 and the Indy 500; he had pretty much done it all, but such was his love for racing that he just couldn't seem to keep himself off the track, even when that track was of the dirt variety, and the competition was relatively low-stakes.
Such was the case when, in June 2013, Leffler was competing in a race at Bridgeport Speedway in Logan Township, New Jersey. Coming out of a turn, his vehicle suffered a freak mechanical failure which caused his suspension to lodge itself between a wheel and the steering system; unable to control the car, Leffler spun out and careened at full speed into a concrete wall. He suffered blunt trauma to his neck, and died at the scene; he was only 37, and he left behind a 5-year-old son.
Payne Stewart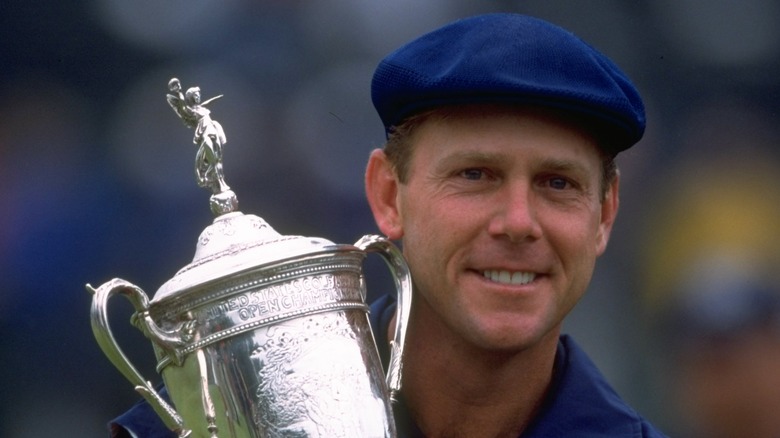 David Cannon/Getty Images
Payne Stewart was widely known for his ... er, old-school attire on the golf course, which usually included knickers and a traditional English flat cap. But he was simply one of the greatest golfers of the modern era; between 1982 and 1999, he won 11 PGA Tour events including two U.S. Opens, and he also scored a pile of other wins including three Skins Game victories and a pair of Hassan II Gold Trophy Championships. He was a mainstay on U.S. National Teams during his career and was highly respected among his peers — which made his death in 1999 all the more tragic and shocking.
Payne was aboard a private jet that suffered a freak series of malfunctions while at cruising altitude — it lost cabin pressurization, and its emergency backup systems failed to kick in. With the loss of pressurization at that altitude, everyone aboard — including the pilot — would have lost consciousness within minutes. The plane's autopilot kept it airborne for several hours of uncontrolled flight before it ran out of fuel and crashed to the ground in a field in South Dakota; at that point, all of the plane's occupants were likely already dead from oxygen deprivation. Stewart was just 42 years old, but his legacy lives on in the award that bears his name, given every year by the PGA to the golfer who "best exemplifies Stewart's steadfast values of character, charity, and sportsmanship."