The Story Behind I Left My Heart In San Francisco Explained
MPH Photos/Shutterstock
When the sad death of American vocalist Tony Bennett was announced on Friday, July 21, 2023, fans around the world recalled the many songs in his vast discography that he had made his own. But none quite evokes his class, style, and vocal prowess quite like the iconic "I Left My Heart in San Francisco," which in 2001 was named one of the "Songs of the Century" by the Recording Industry of America and the National Endowment for the Arts.
Written by San Franciscan songwriting couple George Cory and Douglass Cross, the story evokes a traveler from the city seeing the landmarks of the world — Paris, Rome, and finally ending up in Manhattan — before realizing that nothing compares to their home city, to which they long to return. With its grand, sweeping references, it is tempting to conclude that the song is a fantasy.
But there was certainly a biographical element to the song too. At the time they composed the song, Cory and Cross, who had met in the military, had relocated from their beloved San Francisco to try and make it as a songwriting partnership in New York, hoping to make their names in Tin Pan Alley. However, the duo struggled for many years to find success, and "I Left My Heart in San Francisco" is reportedly a true portrait of their homesickness and world-weariness.
Mixed fortunes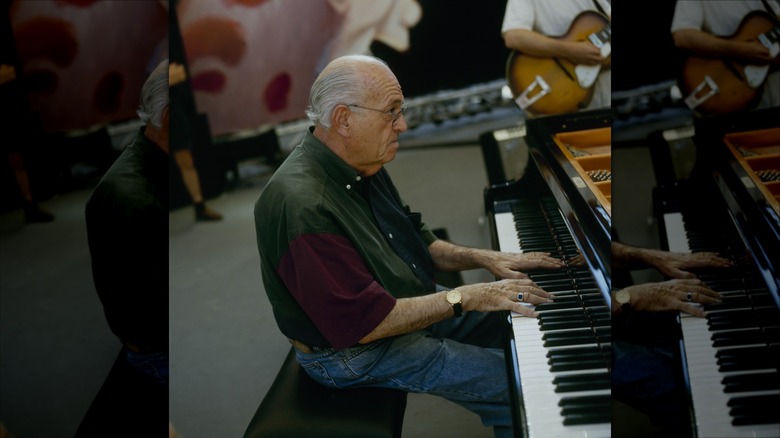 David Redfern/Getty Images
George Cory and Douglass Cross labored in hopeless obscurity, writing songs that struggled to gain popularity before a stroke of luck brought "I Left My Heart in San Francisco" — which was fully written in 1954, eight years before the release of Tony Bennett's recording — to the world's attention. Bennett's pianist, Ralph Sharon (pictured), recalled discovering the song, which Cory and Cross had given him for consideration, in a shirt drawer, and taking it to Bennett, knowing that he was due to perform in the city in question. After a warm response from the audience, Bennett decided to record it, giving him the biggest hit of his career.
Naturally, Bennett's hit recording of the song was the break that the two songwriters had for so many years longed, and in creating a classic, the partnership might ultimately be considered a success. However, Cory and Cross never wrote another song that was anywhere near as popular as "I Left My Heart in San Francisco." In fact, only around 30 of the 200 or so songs they wrote together were ever even published.
The partnership later broke apart, as did their romantic relationship, and though the famous song they wrote together brought them both a good income in terms of royalties, they were both to die before the age of 60 — Cory of a reported drug overdose, according to The New York Times  (though his exact cause of death has been debated) and Cross as a result of cirrhosis.
Tony Bennett's signature song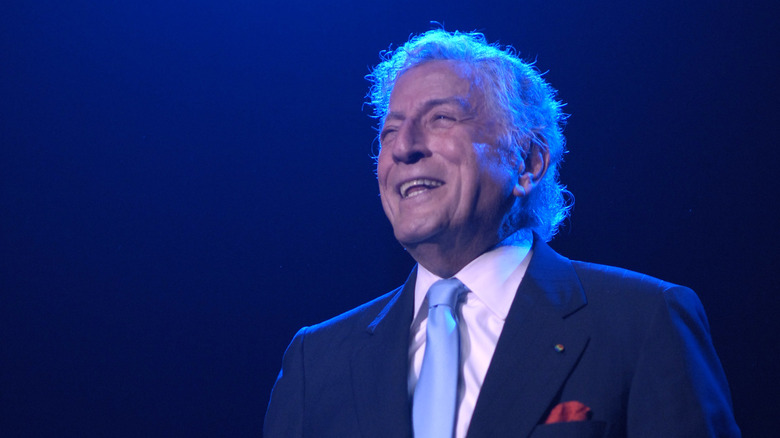 Eugene Parciasepe/Shutterstock
When Tony Bennett released "I Left My Heart in San Francisco" in 1962, it became a huge smash hit, spending a total of 21 weeks on the Billboard Hot 100, peaking at No. 19, and attracting plaudits from music critics across America, earning two Grammy awards.
The song became Bennett's signature, which he performed countless times over the course of his career. In an interview with Reuters, the singer quipped regarding the longevity of the song: "People ask me, 'Don't you get tired of singing that song about San Francisco?' I say, "Do you get tired of making love?'"
In 2003, "I Left My Heart in San Francisco" was honored with the Towering Song award by the Songwriters Hall of Fame. And, for the first time ever, the organization decided to hand out a new gong: The Performance Award, given to Bennett himself. Taken together, the two awards recognize the incredible power Bennett brought to George Cory and Douglass Cross' immaculate composition, which has ensured it remains a recording classic for the ages.