Weird Things Fans Have Thrown Onstage At A Concert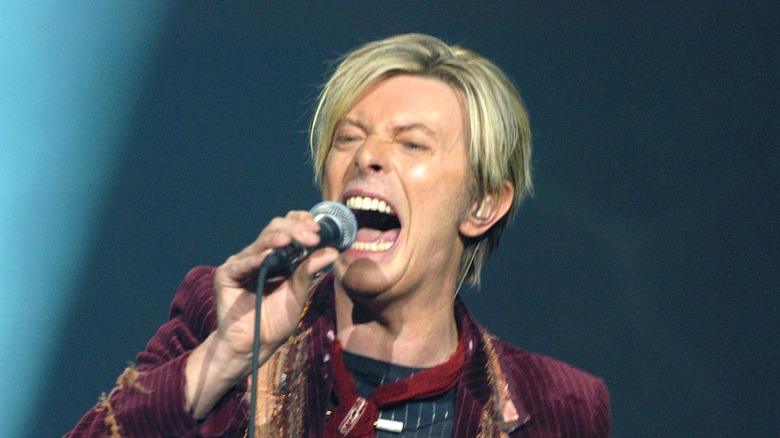 John Atashian/Getty Images
The life of a popular musical artist is pretty sweet. You have legions of adoring fans who buy every album you release, come to all of your concerts, and wear all of your merchandise. You make more money than anyone's ever dreamed of, allowing you to live in a mansion (or several), buy expensive sports cars, and travel the world in style. Access to the swankiest parties, hanging out with the biggest celebrities, getting nominated for major awards, being able to record hit songs that will long outlive you – who wouldn't want to be a rock or pop star?
Of course, being this famous comes with its share of occupational hazards. Obviously, fame isn't always what it's cracked up to be, as it can take a serious toll on one's mental, emotional, and even physical health. However, one of the more unexpected risks of being a pop sensation is having unusual, unexpected, and even gross things thrown onstage during a performance. Most of the time, the act of tossing a souvenir at a performer is an act of adoration. Other times, though, it's in the form of a cruel prank. Anyway, let's take a look at some of the weirdest things fans have thrown onstage at a concert.
Kirk Hammett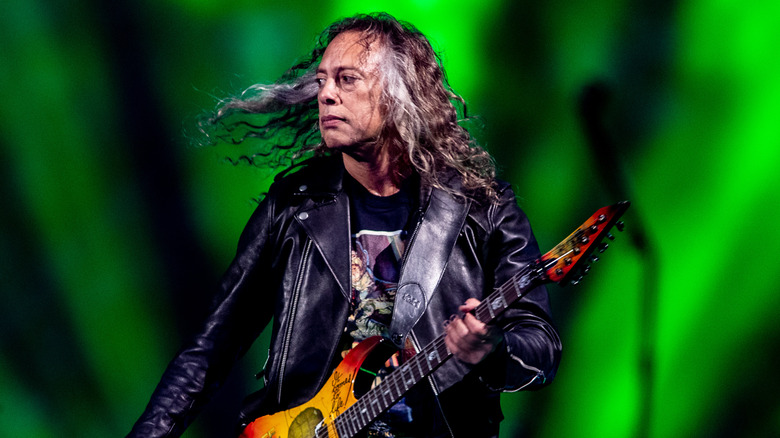 Paul Bergen/Getty Images
Kirk Hammett is well-known to headbangers the world over, having been the lead guitarist for Metallica since 1983 and responsible for some of the most recognizable riffs of all time.
Despite Metallica's aggressive songs, the band members are anything but in real life. In fact, Hammett is quite the animal lover and has been a vegetarian for most of his adult life. However, this created a problem during a particular performance in the 1980s. As the lead guitarist of the world's biggest heavy metal band, you'd expect him to have to deal with some weird stuff getting thrown onstage on occasion. But at this show, someone brought a whole pig's head and tossed it at the band while they were performing. Hammett, having just become a vegetarian at the time, was especially perturbed by this, as he recalled in an interview. That wasn't even the worst of it, unfortunately; later in that same concert, someone threw a devilled ham sandwich right at Hammett's guitar mid-performance. If Hammett had put off his vegetarianism a little longer, that could've been a free lunch.
Lady Gaga
Brian Friedman/Shutterstock
Lady Gaga is easily one of the most iconic figures in pop culture, recognized almost as much for her immense musical talent as her surprisingly strong acting chops, as seen in the 2018 "A Star Is Born," for which she got an Oscar nomination for Best Actress.
The star has made a name for herself as one of the more outrageous performers today, and her concerts often venture into unexpected territory. During a 2012 concert in Barcelona, Gaga vomited four times yet still managed to continue with the show. Things got even weirder when she was pelted by sausages by some members of the audience. Why someone would bring cured meats to a Lady Gaga concert is anyone's guess; perhaps they were merely giving her material for another meat dress. The singer took it in stride, however, as she tweeted the following statement afterward: "SPAIN, you took the piss outta me. Thats some hard bodied pop stuff. I'll never forget tonight Barcelona. FOREVER." 
And even if she didn't use them for her stage attire, her dad Joe Germanotta, who was in attendance, was apparently more than happy to take them; the singer's father tweeted (via news24) that, "In Barcelona someone threw sausages on stage and almost hit my head. I picked them up, they were for me."
Alice Cooper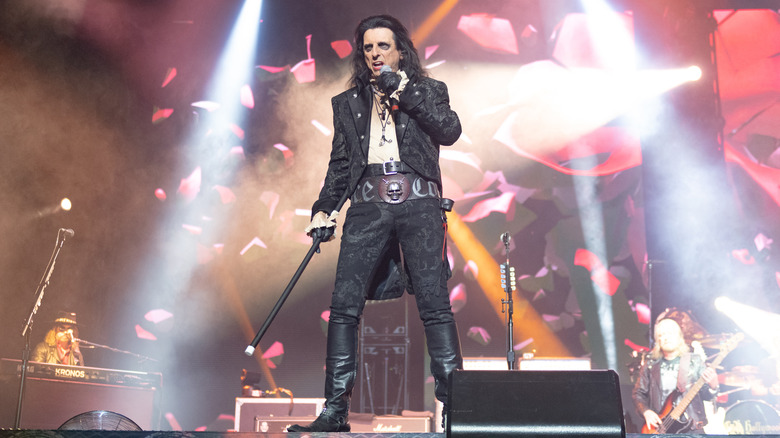 Roberto Ricciuti/Getty Images
Alice Cooper (real name Vincent Damon Furnier) is one of the progenitors of the shock rock genre, having spent decades incorporating over-the-top, even violent, theatrical elements into his live performances.
Alice Cooper – the band – gained infamy early in their career for their unpredictable concerts, due in no small part to a performance at Toronto's Rock & Roll Revival festival on September 13, 1969. For some strange reason, someone threw a live chicken onstage during an already shocking concert. Cooper – the singer – threw the chicken off the stage, expecting it to simply fly away. Unfortunately, it landed right into an audience that was energized by the band's antics, and was torn apart. The terrible incident was greatly exaggerated by the press soon after, and the story morphed with each retelling until it was soon claimed that the singer bit the head off of the chicken during the show. 
One can't help but wonder if Ozzy had this show in mind when he infamously bit the head off a live bat years later. Although, in that case, when the fan threw the bat on stage he thought it was fake, unlike Cooper who clearly realized the chicken that suddenly landed on stage was alive.
David Bowie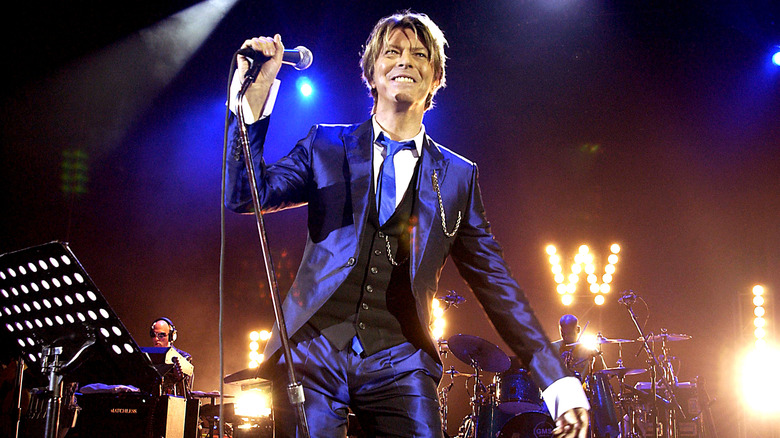 Dave Benett/Getty Images
David Bowie is a pop culture icon too big to describe in a single slide, as few rock stars have had careers as dynamic as Bowie, who never shied away from dramatically reimagining himself and his music.
Still, being a legend like Bowie has its risks. During a 2004 performance at the Norwegian Wood Festival in Oslo, the singer was struck in the eye with a lollipop. Bowie had to go backstage in the middle of the concert to have his eye checked out, but because he wasn't seriously injured, the consummate showman went back onstage soon after to finish the set. It turns out that the eye the culprit struck had actually been injured years earlier in a fight when Bowie was a wee lad.
The great irony of the incident is that this particular lollipop is referred to by Norwegians as "love on a stick." Upon his return to the stage, Bowie called for the wrongdoer to reveal themselves. While no one came forward at the concert, a woman did claim to be the one who threw the offending candy after the fact, although she said it was an accident.
Smash Mouth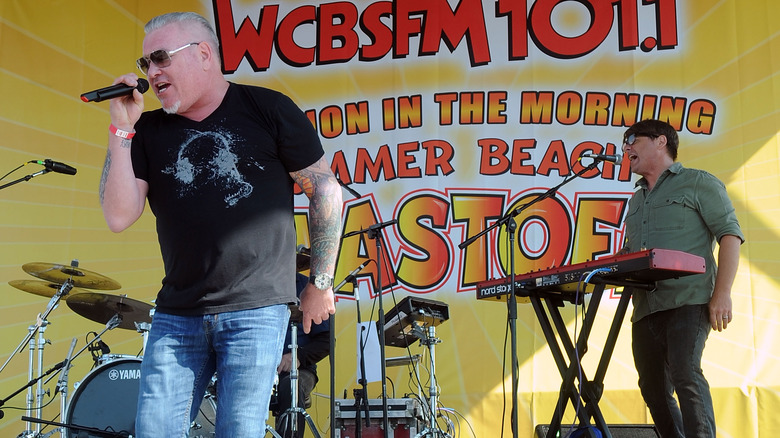 Bobby Bank/Getty Images
Smash Mouth struck gold with 1999's "Astro Lounge," featuring their most famous song, "All Star," which has been heard in numerous films like"Mystery Men," "Inspector Gadget," "Digimon: The Movie," "Shrek" and "Rat Race."
In 2015, Smash Mouth appeared at the Taste of Fort Collins food festival, which led to an unpleasant experience for everyone involved. Apparently, free loaves of bread were passed out to event attendees, and some of them threw slices at the band during their performance. Front man Steve Harwell wasn't too happy about it and started yelling profanities at the audience. The singer was reportedly so angry that a security guard had to step in and prevent him from causing even more of a stir, which prompted him to leave in the middle of the concert. While throwing anything at a performer is a terrible thing to do (even if it's something as harmless as bread), Smash Mouth shouldn't be too surprised, considering they were playing at a food festival. It's a good thing they weren't booked to play at a gun show.
Cher Lloyd
Axelle/bauer-griffin/Getty Images
Cher Lloyd first rose to prominence on the British version of "The X Factor" where she demonstrated her versatility as a vocalist, performing covers of pop, R&B, and hip-hop tunes with ease.
While Lloyd has experienced considerable success despite her relatively young age, she has still had to put up with some negative experiences. One of the worst of those experiences was in 2012 at the V festival when she was pelted with urine-filled bottles. This happened only two songs into her set, prompting her to walk offstage. Lloyd reappeared moments later, and told the audience, "It's hard enough being up here, but it's not nice having bottles of piss chucked at you." Unfortunately, this did nothing to knock sense into the troublemakers, and she had to deal with more things being thrown at her, so she ended the performance early. This is an incredibly nasty experience for anyone to endure, and it's made all the worse that Lloyd was only 19 years old at the time. Considering this happened twice at the same concert, it's hard to believe that this was merely the audience's way of saying that the venue's porta potties were clogged.
Adam Lambert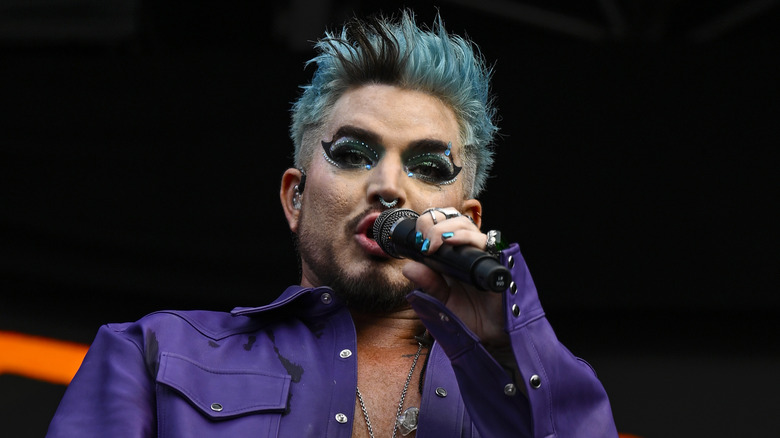 Jack Hall/Getty Images
After years of performing, Adam Lambert finally made a splash on "American Idol," which led to a career as both a solo star and new lead singer of the legendary rock band, Queen.
While rock and pop stars have had to contend with scandalous objects being thrown at them during their concerts for decades, the objects thrown at Lambert go much further than the usual women's undergarments. The singer told E! that sex toys have been tossed onstage on multiple occasions. "It's going further, and somebody threw onstage a red-leather tasseled whip," he said. "Yeah, and then the next night, I got one that was made out of, like, purple fur. It's getting really S&M. I got some glow-in-the-dark handcuffs. It's really getting creative ... I think they really want me to play with these toys during the number." Lambert stated that he doesn't want to encourage the behavior, though he's glad that most of the things flung his way have been soft ... and, let's hope, brand new items.
Foo Fighters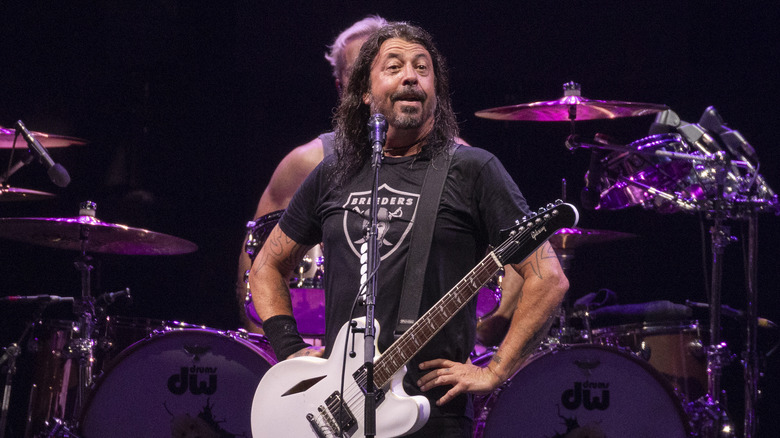 Barry Brecheisen/Getty Images
Following his stint drumming for the legendary grunge band, Nirvana, Dave Grohl started the Foo Fighters which has undergone numerous lineup and stylistic changes without ever losing their freshness or vitality.
The band's hit song, "Big Me," led to them having to endure an unusual object thrown at them at concerts: Mentos. Because the song's music video parodied the commercials for the candy, fans have taken it upon themselves to throw it at the band at various concerts. In fact, it got so bad that Foo Fighters stopped playing it live for the better part of a decade, Grohl confirmed in an interview with Today, wherein he stated that "once that tour ended and we went back out on our own, we kinda threw it back into the setlist. But we did stop playing that song for a while because, honestly, it's like being stoned. Those little ... things are like pebbles — they hurt." Maybe the music video should've focused on a softer sweet treat like cotton candy.
Harry Styles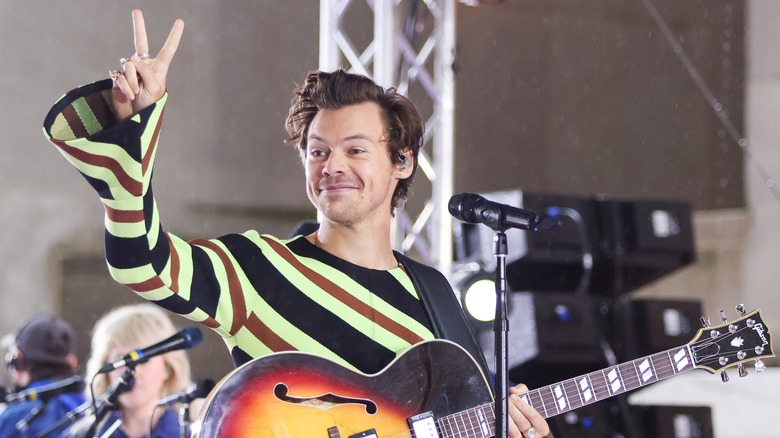 Debby Wong/Shutterstock
Since Harry Styles first appeared on "The X Factor," he made a name for himself as the frontman for One Direction, a solo artist, and even an actor in such major films as "Dunkirk" and Marvel Studios' "Eternals."
Styles has been on a largely meat-free diet for some time now; he told Vogue in 2020 that he's a pescatarian. Still, that didn't stop some fans from trying to entice him during a 2022 concert at Madison Square Garden. Animal rights activist Simone Reyes shared a video on Instagram wherein someone threw a chicken nugget onstage, prompting Styles to ask who threw it. "It's a lovely chicken nugget!" While the crowd chants for him to eat it, Styles sticks to his guns and declares, "I don't eat chicken. Sorry, I don't eat meat!" It's a pretty tasteless (albeit tasty) thing to throw at someone who avoids consuming animal products. Still, we have to give Styles credit for not giving in to temptation.
Pink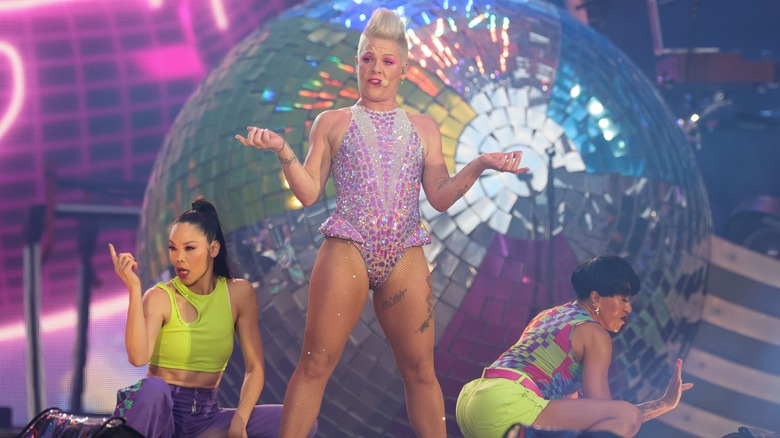 Andreas Rentz/Getty Images
While Pink's 2000 debut album, "Can't Take Me Home," was fairly straightforward pop fare, she took on a rougher edge with her follow-up album, "M!ssundaztood," showcasing her sassier side that has typified her style since.
In one of the more bizarre instances on this list, someone threw a bag filled with their deceased mother's ashes at Pink while she performed at BST Hyde Park in London. The incident happened in the middle of her song, "Just Like A Pill"; the singer picked up the bag, perplexed, and said, "This is your mom? I don't know how I feel about this." As reasonably perplexed as Pink was, she didn't let it ruin her concert, as she very gingerly placed the bag of ashes down and immediately returned to singing her song. It's definitely a morbid item to hurl at a performer, but it's a good thing the fan chose to throw their mother's remains after she was cremated and not before.
Tila Tequila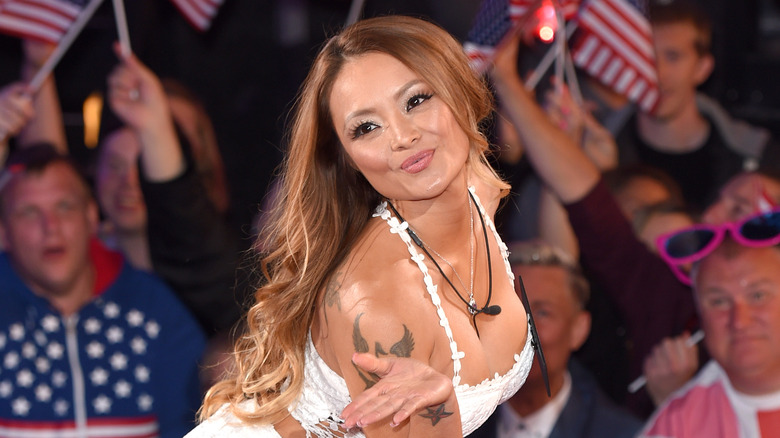 Karwai Tang/Getty Images
Singer, actress, model, and reality TV star Tila Tequila may not be remembered much today, but for a brief period in the early-2000s, she was one of the most famous figures on the internet.
In 2010, Tequila had to put up with a particularly nasty barrage during an appearance at a Gathering of Juggalos festival, hosted by Insane Clown Posse. When she got onstage to kick off her set, some members of the crowd responded by tossing rocks and bottles at her. However, the worst of the objects that were thrown at her were urine-filled balloons and feces from the porta-potties. The singer released a statement to TMZ, wherein she gives a much more harrowing account: "These people were trying to kill me. So then after the last blow to my head with the firecracker they threw at me exploded, my bodyguard and the other security grabbed me and ran as fast as they could to the sh***y trailer." While Tequila suffered only minor injuries, she threatened legal action in a tweet (via CBS) stating, "Pretty soon the owners who run the Juggalos will be bankrupt."
Justin Beiber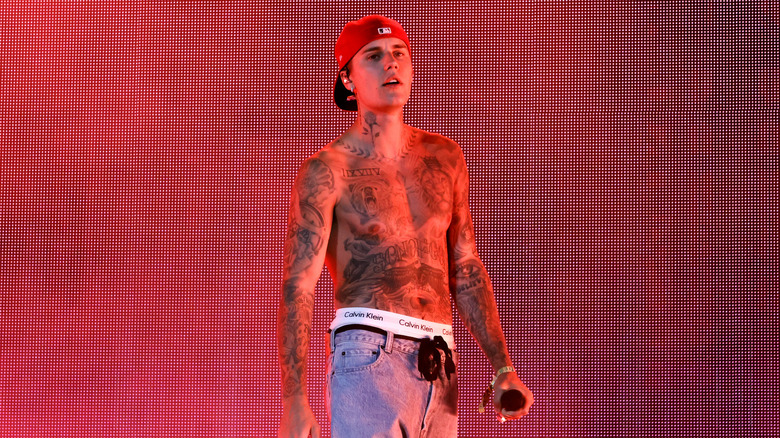 Kevin Winter/Getty Images
Justin Beiber is not only one of the most successful artists on this list – he's also one of the youngest, having achieved more fame than even some of the biggest pop stars ever even was he was just a teenager, and much more as a young adult.
Still, all of that success won't protect him from the occasional rascally fans who decide to lob junk onstage during a performance. Take, for example, a concert that Beiber played at Sydney's Acer Arena in 2011 when a 17-year-old snuck in through the roof and started throwing eggs at the singer and his backup vocalists. Luckily, neither the Beibs nor his crew got slimed with unhatched chicken embryos, though the eggs just barely missed them. The eggs did little to disrupt the flow of the show, which meant that JB and his backup singers performed without interruption. Because the culprit was a minor, their name was kept from the public. However, their young age didn't prevent them from being charged with breaking and entering, trespassing, and malicious damage.
Kanye West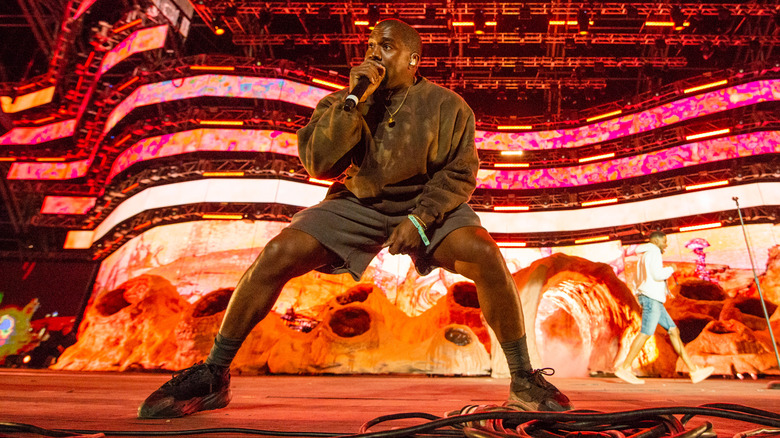 Timothy Norris/Getty Images
Well, before Kanye West attracted massive controversy for his bizarre remarks, he was a hugely popular rapper, producer, and fashion designer who was married to Kim Kardashian. Now, however...?
There's a 2012 video of Ye performing at a concert in Dublin, Ireland during a stop on his Watch the Throne tour. Everything seemed to be going well until someone threw a coin onstage. How the rapper managed to see something like this in the midst of performing his song "Good Life" is anybody's guess, but at least it means he doesn't have to wear corrective lenses. In typical Kanye fashion, however, he stopped singing and demanded the song stop so he could give the audience a profanity-laden lecture on concert etiquette. "I'm not trying to make any excuses but some motherf—er threw a f—in' coin up here and, like, threw me all the way off. Don't throw no hard sh– up here while we're performing, seriously. You f—ed up for everybody. I was having a perfect show, flawless victory."