The History Behind Nothing Compares 2 U
Jim Steinfeldt/Getty Images
Six years before Sinead O'Connor turned "Nothing Compares 2 U" into a monster hit that catapulted the singer onto the world stage, Prince was spending the summer of 1984 working at his studio and was missing his housekeeper, Sandy Scipioni, who had left for a family emergency, according to The Guardian. Scipioni was instrumental in keeping the artist's life in order, and he was feeling her loss.
He wrote "Nothing Compares 2 U" in about an hour. "The song came out like a sneeze," Susan Rogers, Prince's longtime sound engineer, told the newspaper, believing the song was written for Scipioni. Prince then recorded the song, playing nearly all the instruments himself. But he didn't put it out. Instead, he gave it to the band The Family, a funk band he had signed to his new label Paisley Park Records with the song appearing on the band's one and only album in 1985, according to American Songwriter.
Sinead O'Connor's version
Fachtna O'Kelly, Sinead O'Connor's manager, pushed her to record "Nothing Compares 2 U," according to Songfacts. In 1989, O'Connor worked with producer Nelle Hooper to record the song for her second album, "I Do Not Want What I Haven't Got" and turned what had been a synth-driven funk song into a gut-wrenching and soulful ballad, per the Independent. "It's really about emotions, it's not about notes," O'Connor told the BBC in 2016. "I never sing a song that I can't emotionally identify with."
O'Connor's meeting with the man who penned the song she helped make famous did not go well. At their meeting at his home and studio, Paisley Park, in Minneapolis, Prince told her he didn't like that she used foul language in her interviews. She responded that she didn't work for him, ending the sentence with an f-bomb, according to her memoir "Rememberings." Things only got worse. When Prince suggested they have a pillow fight, O'Connor agreed but soon regretted the decision. "Only on the first thump I get, I realize he's got something in the pillow, stuffed down the end, designed to hurt," she recalled in her memoir. The meeting ended with O'Connor fleeing the residence.
Prince takes the song back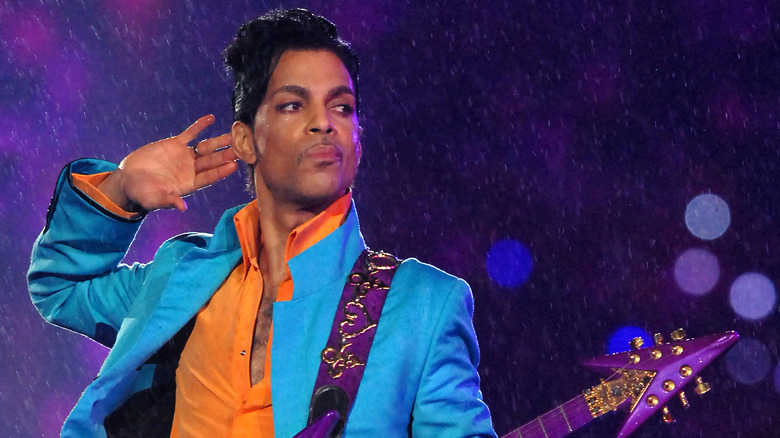 Theo Wargo/Getty Images
After the global success of Sinead O'Connor's Grammy-winning version of "Nothing Compares 2 U," Prince began performing the song at his concerts. In 1993, Prince released a live version as a duet with Rosie Gaines. The song, recorded while on tour, appeared on the album "The Hits/The B-Sides," per The Guardian.
"[Prince] knew he had to give up some good songs because he really wanted to have a whole production company that was successful," Morris Day, the singer of The Time, which Prince produced, recalled in "Nothing Compares 2 U: An Oral History of Prince." "He wrote 'Nothing Compares to You' for The Family and he went back and did that one himself." Of O'Connor's interpretation, Prince apparently wasn't happy with it. "He told me he didn't like it," Paul "St Paul" Peterson, the singer for The Family, told The Guardian. "Unless he asked them, he didn't like anyone covering his songs."