What We Know About Jeffrey Norman Crum, The Man Indicted For The 1993 Murder Of Jennifer Odom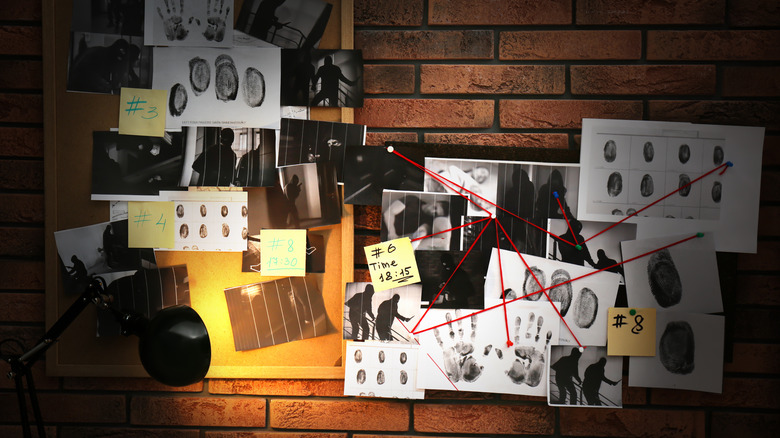 New Africa/Shutterstock
Jeffrey Norman Crum, a 61-year-old Florida man already serving two life sentences for attempted murder and sexual battery, was indicted in July 2023 for the 1993 murder of Jennifer Odom, the Tampa Bay Times reports. In an unsolved cold case that gripped Florida and was featured in a 1994 episode of "Unsolved Mysteries," Odom — who was 12 years old — reportedly disappeared after exiting a school bus near her home and was later found dead. She had been sexually assaulted, and Crum now also faces kidnapping and sexual battery charges related to the case, per the Tampa Free Press.
When indicted for Odom's murder, Crum was in prison for the 1992 attempted murder of a teenager in the Pasco County, Florida area, near where Odom lived. In that case, a 17-year-old girl was abducted and sexually assaulted a short time before Odom was killed. That victim — who is unnamed in the press — survived the attack, but DNA evidence gathered as part of that investigation helped bring Crum to justice for Odom's murder. With Crum now indicted, Florida State Attorney Bill Gladson said (via the Associated Press), "I have confidence we have the right person and we have the right aggravators" to seek the death penalty.
Crum reportedly drove a 'faded blue truck'
Children on the school bus the day Jennifer Odom disappeared reported a "faded blue truck," later linked to Jeffrey Norman Crum, who lived in the area at that time, the Associated Press reports. Before the 1992 attack on the 17-year-old Florida teenager who survived, Crum had a criminal record including robbery and sexual battery, among other charges. Referring to Crum, Hernando County Sheriff Al Nienhuis said (via the Miami Herald), "This is not someone who should be taken lightly. This is a bad guy who enjoyed violence."
Despite that blue truck lead, investigators were unable to identify who was responsible for Odom's death, and the case went cold until an advance in DNA technology known as familial searching offered investigators a break. Crum stood trial for the 1992 attempted murder of the 17-year-old Florida teenager in 2015 thanks to a DNA sample gathered at the scene of the crime, the Tampa Bay Times reports. Crum's DNA was reportedly never on file with law enforcement, but through familial searching, that DNA sample was linked to Crum's son, who was in prison at the time. The DNA also matched other members of Crum's family.
The case against Crum should stand up on appeal
Referring to the 1992 case and Jennifer Odom's murder, Sheriff Al Nienhuis said (via WFLA News Channel 8), "The MOs in both cases were almost identical." And once Crum was linked to the 1992 attempted murder, Nienhuis said the convict was "almost instantaneously became our number one suspect" in the Odom case (via the Tampa Bay Times). With Crum's indictment official, Florida state attorney Bill Gladson said the case against Crum had "sufficient evidence to sustain a conviction not just on trial but on appeal." 
It's unclear if a 2016 tip Florida law enforcement received regarding Odom's murder related to Crum's 2023 indictment. Florida prosecutors also declined to give additional detail about other possible biological evidence linking Crum to Odom's death, citing an ongoing investigation. To get the DNA match in the 1992 attack, Crum's sample was run through CODIS, or Combined DNA Index System, a national FBI DNA database accessible to local law enforcement agencies, per the Bureau of Justice Statistics. 
Florida law enforcement officials also said there may be others who have additional information regarding Odom's killing. As of this report, Crum was held without bond in the Hernando County jail and was assigned a public defender in the case.
If you or anyone you know has been a victim of sexual assault, help is available. Visit the Rape, Abuse & Incest National Network website or contact RAINN's National Helpline at 1-800-656-HOPE (4673).