Why Lahaina Is So Important To Hawaii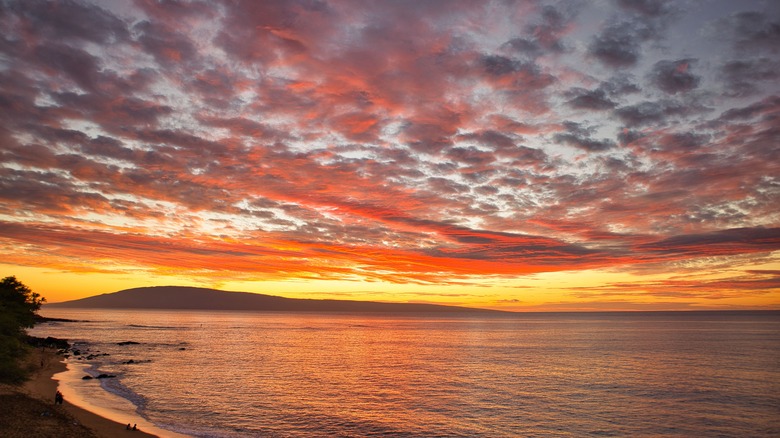 funboxphoto/Shutterstock
Sun-drenched beaches, powder-blue waters, soft sand, and balmy breezes: These are the things that many people likely envision when thinking of Hawaii, the United States' 50th and newest state. Also, we've got luaus, leis, shoeless shaka brah surf dudes, and sweaty tourists in droopy sun hats. But beneath such tongue-in-cheek stereotypes Hawaii has a very distinct, very deep character and history. 
It's not likely that many people would think of Hawaii as an "historical" place, but that's only if we forget that Polynesian settlers arrived in Hawaii from 1,000 to 1,200 C.E. Two years after the nascent United States signed its Declaration of Independence in 1776, those Polynesians-turned-Native Hawaiians had their first contact with outsiders when Captain James Cook arrived on Kauai in 1778. This happened during a time of conquest and war between various rulers of the Hawaiian islands, such as Ali'i Moi Kahekili of Maui and Kamehameha of Hawaii. With the help of trading for some good old Western weaponry, Kamehameha came out on top in 1810 and united Hawaii. His dynasty lasted a scant 80 or so years until it was overthrown in 1893, and in 1898 U.S. President William McKinley annexed Hawaii for his country's own.
Between the birth of the short-lived Kingdom of Hawaii in 1810 and its demise the Hawaiian archipelago became a trading port and waystation for ships in the Pacific. That's when the town of Lahaina transformed from a whaling village to the capital of the kingdom. 
A century of swift, dramatic change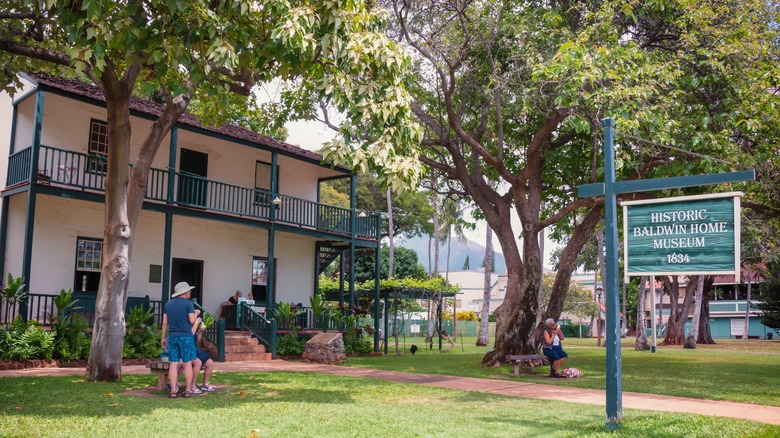 Atomazul/Shutterstock
19th-century Hawaii stood at a crossroads between its old and future identities, and its capital at the time — Lahaina, on the western coast of Maui — bears the marks of this crucial, rapid transition. Hawaiian rulers started adopting Western dress over the course of the century, welcomed foreigners, traveled abroad to the U.S. and Europe to meet heads of state, and generally pushed for their nation to grow more integrated with the wider world. Hawaii opened itself to international ships — and to the influence that would eventually spell the downfall of its kingdom. 
Lahaina remained the capital of Hawaii this entire time. Go Hawaii says that Lahaina experienced a "whaling boom" in the middle of the century, and sailors started using it as a place to take shore leave. Amongst these sailors was Herman Melville, author of the legendary sea epic "Moby Dick." History Today says that Melville arrived in 1843 "broke and looking for work." It's in Lahaina, the story goes, that Melville got the idea for his grand novel as he watched a ship of 326 whaling sailors stop at the town to resupply.
During this time numerous historical buildings were built in Lahaina, including Baldwin House, the first non-grass, non-adobe house made of stone and wood occupied by missionary and doctor Dwight Baldwin. Other landmarks from this era include the Masters' Reading Room, the 1859 Courthouse, and the 1901 Pioneer Inn. 
Remembering Lahaina's legacy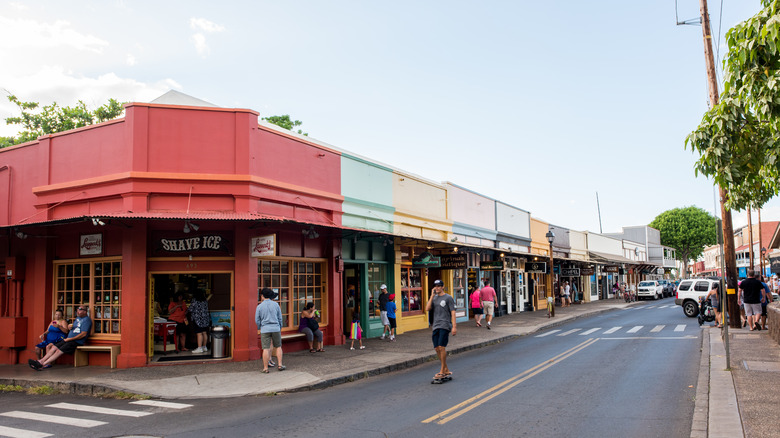 Michael Gordon/Shutterstock
Nowadays, sailors around Lahaina have desisted their whale hunting practices, though the marks of that era still remain, even only in whale-themed T-shirt and mural form. Lahaina's main, colorful, walkable shopping street is a big attraction for visitors, much like whale watching off the coast. There are loads of historical artifacts from that era, museums, and a famed, giant banyan tree planted in 1873 in honor of the 50th anniversary of the first Protestant missionary visit to Lahaina. Lahaina Town also outlines a wonderful walking tour for visitors who want to get a sense of Lahaina's long, cherished past. 
At present, however, some of that cherished past might no longer exist.  In August 2023, the historic, coastal stretch of downtown Lahaina was struck by wildfires that tore through the region, killing 36 people and forcing 11,000 to evacuate, as the Independent says. At the time of writing the fires persist. 
Pilot Richard Olsten reported to Hawaii News Now, "It's like an area was bombed. It's like a war zone." Resident Mason Jarvi echoed these sentiments, saying to the Independent, "We just had the worst disaster I've ever seen. All of Lahaina is burnt to a crisp. It's like an apocalypse." The top image on Lahaina Town shows a jaw-dropping, heart-breaking side-by-side comparison of Lahaina, pre- and post-fire. At this point we can only say that no matter what is physically destroyed, the spirit and importance of Lahaina will live on.