Robbie Robertson's Complicated History With The Band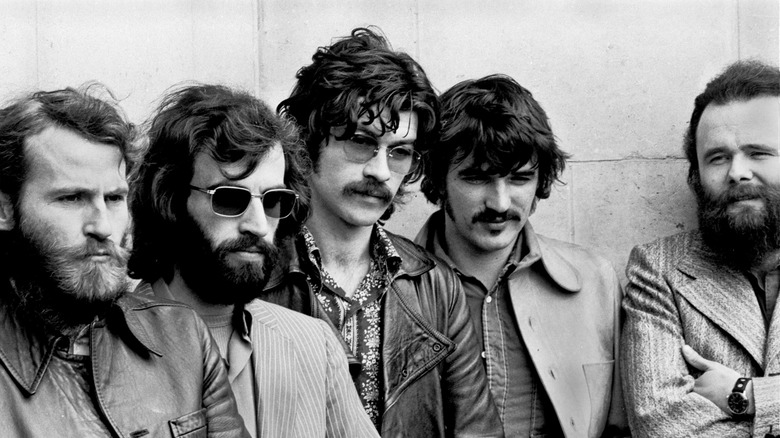 Gijsbert Hanekroot/Getty Images
Robbie Robertson made his name playing lead guitar and acting as the primary songwriter for The Hawks, who later became The Band. But despite that success, when Robertson — who died August 9, 2023, at the age of 80 — left the group in the mid-1970s, his relationship with one former bandmate in particular, drummer Levon Helm, grew contentious. As a result, the two musicians feuded for decades.
That last concert from The Band's original lineup — known as "The Last Waltz," and later released as a concert film — was directed by Martin Scorsese. Referring to the film in his memoir, "This Wheel's on Fire: Levon Helm and the Story of the Band," Helm wrote, in his opinion, the final cut focused too much on Robertson's contribution to the group. Helm also took issue with how Robertson took most of the songwriting credits, cutting Helm and his bandmates out of royalties, The New Yorker reports.
Those issues simply underscored problems that had been in the group for years, though, as Robertson later said. Helm, among other members of The Band, reportedly drank and used drugs heavily while playing music together, something Robertson, for the most part, stayed away from, according to his 2016 memoir "Testimony." As The Guardian reports, Robertson mentions drug use not only by Helm, but also bassist Rick Danko and keyboard player Richard Manuel.
Robertson was not a fan of hard drugs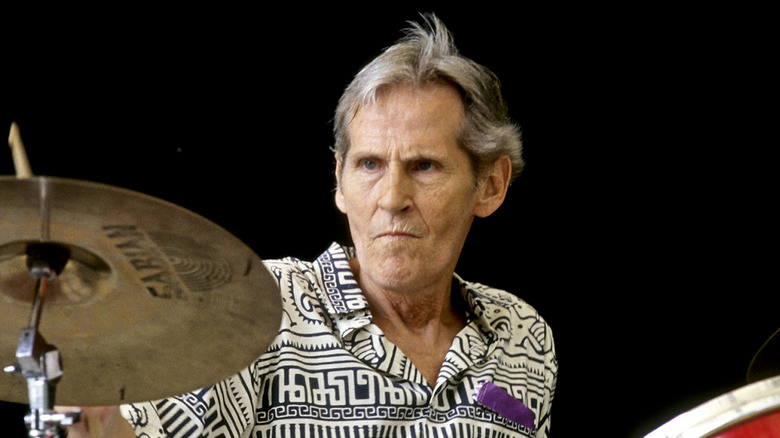 Jack Vartoogian/getty Images/Getty Images
In Robbie Robertson's memoir "Testimony," he wrote how Danko and Helm in particular developed a heroin habit in The Band's heyday, and Robertson had to take a stronger position, not only in business matters with band manager Albert Grossman, but also in songwriting. Though he did try hard drugs like heroin, Robertson told The Guardian in 2019, "My addiction was work — and still is." And referring to his former bandmates, Robertson said, " ... they leaned on me, in the best sense of the expression, to really take care of business."
In a 2020 interview with Salon, Robertson admitted he, too, experimented with substances while he was in The Band, but not to the extent of some of the other members. "Being in the moment at the time, it was, on a good day, frightening to think, 'I hope somebody doesn't die' ... Let me be very clear: I was no angel. I was not Mr. Responsible. I was just better off than others, and in a position to say, 'Is everyone okay?' But even if people aren't okay, they say they are," Robertson said.
Speaking with George Stroumboulopoulos, he added, "I did leave, after 'The Last Waltz.' I knew it was time. It was survival time, and I had to go." So, Helm was right to say Robertson walked away, but, "years later, after that, Levon became very bitter ... It just kind of ate him up, and it became part of his personality" (via YouTube).
Robertson eventually shared royalties with Helm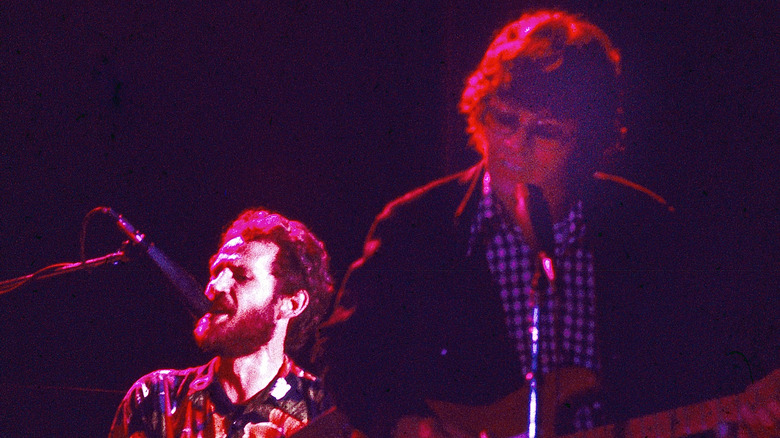 Rick Diamond/Getty Images
On the royalties controversy, Helm said in a 1998 interview with "Offbeat" that Robertson, along with band manager Albert Grossman, got all the money, "and the rest of us get all the leftovers, and [Robertson] was supposed to be one of us, and was." Helm also attributed the changes he saw in Robertson's personality as "guitar-itis." Or, "​you're the most important one, and everybody else is in support of you," he said.
Referring to Robertson, Helm added, " ... [He] ain't singing or writing, but I'll tell you one thing: he is doing all the publishing. He and Albert [Grossman] are damn sure doing all the publishing" (via The Band's official website). But according to a 2020 interview Salon interview with Robertson, the two musicians seemed to reach an agreement. "After 16 years together, Levon never once mentioned songwriting. When it came up, I was generous about it. I did stuff I didn't have to do, and I did it to be a good friend," Robertson explained.
And thankfully, Robertson was able to visit his old bandmate in the hospital before Helm died from cancer, in 2012. Describing the experience, Robertson wrote on Facebook, "I sat with Levon for a good while, and thought of the incredible and beautiful times we had together ... Levon is one of the most extraordinary talented people I've ever known and very much like an older brother to me," Robertson said.
If you or anyone you know needs help with addiction issues, help is available. Visit the Substance Abuse and Mental Health Services Administration website or contact SAMHSA's National Helpline at 1-800-662-HELP (4357).